Most Netflix users in affected regions who are involved in password sharing or use of their Netflix account outside their "Household" have had their fair share of issues due to the Netflix Household policy; being here means you are probably also experiencing issues as a result of that.
This update usually results in the This TV Isn't Part of Your Netflix Household Error message for those who don't adhere to it; however, those who are traveling can access and view shows and movies on Netflix by simply clicking the "I'm Travelling" option under the error message on their TV.
The annoying thing is that after seven days, you'll be kicked out of Netflix and prompted with the This TV Isn't Part of Your Netflix Household error; if you click the "I'm Travelling" option again, you'll get the "You've used all your temporary codes" error, which prevents you from accessing Netflix outside your "Household."
Now, here's the deal: Netflix requires you to connect to your home network on your TV in order to continue using your Netflix account outside of your Household—your primary location—which is difficult in the simple sense because you are traveling outside of your Netflix primary location.
This can be frustrating, but there are a few workarounds you can use to bypass the issue, and we will look into them in this article so that you do not have to miss out on Netflix while traveling.
How to Fix Sorry You've Used All Your Temporary Codes Netflix Error?
The solutions provided below can be used whenever you encounter the "Sorry you've used all temporary codes" error on Netflix and want to get around so you can be able to watch movies on your Netflix even though you are outside the "Household."
1. Route the TV Traffic to your home location (Your Netflix Household)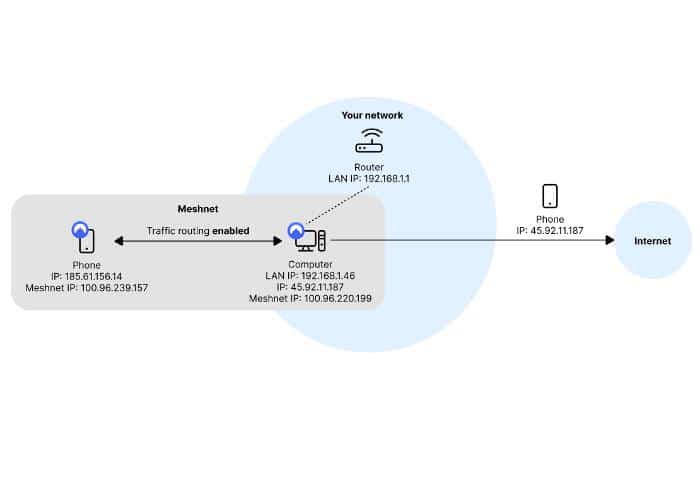 When this issue was reported to Netflix help, the workaround recommended was to refresh the TV from the registered Household—which could be your home—and open Netflix on it, which is normally impossible as you are presently away from your primary Netflix location.
However, you can accomplish this by routing traffic on the TV (the one you are having issues on) to a device on the primary network in your registered Household (home location) to make it appear like you are browsing from the home location because that is the IP address the TV will now use.
This workaround can be performed using NordVPN's Meshnet feature, which will redirect traffic from the TV to a device connected to your household WiFi.
There is one potential drawback to this method: you must initiate a Meshnet connection between your home device and the TV outside your household, which is not a big deal, but if you do not have anyone on your Netflix primary location who can help you with the setup, you may be unable to use the workaround.
Also, for the workaround to be feasible, the home device through which the TV traffic is routed must be turned on at all times.
---
2. Use Apple TV
While this error occurs on all TVs, some users have stated that they were able to get through the Netflix Household policy on their Apple TVs.
This suggests that Apple TV is unaffected by Netflix's oversight of your location—it doesn't let Netflix know whether you've left your house or not—most likely because Apple prioritizes privacy and does not allow unauthorized third-party access to its devices.
This workaround might not last forever, but it will allow you to access Netflix from anywhere without being affected by the Netflix Household issue. So, if you have an Apple TV, try opening Netflix on it and seeing if it works.
---
3. Watch from mobile devices
Mobile devices are not affected by the Netflix Household thing; plus, if you have used Netflix on your mobile device while in your primary Netflix location (connected to the main WiFi network there) within the last 30 days, you will not have any problems using Netflix while traveling.
So in a case when you are limited from watching your Netflix on a TV due to the fact that you are outside the Household and you have been presented with the "Sorry You've Used All Your Temporary Codes" error
---
4. Cast Netflix to Your TV
Another workaround for the "Sorry You've Used All Your Temporary Codes" error on Netflix is to cast Netflix from your PC or tablet to a TV.
This is due to the fact that you will, most times, be able to access Netflix on your PC and mobile phones even if you are experiencing the above error on your TV.
This is incredibly simple, and you can cast your screen to your TV using Chromecast, HDMI, or a third-party program.
---
5. Pay the extra $8
Here is a solution that may not be what you want to hear, but it may be the only way to access your Netflix account while traveling.
Since the TV you have the right issue with is not part of your Netflix Household, Netflix offers you the option to add another member (user/device) by paying an extra $8 in addition to your monthly subscription charge.
This solution can be done by using this link and following the prompt to create a membership for the new device or user.
After that, an invitation link will be sent to the new device/user, and you can use that to set up the Netflix account on the TV without getting restricted by the whole Household thing.
---
FAQs: Sorry You've Used All Your Temporary Codes Netflix Error
How long do Netflix temporary access codes last?
In most cases, the Netflix temporary access code that allows you to access Netflix while traveling lasts seven days.
Why is Netflix saying I used all my temporary codes?
When Netflix notifies you that you have used all of your temporary codes, you can no longer get verification when you use the I'm traveling option to access your Netflix while outside the Netflix Household.
The I'm traveling option only works once for most users, while other people stated that it worked more than once, but this could be because they were able to use Netflix at their primary location on the TV within 7 days of the last time the bypass was used.
However, there are a few workarounds you can use whenever you get this issue, and we have discussed them in this article.
Wrap Up
Conclusively, you can bypass the "Sorry You've Used All Your Temporary Codes" issue by redirecting traffic from the affected TV to a device in your primary location. That is the best solution, but if you encounter any problems with the workaround, let us know in the comments area below.