The Official twitter account of Kenya Defence Forces has been hacked by Anonymous affiliated hacker going with the twitter handle @Anon_0x03
Several tweets were fired from the hacked account which carries more than 65.7K followers.

The hack came as a protest to the Army wasting money over arms/guns while the country still needs to fight out Poverty.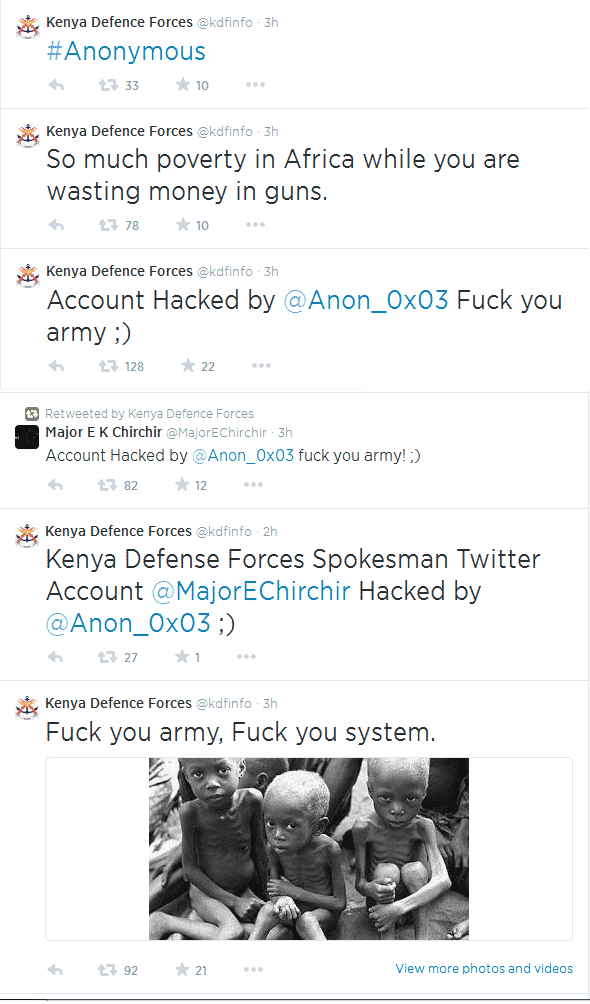 Anon_0x03 also hacked the twitter account of Major E K Chirchir Spokesperson of the Kenya Defence Forces who works at Protocol/Liaison Office Defence Headquarters.
More than 5 hours have passed since the hack, the Compromised account still carries the tweets and has not been recovered yet.
Anon_0x03 told techworm that he has access to the email associated with the account, which he hijacked using phishing attack.
A screenshot from the hijacked email account of Major E K Chirchir is posted below, The email associated comes from the email portal of Ministry of defense of Kenya.
(Screenshot of the hijacked email provided by Anon_0x03 exclusively to Techworm)
It is possible that the hijacked email can contain several important mails. however Anon_0x03 refused to tell anything on what the email contained.
Update:
Almost after 24 hours Kenya Defence Forces twitter account managers were able to recover the account, however that didn't lasted long as the Account is hacked again.