Man listed as Cascade county's "most wanted" on Crimestoppers Facebook page "likes" his own poster and gets arrested.
Levi Charles Reardon, 23 years old man from Montana appeared in the Great Falls/Cascade County Crimestoppers Facebook page where his poster featured as April 'most wanted' suspect. Reardon was suspected to be involved in "forgery (common scheme), felony, total $2,500 warrant".
Reardon was over smart and he deliberately "liked" his own "wanted" poster. The police subsequently traced him down and finally arrested him on Friday evening without any incident as per police records.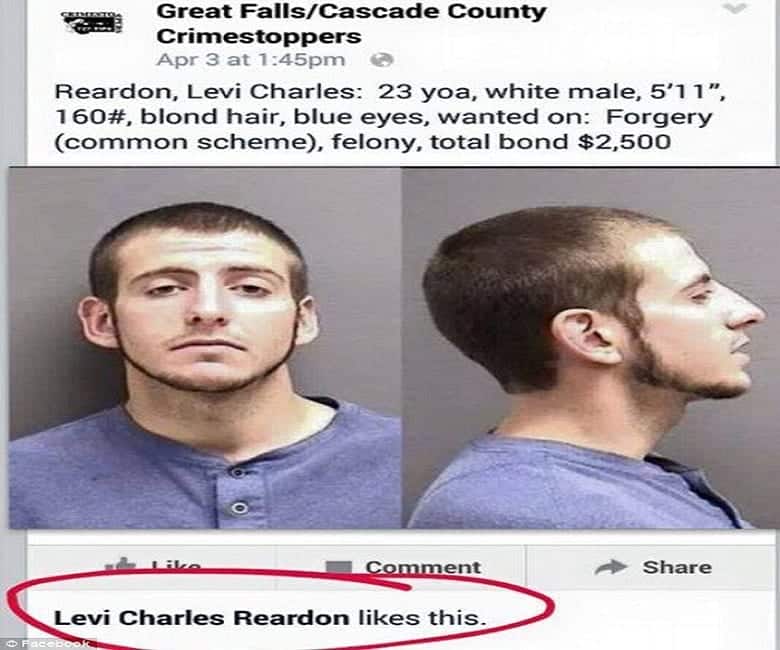 As per Great Falls Tribune, Reardon already had 2 warrants against him for his arrest. Earlier this week, on Monday, he made his first court appearance for the theft charges and felony forgery. As per the reports Reardon was held on $2,500 bond and his arraignment is set for May 7th.
Per the court records, police suspected that Reardon was involved in stealing a wallet and personal checks. Further, Reardon allegedly also encashed four of the missing checks by forging them in his own name. A law enforcement officer had spoken to him in regards to the missing wallet and also the fraudulent checks that were made out to him, however still he attempted to cash one of the checks at a grocery store.
What would you call such an Internet genius!!! Foolish or over smart? However, Reardon is not the only one there are other geniuses like the Roger Ray Ireland, who left a taunting remark on the official Anne Arundel county police department Facebook page that read: "the police will never catch him" and guess what he was arrested the very next day, this incidence happened July last year.
How can we forget Aaron Bee from Lincolnshire, UK who posted taunting selfies at the police stating "#theystillcarntcatchme" and got arrested.
So shall we conclude that all those who are involved in some crimes should stay off the social media. Rather, I would suggest they should stay well connected with the social media and pass such comments and get entrapped which would ease the work for the police………..what say ??