Worlds number one torrent site, Kickass Torrents removed from Google Search results
Google has penalised world's most popular torrent website, Kickass Torrents and as such it has been removed from the Google Search pages. The Kickass team stated that Google began to penalize its pages a while ago, for reasons unknown. Perhaps there are ways to solve the problems, but the site is currently not doing any search engine optimization (SEO).
The reason for penalisation may be the Google's enabling of Google Safe Browsing which deletes any website which is thought to contain unwanted software. However if that would have been the case, the search for Kickass now shows many websites which are Kickass clones and known to contain malware and malicious ads.
Right now searching for Kickass, Kickass Torrents, Kat.cr instead show unknown and unaffiliated Kickasstorrents.eu domain on top in many locations, as seen in the below given screenshot :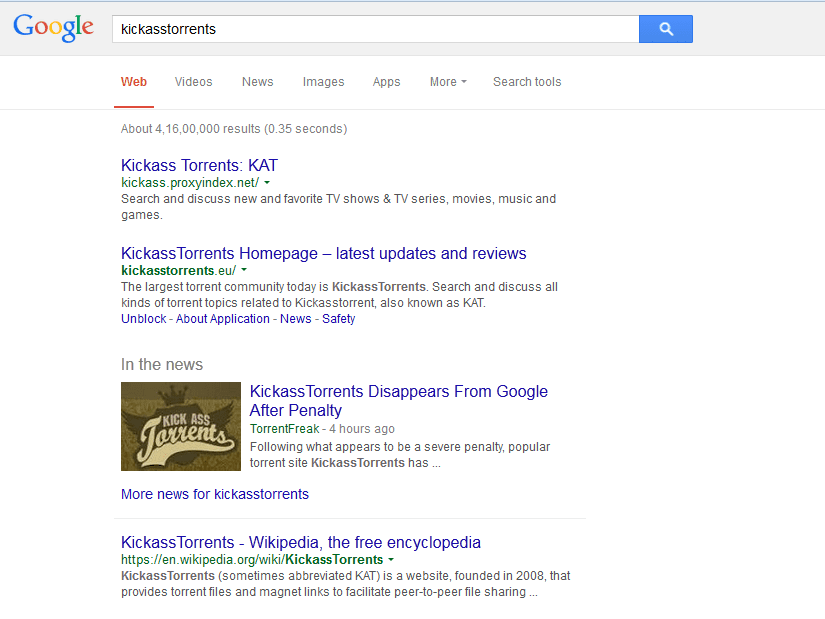 With millions of visitors per day KickassTorrents (KAT) is arguably the most visited torrent site on the Internet, outranking The Pirate Bay by a mile due to its easy user interface and very efficient admin.
"It's already about five or six months since we started to experience some kind of penalty from Google. The issue is that we were not performing any SEO activities at all," KAT says.
If Google has indeed enabled Google Safe Browsing to block legitimate Kickass website the top search result for Kickass now throws up a .eu website which doesn't offer any torrents but instead prompts visitors to download File_Downloader.exe, a known malware.
The KAT team finds it unfortunate that Google is sending tens of thousands of visitors to a shady site and encourages people to check the official Facebook and Twitter accounts for the latest official domain name.
DuckDuckGo has no such issues with Kickass Torrents
Right now the alternative search engine, DuckDuckGo does a fine job of showing Kickass Torrents results. It identifies the correct domain and even tags it as an "official site." If you have not installed DuckDuckgo on your computers, nows the time to make it your default search engine.