New Alienware 13-inch is the first gaming laptop with OLED screen
During CES 2016, the annual trade show, there were several gaming machines put on display, but it appears that Alienware 13 won the crown for possibly becoming the forerunner of how the components gaming laptops are supposed to be present. One of the biggest changes incorporated in Alienware 13 is the fact that it does not feature a traditional display, but an OLED one (optical light emitting diode).
OLED displays are the kind that are present in smartphones and TVs, and they are what refine the rich colors of these products. With an OLED display present on gaming laptops, laptop gamers will also be able to experience rich and vibrant colors while playing the latest gaming titles. With the latest gaming engines, not to mention Microsoft's DirectX 12 API, you can definitely expect that the lethal combination of OLED displays and next generation graphics will definitely point to a visual gaming experience that could never have been achieved before.

In addition to displaying rich and vibrant colors, OLED displays also have one other advantage; they are able to refresh the pixels at an extremely fast pace, which results in the reduction of visual stuttering in games. Even with the latest hardware installed, there are some spontaneous moments where you experience visual stuttering for a split second. Well, with OLED gaming laptops, such issues are going to be a thing of the past. The only drawback that Alienware 13 currently features is that it has a very high resolution for a 13 inch gaming laptop.

At 3200 x 1800 pixels, it will become relatively difficult for the embedded processor and mobile GPU to deliver respectable frames in graphically intensive titles, but we are sure that as companies like Intel, NVIDIA and AMD keep moving up a generation, they will continue to introduce better chips that will be extremely energy efficient and will be able to push out a lot of pixels with extreme ease in the future.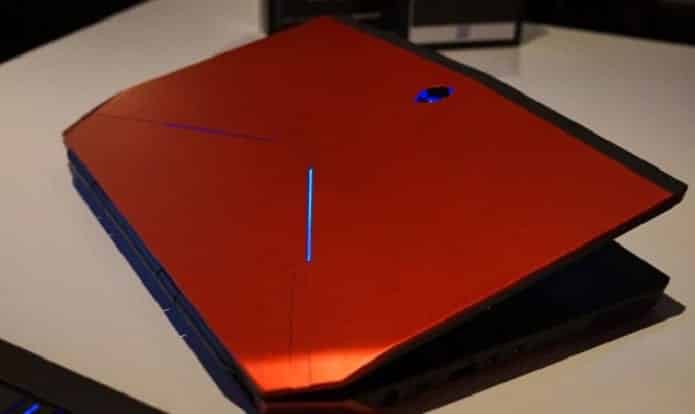 With the latest display breakthrough, we are confident that lots of manufacturers are going to take notes on this advancement and make preparations to deliver consumers their own OLED gaming notebooks for 2016.