Vivo to unveil world's first 6GB RAM smartphone
The fight for those extra GBs will continue this year with Vivo planning to launch the world's first smartphone with 6GB RAM. The Chinese smartphone manufacturer will be launching Xplay 5, its flagship smartphone on 1st March before any other company has a chance to launch world's biggest RAM smartphone.
It was earlier reported that Huawei would launch its P9 with 6GB RAM to take the honours of being world's first 6GB smartphone. But according to reports, Huawei P9 may not have 6GB after all, thus paving the way for Vivo.
Vivo is leaving no stones unturned to publicise the massive RAM in its Xplay 5. It has already started releasing teasers which detail the awesome Xplay 5 configuration. According to GizmoChina, the Xplay 5 will have 6GB RAM and Qualcomm's Snapdragon 820 processor to make it perhaps the most powerful phone yet. Aside from the powerful hardware configuration, we also know the Xplay 5 will come with a dual-edge display that will probably support Quad HD (2560 x 1440 pixels) resolution.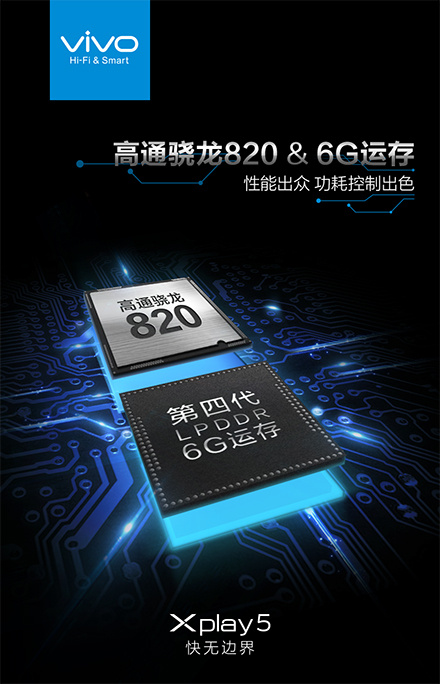 While Vivo has kept other specs in dark to create hype, rumors suggest that Xplay 5 could have a 16-megapixel rear-facing camera, an 8-megapixel camera in the front, and a massive 4,300 mAh battery.
If no other smartphone maker manages to hoodwink Vivo and come out with their own 6GB offering by 29th Feb, then Vivo Xplay 5 will become the world's first handset to pack such a high amount of memory.
While Vivo is publicising the Xplay 5 with gusto, it has so for not revealed the price of the fact whether Xplay 5 will be available for users outside China.