OnePlus 5, the thinnest flagship smartphone with Dual Camera, Snapdragon 835 and 8GB RAM to be launched in India ahead of world release
After a steady stream of rumors & leaks about the device, we have finally received a solid confirmation about the soon to be released OnePlus 5. This new news comes from the e-commerce giant Amazon's India website.
The leak God
The web page did not list the information, but it did contain said information in it's source code which was accessed by Evan Blass who you will probably recognize by his Twitter handle @evleaks. Evan Bliss has a pretty solid track record when it comes to such leaks and this time, the leak seems to have been verified by other individuals who have been tweeting the same.
https://twitter.com/evleaks/status/872429933783638016
According to Blass, the device will come with 8GB of RAM which is one detail that has so far not been officially confirmed. The rest of the details Blass confirmed were that the device will be powered by a Snapdragon 835 processor clocked at 2.35 GHz and as the company has revealed will be a slim flagship. Other rumors reveal that the device may feature a dual camera setup however, we will have to wait for the official release to confirm that.
The source code on Amazon's India website has since been removed but not before people were able to grab a screenshot which you can checkout here.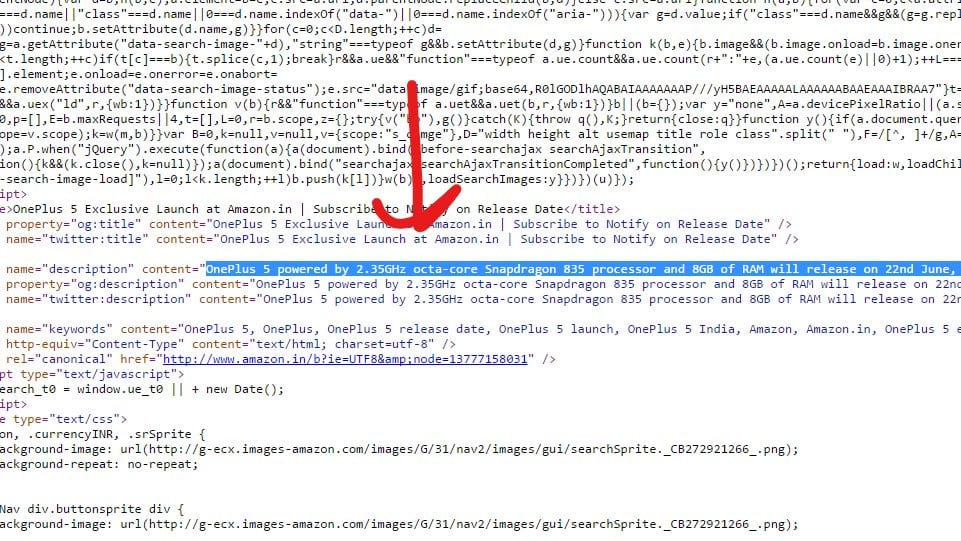 OnePlus also revealed what its upcoming flagship would look like. Here is first look of OnePlus 5 for Techworm readers
A continuous hard edge, refined over 3 years. https://t.co/KVXBWmhBt8 pic.twitter.com/KBNppQ0R0U

— OnePlus (@oneplus) June 8, 2017
OnePlus 5 is sure to make invoke curiosity among smartphone buyers because OnePlus CEO Pete Lau confirmed that it will be the 'thinnest flagship smartphone.' The Amazon.in listing also confirms the fact that OnePlus gives India its due importance in the world smartphone market. While the Chinese economy is slowing down, Indian buyers remain the last hope for smartphone makers like Apple, Xiaomi, Samsung. OnePlus etc.
The OnePlus 5 could be priced at around $600 or Rs.39,000.