Why iPhone 8 Is World's Fastest Smartphone Right Now? Faster even than Samsung Galaxy S8, OnePlus 5 and even MacBook Pro and Dell XPS laptops
it's been almost two weeks since Apple launched its latest iPhone 8 at a gala in Cupertino. Apple has started shipping the iPhone 8 to its buyers from September 22 in stores across the world.
You already know what the iPhone 8 looks like — it's just like the last three generations of iPhones, but with a glass back. The latest iteration from Apple is a continuation of the iPhone journey but there is something about iPhone 8 that you don't know.
It is the fastest smartphone in the world! In fact, leave aside Samsung Galaxy S8/Note 8 and OnePlus 5T it is faster than Dell XPS and MacBook Pro iCore5 laptops. Tom's Guide guys did a chop chop on iPhone 8 and the results were amazing.
Geekbench 4 Performance test of iPhone 8
Tom's Guide guys started the testing of the iPhone 8 with Geekbench 4, which measures overall performance. The test results were something out of blue. iPhone 8 beats Samsung's Galaxy Note 8 which is currently the fastest Android smartphone by a whopping margin.
In the multicore portion of this test, the iPhone 8 hit 10,170 which was 54 percent faster than the score from Samsung's Galaxy Note 8 at 6,564.
Mind you Apple is powering iPhone 8 with an all-new A11 six-core chip and Samsung Galaxy S8 Note has 6GB of RAM paired with Qualcomm's fastest and latest Snapdragon 835 chip. iPhone 8 also beat the other competitor, OnePlus 5 which got a score of 6,542.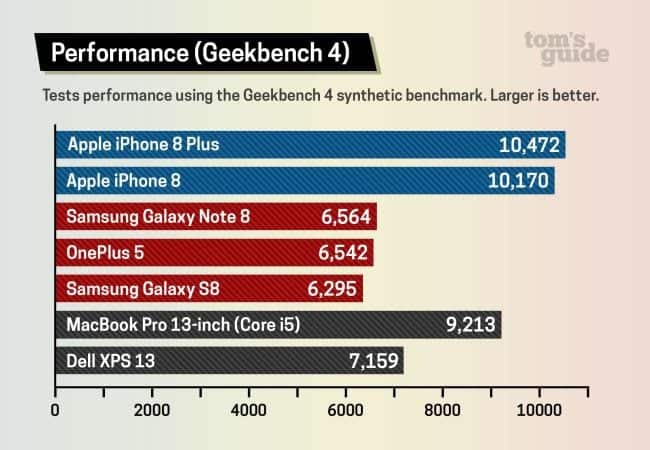 The real surprise is that the iPhone beat even its own brother in shelves – MacBook Pro. Yes, the iPhone 8 GeekBench 4 scores were greater than Apple Mac OS run MacBook Pro 13 inch laptop with  7th-generation Core i5 processor. It also beat Windows 10 run Dell XPS 13.
Mind you the founder of Geekbench, John Poole, said that laptops are better at delivering sustained performance over a longer period of time, as opposed to the shorter max burst performance that benchmark tests like those conducted at Geekbench 4 are designed to measure.
iPhone 8 3D test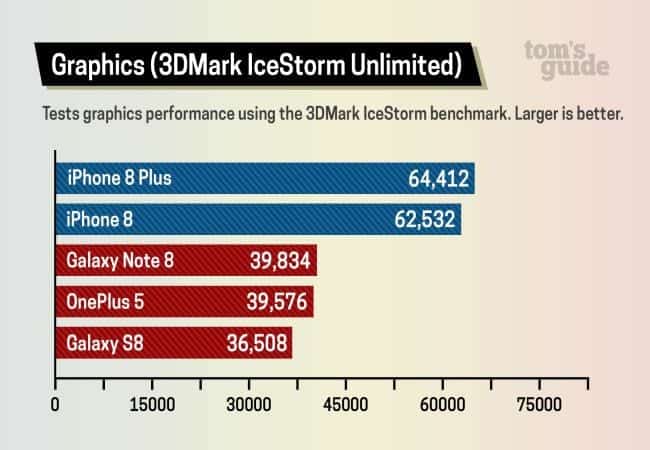 Tom's guide guys than took iPhone 8 to 3DMark test which gauges graphics performance. The iPhone 8 scored an off-the-charts 62,212, and the iPhone 8 Plus managed an even higher 64,412. Compare that to the Samsung Galaxy Note 8's 39,834 and the OnePlus 5's 39,576.
Mark Spoonauer says that the 3DMark test can be considered as follows: a 2-minute video, shot in 4K by a drone and edited on the iPhone 8, Galaxy Note 8 and Galaxy S8+ with same transitions and effects and then saved and exported to a different device.
The iPhone 8 finished this assignment in just 42 seconds, while the Note 8 took more than 3 minutes. The Galaxy S8+ took more than 4 minutes.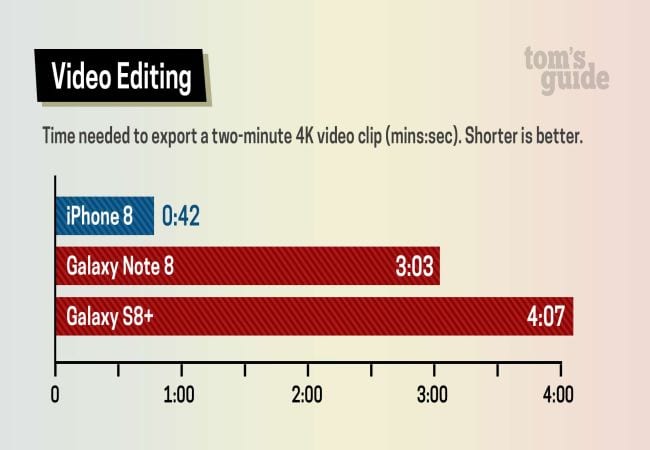 The Tom's Guide team also found that iPhone 8 also opened highly resource-demanding apps faster than its predecessor. It took the iPhone 8 11 seconds to fully load the Injustice 2 game, compared to 14.53 seconds for the iPhone 7 Plus and 19 seconds for the Note 8.
iPhone 8 Camera test
Next, comes the iPhone 8 camera. The benchmarking gurus at DxO rated the new Apple iPhone 8 and iPhone 8 Plus cameras – and proclaimed them the best they've ever tested.
With a DxOMark Mobile score of 94, the iPhone 8 Plus edges ahead of the 92 points scored by the smaller iPhone 8, but both of the new iPhone models outperform the 90 points jointly achieved by the Android-powered Google Pixel and HTC U11 smartphones. Sadly DxO guys didn't benchmark it against Samsung Galaxy S8 Note.
All the above tests prove one thing, iPhone 8 is value for money. Spending $800 on iPhone 8 could be well worth it instead of wasting your hard-earned $1000 on iPhone X just for the face recognition tech.
Android fanboys may say that despite the good benchmarking, Apple doesn't allow its users to do what they want, unlike Android smartphones which can be rooted and the cores can be put to better use.
Imagine if iPhone 8 had been an Android smartphone, the power of the iPhone 8 would have meant that we no longer needed Windows laptops.