MangaStream was one of the most renowned manga scanlation sites that has shut down.
It provided users to read Japanese comics online.
Mangastream had some popular manga series like Black Clover, Dr. Slump, Naruto, One Piece, and several others.
Mangastream has been around for almost a decade. Along with OneManga, they pretty much dominated the online manga scanlation space.
In this article, we have shared some of the best alternatives to Mangastream that you can use to read manga online for free.
Best Mangastream Alternatives To Read Manga Online For Free
1. MangaOwl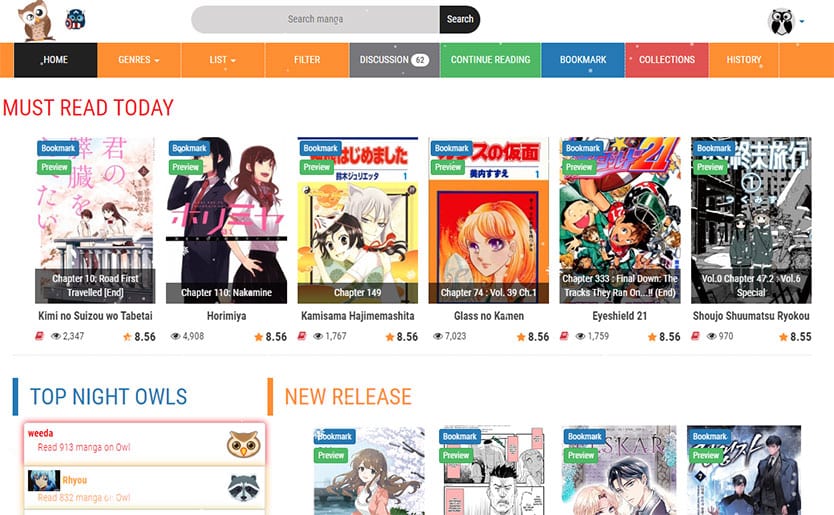 MangaOwl is one of the best Mangastream alternatives available out there. They are known for releasing WSJ series episodes before the official release. The site has over 52 genres of Manga, ranging from Action to Yuri.
Users can also submit Manga from the collection section. Every Manga series and its episodes have individual user ratings, which may help readers discover good manga series.
What I liked 
Continue reading from where you left
Readers can leave halfway for other errands and resume from the point where they left reading. The continue reading tab provides the feature to resume reading from the point in a manga chapter, episode to resume reading.
User rating
Manga readers can rate a series that would help other readers save time while deciding to start reading a particular manga series.
What I did not like
No discussion forum
The comment system on a Manga series's page does not cut it for readers who would like to discuss it on a length.
---
2.

MangaFox
There are two sites named Mangafox, while one we mentioned is renowned and famous, provides one piece manga stream as well, while the latter one does not. The popular manga scanlation site has both WSJ and WSM manga series, and also includes Shotacon, Smut.
MangaFox app is relatively popular among smartphone using manga stream users. The apps are not available on the official app stores of the leading operating systems, namely Android, iOS. MangaFox recommends the MangaZone app for reading their scanlations.
What I liked 
Frequently updated Manga comics
New episodes to a Manga series are released on the same day as the official release. Readers of popular Manga series like Black clover, Black butler, etc. wouldn't have to wait long for reading their favorite manga comic.
User-friendly app
The Manga Zone app recommended by MangaFox is effortless and reasonably easy to use. Functionalities like adaptive zoom in, embedded comment visibility makes the experience worthwhile.
What I did not like
A limited collection of Manga series
Apart from the popular manga series, there is a lack of indie manga collection with less demand among the readers.
---
3.

MangaDex
MangaDex is the scanlation site with one of the largest collections of Shonen, Sheinen, Josei, and webtoon manga comics. Manga comics are available on the site in over 20 languages, including Italian, German, etc.
There are a variety of versions of each Manga available, which includes a colored version, alternative fan-fiction endings, and official crossover manga series.
Groups can be formed for sharing, collecting, discussing, or uploading manga series. Readers can follow specific groups of their liking based on manga releases, edits, etc. 
What I liked 
Active community
Apart from the comment-based discussion, there is a separate forum for the community members to interact, discuss their favorite Manga, artist collaboration, etc. among other things.
User-friendly Mobile and Desktop websites
Both mobile and desktop websites of MangaDex are incredibly user-friendly. While some manga stream sites lack basic functionalities like a dark-mode, there is a variety of options apart from dark-mode like dark-bronze, abyss, etc. which enhances long-duration manga reading experience fairly easy on the eyes of the readers.
What I did not like
Some Manga episodes are not available
Latest episodes Popular Manga series from WSJ(Shonen) such as Black Clover are not available. The prompt to read on MangaPlus, an official site of the publisher of Black Clover pops up on the screen.
---
4.

MangaEden
MangaEden is simple to use, straightforward Manga streaming website offering manga comics in two languages, English and Italian.
Dragon Ball Super and One Punch man are amongst the most frequently updated manga comics on the site. There are two feeds for updates on the latest arrival of episodes in the two languages we mentioned before. 
What I liked 
Ease of use
The entire website is straightforward, with no hidden functionalities that would require time to discover them. You can add your favorite Manga to your collection and be up-to-date on the release of their latest episodes from the MyManga feed.
Minimal ads
There is a minimal presence of advertisements on both mobile and desktop websites of the Manga Eden.

What I did not like
No resume reading support
Unlike MangaFox, MangaOwl, and others, readers cannot resume from where a person left reading. They have to manually flip through the pages and recall the point in the manga comic where they left off to pick up from there.
---
5.

Manganelo
Manganelo is amongst those manga scanlation websites which is used by several manga search engines, manga books databases for streaming its manga comics uploads on their platform.
Vertical scroll feed for reading the next page of the Manga's episode is available on Manganelo.
What I liked 
Most Popular Mangas list


After finishing your favorite manga comic, you can look to the right sidebar of the website titled

Most Popular Manga

, which lists the most popular mangas on the site. They are frequently updated with what is popular on a real-time basis. Manga comics like Tales of Demons and Gods, I became legend a decade later are on the top usually.

Internet Data Saving reading


A lot of users read Manga online comics on a metered or limited data. There is an option to

load all images at once

option, which can be turned off, meaning the next page will load only the user scrolls downwards. It helps in saving data for people who are on the look to be conservative with mobile data. Looking on the brighter side, readers can load all the images of the episode at once while being connected to a WiFI network or an Internet network without a data cap. 
What I did not like
No Mobile app


There is no official or recommended app for Manganelo readers.
---
6.

MangaFreak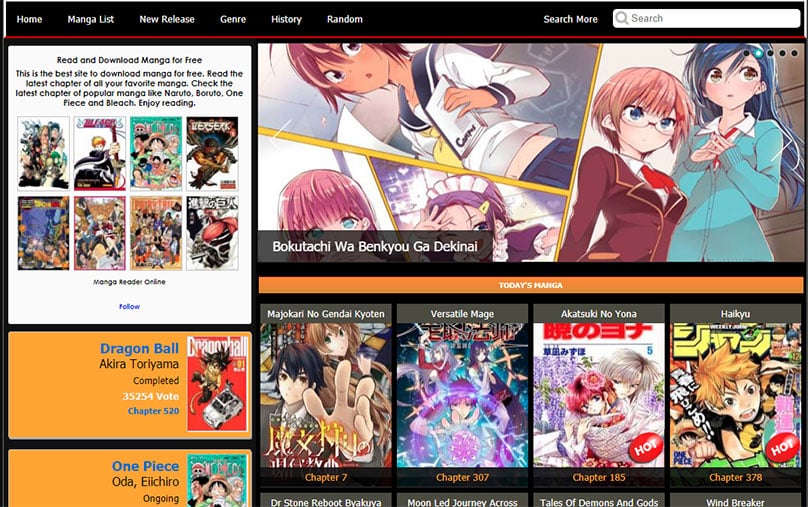 MangaFreak is one of those underrated scanlation sites for Manga that has a plethora of content across different genres. The site is not as popular as its competitors that I have mentioned earlier.
It is amongst the few manga comic sites that allow downloading manga comics.
What I liked 
Episode Bookmark without registration


Readers can pick up from where they left in a particular character of the Japanese manga series. There is no need to create an account on the website for using this feature. All you need to do is keep the cookies of your web browser(desktop or smartphone) intact. In simpler words, do not clear cookies when

clearing history

from your web browser

.

Download Manga comics for free


Readers can download manga comics for reading offline without the need to stay connected to the Internet. It is among a few of those websites that allow downloading comics and does not cost a dime. 
What I did not like
Excessive overlapping ads


Although there is an understanding that these websites cost money to run and the owners need the funds to keep them afloat. However, overlapping ads are going to do more harm than good when other Mangastream alternatives are available that have minimal advertisements on their website.
---
7.

MangaPark
MangaPark is among the most renowned manga scanlation sites on the Internet. It is considered as a decent alternative to now-defunct KissManga, which was the place to be for reading manga.
What I liked 
Custom number of images per page


Load as many as ten images per page or 1 chapter page. Some readers don't prefer loading images for the next page, while some of them also prefer.

Sisters sites as a backup


Manga Park has sister sites like MangaWindow and Bato.to, which virtually has the same content but one a different domain URL. If one of the manga stream sites is blocked, you can see the other two.
What I did not like
No bookmark in between chapters


There is no option to bookmark inside a chapter for resuming it later.
---
8.

MangaHere
MangaHere has a collection of over 10,000 manga comics and growing every day with different versions of Manga. The website address(URL) keeps on frequently changing because of the DMCA cases against the site. 
What I liked 
Different variants of Manga


Manga, on most websites, is of the Japanese version. MangaHere offers other Manga variants like Korean Manga, HongKong Manga, Chinese Manga, European Manga, amongst others.

Add comments on the magazine itself


Readers can post "

Danmaku

" on the manga episodes images themselves. Type a

Danmaku

of a maximum of 80 characters and tap/click on the image of the chapter where you want to

pin

it.
What I did not like
Lack of reading experience enhancing options


There is no option to bookmark inside a chapter for resuming it later.
---
9.

MangaPanda
MangaPanda is Manga streaming with an interface similar to Mangastream. All the manga comic series can be listed down grammatically. 
What I liked 
Surprise me button


Ambiguity in choosing the next manga series is a problem that we are all familiar with. Tap/click on the

Surprise me

button, and a randomly chosen manga by the system will appear on your screen.

No Registration required


Manga comics can be read without registration or creating an account.
What I did not like
Infrequent updates lately


Some of the Mangas do not receive frequent updates as they use to.
---
10.

TenManga
TenManga is a relatively new scanlation site on the block with all the right ingredients to provide some respite to the readers of the veteran manga comic site who are searching for a reliable Mangastream alternative.
What I liked 
Interactive-real time search


Clicking on the search button pops open an interactive search box that searches and displays result in an interactive exclusive pop-up window, which gives a neat touch to the overall user experience.

Wide variety of Indie manga books/comics


Tenmaga has a decent collection of lesser-known Indie manga comics, books that cater to smaller audiences.
What I did not like
No community


There is no forum, discussion panel, or comment system for passionate manga readers to discussion manga comics.
---
What was Illegal about Mangastream?
Mangastream is a scanlation website. Scanlation sites provide scans of Manga by fans who translate, edit the comics into several other languages, along with captioning.
An artist initially publishes mangas under a publishing company that owns the right. It was an infringement of intellectual property rights(piracy, imitation) of the publishers, such as Shueisha and a significant loss of revenue to the publishers as well as the artists working on them.
What happened to Mangastream?
There has been no official statement from Mangastream or their small-sized staff about the sudden shutdown of the Mangastream website.
However, folks at Reddit did some digging to find the stepping stone of this abrupt closure. Earlier this year, Sheishua, the publisher of WSJ manga subpoenaed Cloudflare in a US court, asking for details of the Mangastream owner.
This has led to speculations over the chain of events that may have led to the close of Mangastream.
Is Mangastream safe?
Yes, MangaStream and its alternatives are safe but you should use and adblocker to protect yourself from unwanted ads and popups. Moreover using a VPN will be a good idea to protect your identity and not get tracked.
---
Alternatives Methods
In addition to the above-mentioned manga sites, you can also use Manga Plus and Viz which are currently free and totally legal sites to read manga online.
Also Read- Best Sources To Read Comics Online For Free
Disclaimer – Techworm.net does not endorse piracy and illegal content in any form whatsoever. Contact us directly for any conflict/dispute regarding the content and swift resolution.