The bibliophile in you loves reading ebooks. Some read it on their smartphone while on the commute, while others read it on their ebook reading devices like Amazon Kindle which are specially designed to augment your reading experience.
There is a sizable chunk of computer audience who deserve the best ePUB reader for Windows 10 and earlier PCs to read books on their computers, laptops, and windows tablets for different reasons and reading leisure.
In this article, we have shared some of the best epub reader apps for windows desktop PCs and Laptops that you can use to read epubs from Google Books, Amazon Kindle, ebook torrent sites, and other ebooks sites and apps.
What is ePUB?
EPUB is a document format, short form for ELECTRONIC PUBLICATION, published by International Digital Publishing Forum(IDPF) in 2007.
It is a combination of HTML, CSS, and XML to provide an all-round aesthetic document as compared to PDF, which is a plain, digital text, consisting of scanned documents or converted text.
The latest version is ePUB 3, which has included support for comics, among other things.
How to open epub files? What is an ePUB reader?
An ePUB reader is a reader for documents in ePUB format, having an ".epub" file extension that came into existence in 2007. It is used by book aficionados and readers who prefer their books in a more wholesome reading experience.
Check out 10 of the best ePUB readers for Windows PCs and Laptops that are available out there. The primary focus is on freeware and ease of reading.
Best ePUB Readers for Windows 10/11/7
SumatraPDF
Calibre
FBreader
Adobe Digital Editions
Bookviser
Freda
EPUB File Reader
Bibliovore
Kobo eBooks
Reader for PC – Sony
1. SumtraPDF
SumtraPDF is a free, open-source ePUB reader that supports formats such as PDF, ePUB, MOBI, CHM, XPS, DjVu, CBZ, CBR. You can open ePUB files on Windows 10 without using Microsoft Edge or any browser like Chrome, Firefox, etc.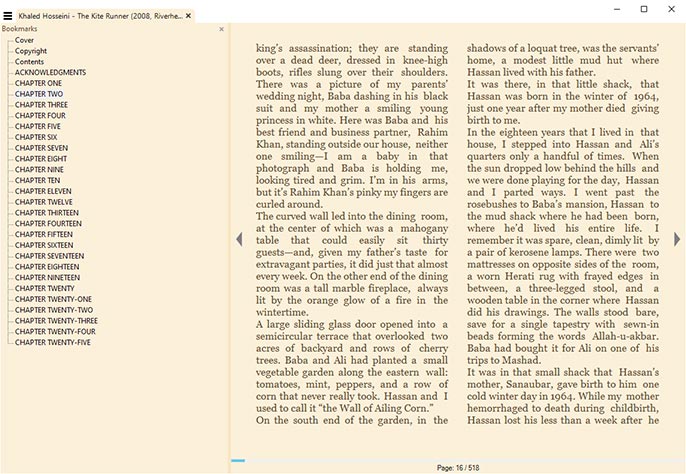 It is amongst the easiest to use, simple ePUB reader for free that is available for Windows operating system. The ePUB files have a default setting when opened in the reader. The background color is set as light yellow, which is easy on the eyes and suitable for long reading sessions. Background color can be changed from the advanced settings which is in a text document titled SumatraPDF-Settings.
What I liked about it
– Clutter-free, easy to use UI. It does the job pretty well without the unwanted frills.
– Small installation file size. 32-bit and 64-bit installers are under the size of 5 MB.
– A portable version is also available, which can be carried around with you on different computers on a USB-stick.
What could be better
– An offline manual containing the keyboard shortcuts which are available on the website otherwise. Shortcuts in a text-file would not increase the file size. The settings can be viewed here.
License: Freeware, open-source
OS: Windows XP or later
---
2. Calibre
Calibre is an all-rounder in the document viewing segment. Besides being an exceptional ePUB reader, it is a full-fledged ebook management tool.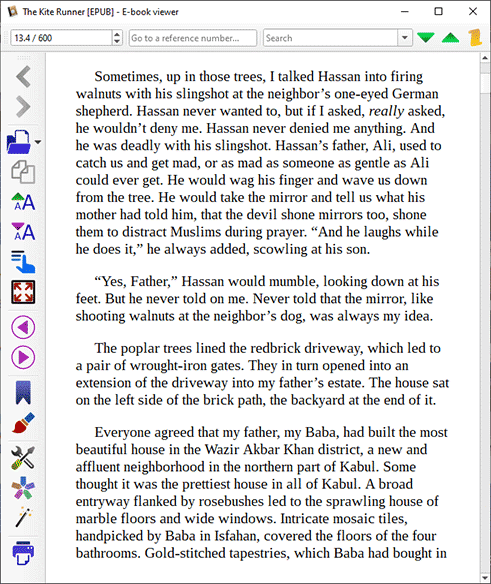 Kindle readers, including myself, use this application for fixing the formatting of ebooks and sending them to the device. Calibre has three modes, which are as a viewer/reader for ebooks, document editor, and the full-fledged ebook manager.
What I liked about it
– Fix the metadata of the ebook. You can either manually enter the correct information or search from the Internet, select the best metadata, and apply changes.
– Look-up the meaning of a word online/offline. There is a keyboard shortcut to look-up the meaning online as well. For setting up an offline dictionary sans Internet, the offline dictionary server needs to be setup. A guide to setup an offline Wiktionary can be found here.
– There is an option to utilize User CSS stylesheet to provide a complete overhaul of reading experience using a custom theme reading. If you know a little bit of HTML and CSS, then this feature would come in handy. It reduces the need for going through PREFERENCES for fine-tuning the view.
– Custom-themes are also available for enhancing your reading experience. They can be made by customizing your settings to you liking and saving it from the THEMING section of the PREFERENCES.
What could be improved
– Some ePUB ebook's text is not correctly displayed. Wild characters appear instead of the text.
License: Freeware, open-source
OS: Windows 7 or later, macOS, Linux
---
3. FBreader
FBreader is another open-source free ePUB reader for windows 10 that can cater to different formats of the ebook, which includes the likes of ePUB and ePUB 3.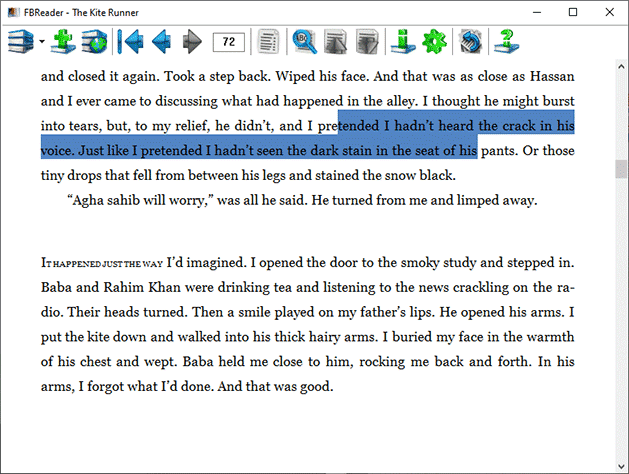 Other support formats are Mobi, FB2, PDF, Plucker, CHM. On the first launch, users will be prompted to set a path directory for opening and storing books. Margins, line spacing, and fonts, amongst other things, can be set from the Settings menu.
What I liked
– The progress bar can be customized according to reader preference.
– Online network libraries such as Manybooks, Feedbooks, Shucan catalog, etc. can be used to access books for free and a fee.
– Custom keyboard shortcuts can be set for over a dozen predefined actions. There is an option to set a delay for keys pressed as well to avoid any accidental call-to-action.
– Android and iOS versions of the reader available so that you can take your favorite ePUB reader to the smartphone.
What could be improved
– Drag and drop to open feature is not available in this reader. Manually browsing the ebook works fine, but a drag and drop option is not too much to ask, in my opinion.
License: Freeware, open-source
OS: Windows 7 or later, macOS, Linux, Android
---
4. Adobe Digital Editions
Adobe Digital Editions(ADE) is a free ePUB reader for windows PC that is predominantly used by proof-readers for books under review.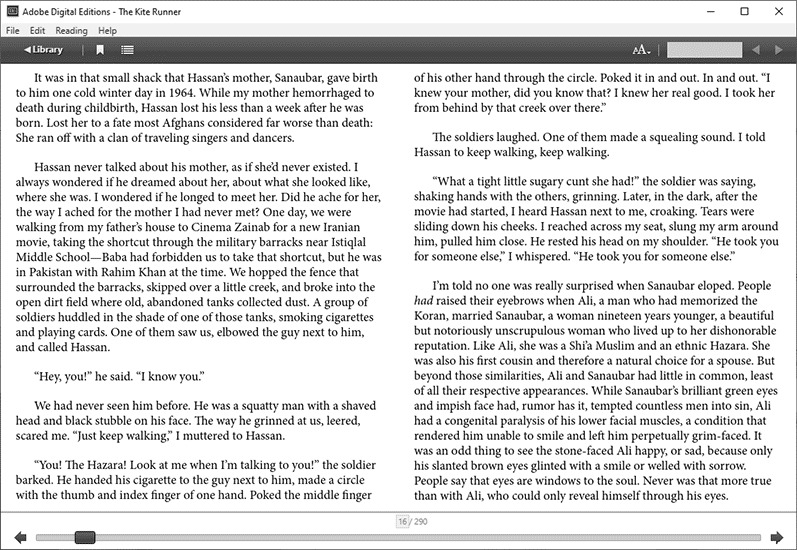 It supports mainly three formats, PDF, ePUB, and ePUB 3.
What I liked about it
– Versatile DRM system that can be synced with digital libraries for ease of access.
– Create different bookshelves in the LIBRARY for a different genre, types of ebooks. Bookshelves can be categorized by different parameters such as pages read, page count, date published, etc.
– Books can be synced across devices when logged in with the Adobe ID. The Adobe ID is free to register for virtually all regions.
– Intuitive pop-up notes can be added anywhere in an ebook by highlighting the text.
What could be improved
– There is a general lack of customization for augmenting the reading experience.
– Dictionary is somewhat missed by many. A more natural alternative to be added would be have been a selection search feature that searched for the meaning of a word online, like some of the ebook readers mentioned offers.
License: Freeware
OS: Windows 7 or later, macOS, Android
Download Adobe Digital Editions
---
5. Bookviser
Bookviser is an ebook reader that provides the feeling of reading an actual book instead of a conventional reading setup.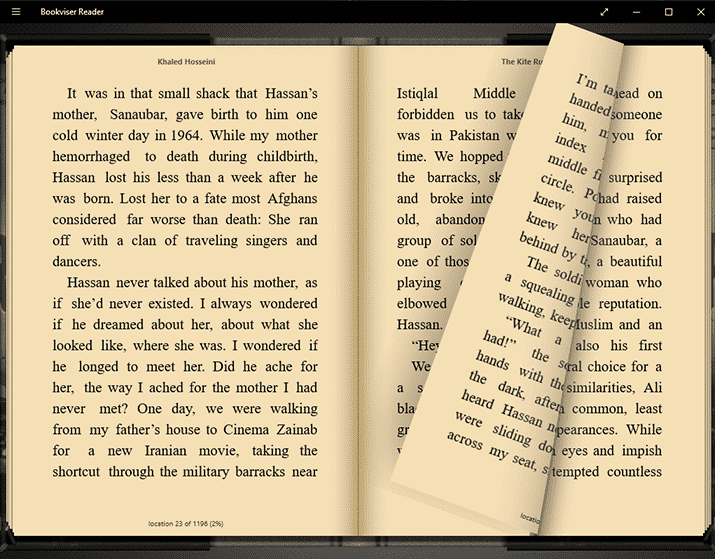 Similar to FBreader, readers can access online library networks like Feedbooks, Manybooks, etc. The user-interface of the ePUB reader is in line with the modern standards and accommodates well with the operating system. You can find a horizontally vast space on the app, which gives a touch-screen friendly feel on Windows as well.
What I liked
– The ability to pin your favorite titles to the home-screen for quick access.
– Sharing option for text selection that lets a reader share their favorite quotes, notes, etc. with others through email, OneNote, and other installed apps with sharing functionalities.
– Realistic page transition that feels like turning the pages of a real book. It can be turned off from the settings for readers who find it obtrusive.
What could be improved
– An option to edit metadata would have been nice
– Drag and drop option to open ebooks is not available
License: Freemium
OS: Windows 7 or higher, Microsoft phones
---
6. Freda
Freda is a free DRM-Free ePUB viewer and reader for Windows 10 that also supports MOBI, HTML, and TXT format ebooks. The ebook reader has deep backward compatibility, as old as Windows 2003 and Windows CE.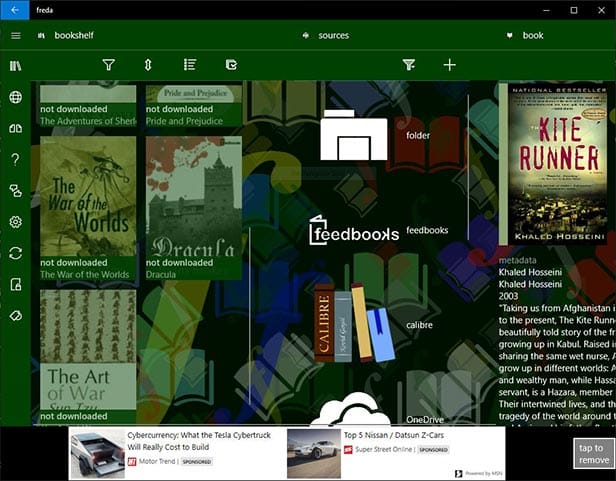 While other readers have a section for apprising the user about its functionalities, Freda does the same by adding a Show Hints button. It is simple, and all you need to do is click/tap once on the button and hover around different options to get a pop-up notification that provides a brief about the functionality.
What I liked
– It includes a Dyslexic friendly font called OpenDyslexic for readers with dyslexia.
– Password protection can be enabled for the reader so that other users using your computer/device cannot pry on your reading activities.
– Connect your OneDrive or DropBox accounts for downloading and reading ebooks from your cloud backup.
– Calibre can be connected to access its book library directly.
What could be improved
– Page transition could be better, even if its touch-screen friendly.
License: Freeware
OS: Windows CE, XP, Vista or later, Android
---
7. EPUB File reader
The ePUB reader is as generic as the name suggests. It does what it says, nothing more and nothing less.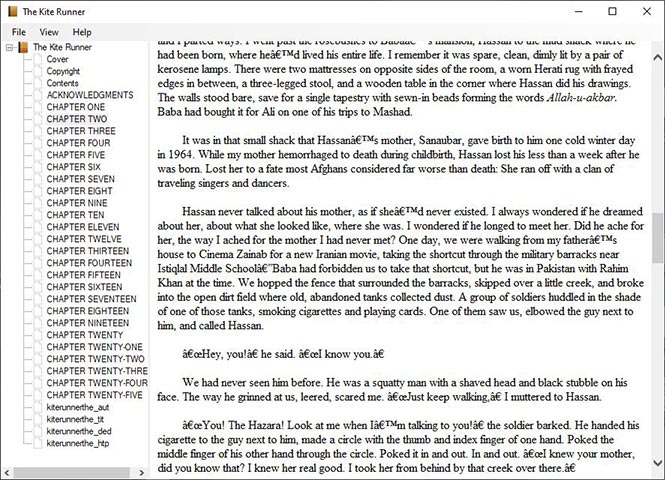 If you need an ePUB reader for Windows 11 with no-nonsense, then this can be the one to fulfill the requirement. DOT NET framework is necessary for this application to work. It can be downloaded from Microsoft's official site.
What I liked
– Easy to use interface. All the basic functionalities are present in the reader, and they can be accessed from the shortcut keys.
– You can save portions of the ebooks in HTML format by selecting the text or from the right-click menu on a page.
– Print a portion of the text from a book directly by selecting the text
What could be improved
– A custom background for elongated reading hours would have made it perfect for simple ePUB documents reading.
License: Freeware
OS: Windows Vista or later
---
8. Bibliovore
Bibliovore is an aesthetically beautiful ebook reader that is reasonably easy to use and has the right mix of features for passionate readers.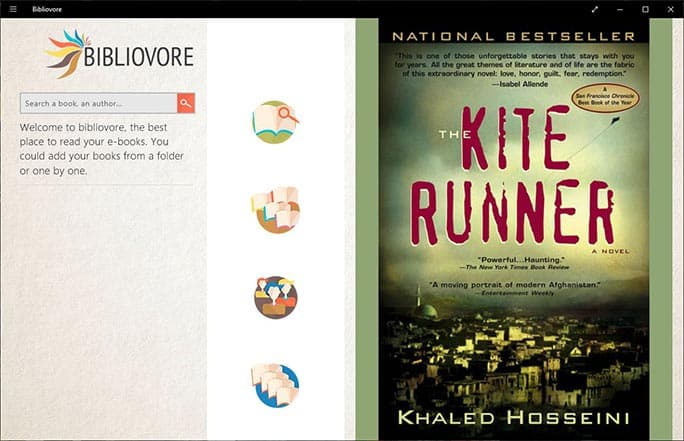 The user-interface has a certain touch-feel because it is compatible with all Windows devices. Whenever a book is loaded for the first time, it takes a one-time 10-15 seconds processor to load an ebook. I tried it with an ePUB ebook of 350 pages to load on the reader.
What I liked
– Different reading themes for day and night, which can be set-up from them app settings menu. There are over a dozen reading themes like Sepia, Monochrome, Black and Sand, etc.
– An extensive network of online libraries to read thousands of books for free through Project Gutenberg, amongst others.
– Landscape and Portrait mode are available for reading.
– Personalized bookmarks to provide an intuitive bookmark catalog for each bookmark
– Sync your documents with the cloud(OneDrive).
What could be improved
– A built-in dictionary for finding the unknown words would probably seal the deal for many ebook readers. It lacks the function to select and search online like other ePUB book readers.
License: Free
OS: Windows 8.1 or higher
---
9. Kobo eBooks
Kobo is an epub reading app by Rakuten, is an ebook reading app with an integrated store for purchasing books from the app itself.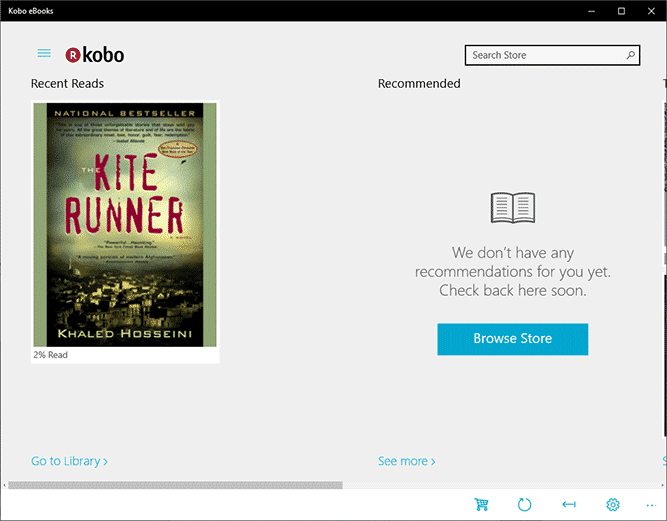 You have to login via Facebook, Google, or a Kobo account, which can be created under 15 seconds by entering your email and a strong password. On registering for the first time, you will get a $5 store credit to spend on their ebook store, which is available from time to time.
What I liked
– Three reading modes which are Day, Night and Sepia
– Over 10 fonts to use on ebooks, including the publisher's default, which is applied unless changed.
– Gesture shortcuts on the reading screen for bookmarks, settings, and more.
– Ebooks' suggestion based on the reader's reading patterns that appear in the suggestion panel of the home screen.
What could be improved
– Text selection is not possible in any ePUB and PDF book that I tried
– No dictionary for finding the meaning of new words
License: Free
OS: Windows 8 or higher
---
10. Reader for PC by Sony
Reader for PC is a part of the application suite that was bundled with Sony's ebook reader, which has discontinued now.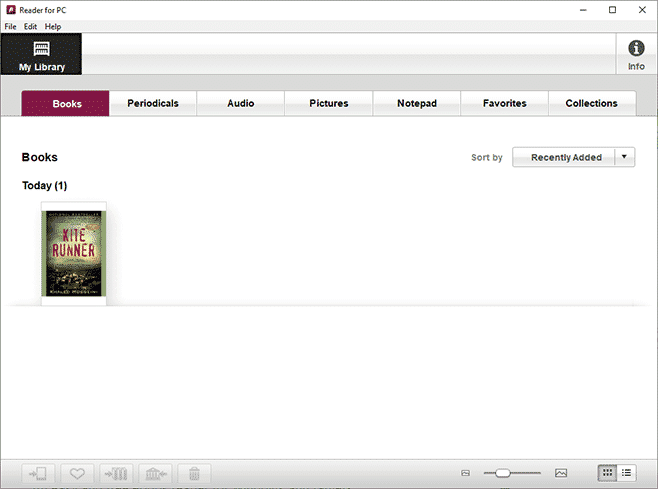 Apart from ebooks, it can also open audiobooks, periodicals, notes, and pictures. It supports ePUB, PDF, RTF, and Word document formats for documents. The reader supports audiobooks in the format of MP3, MP4, and M4A. The reader can be synced with the Kobo ebook store to purchase books and load them into your library directly.
What I liked
– Ebooks can be dragged and dropped into the reader, and it loads them in the library.
– It supports Adobe DRM for purchasing ebooks from a variety of online stores. Users need to log in with their Adobe DRM credentials to connect with the centralized DRM system.
– Annotations can be exported in RTF format for other purposes.
What could be improved
– There is no customization available for the reading view. The addition of a customizable background could provide respite to the reader's eyes.
License: Free
OS: Windows Vista or higher
---
Also Read- How To Read Kindle Books On PC
Over to You
There are several hundred ePUB readers for Windows that some way or the other does the job. It is upto you to decide the one which epub app suits your reading needs.
While there are many PDF viewers out there, which does an exceptional job of viewing ePUB format documents, some lack the proper document encoding for some kinds of documents.
Let me know via the comment section if there an EPUB viewer that deserves to make it into the list.