Einthusan is a feature-packed content streaming website that can be used to watch movies online.
Since this website hosts a plethora of Indian regional movies including famous South Asian movies, it is very famous in third-world countries like India, Sri Lanka, Bangladesh, and Pakistan.
Moreover, Indian regional movie lovers from around the world who love to watch Telugu movies, Tamil movies are regular visitors to this movie site.
You can easily find movies in Hindi, Tamil, Telugu, Kannada, Bengali, Malayalam, Punjabi, Marathi, and Chinese on this website.
Einthusan Hindi movies collection is also full of evergreen Bollywood movies.
Full-length feature films on Einthusan are available in HD quality. Additionally, you can also stream and download high-bitrate audio albums, videos, and music files from Einthusan.
Similar to other mainstream online movie sites, content on Einthusan is very well organized into different categories and sections.
The simple and easy-to-navigate UI of Einthusan makes the process of searching and filtering movies a breeze.
Sadly, Einthusan has been accused of redistributing copyrighted content several times. As a result, it is blocked in numerous countries and regions including India.
While you can still use VPN to unblock Einthusan. It is recommended to use legal Einthusan alternative sites mentioned below to avoid any legal consequences.
RELATED: Tamilrockers Alternatives
---
11 Best Einthusan Alternatives To Watch Hindi, Tamil, Telugu Movies
Hotstar
YouTube
Amazon Prime Video
YuppTV
Voot
SonyLIV
Netflix
MX Player
JioCinema
Airtel Xstream
Hungama
1. Hotstar
Since its advent in 2015, Hotstar (Now Disney+hotstar in India) has gained immense popularity in South Asian countries like India. Hotstar boasts 100,000 hours of TV shows and movies in several regional languages. Additionally, Hotstar also doubles up as a live sports event streaming service.
If you were impressed by the Einthusan Telugu movies catalog, then check out the collection that Hotstar has to offer.
Unlike, Einthusan, Hotstar has its native Android and iOS applications. Content on Hotstar is updated on a regular basis and a majority of movies and TV shows on this platform are free to watch.
That said, you can unlock more content by subscribing to Hotstar Premium.
Hotstar Premium now tied up with disney+ hosts many latest American TV shows, Hollywood movies, and exclusive Originals.
---
2. YouTube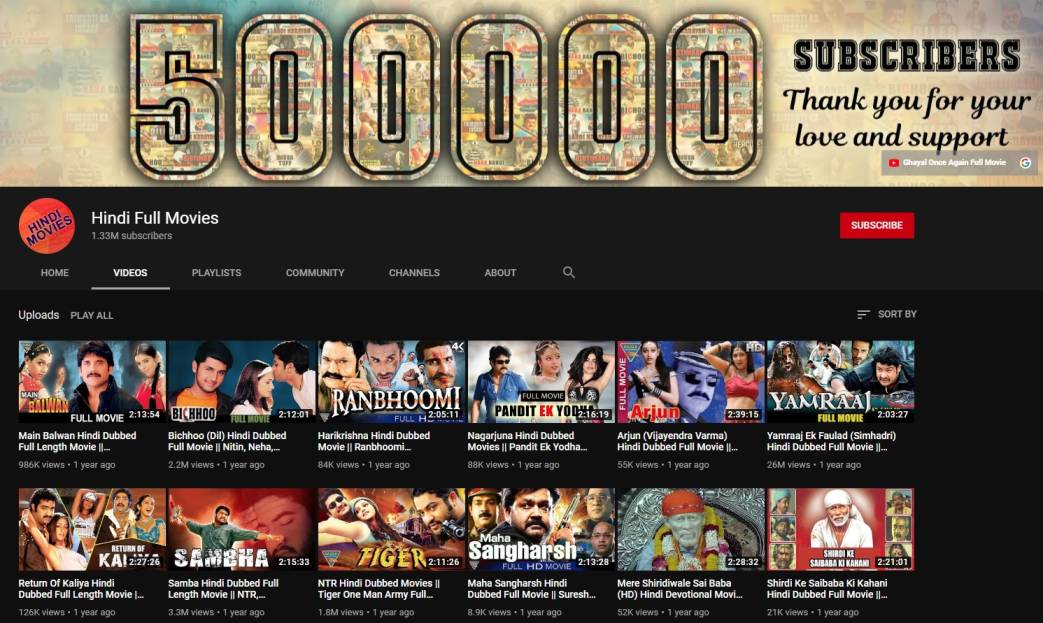 Yes, you read it right YouTube is one of the best free and legal alternatives to Einthusan.
Apart from Hindi movies, you can effortlessly find and stream Telugu movies on the world's largest online video-sharing platform, and that too in 4K resolution.
The full-length movies on YouTube are generally uploaded by the official channels of several film production companies who own the copyrights of the movie.
Additionally, different movie-based YouTube channels acquire legal content and upload it on their channel. Therefore, you can watch Malayalam movies for free online, without paying anything.
As for the downside, not every movie that you want to watch is available for free on YouTube. That said if you are willing to spare some money then you can either directly purchase or rent a movie on YouTube.
---
3. Amazon Prime Video
The next Einthusan alternative offers a large collection of South movies along with Bollywood flicks. You can watch Hindi movies on Prime video, which offers a good Einthusan Hindi movies collection, and you will feet right at home.
Amazon Prime Video can be used on smartphones, PC, smart TVs, and streaming sticks. The content library of Amazon Prime Video is much bigger in comparison to that of the Einthusan movies library.
Amazon Prime Video allows users to download content for offline viewing. Just like Einthusan Tamil, Telugu Movies and TV shows on this content streaming service are very well segregated into different sections and there's a dedicated section for Kids as well.
You can easily find an extensive collection of regional content in Regional language on Prime Video.
---
4. YuppTV
YuppTV is a free alternative to Einthusan to watch free movies online. It is similar to the Einthusan Hindi movies catalog here along with Malayalam, Telugu, Tamil, and Kannada movies on this platform.
One thing worth noting is that, YuppTV offers 90 days of free trial and after the expiration of the free trial you can get a monthly subscription to continue using this service.
Movies on YuppTV are organized into different genres like action, drama, romance, comedy, and many more. If you generally watch free South Indian movies then YuppTV won't disappoint you.
Lastly, you can also enjoy TV shows and Live TV channels on YuppTV.
---
5. Voot
Voot is another Indian subscription video-on-demand service that offers more than 40,000 hours of video content. You can stream TV shows from channels like MTV, Nickelodeon, and Colors on Voot.
Furthermore, Voot hosts a vast collection of Hindi movies and some exclusive content. Voot has a very clean and easy-to-navigate UI. Apart from Bollywood movies VOOT also offers a decent collection of regional movies.
---
6. SonyLIV
As its name suggests, SonyLIV is a Sony-owned and operated movie and live TV streaming website.
It has a massive collection of Hindi and South Indian movies to watch online. All sorts of movies on SonyLIV are very well organized in different sections like drama, action, comedy, romance, horror, and much more.
SonyLIV also hosts many live TV channels that can be used for watching the news and TV serials. Moreover, you can even enjoy an extensive collection of sports-based content like WWE on SonyLIV.
Compared to Einthusan movies collection, SonyLIV stands tall with its extensive library of Hindi, Telugu, and Malayalam movies collection.
---
7. Netflix
Netflix is a good Einthusan alternative to watch movies, similar to Amazon Prime videos. They offer a 30-day trial from time to time, especially in developing markets.
Similar to Einthusan movies library, Netflix offers a humongous collection of movies and TV shows. However, original TV series, documentaries, and movies help Netflix to stand out from the crowd. Netflix offers blazing fast streaming speeds and the service can be used on smartphones, PC, smart TVs, and streaming sticks.
---
8. MX Player
Mx player is another great Indian free video streaming website to watch movies and TV shows.
In addition to Bollywood and Hollywood movies in Hindi, it also offers Tamil, Telugu, Bhojpuri, and other regional movies which are well organized in different genres.
In addition to movies, TV shows you can also watch live news and tv channels.
It currently operates on an ad-supported model and therefore you can watch movies for free online on this platform.
---
9. JioCinema
JioCinema is an Indian subscription video-on-demand and over-the-top streaming service owned by Jio Platforms.
While it has limited numbers of movies when compared to the large Einthusan movies catalog, it still has some of the best movies that you can watch in Hindi, English including regional languages across genres.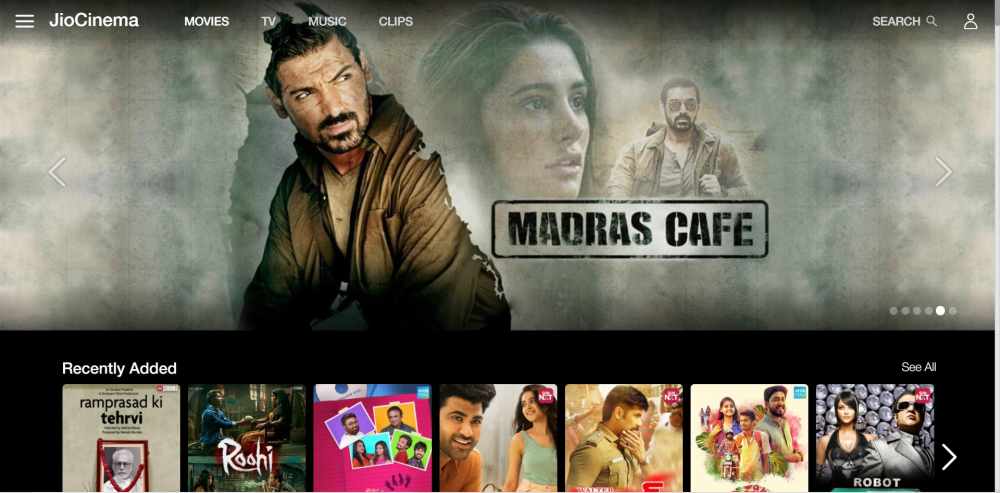 The OTT service comes bundled with Jio connection prepaid, postpaid, and broadband. They do not charge a fee, and it is free to watch movies online on JioCinema
Movies are organized in a very good manner and also hold some of the most popular Telugu, Tamil, and Malayalam movies with English subtitles.
---
10. Airtel Xstream
Airtel Xstream is another popular streaming service that you can use as a replacement to Einthusan. It comes bundled with an Airtel connection in India.
It has a pretty good collection of movies, tv shows in over 15 regional languages and, movies in Hindi and English Which are well organized in different categories.
In addition to movies, tv shows you can also watch live tv channels and news.
---
11. Hungama
What started as a song streaming site turned into a full-fledged OTT movies streaming site. As a good Einthusan Alternative, especially for regional movies, you watch Tamil movies online.
The first 10-minutes are free; beyond that, you will need to subscribe. You can redeem the free 30-day period to watch movies for free.
You have the option to log in using Facebook, Google, Apple ID and regularly using an email by registering an account.
Apart from streaming, you can download movies on the app and watch them offline. Everything happens on the app and takes advantage of the extra features when you go mobile.
---
Is Einthusan A Legal Website?
The official website of Einthusan i.e. Einthusan.tv clearly states that "Our library consists of over 4000+ legally licensed content from 9 regional languages of India."
Additionally, Einthusan strives to continually acquire new films for expanding its userbase and to offer the latest content to its existing users.
However, Einthusan has been accused of hosting copyrighted content several times. As a result, the Government of India has permanently banned this content streaming website.
Einthusan acquires a majority of its revenue through video and banner ads. Moreover, the free streaming site doesn't pay anything to acquire legal content.
---
Is Einthusan blocked in India?
The official Einthusan website is banned by the Indian government.
However, there are several Einthusan proxy and mirror sites that allow users to unblock Einthusan website.
Alternatively, Indian users also use VPN to unblock Einthusan movies site
---
Does Einthusan have English movies?
Einthusan has the largest collection of South Asian movies including movies in Tamil, Hindi, Telugu, Malayalam, Kannada, Bengali, Marathi, Punjabi.
But it does not have English movies or Hollywood movies.
---
Is Einthusan Free?
Yes, Einthusan is a free to use content streaming website. You can watch anything on Einthusan without paying a penny.
That said, if you want to enjoy movies without annoying advertisements then you can create an account and pay a one-time fee.
Later, you can use your credentials for logging in to your Einthusan account on any device.
The one-time fee for getting Einthusan subscription is 25 USD.
---
Is There An Einthusan App?
Sadly, there's no official Einthusan app for Android or iOS. However, you can easily find many unofficial and fraudulent Einthusan applications on Google Playstore.
We advise our readers to stay away from such fraud apps as they can cause harm to smartphones and the data stored on these smartphones.
---
How To Watch Einthusan Through VPN?
If you don't want to rely on Einthusan alternatives then a trustworthy VPN service might resolve your problem.
A VPN service will help you in changing your virtual location to a country where Einthusan is not restricted. Thus helping you to unblock Einthusan.
In addition to changing your virtual location, a VPN will also help you to stay secure while consuming content on Einthusan.
If you are confused as to which VPN service will be best for you, then do check out our list of the Best VPNs for streaming online movies.
---
Is Einthusan Safe?
Einthusan has been accused of piracy in the past.
However, it is a safe website. But we advise our readers to stay aware of fishy advertisements on this platform.
---
Einthusan Kodi Addon
Lastly, Einthusan also has its native Kodi Addon which can be downloaded from the Reasons Kodi repository. Once downloaded, you can enjoy movies from Einthusan on your Kodi system with much ease.
---
Einthusan Downloader
As you might know, the internet is full of fraudulent websites. Many websites claim to be Einthusan downloader and offer Einthusan downloader links. In reality, not all of them are legit. We advise our readers to beware of these websites.
---
NOTE: Please note that this article is for educational purposes only. Downloading and redistributing copyrighted content is an illegal activity. Techworm shall not be responsible for any consequences.
---
CONCLUSION
So these were some of the best Eithusan alternatives that are worth checking out.
Do share any of your personal recommendations for free Enthusan alternatives in the comments section below.