Last year, a famous Indian television journalist Arnab Goswami was attacked by goons.
Allegedly, these attacks were carried out by congress goons. Following the initial claims, certain hashtags like #BarDancer, #SoniaGoonsAttackArnab, and #AntoniaMaino started trending on Twitter.
Surprisingly, a basic google search for Italian Bar Dancer showcases Sonia Gandhi as the top of the search result in the featured snippets.
Upon searching the above-mentioned term the Wikipedia page of Sonia Gandhi is followed by a set of images of Sonia Gandhi. 
Almost similar search results are obtained by searching Bar Girl In India on Google which shows a Google Image Pack consisting of Sonia Gandhi's images at the top of the search results.
Another search query who is bar dancer in India shows a knowledge panel consisting of the Wikipedia page of Sonia Gandhi.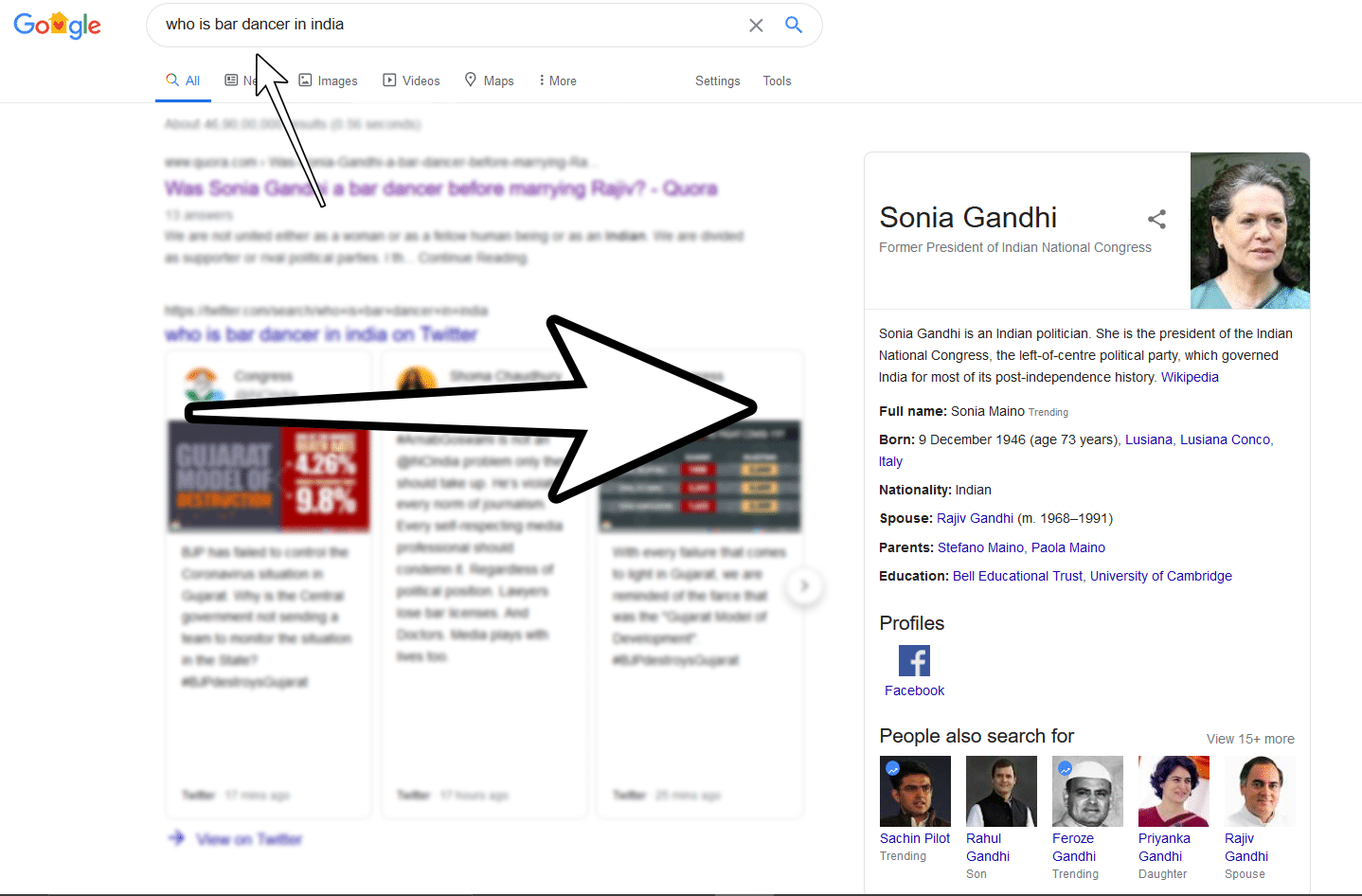 In this article, we have shared certain facts about Sonia Gandhi coupled with the reasons why the search results are wrong. 
It is surprising that google started showing Sonia Gandhi in search results for these terms starting 2018 and have not fixed it yet.
Who Is Sonia Gandhi?
Sonia Gandhi is an Indian politician and she has been linked to the Indian National Congress.
The Indian National Congress has governed India for many years.
Sonia Gandhi met her late husband Rajiv Gandhi at the Varsity rooftop bar, where she was working as a bar attender, while Gandhi was enrolled for an engineering degree in the Trinity College at the University of Cambridge. She got married in 1968 and had two children.
Sonia Gandhi began her political carrier in 1984 after the death of her mother-in-law and the rest is history.
Was Sonia Gandhi A Bar Dancer?
No, Sonia Gandhi was not a bar dancer. In reality, she worked at a restaurant/bar as a waitress/attender in Cambridge, the UK, in the mid-1960s. In fact, she even met her late husband Rajiv Gandhi in that very restaurant and settled in India once they got married.
The claims of Sonia Gandhi being a bar girl was brought in 2004 during a political campaign.
While several images pop up when searching for, was Sonia Gandhi a bar dancer. All of them are fake, morphed using photoshop, or similar tools.
Even the Images being shared on social media sites including Facebook, Twitter, and WhatsApp claiming to be old photos of Sonia Gandhi being a bar girl are all fake.
Some of the images even have her face placed over the bodies of Hollywood actresses including Reese Witherspoon and Marlyn Monroe.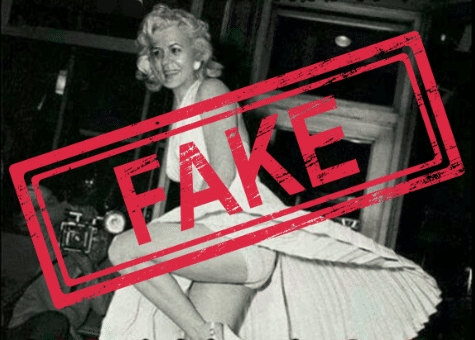 Another picture showing Sonia Gandhi sitting on the lap of former Maldives president is also morphed and fake.
Consequently, the claim of Sonia Gandhi being an Italian bar dancer is completely wrong. 
Is Sonia Gandhi's real name Antonia Maino?
Yes, Sonia Gandhi's real birth name is Edvige Antonia Albina Maino. She was born on 9 December 1946 (age 73 years), at Lusiana, Lusiana Conco, Italy. Similar to #bardancer her real name is also trending on twitter.
Why Does Italian Bar Dancer Google Search Show, Sonia Gandhi?
As you might know, in 2018 Google CEO Sundar Pichai was summoned by the US House Judiciary Committee after Google showed images of President Donald Trump whenever somebody searched 'idiot' on its platform.
In his explanation, Sundar Pichai stated that,
"Any time you type in a keyword, as Google we have gone out and crawled and stored copies of billions of [websites'] pages in our index. And we take the keyword and match it against their pages and rank them based on over 200 signals — things like relevance, freshness, popularity, how other people are using it. And based on that, at any given time, we try to rank and find the best search results for that query."
The explanation mentioned by Sundar Pichai also holds the same in the case of Sonia Gandhi. Due to the availability of fake news searching, the keyword Italian bar dancer shows Sonia Gandhi.
However, this problem should be fixed by Google.
What Are Featured Snippets In Google Search?
Featured Snippets are short selections of text appearing at the top of Google's search results that are designed to answer a searcher's query.
The content that appears inside of a Featured Snippet is automatically pulled from web pages in Google's index.
Featured snippets are not always accurate.
What Are Image Pack In Google Search?
Image packs are several images that usually appear as a horizontal row of image links, clicking which will take you to a Google Images search.
What Are Knowledge Panel In Google Search?
Knowledge panels are information boxes that appear on Google when you search for entities (people, places, organizations, things) that are in the Knowledge Graph.
They are meant to help you get a quick snapshot of information on a topic based on Google's understanding of available content on the web.
---
We are awaiting an answer from Google about this issue.
Search for "Italian Bar Dancer" in google shows a featured snippet for Congress leader Sonia Gandhi.
While image packs are understandable. Shouldn't the featured snippet be removed? #BarDancer @dannysullivan @searchliaison pic.twitter.com/rWp4Hxosio

— Abhishek kumar jha (@abhishekmdb) April 23, 2020
#UPDATE:
A large number of people from India are now searching for terms like Sonia Gandhi bar dancer, itali ki bar dancer, and old photos of Sonia Gandhi, suggests google trends from India.
The Featured snippet and knowledge pack of Sonia Gandhi from Wikipedia is no longer showing for the keyword "Italian bar dancer".
However, Image packs are still showing Sonia Gandhi for similar searches.
While Google has not yet fixed the issue, this should automatically get fixed with some news articles with facts replacing these featured snippets, image packs and knowledge panels.
Google keeps on improving its search algorithm, this might even get fixed in the next few google algo updates.
What do people Search for?
What is Sonia Gandhi's real name?
-Sonia Gandhi's real name is Edvige Antonia Albina Maino
Where did Sonia Gandhi live?
-Sonia Gandhi lives in 10 Janpath, New Delhi, India. She used to live in Italy before her marriage to Late Rajiv Gandhi.
Is Sonia Gandhi related to Mahatma Gandhi?
-Sonia Gandhi was married to Late Rajiv Gandhi from the Nehru-Gandhi family bloodline.