As SaaS application adoption in organizations continues to soar, IT teams face challenges every step of the way, from managing licenses and SaaS spend to data access permissions and app users.
Torii, an autonomous SaaS management platform, enables IT teams to:
gain visibility into SaaS usage

improve internal workflows

consolidate SaaS governance and budget data

automate various routine tasks
This allows you to better manage how much your organization spends on which tools and makes it easier to reduce security and compliance risks.
In this article, we'll explain how IT managers can use Torii to find out which SaaS applications their organization uses most, which ones are being renewed needlessly, and much more.
What Is Torii?
Torii is a SaaS management platform that allows IT managers to identify, optimize and manage their organizations' tech stacks and reduce wasted SaaS spend all through a centralized dashboard.
It enables companies that use hundreds of SaaS tools across different departments to keep track of how much they're spending on each application, manage access permissions, and develop a better understanding of organization-wide app usage.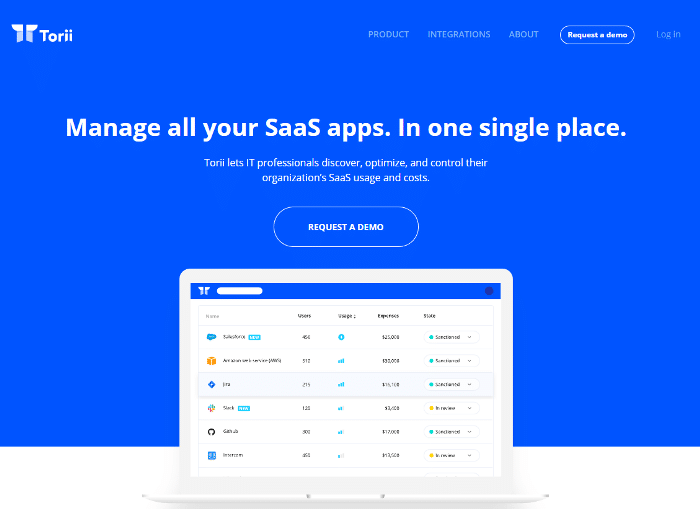 Here are some of the main ways companies benefit by using Torii to manage SaaS applications:
Visibility.

Torii helps IT teams keep up with the SaaS applications being used within the organization's software ecosystem and easily manage them from a single dashboard. It makes it easy to view information about app usage, number of users, and total money spent on these tools, at a glance.

Workflow.

Quickly discover which applications have been adopted by employees, so you can better manage license renewals and data access permissions. This also makes it easy to identify (and discontinue) applications that represent security or regulatory risks, that offer duplicative functionality or are underutilized.

Automation.

Torii lets you build custom workflows to automate different SaaS management related activities – such as upgrades, renewals, and revocations – by combining triggers and actions.
Now that we have a basic understanding of Torii's capabilities, let's dig deeper to find out how it enables organizations to stay on top of SaaS management.
Here are some of the different ways Torii enables IT teams to easily manage their ever-evolving tech stacks.
1. Which Team Members Use Which Apps (And How Often)
Torii automatically detects the different SaaS applications being used by your organization and gives IT managers a quick overview of which team members use which applications.
It does this by: 
Automatically extracting data from business invoices using API integrations with your company's ERP software.

Tracking application usage through secure and anonymized browser extensions and by integrating with your company's SSO solution such as G-Suite or OneLogin.

Using credit card transaction data that can be uploaded to Torii.
You'll be able to quickly figure out which applications are regularly used by your team members, which tool is licensed to whom, and the exact dollar amount you're spending on each SaaS application in any given month.
It also gives you useful insights about users, app charges, workflows, and licenses. This data is presented as graphs and charts, enabling IT managers to make informed decisions about the organization's SaaS usage and expenses, quickly. You can also download any Torii report as a CSV file, to repurpose however you like.
2. What Data Access Permissions Each Apps Have
Torii lets you control what company data is shared with different SaaS applications. When your employees sign up for a SaaS subscription, they may be asked to provide access to various sensitive resources. This is particularly true for some commonly used software like Slack and G-Suite.
The data and actions requested by some SaaS applications might include permission to:
View email addresses of people on your workspace.

Modify your profile, access calendars, or contact information.

Send email messages on your behalf.
Allowing unrestricted access to company accounts and perform actions impersonating employees can make your company vulnerable to possible privacy threats.
With Torii, you gain visibility into which data is shared with each SaaS tool using an up-to-date list of all granted authorizations. In addition to this, Torii's Risk Analysis report allows you to keep track of each SaaS provider's risk level based on the permissions granted to it.
3. When App Licenses Need to Be Renewed
Managing SaaS applications in a software ecosystem with dozens or even hundreds of tools requires IT managers to efficiently be able to keep track of relevant information, including app licenses, contracts, and renewal dates.
Whether you need to review vendor contracts or find a particular application's license renewal date, Torii can help you do just that. It consolidates all of the information regarding app licenses, contracts and renewal dates.
You'll be able to easily organize all relevant information about your SaaS tools and access it whenever you need to. In addition to this, Torii will notify you about upcoming license renewal dates so you don't have to carve out dates on your calendar for each application your organization uses.
4. Total Spend Associated with Each App
Failing to keep track of duplicate or unused software can lead to overspending on your part. Each new SaaS app license purchased for employees means more dollars out of your company's pocket. This makes it very important for IT managers to keep track of which tools are actually being used so you can ensure better cost management of the organization's resources.
With Torii, you're able to gain insight into exactly how much you're spending on each SaaS tool. As a result, you'll be able to optimize costs and avoid spending on unnecessary (or duplicative) applications.
You can list out all the software used within your organization by going to the Insights page. It will also give you information about how many employees are using each tool, the number of applications used by each person, and the amount you've spent on app licenses.
5. Identifying Each App's Owner
In larger organizations, employees tend to subscribe to SaaS tools independently with their business accounts. The problem with this is that it makes it nearly impossible for IT teams to stay on top of all the tech software being used in the organization.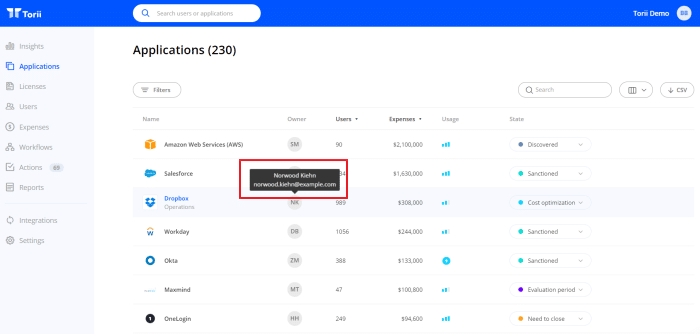 Identifying the owner of each SaaS app used in the organization can help you understand how it fits into your company's software ecosystem.
With Torii, your IT managers will be able to easily identify or assign each SaaS application's in-house owner – the person who's responsible for all the decisions and actions related to the app's usage.
6. Discovering New Apps
Torii lets IT managers quickly identify each new tool that is added to your organization's software stack. Once an app is identified, you can assign a relevant life cycle status to it, such as Discovered, Under Evaluation, In-Review or Sanctioned.
The workflow builder lets you set up rule-based notification emails, informing key stakeholders about newly discovered SaaS products. You can also send a notification to the app's in-house owner from the IT manager, asking them to fill out a form that outlines everything IT needs to know about the app's use case and license terms. 
As a result, employees need to ensure that each new application meets the IT team's guidelines before it can be officially sanctioned and integrated into the organization's tech stack. 
Keeping track of app usage is much easier when it's first added to the organization's tech stack, as it allows the IT department to detect any data non-compliance issues, incompatibilities, or cyber threats.
7. User Management for Your Company's IT Ecosystem
With Torii, you can associate any user with an unlimited number of SaaS tools, depending upon the products that they need access to. You'll also be able to easily manage and view who owns which applications in just a few clicks.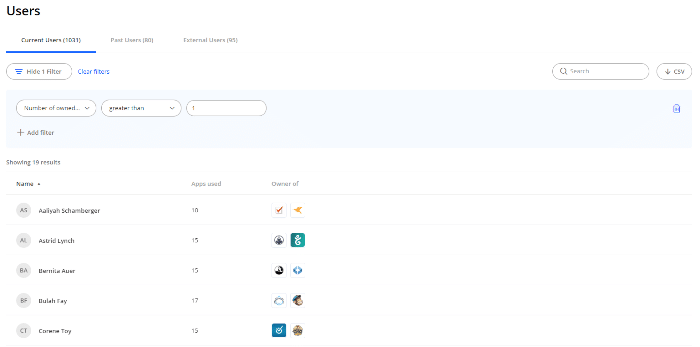 Additionally, you can ask app owners to voluntarily withdraw their ownership or revoke their access automatically using Torii's one-click offboarding workflow. It enables you to cancel a user's account access to an application, using offboarding tools. You can also avoid overspending on tools that haven't been used for over 30 days.
Conclusion
SaaS management platforms can help your IT team better manage your organization's SaaS resources, but few do so as powerfully and easily as Torii.
This platform allows you to quickly get useful insight into your organization's software stack and helps you optimize SaaS spend. With Torii, you'll be able to easily control app access, ensure data and privacy compliance, and minimize cyber threat risks across the entire organization.