Since its initial release on 14th September 2000, Windows Movie Maker has been the go-to video editing software for many.
Movie Maker was a part of the Windows Essentials software suite and offered the ability to create and edit videos as well as publish them directly on OneDrive, Facebook, Vimeo, YouTube, and Flickr.
Thanks to its simplicity, most beginner filmmakers and creative professionals start their video editing journey using Windows Movie Maker. Sadly, the decades-old video-editing program was officially discontinued and removed for download on January 10, 2017.
According to Wikipedia, Movie Maker is now replaced by the Microsoft Photos App included in Windows 10, which includes a Video Editor.
In this article, we have shared information about how you can download Windows Movie Maker on your windows 10/11 PC and laptops accompanied by some of the best alternatives.
ALSO READ: 10 Best Free Video Editing Software
---
Can I Download Windows Movie Maker For Free?
Since its initial release, Windows Movie Maker has been a free video editing software. If any website, application, or software asks you to pay for Windows Movie Maker then it is fraudulent.
However, as mentioned earlier, Windows Movie Maker or formerly known as Windows Live Movie Maker has been officially discontinued by Microsoft. In fact, Microsoft has even removed the Windows Movie Maker download link from its website.
---
How Do I Download Windows Movie Maker?
After several attempts, the skilled team of Techworm has finally come up with a method following which you can safely download and use Windows Movie Maker on Windows 10.
For this method to work we have used a website known as Web Archive. If you want to download Windows Movie Maker then I highly recommend you to carefully read every single step.
STEP 1: Firstly, you have to download the Windows Live Essentials setup file. This setup file consists of many Windows Essential programs. A majority of these programs aren't compatible with Windows 10. Luckily, Windows Movie Maker is compatible with the latest build of Windows 10.
Download Windows Live Essentials
NOTE: The Download Process Could Take A Few Minutes To Initiate As The Webpage Is Mostly Empty
STEP 2: Locate the downloaded wlsetup-all.exe file and double-click on it to open the Windows Essentials installation window. If promoted then click YES!
STEP 3: Based on your personal preference you either install all of Windows essential programs or simply select Movie Maker. For the sake of this tutorial, we opted to install Photo Gallery and Movie Maker only.
The installation will take a few minutes to complete. Once the installation is completed open the start menu and search for Windows Movie Maker. You will now be able to run Windows Movie Maker on your Windows 10 PC.
---
Beware Of Fake Windows Movie Maker Programs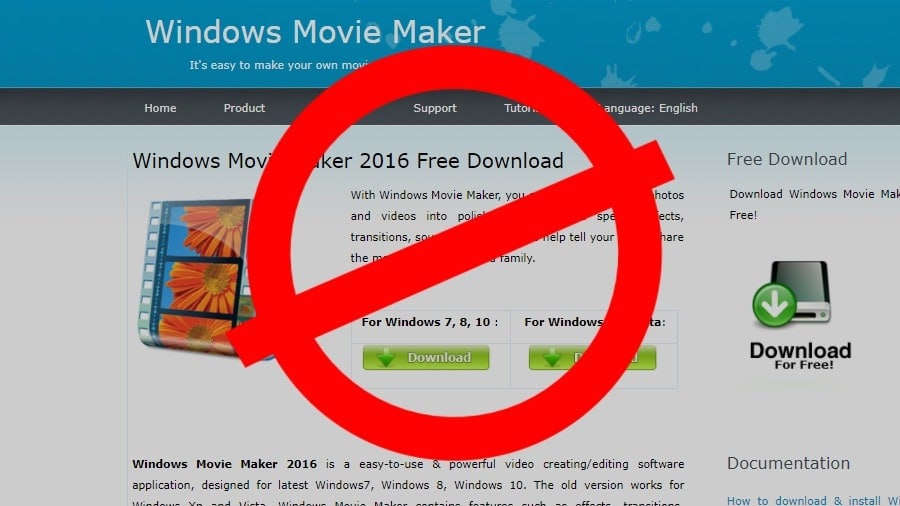 Thanks to its popularity, the discontinuation of Windows 10 Movie Maker given birth to numerous look-alike programs. A majority of these fake programs have a resemblance with Movie Maker either in their name or in their UI.
Some of these applications are even available on the Microsoft Store. The once available on the Microsoft Store are safe to use but still, they are not the real deal.
Once again, I highly advise you to stay away from any such program as they can cause serious damage to your device. However, if you have been scouting for some of the best alternatives to Movie Maker then the next section of this article might help you.
---
Windows Movie Maker Alternatives
In this section, we have shared some of the best alternatives to Windows Movie Maker 2020. Since Movie Maker was dedicated to beginners we haven't included programs like Adobe After Effects, Premiere Pro, and DaVinci Resolve in this list.
1. Avidemux
If you are an absolute beginner to video editing programs then Avidemux can act as an alternative to Movie Maker for you. This open-source transcoding and video editing software can be installed on Windows, macOS, and Linux computer systems.
Since Avidemux is an open-source program it is free to use and you can find several useful tutorials on the official website of Avidemux.
Avidemux can easily perform basic editing functions like cutting, encoding, filtering, and many more. Lastly, you can even enhance the feature-set of Avidemux by installing third-party plugins.
---
2. Adobe Premiere Rush
Adobe Premiere Rush is a perfect editing application for anyone who wants to edit footage on mobile devices like smartphones and tablets. Presently, Adobe Premiere Rush is available for Android and iOS devices.
As its name suggests, the automatic mode on Premiere Rush automatically analyzes, edits, adds transitions and delivers a shareable video. It even allows users to rearrange the Rushs or even tweak the soundtrack of the automatically created video-footage.
The Freeform mode allows users to rearrange, trim, and even split clips.  Freeform has a preview window at the top, a trim bar in the center, and clips are displayed in a sequence at the bottom. Overall, Adobe Premiere Rush is a perfect option for anyone who doesn't have access to a computer.
---
3. Filmora
The last best alternative to Windows Movie Maker is Filmora. This semi-professional editing software outperforms Movie Maker as far as features are concerned. Unlike Movie Maker, Filmora is paid video editing software.
Some of the major highlights of Filmora are audio equalizer, 4K resolution editing support, GIF support, split screen, video & audio controls, layer multiple video Rushs, video stabilization, and many more.
Initially, Filmora might seem a bit difficult to use, but you can opt for Filmora if you want to hone your editing skills.
---
CONCLUSION
So this was a simple tutorial on how you can download and use Windows Movie Maker. If you face any issues while installing this program then do let us know in the comments section below and we will revert to you as soon as possible.