Content creators all across the globe are always on the lookout for better gear and programs that could help them deliver high-quality content and that too efficiently. When it comes to video-based content, high-quality video footage and visually impressive editing play an equally important role.
In this article, I have shared a detailed review of the feature-packed Filmora Video Editor software. Additionally, I have even emphasized why it's a great program for both beginners and professionals.
---
Filmora Video Editor v9.5: A Popular Video Editing Software
If you have been creating content for Instagram, Facebook, YouTube, or any other mainstream video-sharing platform then you might have heard about Filmora.
The popular video editing software has been in existence for over five years now. Thanks to the user-friendly interface and easy to use editing tools, Filmora has been very well-received by all sorts of creators and it has even gathered countless positive reviews.
Unlike any other video editing software, Filmora offers detailed tutorials for basic things like how to import footage, crop videos, add video effects.
Moreover, you can also learn professional stuff like speed-ramping, color grading, and green-screen effects using official tutorials. There are several built-in titles, transitions, and video effects in Filmora. Down the line, you can even purchase more transitions and effects from the first-party Filmora Store.
Filmora supports multiple audio and video layers and you can customize the layout of your timeline based on your preference. Surprisingly, Filmora is also a great tool for anyone who makes tutorials as it allows users to record computer screen and audio in several resolutions. 
Another great feature of Filmora is its ability to work flawlessly even on either low-powered or old desktops and laptops. The software doesn't consume many resources and it even has the ability to edit 4K footage.
In the next section of this article, I have shared the five noteworthy features of Filmora. 
---
1. Ability To Create And Edit Proxy Footage
Filmora allows users to create, use, and edit proxy files. As a matter of fact, Filmora automatically promotes users to create proxies as soon as they import new footage. 
The low-resolution proxy files accelerate the editing process without impacting the quality of the final output video. You can even use proxies while applying resource-intensive effects like video stabilization, green screen, tilt-shift, and face-off.
If you rely on your laptop for editing videos, then proxy footage can even help save battery life. Lastly, in comparison to actual RAW video files created by your camera, proxy video files consume very little HDD space. 
---
2. Advanced Color Correction
When used correctly color correction and color grading can completely change the looks and emotions of a video. Thankfully, Fimora offers advanced color correction tools and it even supports LUTs. 
To use the aforementioned tools you can either use the keyboard shortcut CTRL+SHIFT +C or simply right click on your footage and select color correction. Filmora packs many film, vignette, and 3D LUT presets which can elevate the quality of your footage within seconds.
Filmora can even automatically analyze and enhance the color of your video files. In addition to presets, you can even manually adjust the temperature, tint, contrast, saturation, and brightness of your footage. 
---
3. Audio Editing Tools And Presets
Apart from video, Filmora packs many audio editing tools and presets as well. The video editing software can be used to denoise audio by removing unwanted background noise. Filmora even allows users to change the pitch of voice-overs.
The master volume of audio files can also be controlled using Filmora and it even has the useful fade-in and fade-out Audio effects.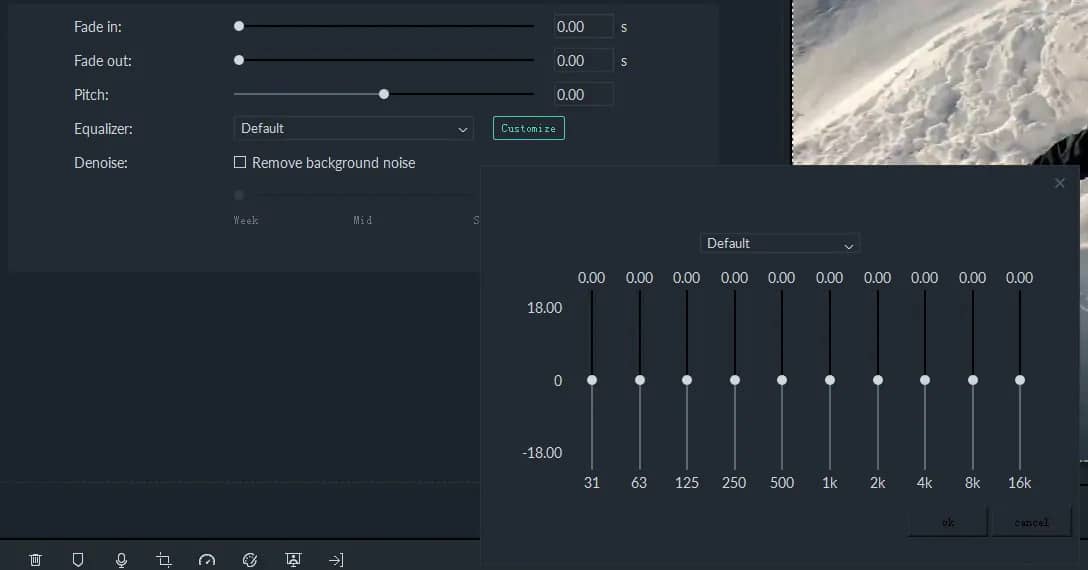 Filmora is one of the many video editing software that offers built-in sound effects and music. These songs are copyright-free and you can easily use them in your edits.
---
4. Split Screen And Elements
Split-screen is a relatively new-feature of FIlmora and as its name suggests it allows users to add different video files in different sections of the screen. Presently, split-screen supports a maximum of four video files, and using this feature is pretty much self-explanatory. 
Creating 3D animations and elements is a fairly difficult task and requires years of practice. Well, Filmora comes with over 190 built-in elements, and in order to use them, you can simply drag-and-drop elements on top of your video files.
Elements in Filmora are very well categorized into different sections like journey, shapes, hand-drawn, and many more. 
---
5. Ability To Directly Upload Videos For YouTube And Vimeo
The last noteworthy feature of Filmora is the ability to directly upload your edited footage on video-sharing platforms like YouTube and Vimeo. Filmora automatically optimizes your exported video files for these platforms and while doing so it pays great focus on offering the highest quality video output. 
---
Filmora Video Editor Pricing
You can purchase Filmora for either a yearly subscription of $39.99 or pay a once in a lifetime fee of $69.99 to acquire the program.
As you might have understood by now, new features are added to Filmora with frequent software updates. As Filmora offers free updates, anyone who purchased the program in 2015 has access to the latest verison 9.5. 
After purchasing the program, you will get no watermark and free tech support. Before purchasing Filmora, you can try the software for as long as you want to. Lastly, the video editor can be used on both Windows and macOS computers.
---
Final Words
It's impossible to enlist every single feature of Filmora in a review. The program packs many tools, plug-ins, and presets that will assist you in your video-editing journey.
Once you start editing your videos in Filmora, you will discover new features and they will help your edited videos to look professional and stand-out from the crowd.