Vandal is one of the most popular assault rifles used by gamers as the primary weapon in Valorant published by Riot Games.
You can easily one-tap opponents using Vandal.
If you are fed up with the standard and dull-looking Vandal in Valorant then this article will help you find the best vandal skins that will change the look of Your Vandal Rifle and make it look cooler and beautiful.
We have mentioned cool, cheap, and unique Vandal skins for all types of players.
Some of these Vandal skins are even used by top esports players and YouTubers.
The list doesn't follow any hierarchical order, every skin listed in this article owns a unique set of features and design, and every skin is best in its own way, explore them and choose the one that fits your style.
Best Vandal Skins in Valorant
Here are the top vandal skins that you can use in Valorant for your Rifle.
1. Reaver Vandal Skin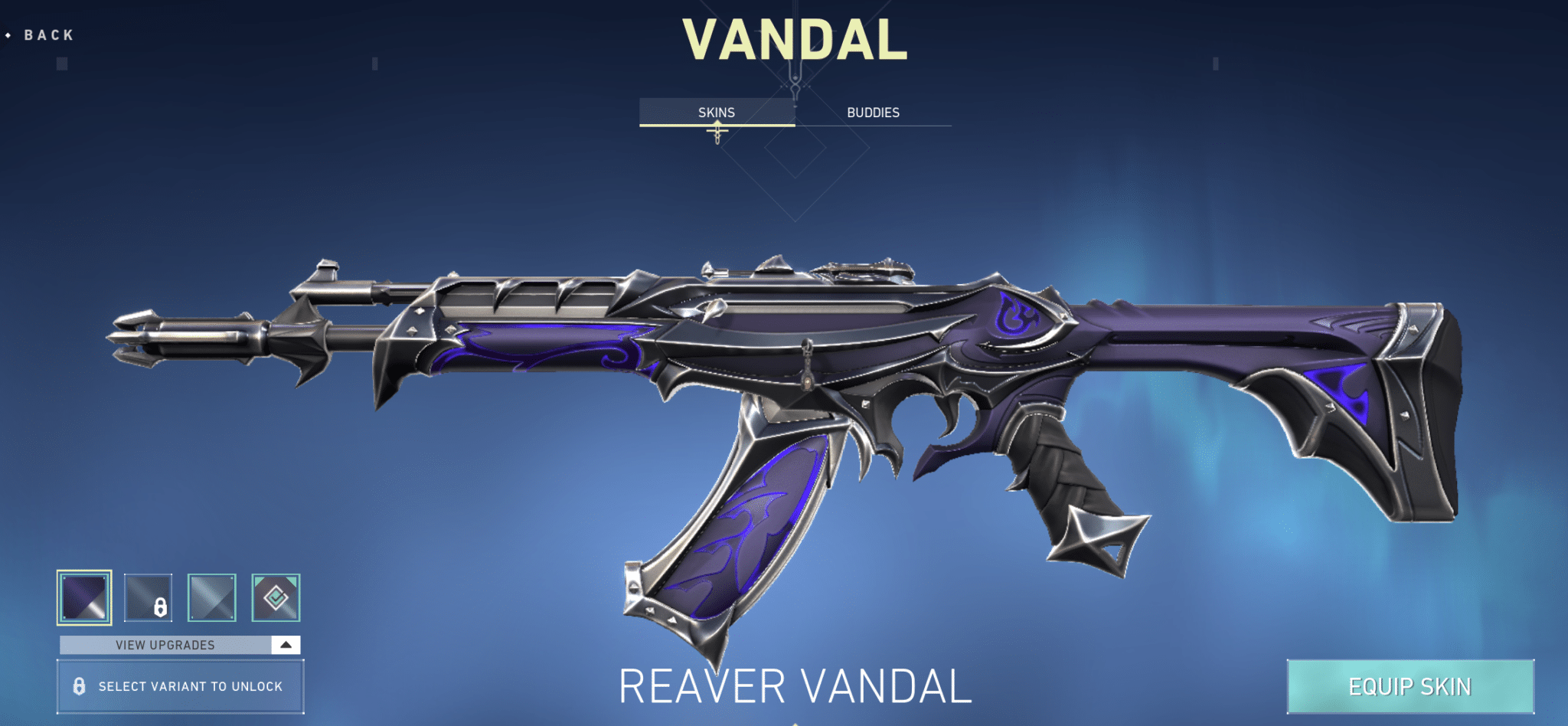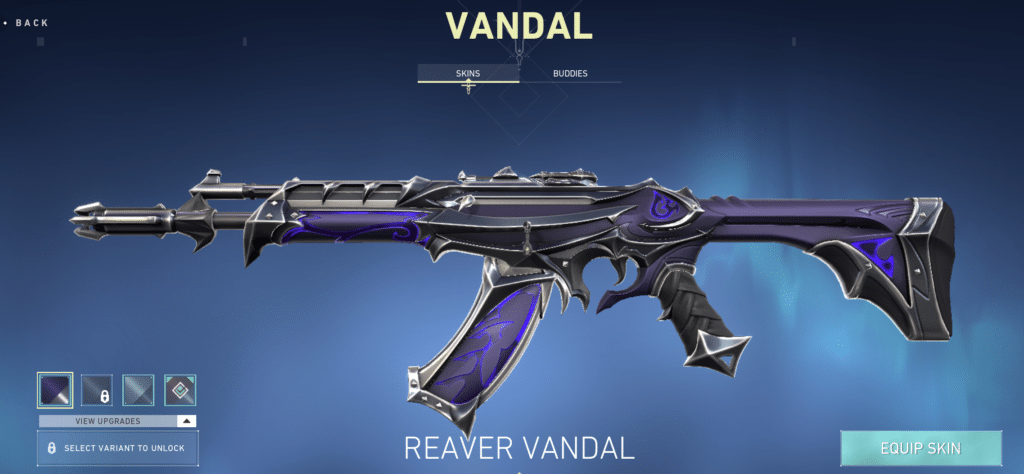 Reaver Vandal skin is one of the best Vandal skins in VALORANT that gives the user a villain look and feel. The dark, moody, and underworld-themed skin is one of the best skins in Valorant.
This is one of the oldest skins/cosmetics of the game, the skin was first introduced in the initial closed beta release of the VALORANT game.
The animations and VFX of the Reaver Vandal skin are amusing and haunting at the same time. The skin is ideal for both aggressive players and players who like to take every step precisely.
The finishing animation will surely blow your mind. The opponent will feel the wrath of your destruction. So, if you are looking for this type of skin, then you must try the Reaver Vandal Skin.
This premium skin will cost you 1,775 VP and if you choose the bundle at 7,100 VP, you will get all four exclusive variants of the Vandal.
---
2. Glitchpop 2.0 Vandal Skin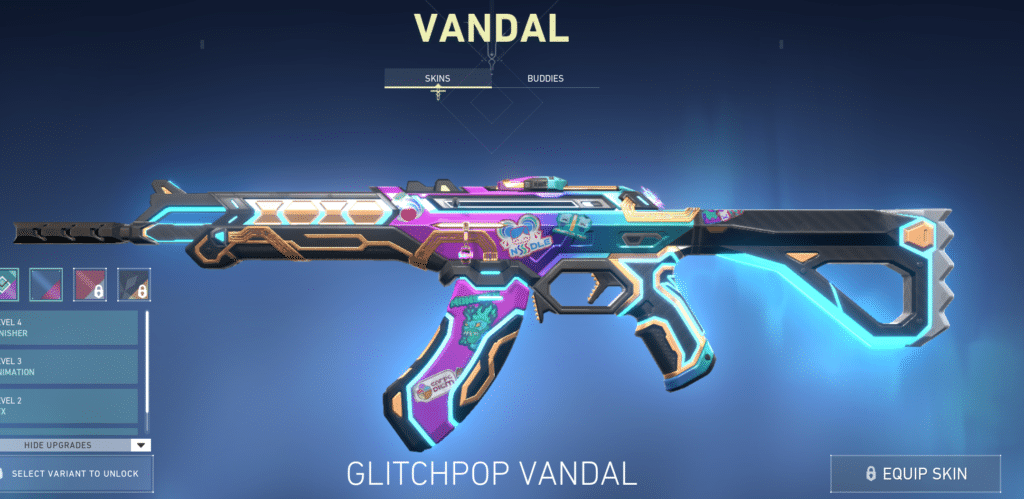 Glitchpop is one of the most demanded Vandal skins in Valorant. The initial version was a great hit. Riot recently introduced the second version of Glitchpop namely 2.0.
The cyberpunk-inspired animations and VFX will provide you with a unique and mesmerizing gaming experience.
The hologram and futuristic approaches of the skin make it unique from others. And the flashy look sometimes feels weird but most of the time, it is great.
Now, speaking of the price, the individual Vandal skin will cost you 2,175 VP, but you choose the whole package (Vandal, Phantom, Operator, Classic, Axe), and it will cost you 8,700 VP.
That means you are technically getting the 4,350 VP Axe free of cost with the whole Glitchpop 2.0 bundle.
---
3. Wasteland Vandal Skin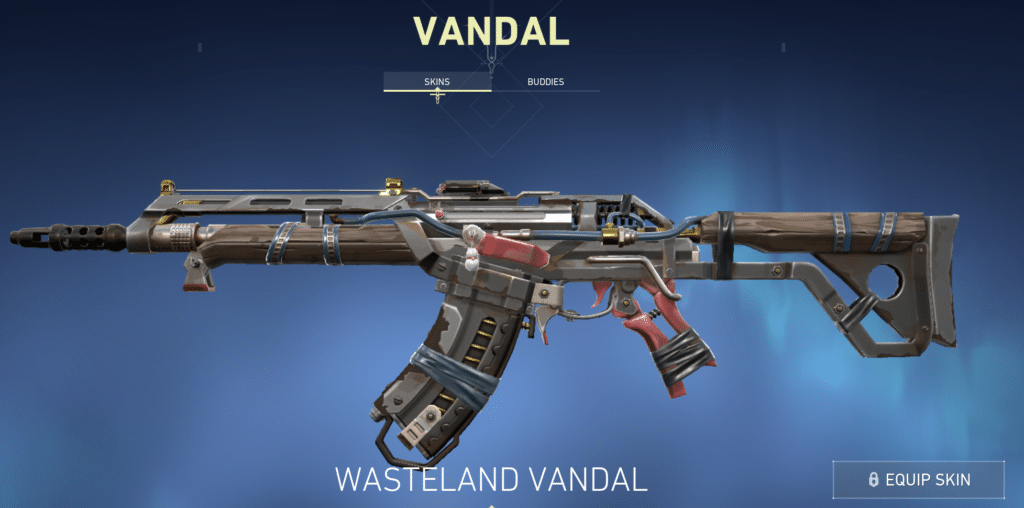 This is another great vandal skin for an outstanding VALORANT experience. Unlike Glitchpop, Wasteland is a classic and dull skin.
The skin gives you a standard, classic yet futuristic feel. As the name suggests, the Wasteland Vandal skin is made up of waste and recycled materials, which makes it more exciting.
If you look at the skin properly, it is literally held together with tools and wooden materials using strings and tapes, which gives it a real to life feel.
Now, coming to the price, the single Wasteland Vandal skin will cost you around 1,275 VP. However, if you choose the whole bundle, which includes Vandal, Sheriff, Shorty, Spectre, and Marshall, we are sure you will get a good discount.
---
4. Prime Vandal Skin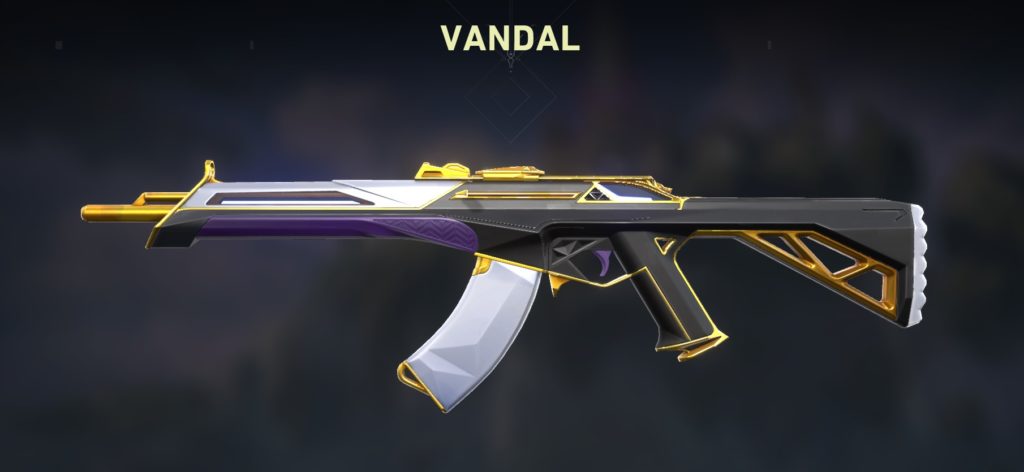 Next on the list, we have the Prime Vandal Skin. The design ergonomics and overall feel of this skin are amazing. Moreover, the animations, VFX, and unique bullet sounds are excellent as well.
Another unique feature of the skin is the reload animation. Although it's an optional feature you should definitely try it out.
Now, speaking of the price, the Prime Vandal skin will cost you 1,775 VP. The Prime Skin bundle will cost you 7,100 VP, which will include the premium Spectre, Knife, Guardian, Classic, and Vandal Prime skins.
---
5. Singularity Phantom Vandal Skin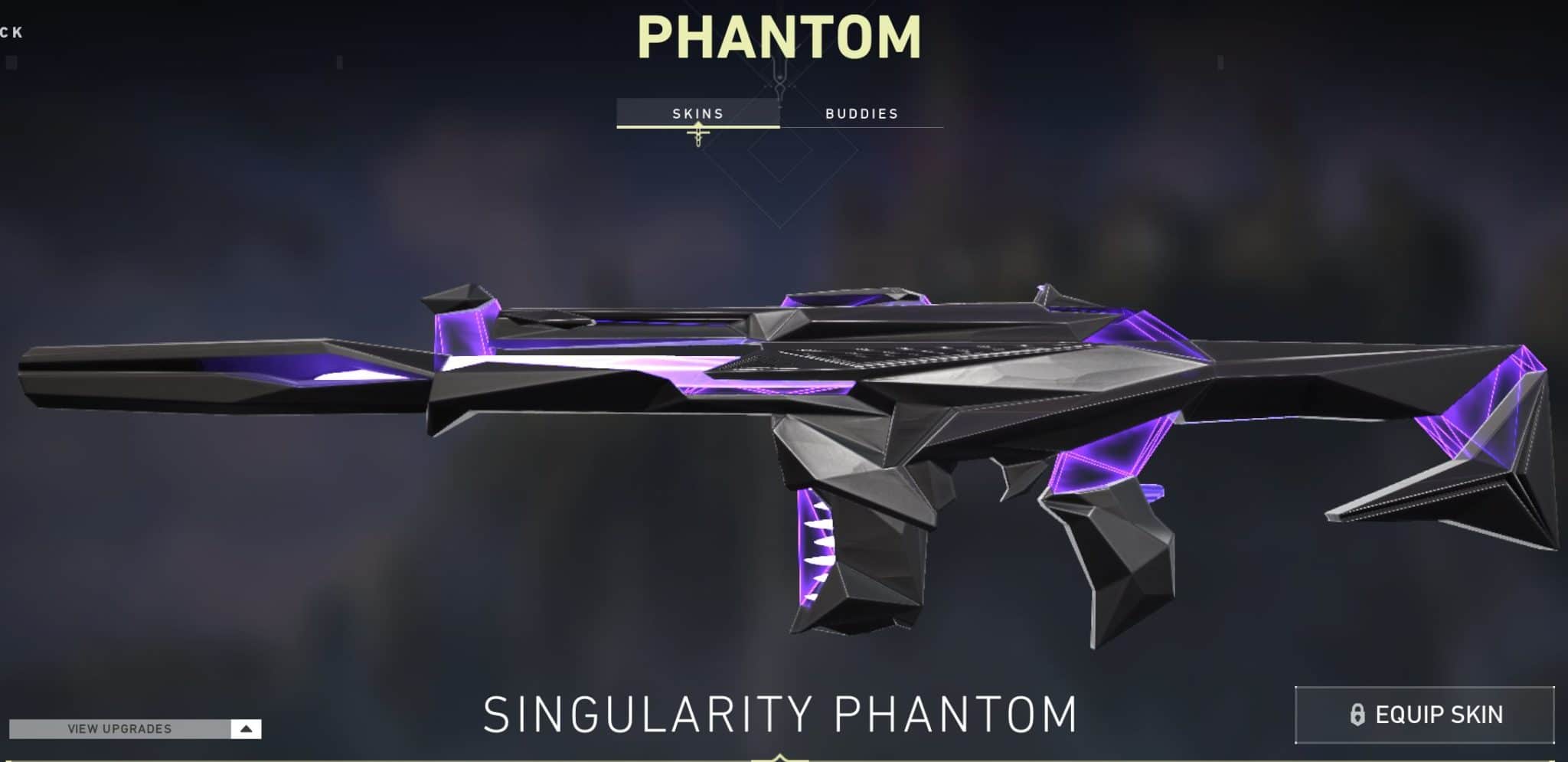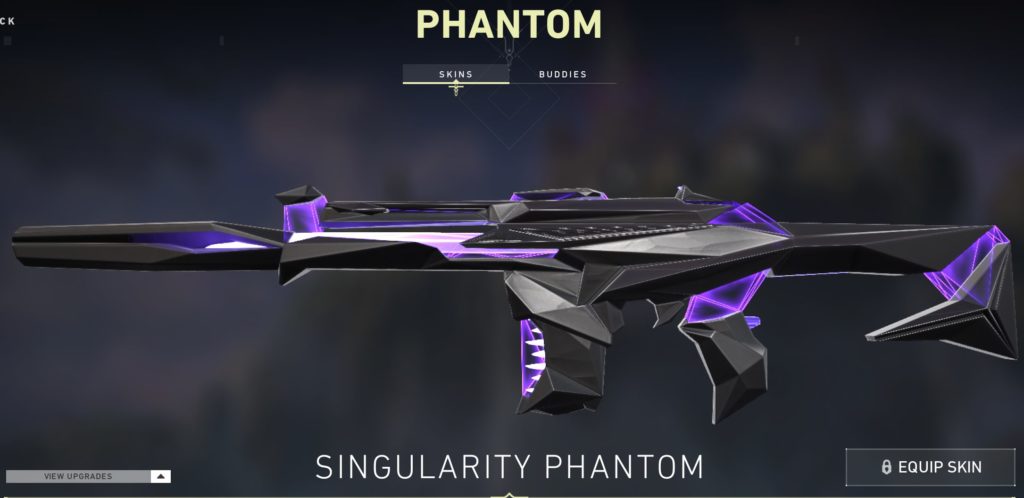 Do you remember those highly finished weapons used by the Kryptonian army in the Man of Steel movie? This weapon set/skin looks exactly like that. It seems like instead of bullets, the Vandal is shooting lasers.
Singularity Phantom vs Prime Vandal skin is one of the most discussed threads on Reddit. Players either opt for this skin or the Prime skin, both have their own unique features to decide from.
The skin comes with mind-blowing unique finishes and animation effects. And it has one of the best kill animations as well.
Speaking of pricing, it is a little bit more than the alternatives, like the Prime Skin, Singularity Phantom is priced at 2,175 VP.
---
6. Tethered Realms Vandal
Added to the game in Episode 02: Formation, Tethered Realms Vandal is a Premium nonupgradable Vandal skin and a part of the Tethered Realms Collection.
This Vandal Skin for valorant is a perfect blend of sovereign and forsaken themes. The theme changes as soon as a player moves from a dark area to a light area and vice versa.
If you have acquired the Tethered Realms Collection your agent will dual wield the Prosperity Sword with a Demise dagger.
This Tethered Realms Vandal can be purchased in-game for 1775V.
---
7. Silvanus Vandal

Next on the list, we have the Silvanus Vandal skin. This Deluxe nonupgradable Vandal skin doesn't offer VFX or animation.
That said, it still looks quite beautiful and unique. The snowfall at night look offered by this skin changes as you move around the map.
You can purchase Silvanus Vandal in-game when in-store rotation and it costs 1275 valorant points.
---
8. Gaia's Vengeance Vandal

In comparison to other Vandal skins on the list, Gaia's Vengeance is relatively newer. This skin was added in Episode 04: Disruption and it's a Premium upgradable Vandal skin.
The skin offers a new muzzle flash coupled with a unique gunfire VFX and SFX. Upgrading the level will help you unlock additional things like new inspect SFX, new Kill Banner and Kill SFX and more.
Gaia's Vengeance Vandal can be acquired whenever it becomes available in a player's daily offers from the Store for a price of 1775VP.
---
9. Sentinels Of Light Vandal

If you prefer majestic vibes with visually impressive animations and clear SFX then Sentinels Of Light Vandal is an ideal skin for you.
Well, a majority of elements in this skin are inspired by the League of Legends champions. Leveling up this skin will help you unlock several VFX, animations, and finishers.
This exclusive nonupgradable Vandal skin was added in Episode 03: Reflection and you can buy it in-game store for 2175VP.
---
10. Elderflame Vandal Skin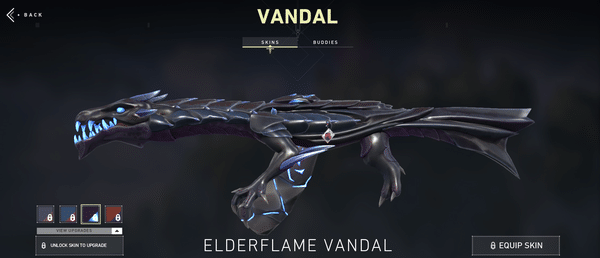 This is one of the most expensive skins of the game. The Elderflame skin collection was released just after the official launch of the game.
Statically, it is the second most discussed and used skins of all time after Prime skin. Being the most priced skin doesn't stop gamers from not buying it. The look and feel are mind-blowing.
Riot didn't fail to satisfy and compensate for the heavy pricing of the skin. The features include great reload animation, awesome VFX, etc. As reported by many VALORANT players, the reload animation is considered one of the best in the whole game.
Now, the price of the skin, the Elderflame Vandal skin has come with a whopping price tag of 2,475 VP, and the bundle costs 9,900 VP, which means around 100 USD.
---
11. Sakura Vandal Skin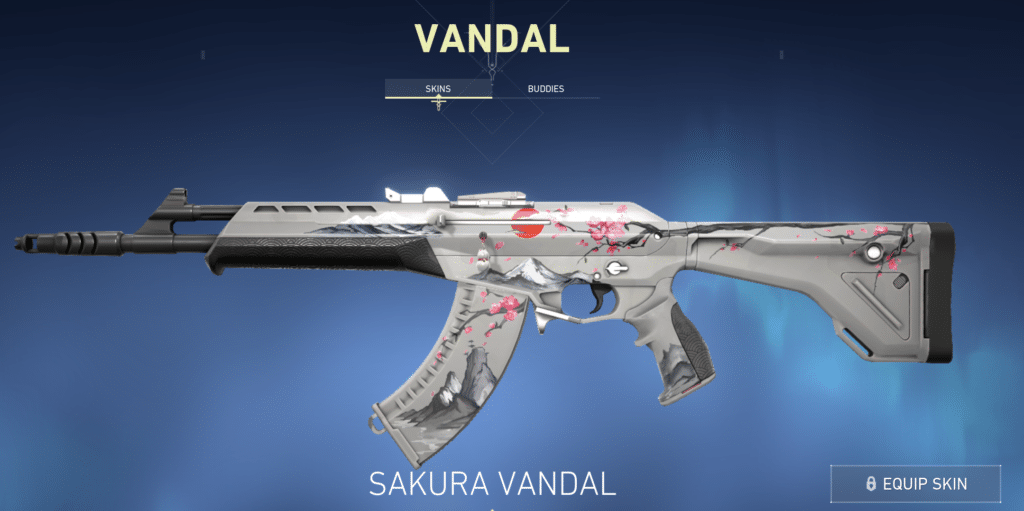 Unlike the other skins listed in this article, the Sakura Vandal Skin doesn't come with those fancy and flashy animations and VFX, rather it's a classic skin with beautiful artworks.
Sakura is a Japanese word, which means 'Cherry Blossom' and it is directly reflected on the skin. The skin contains beautiful leaves of a tree in pink color, and also the mountains with snow and the last light of setting sun.
So, if you are looking for classic and good-looking skin for your Vandal in VALORANT, then Sakura Vandal Skin should be your first choice.
The individual Sakura Vandal skin comes with a price tag of 1,275 VP. There is an option of buying the whole bundle as well which contains the skin of Vandal, Sheriff, Classic, Stinger, and Ares.
---
12. Ruin Vandal

Next up on the list, we have Ruin Vandal. The name says it all, Ruin Vandal is a classic skin that is completely animation-free.
The Royal feeling skin was released with the Act III Battle-pass on October 13, 2020. You can unlock Ruin Vandal at Tier 45 of Episode 1 Act 3 Battle-pass.
You can purchase the non-animated Vandal skin for a price of 1000 VP.
---
13. Luxe Vandal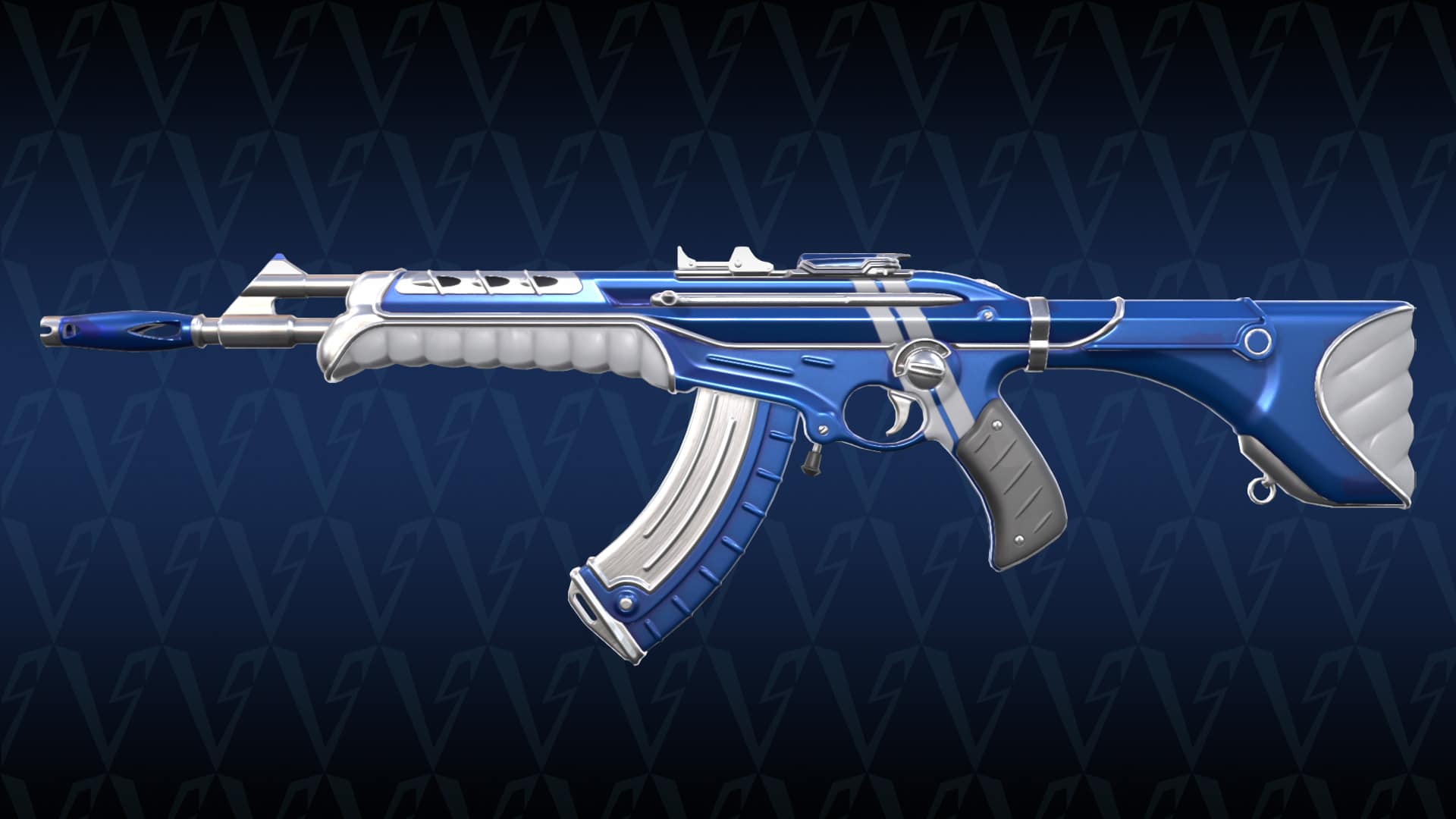 If you are looking for a Vandal skin that looks almost similar to the default Vandal skin then look no further than Luxe Vandal.
The blue and white theme of the skin replicates the classic car luxury leather. Design aesthics of Luxe mainly consists of metal and leather elements.
Luxe Vandal was released on June 2, 2020 and it retails for a price of 875 VP.
---
14. Winterwunderland Vandal

Next up on thhe list is Winterwunderland Vandal. The skin has an amazing-looking style and due to its unique color response Winterwunderland is practically a two-in-one skin.
The skin reflects darkness when in light and Shines brightly when in dark. Similar to Ruin Vandal, Winterwunderland Vandal is completely animation free and there are no VFX effects as well.
Released on December 9, 2020, the Winterwunderland costs around 1275 VP.
---
15. RGX 11Z Pro Vandal Collection

Release in October 2021, and this new vandal skin has turned heads with its mystic look. The RGX Vandal is here to impress us.
It is a part of the latest collection of skins that was recently released. Coming back to the Vandal skin, the exterior is solid green in a few elements with the black overtones, exuding a contrasting look.
You will also see flairs of yellow as the wild card on the Valorant rifle skin. Apart from the default skins, it is available in red, black, and blue.
Released on October 06, 2021, the RGX 11Z pro Vandal costs around 2175 VP.
---
16. Origin Vandal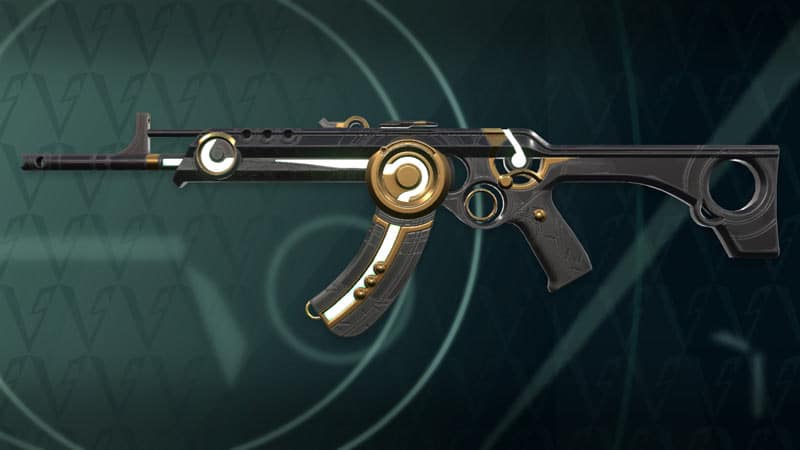 A part of the Origin bundle, get ready to be mesmerized by Origin Vandal skin. It packs some amazing animations to celebrate your enemy kill.
Talking about its kill animation, you get a rather mystical ring that encapsulates your enemy before making them disappear into a green flashlight. The sounds involve a metallic "Klink" sound along which also covers the magazine reload
It is a part of the Origin bundle, which cost a whopping 7100 VP. The individual skin is upgradable to different levels, with each level costing 15 Radiant points to unlock.
Released on June 2, 2022, the Origin Vandal costs around 1775 VP.
---
17. Champion Vandal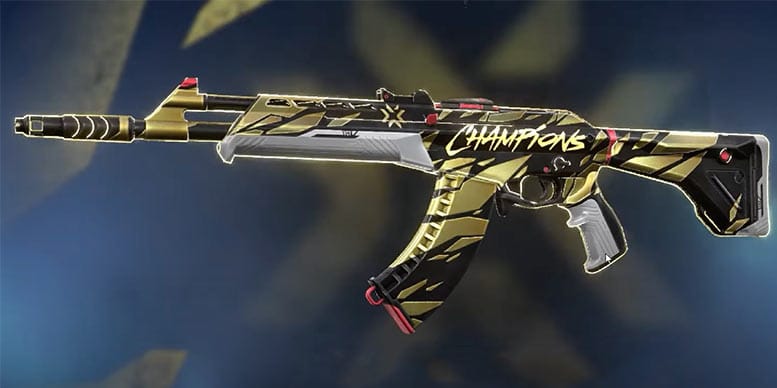 Champion Vandal is a part of the Champion bundle released during the Valorant Champion 2021 tournament to commensurate the championship finale.
Champion glows when the player possessing it is the top fragger, a one-of-a-kind skin for Vandal. Rule the scoreboard and let your rifle boast in pride.
The black and gold Valorant rifle sports unique sounds for single, double, triple, quad kills, and ace. It also plays the Champion 2021 anthem. The weapon display key is pressed, with the CHAMPION letters glowing on the skin.
This limited edition was dropped during the Champion 2021 tourney between November 24 to December 12, 2021. You could get it as part of the Champion bundle or wait for drop while watching the tournament stream through the official watch party streams.
The entire Champion bundle consisting of different skins costs 6,264 VP or $64 in real money. Unfortunately, the skin was never put in the night market or available to purchase once the tournament got over.
Valorant doesn't have skin trade in the game, those who were lucky enough to grab it are now boasting it in the game or their inventory.
---
18. Forsaken Vandal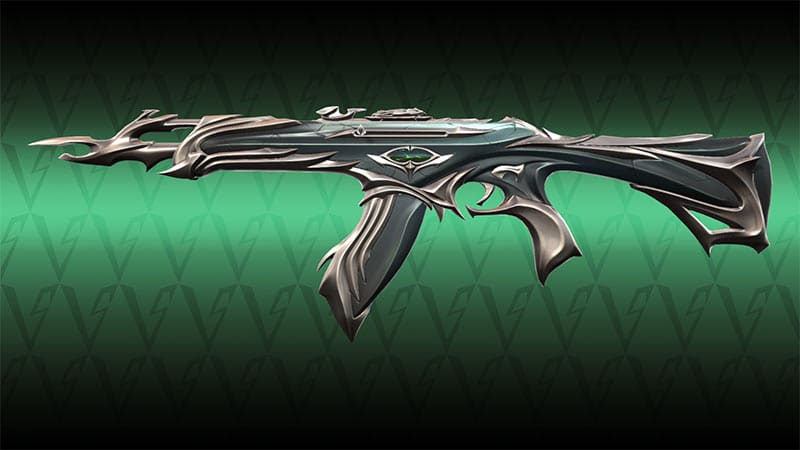 Sovereign Vandal is a part of the Forsaken skin line, released less than a year ago.
We see bright golden hues with sharp edges embody a fallen soldier from their grace. A gemstone is the vandal skin's chest which lights up when the player kills an enemy.
The enemy kill sound is relatively short and peppy, not distracting the player during intense battles and clutch situations. It is accompanied by a greenish flare when shooting.
You can own the Sovereign vandal skin individually for 1,770 VP. The entire Forsaken Vandal will set you back by 7,100 VP
---
19. ChronoVoid Vandal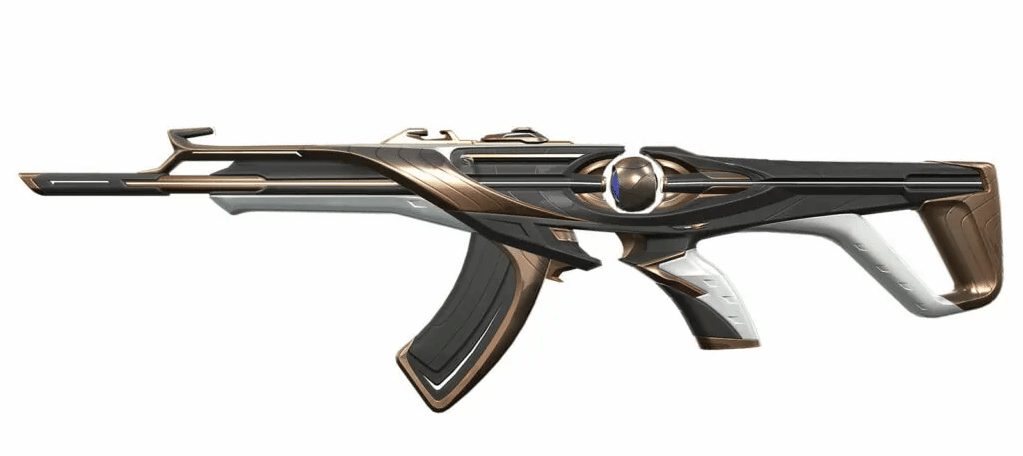 Last, on the list we have the recently launched ChronoVoid Vandal skin which gives a look of a futuristic weapon inspired by ancient technology. The finisher effect of the gun appears to capture your opponent and transport them somewhere else entirely.
The entire ChronoVoid bundle is in-store for a price of 8,700 Valorant points.
---
Also Read- Best Ghost Skins in Valorant
CONCLUSION
These were the best Vandal Skins in VALORANT to apply on the revered rifle.
If you were looking for a new Vandal skin for your assets library, then we hope you got what you are looking for.