A good peer-to-peer torrent client or torrent downloader can drastically improve your torrenting experience.
Over the past decade, the free torrent client program uTorrent has gained insane popularity and it's considered an industry standard.
uTorrent used to be the best torrent client with lightweight UI, a clean interface, no spammy ads, and was open source.
That said, uTorrent is not what it used to be after BitTorrent, Inc. bought it. The program now has many noteworthy flaws like unresponsive UI, annoying advertisements, and spammy offers. It no longer is open source.
This has led torrent users to look for good alternatives to uTorrent to download torrent files faster and safer.
In this article, we have shared Better-Ad Free Alternatives To uTorrent for Downloading Torrent Files.
RELATED: Best Torrent Sites & Proxy
---
Best uTorrent Alternatives To Download Torrent Files
1. qBittorrent (Open-Source uTorrent Replacement) 
First, on the list, we have a free alternative to uTorrent namely qBittorrent. If you're coming from uTorerent, the open-source torrent client, qBittorrent will feel like a breath of fresh air as it's completely clutter-free.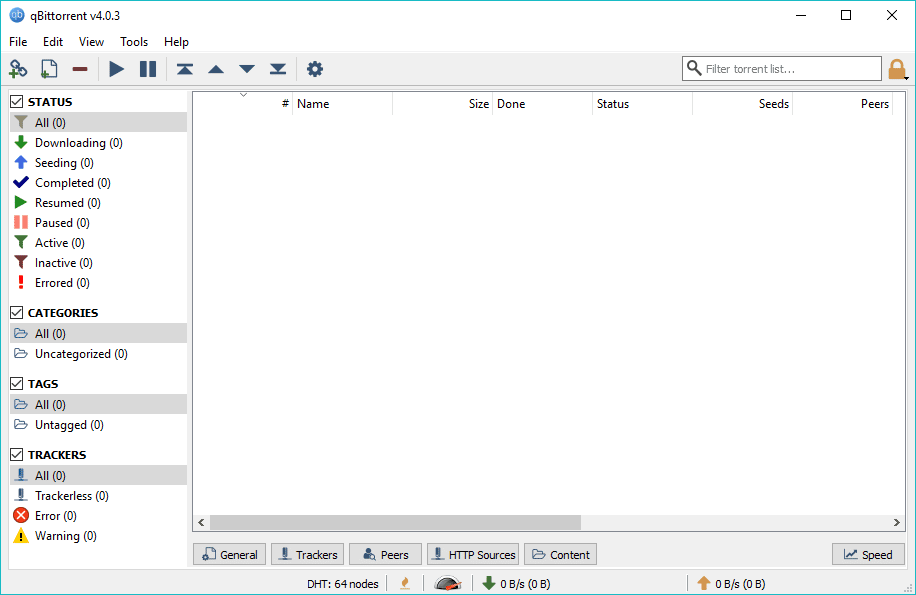 This free software alternative to uTorrent consumes as fewer system resources as possible and works flawlessly on low-powered computers. With qBittorrent, you also get access to an integrated torrent search engine.
Some other noteworthy features of qBitorrent are, auto-torrent adding, support for magnetic links, creating torrents, prioritizing torrents, and many more. The clean UI and ad-free experience make qBitorrent a replacement for uTorrent.
---
2. Deluge (Torrent Client With Plug-In Support)
Deluge is another feature-packed uTorrent alternative that doesn't offer any kind of malware, bloatware, or adware. Well, Deluge is built with a client-server architecture so it can quietly run in the background.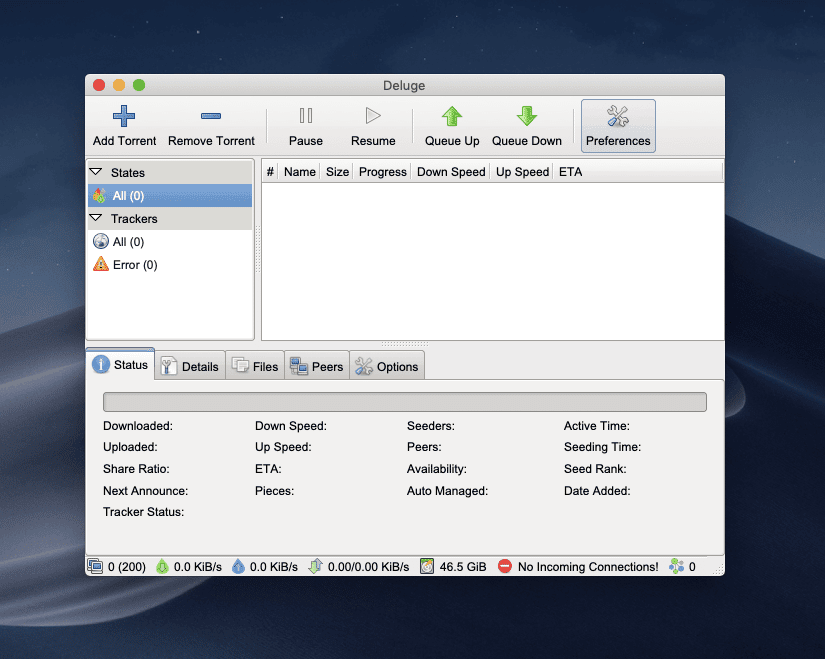 Since Deluge supports Plugins you can easily increase its functionality based on your preference. You can download plugins from the official Deluge website and add features like RSS support.
Some noteworthy features of this cross-platform and open-source software are encryption, peer exchange, bandwidth management, UPnP, speed limit, and password protection.
---
3. Vuze (Paid uTorrent Alternative) 
Next on the list, we have a closed-source alternative to uTorrent that goes by the name Vuze. Despite being a locked source program, Vuze offers many exciting features and is user-friendly.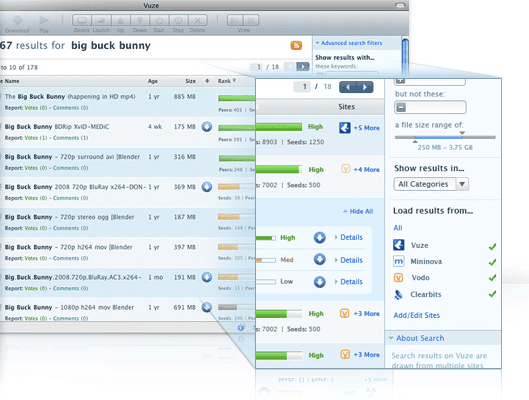 Bandwidth control, RSS subscription, notifications, Remote control, media player, file converter, plugin support, and HD video player are some of the pro features in Vuze that help the program to stand out from the crowd.
Similar to Deluge, Vuze also comes with plug-ins support to further enhance the usability of the torrent Client. If you heavily rely on torrents this paid uTorrent alternative might impress you.
As for downsides, the free version of Vuze has intrusive ads. Furthermore, we advise our readers to uncheck or decline any offers made during the installation.
---
4. Transmission (Fast & Free App Like uTorrent)
Transmission is another great Torrent Client that's a perfect alternative to uTorrent and simply gets the job done. Since Transmission is an open-source program it's entirely free from malware and adware.
The clean and easy-to-navigate UI of Transmission makes it ideal for casual Torrent users. Furthermore, Transmission is very well optimized for desktops and laptops running on macOS or Linux.
While adding a magnet link you can effortlessly select the destination folder and the navigation bar displays upload and download speeds.
Some other great features of Transmission are Encryption, webseed support, web interface, peer exchange, DHT, tracker editing, and speed controls.
---
5. uTorrent 2.2.1 (Junk Free uTorrent)
If you have been an active part of the torrent community then you might know uTorrent is not what it used to be a decade ago. Before Bittorent acquired utorrent the program was open source and it didn't had any sort of adware or bloatware.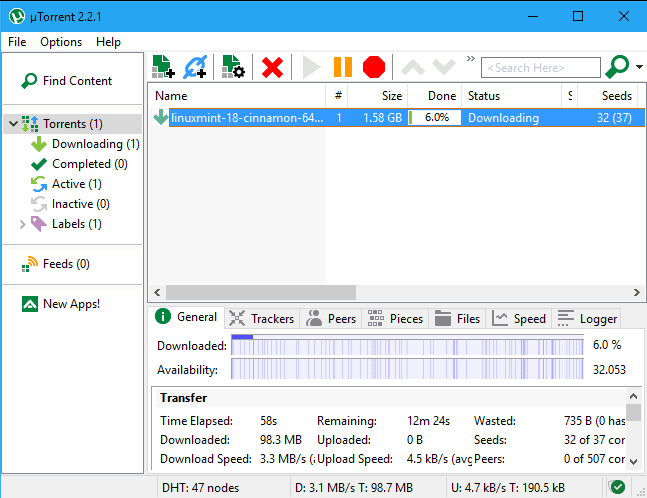 The idea might sound a bit crazy but even today you can download, install, and use uTorrent verison 2.2.1 that's open-source. Obviously, since this verison is from 2011 the UI might seem a bit outdated in comparison to modern programs.
Furthermore, it won't contain new features that could help speed up your downloads. The old version of uTorrent can officially be installed on mainstream Windows versions like Windows 7/8/8.1/10.
However, do check out the other alternatives to uTorrent before trying out uTorrent 2.2.1.
---
6. Tixati (New uTorrent Alternative) 
Tixati is a relatively newer Torrent client that has managed to gain a considerable amount of user base in a short time span.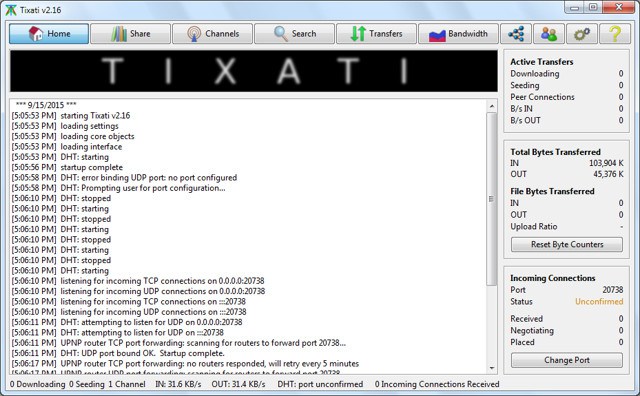 The free torrent client is ideal for both casual and power users and you can set it up based on your preferences and requirements.
Some great features of Tixati are prioritized downloading, magnet URLs, NAT traversal, UDP tracker, IP filtering, event scheduling, and many more. You can install Tixati on Windows, macOS, and Linux computers.
---
7. Frostwire (User-Friendly Torrent Client)
Next on our list of best uTorrent alternatives is Frostwire. If you're a person who prefers using simple and easy-to-learn programs then Frostwire might impress you.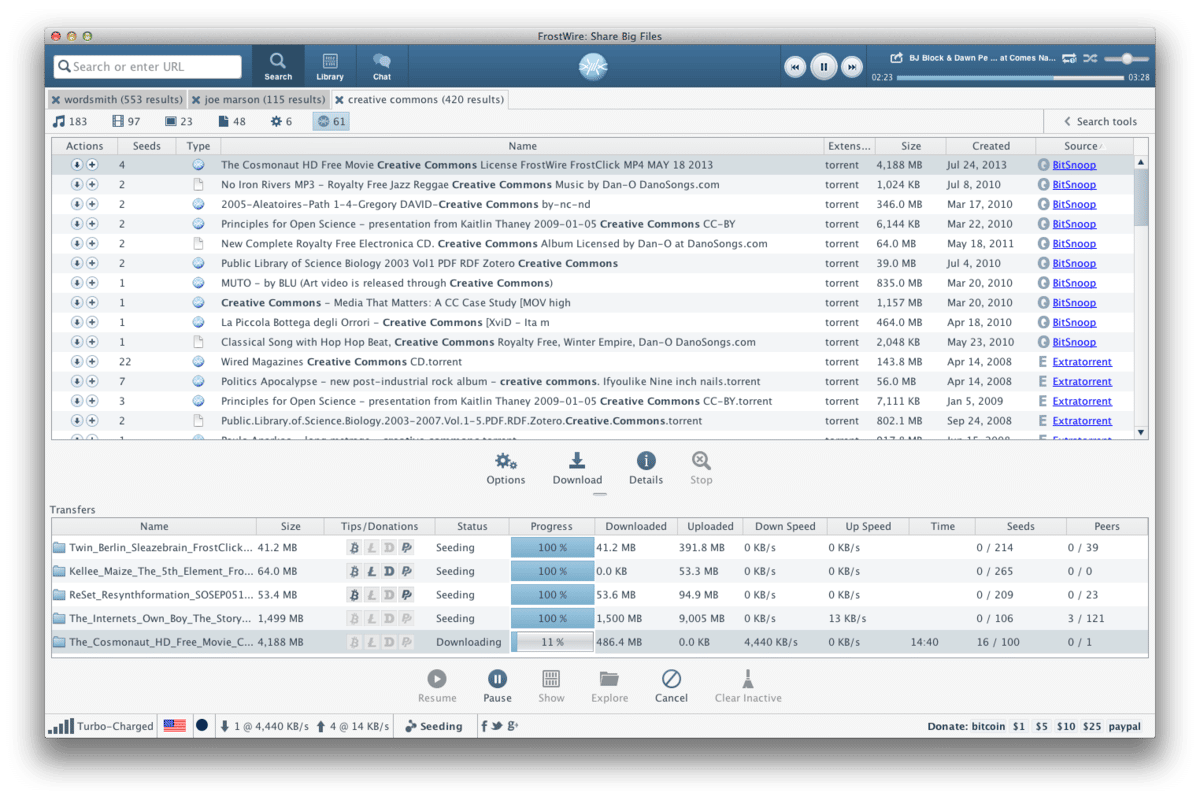 The lightweight torrent client consumes fewer system resources for its proper functioning and it's completely advertisement free. The built-in search engine present in Frostwire can be used to search for torrents and directly download them.
Frostwire can be installed on major computer and smartphone operating systems like Windows, macOS, Linux, and Android.
---
8. Folx (Best macOS uTorrent Alternative)
Next on the list, we have a macOS uTorrent alternative namely Folx. In addition to being a Torrent Downloader, Folx also works as an all-in-one download manager.
After installing the browser extension, Folx can easily catch download links and quickly download files on your computer. As you might have guessed, this includes magnet links.
Folx has a very well-developed UI that's easy to navigate. The program can quietly run in the background and notify you once the download is completed.
Folx features a built-in search bar where you can paste URLs to instantly download Torrents. Well, Folx is also the only torrent client that's fully compatible with Monterey.
---
9. Boxopus (Cross-Platform Alternative To uTorrent)
Looking for an all-OS replacement of uTorrent then do checkout Boxopus. Unlike the other programs on the list, Boxopus can save your downloads on to a cloud storage service like Dropbox.
This definitely saves up hard drive space on your PC and you can access your torrents on any device wirelessly. Since Boxopus uses the Dropbox API, it has no access to any other files stored on your account.
Overall, Boxopus is a unique uTorrent alternative that simply gets the job done.
---
10. BitTorrent (A uTorrent Like Program)
Next on the list we have BitTorrent. Well, BitTorrent can be considered as an exact replica of uTorrent as both these programs are owned and operated by the same company.
So if you don't have any problem with uTorrent and are just looking for an app like uTorrent then do checkout BitTorrent. The classic green accent of uTorrent is replaced with purple in BitTorrent.
As far as feature differences are concerned then it's worth noting that the Torrent search system of BitTorrent is slightly better and well-developed in comparison to uTorrent.
Sadly, the free version of BitTorrent is filled to the brim with adware. But you can remove them using the paid version which is faster than uTorrent.
---
11. BitPort (Well-Developed uTorrent Alternative)
Last on the list of uTorrent Alternatives we have a very well-developed uTorrent client that goes by the name BitPort.
One of the most unique features of BitPort is the secured cloud platform where you can save your download and save storage space on your PC.
BitPort can be used from the official BitPort website eliminating the need to download and install additional software. To get started with BitPort the only thing you need to do is create an account.
In addition to torrents, BitPort can also be used to download other media content like movies, music, games, software, and much more.
---
FAQs
Is qBittorrent Better Than uTorrent?
Yes, qBittorrent is safer than uTorrent as it's open-source and doesn't come with adware, bloatware, and malware.
Is Torrenting Legal?
Yes, Torrenting itself is a legal practice! However, if you are using it to download pirated content or distribute any content to which you don't have rights to is completely illegal.
That's the main reason why many top torrent websites have been shut down in the past few years.
What Is Safer Than uTorrent?
qBittorrent, Transmission, Vuze, Deluge, and Tixati are some Torrent Clients that are safer than uTorrent.
Is BitTorrent better than uTorrent?
There is not much difference between uTorrent and BitTorrent. Both being owned by BitTorrent, Inc. provide good speed to download torrent files. But are full of spammy adverts.
---
CONCLUSION
So these were some of the Best Alternatives To uTorrent that are worth checking out.
Furthermore, if you have any other recommendations for Free uTorrent Alternatives or any other helpful Torrent Download Apps, then share them on our socials.