Torrents are an easy way to download files, but you need a good torrent client to do so.
If you are using macOS. You might find difficulties to find a working BitTorrent client for your MAC PC to download from a torrent site.
Since the release of macOS Monterey, several torrent software stopped working.
Luckily, there are many feature-rich torrent downloader for Mac that still works, and hopefully, by the end of this article, you will be able to choose the best BitTorrent client for your Mac.
ALSO READ: How To Unblock Torrent Sites
---
What Is A Torrent?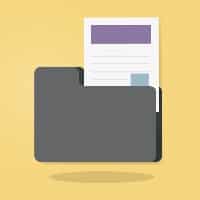 Torrent is a computer file that contains metadata accommodating various information. A torrent file generally comes with the extension .torrent, and it's hardly a few KB in size. The BitTorrent technology can use the information stored in a Torrent file.
Using Torrent files, you can download movies, music, games, programs, and much more of larger file size. But to do so you will need a torrent client.
---
What Is A Torrent Client?
A torrent client is a program or application that can initiate or terminate the downloading and uploading process of data using the BitTorrent file-sharing protocol.
In simple words, a torrent client is intended to facilitate peer-to-peer file sharing through the BitTorrent protocol.
Or, You will need a torrent client to download any files using torrent. For that, you will need to open the downloaded file using the BitTorrent client or add a magnet link directly into the torrent client.
---
Best Torrent Client For MAC (macOS Monterey Compatible)
1. BitTorrent
BitTorrent's official torrent client is an ideal torrenting software for Mac. This Mac torrent client offers automatic bandwidth management, and you can even set the download/upload speed limits as per your preference.
BitTorrent is completely free to use, but you can upgrade to the Pro version of BitTorrent to unlock features like protection from viruses & malware, ability to watch your torrents without waiting and remove annoying Ads from the program.
Lastly, BitTorrent is a light software, and it doesn't consume much system resources for its proper functioning. Overall, BitTorrent is an ideal torrent program for macOS Catalina.
---
2. uTorrent
uTorrent is another feature-rich Mac torrent client, and it's also a perfect alternative to BitTorrent.
The UI and features of uTorrent make it the perfect torrent client for Mac Monterey. uTorrent comes with a built-in bandwidth booster, and it also allows users to search for torrents right inside the app.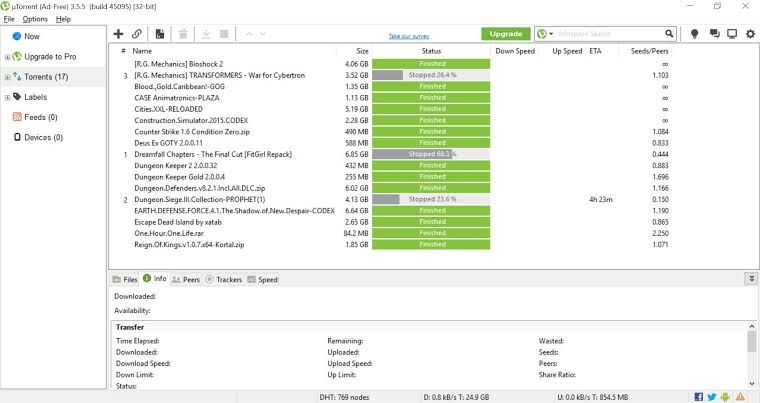 As for downsides, the free version of uTorrent is full of annoying advertisements. However, you can upgrade to the pro version to remove ads and secure your PC from all sorts of threats. uTorrent supports magnet links, and you can even use it to open torrent files.
Surprisingly, uTorrent is only 1.13 MB in size, and it consumes very fewer system resources. Overall, uTorrent is one of the best torrent downloaders for Macs.
NOTE: If you face any issue in installing the desktop version of uTorrent on your Mac, then you can use the web version of this torrent client. 
---
3. Transmission
The next trustworthy mac torrent downloader on the list is Transmission. This free MAC torrent client sports a clean and easy to navigate UI. In fact, due to its simplicity, Ubuntu has made Transmission it's default torrent client.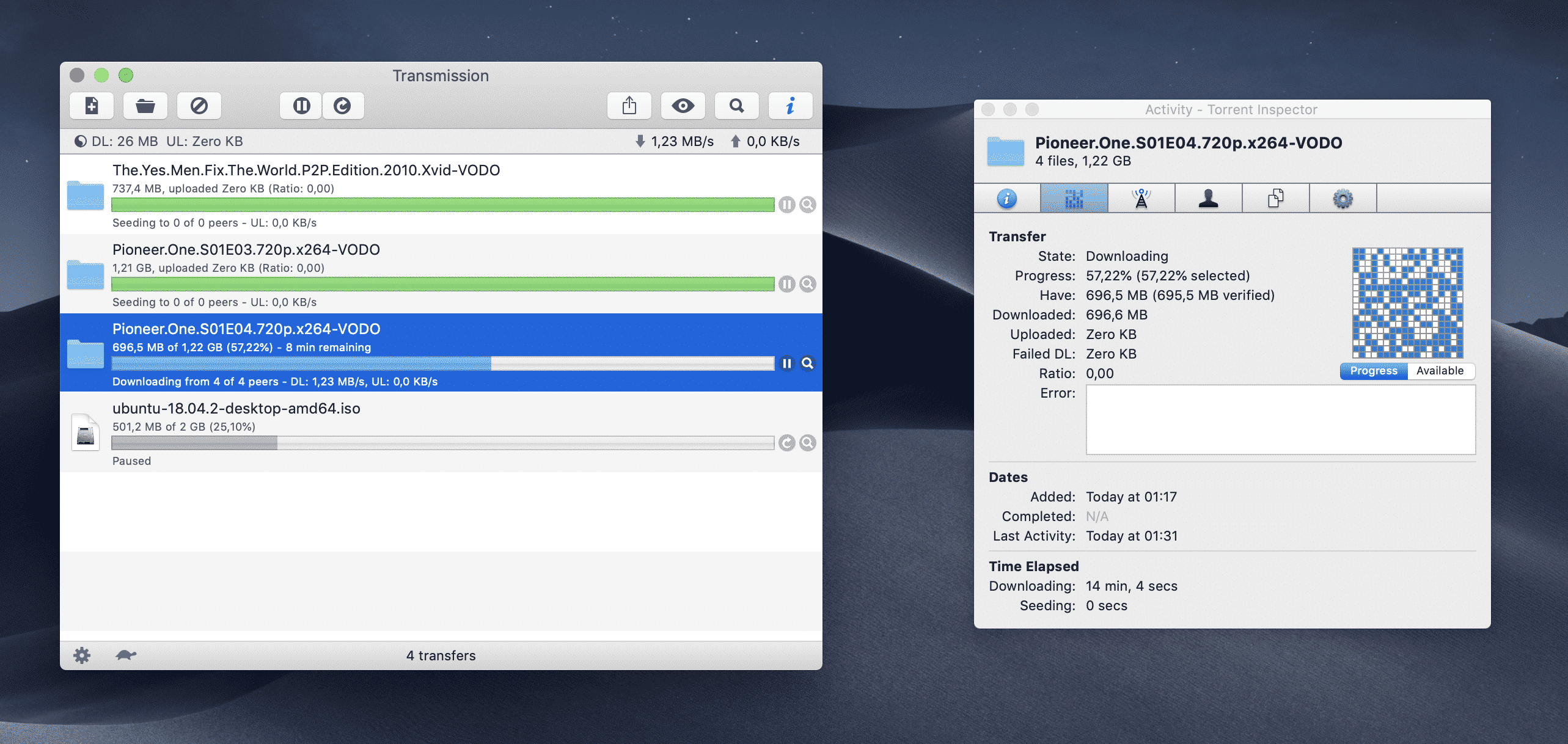 Similar to the Torrent clients mentioned above, Transmission consumes very less RAM, and it works properly even on low-powered computers.
Transmission also offers a plethora of add-ons and plugins for power users. It is worth noting that, Transmission is presently not compatible with macOS Catalina. However, the developers might soon update the program.
The last useful feature of Transmission is its ability to automatically classify torrents into different groups and assign a download location based on the category of file.
---
4. Vuze
Vuze is a renamed and updated version of the popular torrent software for MAC, Azureus. Similar to uTorrent, Vuze allows users to search for torrents and magnet links right from the app. This popular BitTorrent client features a visually impressive interface.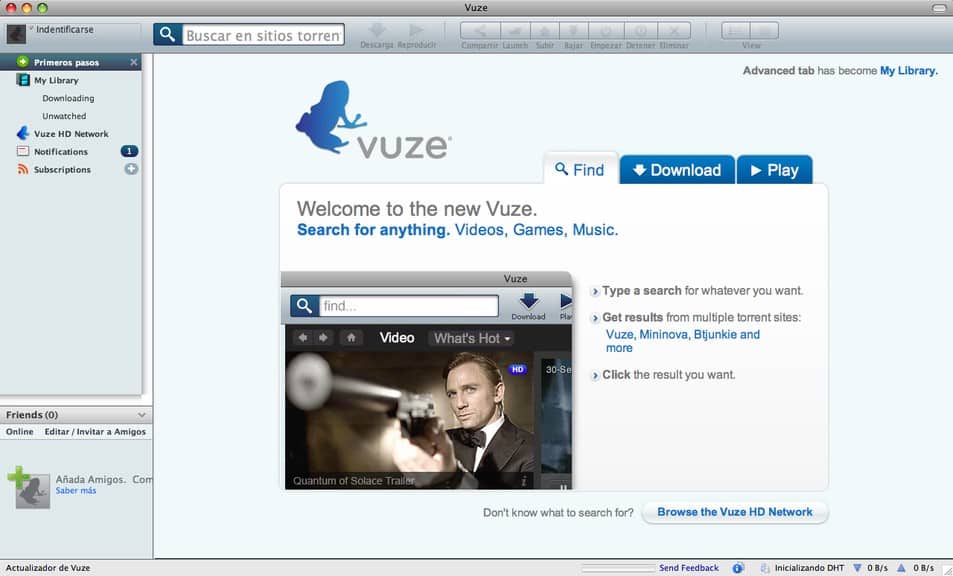 In addition to being a Torrent client, Vuze doubles up as a full-fledged video player. Vuze supports every mainstream video format like AVI, XVID, Quicktime and you can even add subtitles to your videos.
Overall, Vuze is a reliable torrent client for macOS and its web remote makes it easier to manage torrent downloads on the go.
---
5. qBittorrent
The last best torrent file-sharing software for Mac on the list is qBittorrent. The UI of this free and open-source BitTorrent client is similar to that of uTorrent.
This feature-rich torrent manager supports all BitTorrent extensions like Magnet/BitComet, Peer Exchange, DHT, and many more.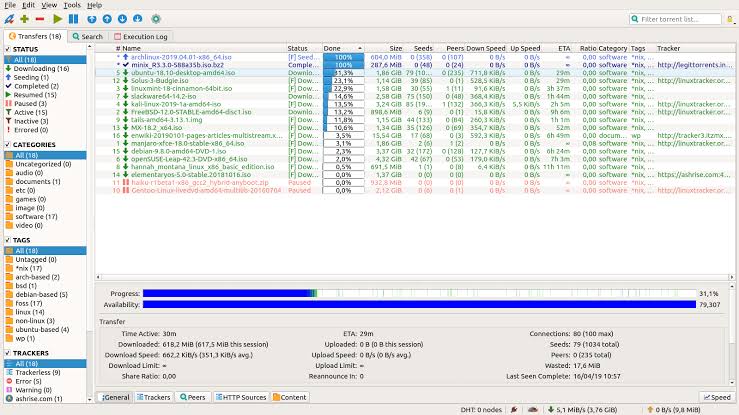 While downloading a torrent file qBittorrent displays its size, status, seeds, peers, download and upload speed, and ratio.
In addition to macOS, qBittorrent is also compatible with Windows, Linux, and FreeBSD.
As for downsides, the settings UI of qBittorrent is a bit clunky which makes finding and changing a particular setting a difficult task.
---
Is It Legal To Download Torrents?
It is completely legal to download torrent files using a torrent client. Unless you are downloading a copyrighted content that you don't own or doesn't have rights to download.
Downloading any copyrighted content without the permission of the copyright holders is illegal.
Is It Safe To Download Torrents?
Torrenting is always risky as torrent files downloaded might be infected with viruses or malware. Some of the torrent clients even come preloaded with adware that might harm your PC.
It is strongly advised to use a good antivirus for your MAC PC and even use the premium version of torrent clients for the MAC like Folx Pro torrent app.
Care For Your Privacy While Downloading Torrents:
Users are advised to use a VPN to maintain their privacy online and avoid being tracked while downloading torrents using MAC torrent clients.
Here is the list of best VPN
---
Also Read:
CONCLUSION
So these were some of the best torrent clients for MAC that are worth checking out.
Do share any of your personal recommendations for the best Torrent clients for macOS Catalina in the comments section below.