Torrents are an easy way to download files by using p2p file sharing technology, but you need a good torrent client to do so.
If you are using macOS. You might have difficulties finding a working BitTorrent client for your MAC PC to download torrent files from a torrent site.
Since the release of macOS Monterey, several torrent software stopped working.
Luckily, there are many feature-rich torrent downloader for Mac that still works, and hopefully, by the end of this article, you will be able to choose the best BitTorrent client for your Mac that provides high-speed download and support magnet link download.
We have tested all the torrent downloader for mac desktops and found them to be providing good downloading speed.
Moreover, these torrent clients are from trusted sources and come with less bundled software.
Latest trend have made most of torrent client developer to remove client and use browser-based torrent downloader.
ALSO READ: How To Unblock Torrent Sites
---
Best Torrent Client For MAC (macOS Monterey Compatible)
1. Transmission
The Best trustworthy mac torrent downloader on the list is Transmission. This free MAC torrent client sports a clean and easy-to-navigate UI which makes it easy to use even for a beginner.
In fact, due to its simplicity, Ubuntu has made Transmission it's default torrent client.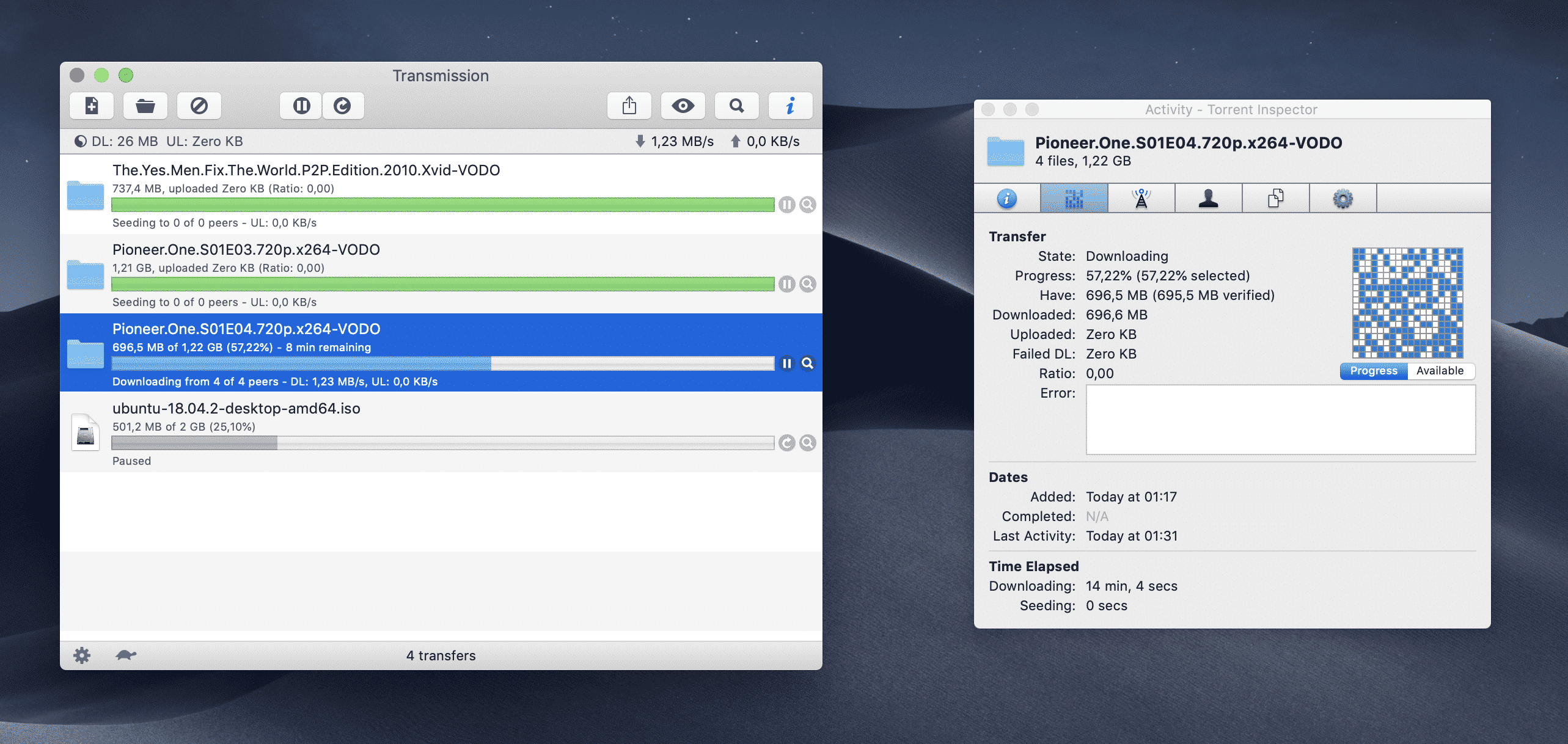 Transmission consumes very less RAM, and it works properly even on low-end or older MAC computers.
Transmission also offers a plethora of add-ons and plugins for power users. It is worth noting that, Transmission is now compatible with macOS Catalina and on preliminary compatibility with macOS Monterey. 
The last useful feature of Transmission is its ability to automatically classify torrents into different groups and assign a download location based on the category of file.
Regular updates from its developers make it faster and safer to use torrent client for Mac.
---
2. BitTorrent Web
BitTorrent's official torrent client is an ideal torrenting software for Mac. This Mac torrent client offers automatic bandwidth management, and you can even set the download/upload speed limits as per your preference.
BitTorrent has launched a web version of its torrent client. You can install it on your MAC PC and it will run through the web browser on Your MAC.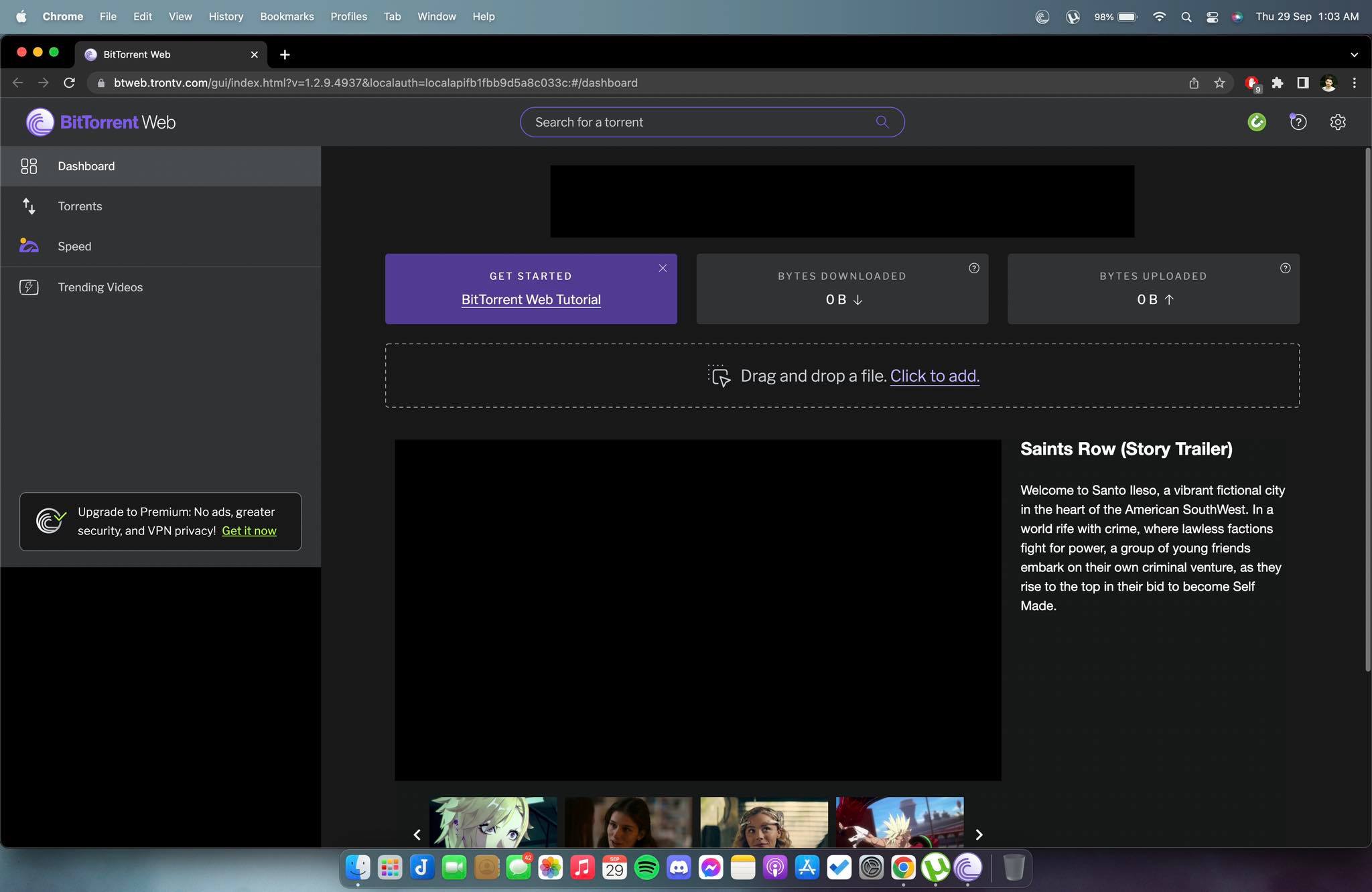 BitTorrent web is compatible with the latest mac OS Monterey. However, BitTorrent's Old client does not work with MAC OS Catalina Version 10.15 and above.
If you are using an older version of MAC you can still download the old BitTorrent client on Your Macbook.
BitTorrent is completely free to use, but you can upgrade to the Pro version of BitTorrent to unlock features like protection from viruses & malware, the ability to watch your torrents without waiting, and remove annoying Ads from the program.
Lastly, BitTorrent is light software, and it doesn't consume much system resources for its proper functioning.
Overall, BitTorrent is an ideal torrent program for macOS Catalina.
---
3. uTorrent Web
uTorrent is another feature-rich Mac torrent client, and it's also a perfect alternative to BitTorrent.
uTorrent has launched its new uTorrent Web torrent client for mac that on running opens through the web browser of your MAC.
The UI and features of uTorrent Web make it the perfect torrent client for Mac Monterey. uTorrent comes with a built-in bandwidth booster, and it also allows users to search for torrents right inside the app.
As for downsides, the free version of uTorrent is full of annoying advertisements. However, you can upgrade to the pro version to remove ads, VPN access and secure your PC from all sorts of threats. uTorrent supports magnet links, and you can even use it to open torrent files.
Overall, uTorrent is one of the best torrent downloaders for Macs.
Note: uTorrent web works with the latest mac OS Monterey. However uTorrent classic client for MAC is not compatible with MAC OS Catalina Version 10.15 and above.
---
4. Vuze
Vuze is a renamed and updated version of the popular torrent software for MAC, Azureus. Similar to uTorrent, Vuze allows users to search for torrents and magnet links right from the app. This popular BitTorrent client features a visually impressive interface.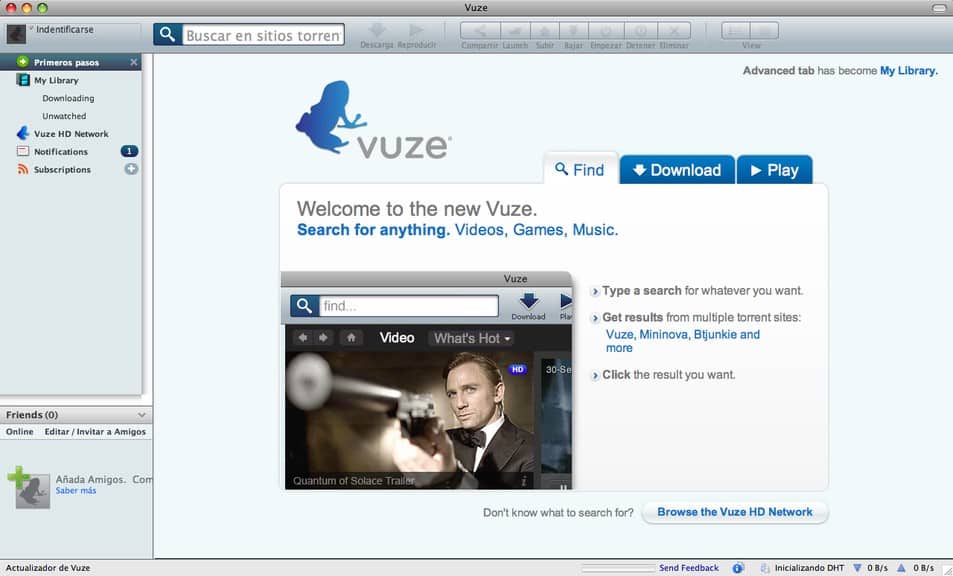 In addition to being a Torrent client, Vuze doubles up as a full-fledged video player. Vuze supports every mainstream video format like AVI, XVID, Quicktime and you can even add subtitles to your videos.
Overall, Vuze is a reliable torrent client for macOS and its web remote makes it easier to manage torrent downloads on the go.
---
5. qBittorrent
No list is complete without this mentioning this open-source torrenting software. One of the best torrent file-sharing software for Mac on the list is qBittorrent. The UI of this free and open-source BitTorrent client is similar to that of uTorrent.
This feature-rich torrent manager supports all BitTorrent extensions like Magnet/BitComet, Peer Exchange, DHT, and many more.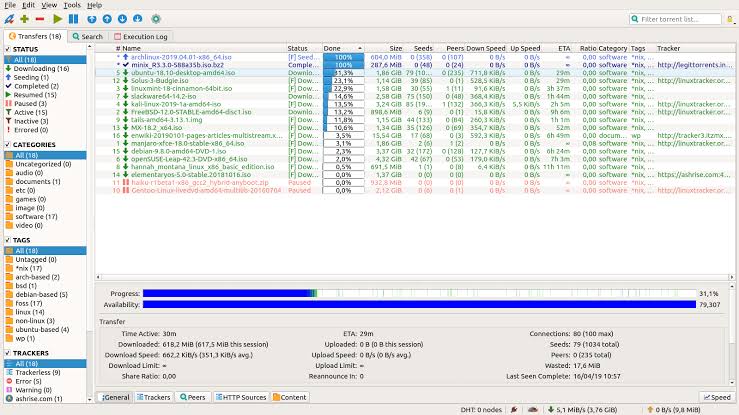 While downloading a torrent file qBittorrent displays its size, status, seeds, peers, download and upload speed, and ratio.
In addition to macOS, qBittorrent is also compatible with Windows, Linux, and FreeBSD.
As for downsides, the settings UI of qBittorrent is a bit clunky which makes finding and changing a particular setting a difficult task.
---
6. Bitcomet
Do you want your mac torrent client to be fast just like your torrent download speed? then Bitcomet is the answer for everything speed.
A super BitTorrent client written C++, it leaves no room for slogging down in any aspect. If you have used uTorrent in the past then this will feel right at home.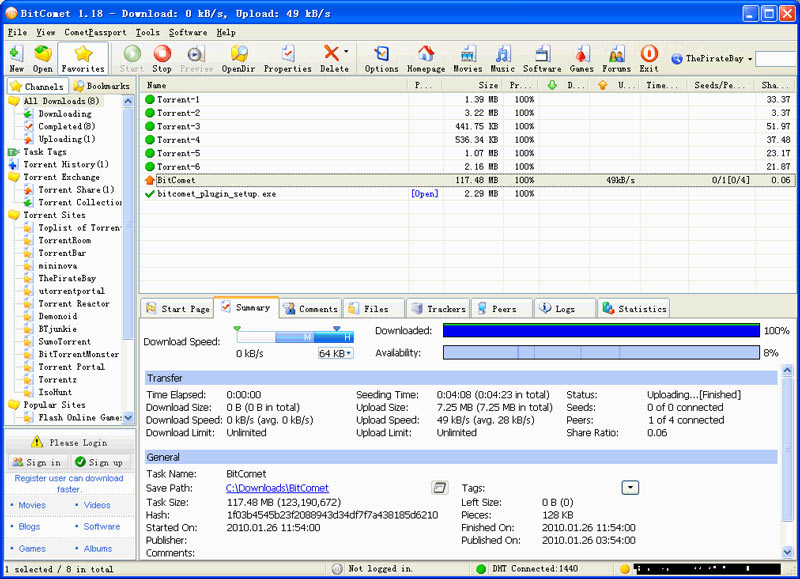 The Long-term seeding can really save you when there are no seeders but peers for a particular torrent which you really need. In such scenarios, take advantage of the Bitcoment proprietary protocol enabled on other user's PC who uses the same client.
All the torrents can be categorized as tasks for better management and faster downloads. Torrent creators would absolutely support the feature which allows aligning file to piece boundary for left out pieces of the entire file by adding extra padding.
Bitcomet also keeps your hard disk's health in check by reducing the read/write frequency. The intelligent disk cache feature relies on memory cache to achieve this.
---
7. Tribler

If you want to download torrents on Mac in peace. Get the right torrent from a torrenting site, open it in Tribler, and it should start downloading torrents right away.
That's it is with this torrent client for Mac which has no frills or shenanigans to sway you away from downloading all the files you need.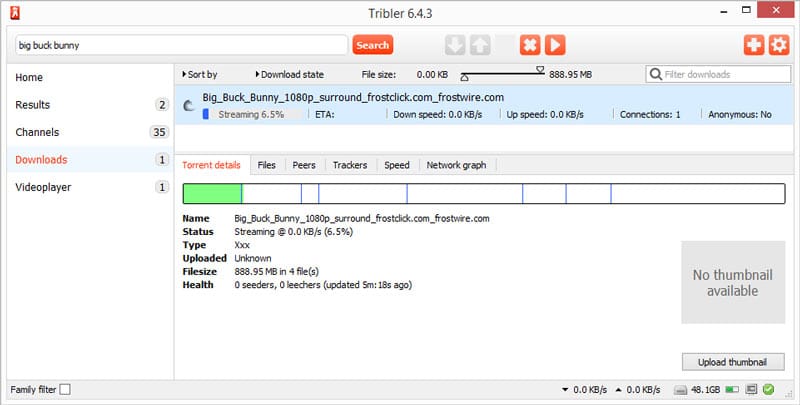 Just like what Bitcomet use to offer in terms of anonymity, Tribler has it by default. You can download torrents while being anonymous. It relies on the overlay network to hide your identity.
When you put a torrent for download, it asks for using encryption and proxies for masking your identity and download activity. It can be disabled by remove the tick from the options.
Search for your favorite torrent from the client itself using the search-bar at the top.
Similarly, the channels feature puts the torrent sites on an obsolete list. You won't need to visit any such site for finding torrents. Subscribe to different channels of various websites and download torrents directly.
---
8. BiglyBT
We are past the big names, and here is BiglyBT, a rather underrated torrent client for Mac computers.
On the initial setup, you will be given the option to migrate the existing torrents on other clients to BiglyBT. No need to start over on the new Mac torrent app.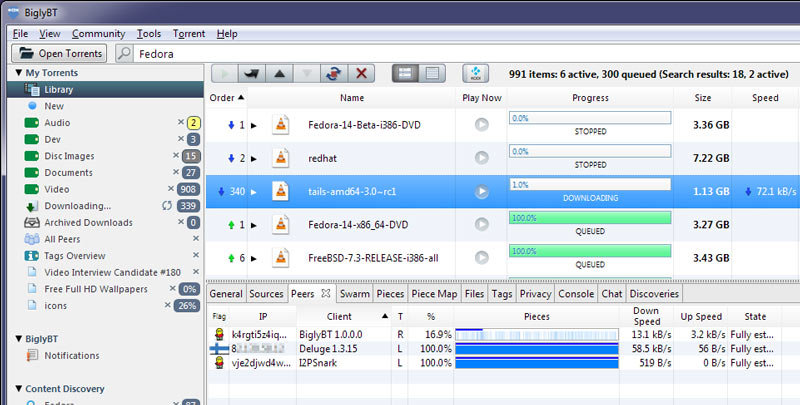 Beginning with the download features, Swarm merging is supported. This allows you to speed up the torrent downloads and help complete the torrents with missing pieces by looking for a second torrent.
Speeds limit here allows you to set on a schedule by the time of day, etc. You can also restrict it based on peers to seed ratio, network capacity, country, and more.
When away from the computer, keep a tab on the torrents using the remote controlling feature using any smartphone app that supports Transmission RPC.
Taking the anonymous download baton forward, BiglyBT has I2P support is available, installed by default as a plugin. Naturally, the download will be slower than the default settings owing to peer relay.
---
9. Frostwire
Frostwire may not be on everyone's tongue for downloading torrents, but it impresses with its streamlined UI.
This torrent client for mac does more than torrenting. It offers cloud download along with acting as a media player.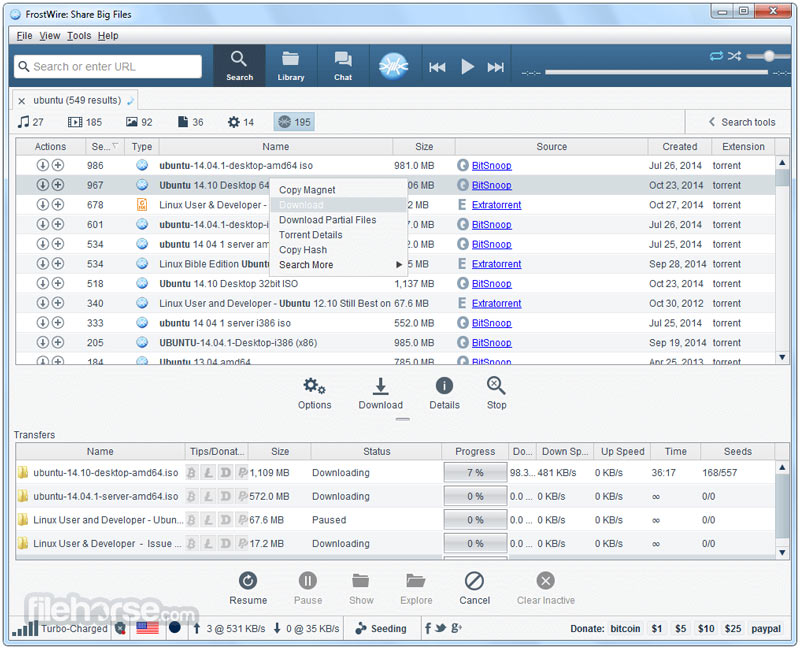 Just like Tribler, users can search for torrents from inside the client. Use the search bar placed at the top for conducting the torrent search. The torrents are available from TorrentParadise, 1337x, Zooqle, Yify, amongst the total of 13 different sites.
Set multiple download locations and choose one while adding a new torrent. This way, you can keep files segregated into different places and avoid cluttering in one folder.
Apart from a Mac OS torrent downloader, you can use it to store all your media content in one place. Audio and videos can be stored here, along with your iTunes playlist.
---
10. Webtorrent Desktop
Till now, we were only discussing ordinary torrent apps for Mac. That's not the case anymore with WebTorrent Desktop, which lets you stream the torrent while it is getting downloaded.
From now on, you won't have to wait for the movie torrent to download to watch it. Put in it the direct torrent link, magnet link, or file itself. It will begin the download and let you stream within a couple of seconds or minutes.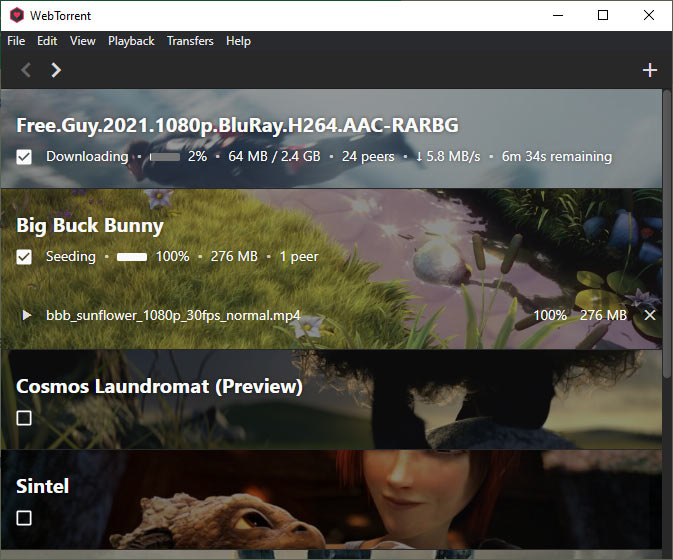 You can also add video torrent files(.torrent) in a specified folder, and WebTorrent will pick it up automatically after the initial setup. Stream the movies directly without waiting for any other setting or progress.
That's not all, and we can also add our subtitles to the streaming movie in any language. Basically, consider it as watching a movie offline on a media player.
Lastly, add multiple movie torrents for download and stream one of them while others are getting downloaded.
---
What Is A Torrent?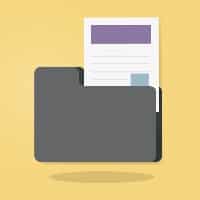 Torrent is a computer file that contains metadata accommodating various information. A torrent file generally comes with the extension .torrent, and it's hardly a few KB in size. The BitTorrent technology can use the information stored in a Torrent file.
Using Torrent files, you can download movies, music, games, programs, and much more of larger file size. But to do so you will need a torrent client.
---
What Is A Torrent Client?
A torrent client is a program or application that can initiate or terminate the downloading and uploading process of data using the BitTorrent file-sharing protocol.
In simple words, a torrent client is intended to facilitate peer-to-peer file sharing through the BitTorrent protocol.
Or, You will need a torrent client to download any files using torrent. For that, you will need to open the downloaded file using the BitTorrent client or add a magnet link directly into the torrent client.
---
Is It Legal To Download Torrents?
It is completely legal to download torrent files using a torrent client. Unless you are downloading copyrighted content that you don't own or doesn't have rights to download.
Downloading any copyrighted content without the permission of the copyright holders is illegal.
---
Is It Safe To Download Torrents?
Torrenting is always risky as torrent files downloaded might be infected with viruses or malware. Some of the torrent clients even come preloaded with adware that might harm your PC.
It is strongly advised to use a good antivirus for your MAC PC and even use the premium version of torrent clients for the MAC like Folx Pro torrent app.
Care For Your Privacy While Downloading Torrents:
Users are advised to use a VPN to maintain their privacy online and avoid being tracked while downloading torrents using MAC torrent clients.
Here is the list of best VPN
---
Also Read:
CONCLUSION
So these were some of the best torrent clients for MAC that are worth checking out These will work perfectly on Your Macbook Air and Macbook Pro Laptops around top MAC Versions including macOS Monterey, macOS Big Sur, macOS Catalina and macOS Mojave.
Do share any of your personal recommendations for the best Torrent clients for macOS Catalina in the comments section below.
---
Best Torrent Client For MAC FAQs
What torrent client works on Mac?
Some of the best Torrent clients that work on MAC are uTorrent, qBittorrent, Transmission, and BitTorrent.
What is better than uTorrent for Mac?
Transmission, qBittorrent, Folx, and Deluge are a few good torrent clients for MAC that are better than uTorrent.
Can I run torrent on Mac?
Yes, you can run torrent on MAC. To do so you will have to download a working torrent client and then visit a torrent site and download the torrent file you are looking for. Then open the torrent file in the torrent client.
How do I download a magnet link on a Mac?
To download a magnet link on MAC open the torrent client and look for the option to add a magnet link.
Which is the safest torrent client for MAC?
FOLX is the safest torrent client for MAC followed by Transmission.