If you are an aspiring programmer, then you have heard of W3Schools. It is one of the best places to learn programming from scratch.
Many educational institutions rely on it to teach the basics of development.
Even seasoned web developers visit the website from time to time to clear doubts.
The problem that arises as a beginner is that you may not have access to the internet at all times. In such cases, you can download W3Schools offline version and access it without being online.
All will be in a RAR file containing all the files of all the languages that are available on the W3Schools website.
Is W3Schools worth it?
W3School is a leading interactive website that teaches web development for free with over 60 million visits every month. You can learn HTML, CSS, JavaScript, PHP, Python and several other web development related languages.
W3Schools relies on practical learning which focuses on user learning by doing practice problems. There is a live editor in every section to try out new functions, commands and see the preview in real-time.
You can even learn development from smartphones through their mobile-friendly website.
However, if you are living in a region with bad internet connectivity then getting an offline version of W3Schools would be the way to go.
Download W3schools Offline Version
We will download W3Schools in two ways. The first one is as a file and the second is through an app for Windows 10.
W3schools Offline Version RAR file

Use one of the links to download offline version of w3school. The file will be 32 MB in size and becomes 1.5 GB after extracting so keep that much reserved for it.
The first link is from Mediafire and it can be blocked in your region or by the internet service provider.
You can also use the DOWNLOAD 2 link to download W3Schools offline file from Filebin.
Note – We have also tested the file for viruses and malware and attached a report below. You don't have to worry about downloading something that can harm your computer.
| | |
| --- | --- |
| W3Schools Offline Version Download | DOWNLOAD |
| W3Schools Offline Download – Alternate link | DOWNLOAD 2 |
| VirusTotal File Check | Report |
How to Open W3Schools ZIP FILE
Once you have downloaded the W3chools offline file, here is how you can extract and access it.
1. Install 7-zip which will help open and extract W3Schools file.
2. Right-click on the W3Schools file and head to 7zip > Extract Files.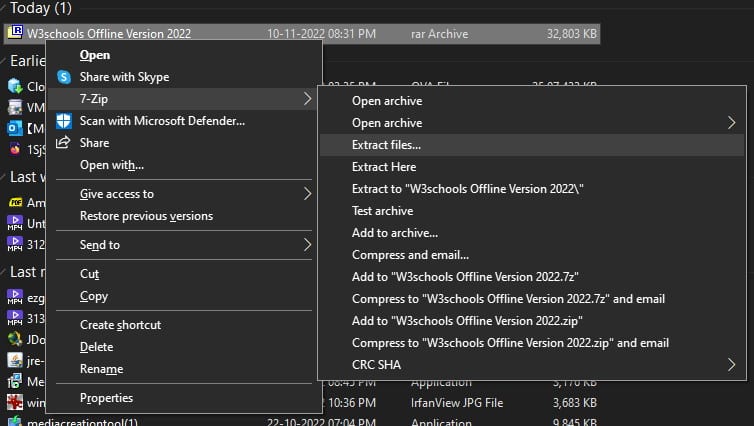 3. The extraction prompt will open up. Select the location to extract the folder.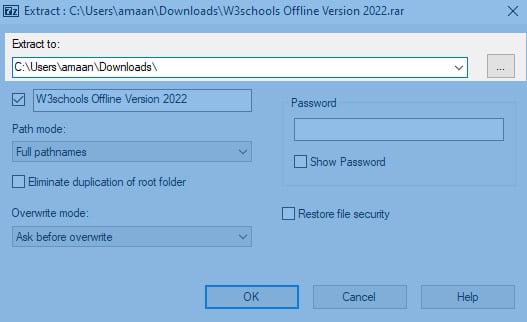 4. Give a name to the folder where all the files will be extracted.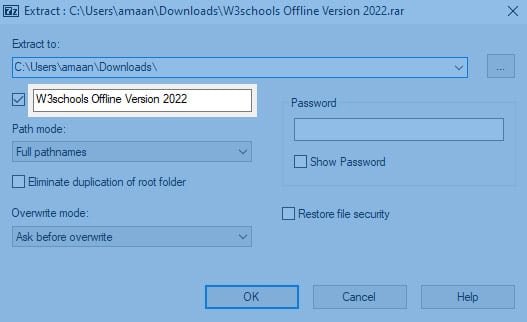 5. Click OK to begin the extraction.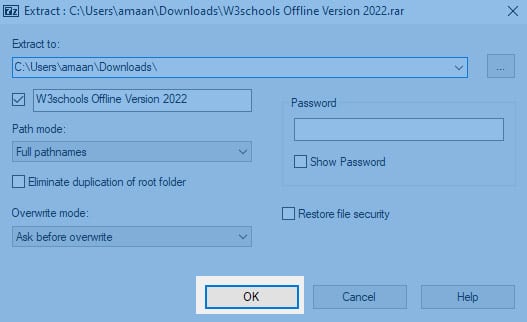 6. The extraction will take a couple of seconds to minutes, depending upon your computer's power.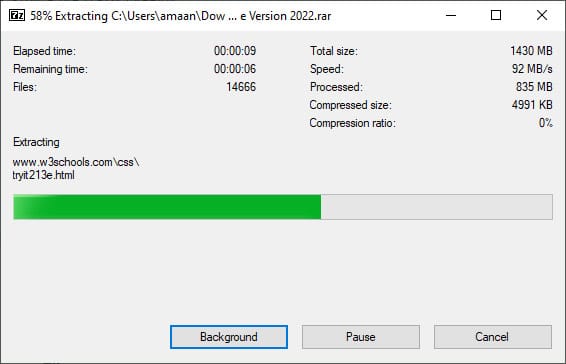 7. Go to the extracted folder and open default.html in any web browser.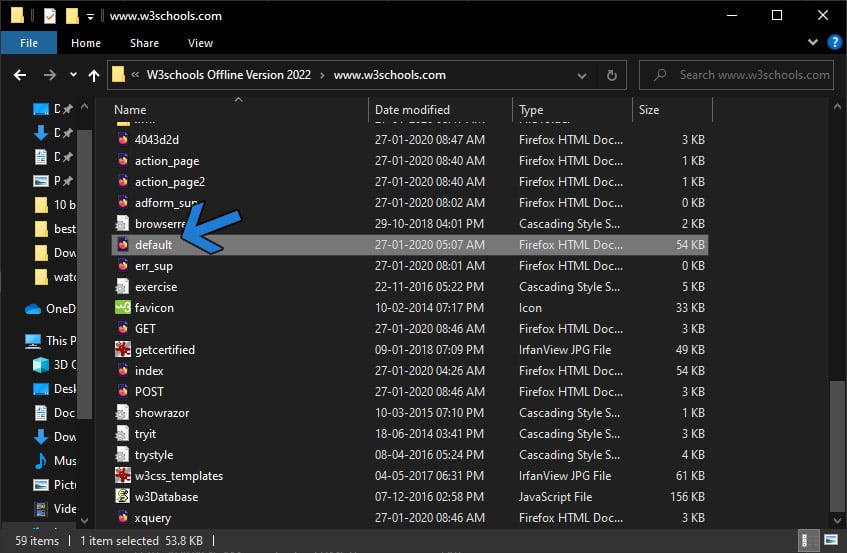 8. Use W3Schools offline without requiring internet. Even the live editor works flawlessly in the offline version so you can practice without requiring the internet.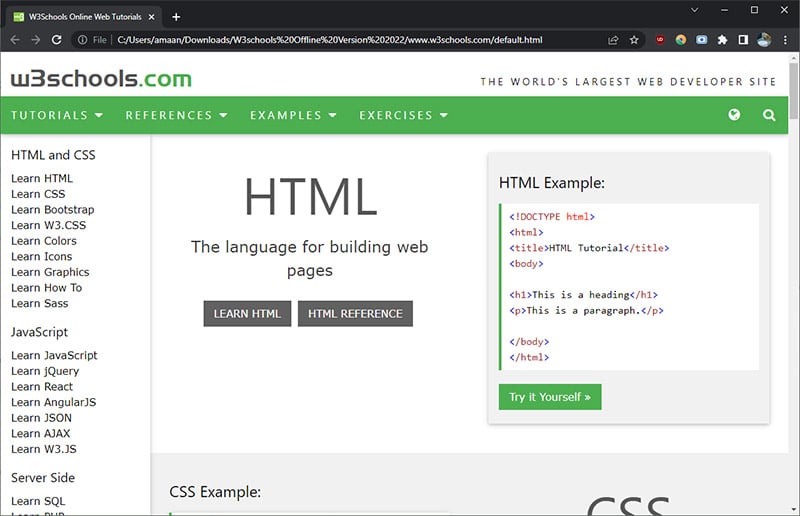 W3Schools offline for Windows 10 and 11
Don't want to extract files? then download W3Schools for offline usage through an app. An app by the name of W3schools(offline version) is available on Microsoft Store.
1. Install W3schools(offline version) from the Microsoft store.  Click Install to install it on the computer.
Make sure you have the store available on your Windows 10 or 11 PC.
2. Launch W3Schools app by searching it from the Start Menu. It will appear in the recently added section on most Windows 10 PCs.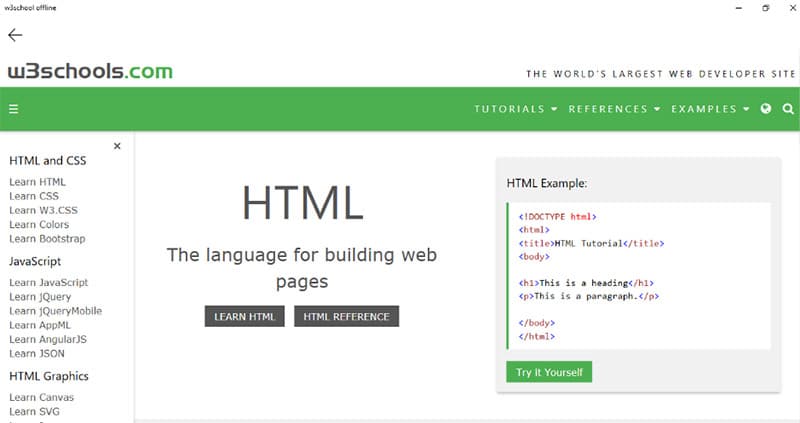 You can use W3Schools offline just like it is a live website, similar to what we did with the ZIP file.
Note – Some of you will get the app in fullscreen with no exit button. You can exit the app by pressing Alt + F4 on the keyboard.
---
Over to You
This is how you can download W3Schools offline version for free. Access the website without requiring internet and use it on any of the computers, whether Windows or Mac.
The Windows app is however exclusive to Windows 10 and 11 users which is convenient for regular users.