Video creation is not everyone's cup of tea. It takes a lot of skill to record and edit videos that are worth posting.
Hiring a team to create videos is not feasible when you are just starting out or a shoe-string budget. This is where a text to video creator comes into play.
It creates video just by entering text and letting the AI take it from there.
Add a video title, add text that needs to be narrated, and voila, you have a video ready within minutes.
You can also convert blog posts to videos. All you need is the URL of the article and then enter it in the article box.
In this post, we take a closer at some of the best text to video creators available online that uses AI.
Most of them are free while others offer a limited trial.
Best Text to Video Creator
So here are the best free text to video AI generator to easily convert your script or text to a video automatically.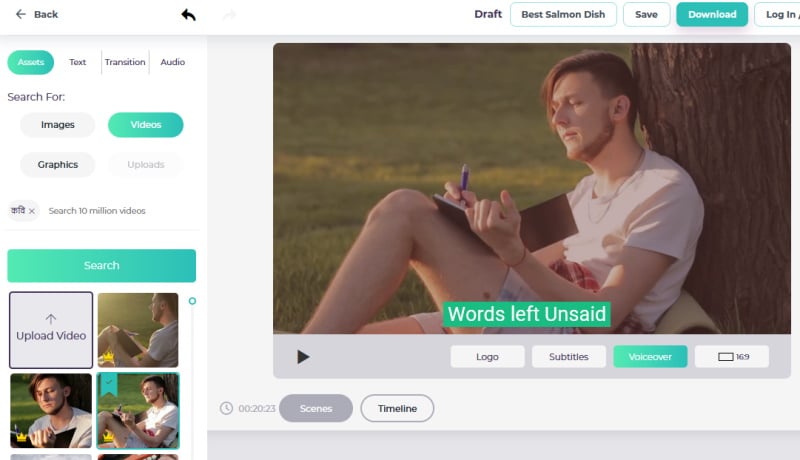 Using complicated tools is the primary reason why people don't forward with video creation. Designs.ai is the most simple text to video creator available. Give your video a title and then start writing the script (up to 1500 characters) which will be narrated.
You can select a narration voice with options of male and female in different accents. A few good ones are locked for premium users. We have 20 differnet language to choose from. It takes anywhere between 10 to 50 seconds for the video to be created and available for playing.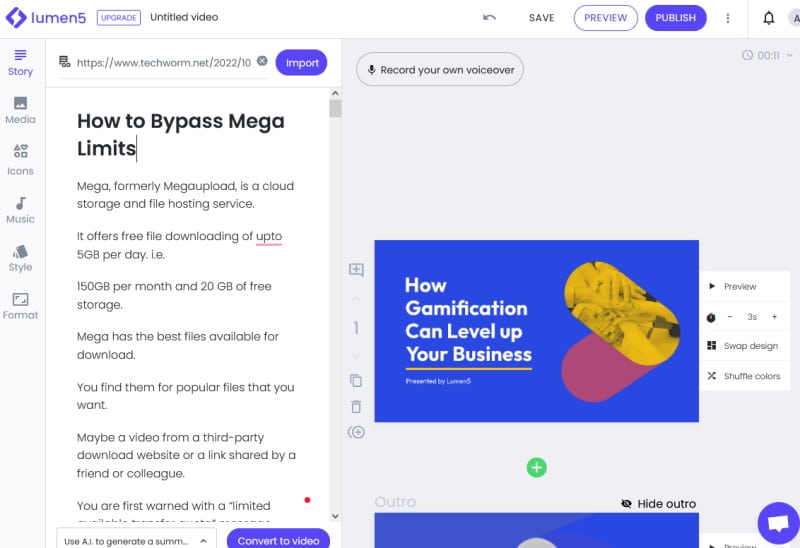 Want to convert an article to a video within seconds? then Lumen5 is a video-making tool that will help you do that. Login first to access the tool and then select a category for your video.
Paste a link to the article with text which will be used as a script. It will also import images along with the text. The script box will appear at the left which can be edited as needed. You can also add your voiceover for the video instead of the AI narration.
The finished video will appears as frames that can be edited as per creative requirements. You can set the duration for each frame, change their design, and choose background music. The final video will carry a Lumen5 watermark which can only be removed by purchasing a subscription. You can edit it out by any video trimmer.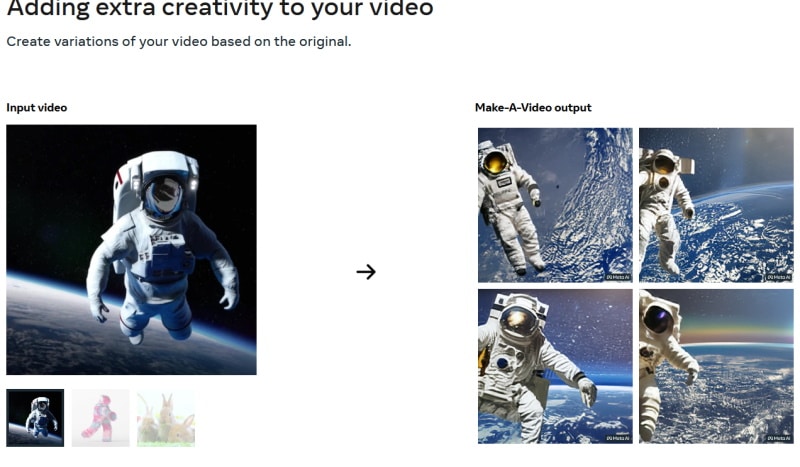 Meta decided to dip their toes in the text to video segment. It can create novel content out of text or images using Artificial Intelligence. The social media conglomerate is working on a free Ai video generator which works like Dall-E for videos.
The technology behind the artificial video generator relies on millions of pieces of data to learn about the world for creating a realistic video. It also applies internal filters to prevent generating content that might be harmful for the user. There is a watermark applied on the video for users to know that it is not a captured video and is generated by AI.
You cannot get your hands on the video generator yet as it is not publicly available. It is in trial testing and there is a Google form that can be filled out to get early access when it is available to the public.
4. Imagen by Google

A week later after Make a Video made the news, and Google revealed their text to image generator Imagen. It can take prompts and create low-resolution videos (16 frames, 24×48 pixels, at 3 fps) and then scale up to create high-definition videos within seconds.
Imagen is working with a combined data set of 14 million text-video pairs from LAION-400M to generate better videos. Google is concerned about the tool generating explicit and violent content. The company is also concerned about it being used to generate fake, hateful, or harmful content.
Google has decided not to publicly release the tool until the concerns are mitigated or addressed with a plausible solution.
We found it to be one of the easiest AI video generators. The dashboard offers the option to write script, article to convert into a video. They also let you edit existing videos using text. Sign up for an account and you get straight to generating content.
Add text and the tool will suggest you templates to go with the video. You can also select the video aspect ratio, which is the screen's width to its height. It can be 16:9 for monitors, TVs, 1:1 or 4:5, which is ideal for watching on smartphones.
You can add you voice by live recording in the editor. There is also an option to add a recording audio to the video. One thing that really stands out among the text to video generators is that it does not put a mandatory watermark of the tool.
InVideo does not fool around when it comes to creating videos through text. Enter a title and write a script before hitting publish. If you copy the entire video script into the text box, it will offer to arrange and break the content for different frames.
Apart from letting you add your voiceover, it has text to speech for adding narration. You can view the entire video as frame by frame in the storyboard. And when something feels off, head straight to the full-fledged editor. From there you can add music from the library consisting of over 20,000 tracks divided into different genres, moods and occasions.
When you are creating a video with a team, let them have a look at the video and provide valuable feedback. They can also edit the video with admin privileges.
Elai.io is another good text to video creator with an easy to use interface. You get a free 14-day trial to try out things. The avatars come alive in your videos only when you enter the payment details.
Otherwise the avatars only appear as static models. It feels enough for personal and home projects in most use cases.
This AI video generator lets you create videos for specific ecommerce products. All you need to do is add a product title, description and photos. Apart from that, you can convert presentations into video by uploading a PDF file.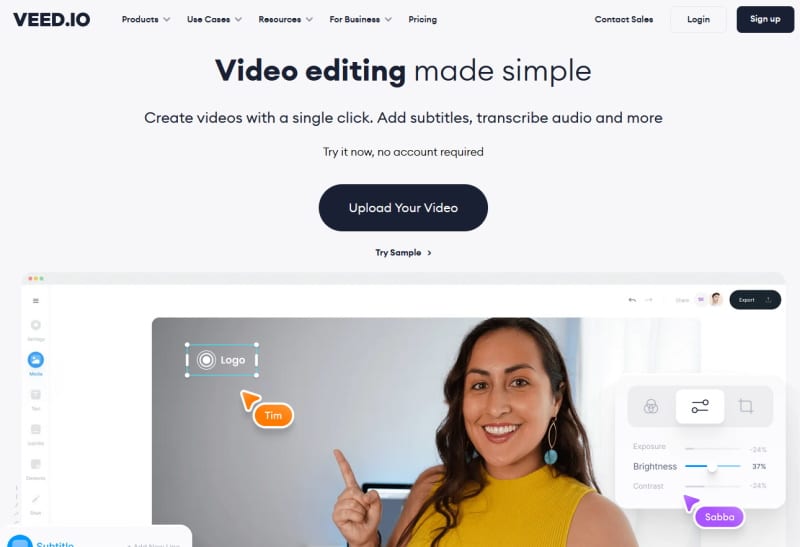 When it comes to AI video creation, Veed.io does not fall far behind. It is known for its online video editing capability, offering a powerful online editor. You can also create videos from scratch with templates tailored for different occasions.
You can transcribe audio and convert it into subtitles for adding to the video as a caption. This comes in handy for posting on Instagram and other places where text on screen comes in handy for tutorial videos.
After you are done generating videos, publish and post them directly to your social media accounts with a single click.
Summon the artificial intelligence with Steve.ai and let it tell your story with a carefully curated video. It is a rather underrated AI video generator from the text. Log in and head straight to the dashboard. The first time loading of the editor takes its sweet times at times.
You can either create a standard video or go with an animation with different characters. Some of the templates can be considered as next-generation PowerPoint Presentations. Here the storyboard is divided by each scene which denotes a frame.
The free version has a big watermark at the bottom, which is an eyesore for most. You can remove it by upgrading to the premium.
Synthesia is amongst the fastest way to convert text to video. Add the title, and script and hit the create button for the magic to happen. You have the option of 60 different languages for the videos. They offer over 50 different avatars with the option to import a custom character.
The Synthesia studio lets you record your screen for adding as an element in the created video. This is useful when creating tutorials or educational videos for a diverse audience. You will need to subscribe to use this text to video creator, starting at $30/month for 10 videos.
Over to You
These were the best text to video creators available online. We eagerly wait for AI video generators from Meta and Google to become available.
Till then, you can use other options which we listed above.