If you are looking for a free photo editing software that can help enhance your photos then you have landed on the right webpage.
Windows 11 has recently been unveiled officially, and there is a new editing toolbar on the Photos app. That will not cut it for many people who are looking for a good photo editing application to go along with it.
The majority of photos clicked with smartphones and cameras are not perfect. Everyone prefers to improve the quality of photos and fix the issues associated with them. This is where free photo editing software for Windows 11 come into the picture.
To our good fortunes, both offline and online photo editors are available for Windows 11.
So in no particular order, these are the best photo editors for Windows 11 that are worth exploring.
RELATED: Best Windows 11 Themes & Skins To Download For Free
---
Best Free Photo Editing Software for Windows 11
GIMP
Paint.NET
Canva
Adobe Photoshop Express
Photos Pos Pro
PhotoScape X
InPixio
Fotor
BeFunky
Ashampoo Photo Optimizer
1. GIMP
Price: Free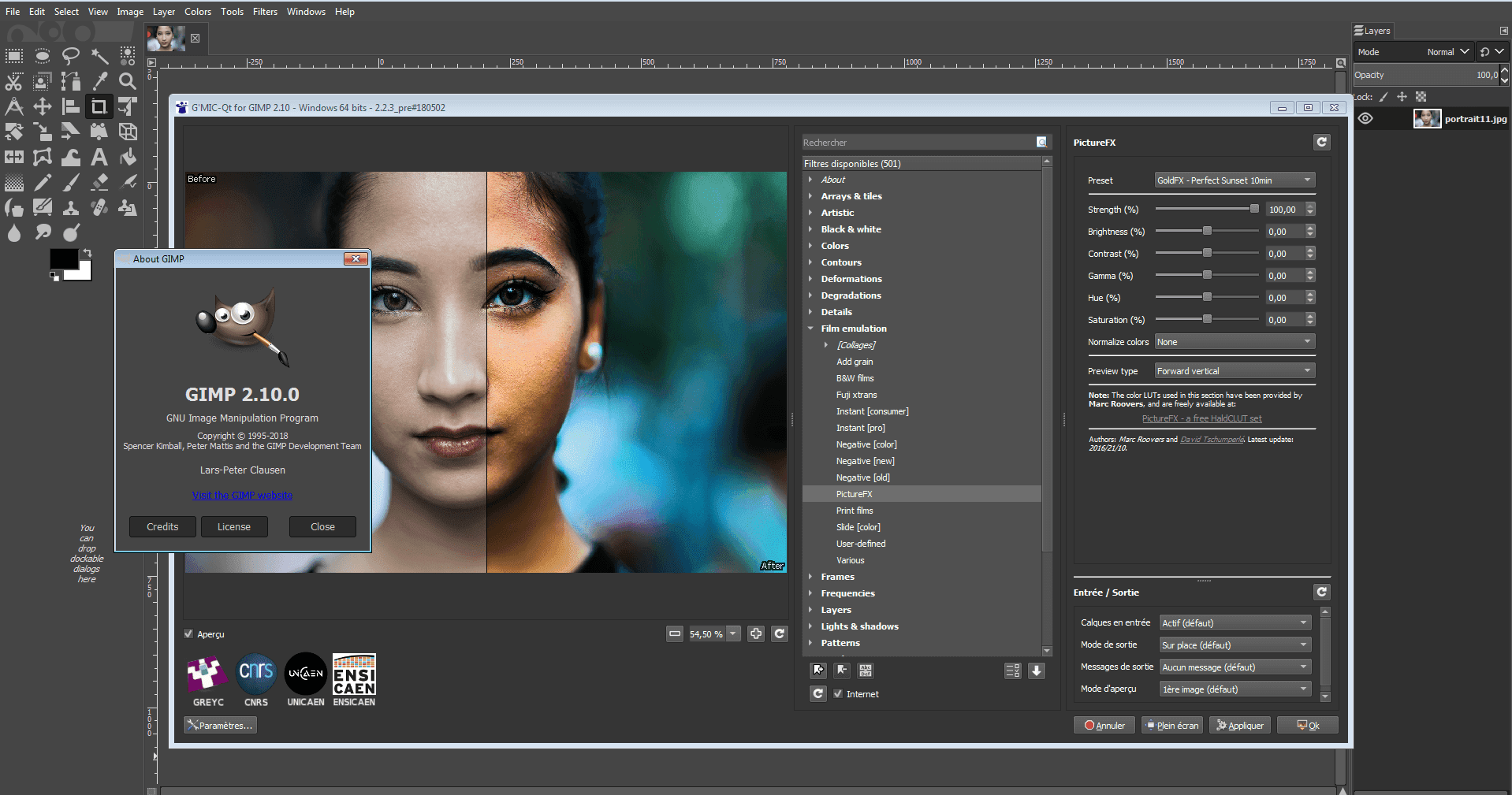 GNU Image Manipulation Program or often abbreviated as GIMP, is the first free photo editing program on the list. GIMP can be considered as an open-source alternative to the hugely popular Adobe Photoshop.
The free editing program for photos boasts a humongous library of plugins and presets that can be found for free online. Users can customize the entire interface of GIMP based on their personal preferences.
Some noteworthy features of GIMP are single-click retouching techniques, multiple input & output file formats support, content-aware resizing, face swap, animated GIFss, layer masks, curves, personalizable brushes, and many more.
Features
Sub-pixel sampling with high-end anti-aliasing.
Load and save animations with the frame-as-layer format.
Advanced scripting abilities through Python, Scheme, and Perl.
---
2. Canva
Price: Free; Paid Subscription available
Next on the list, we have a free online graphic design and photo editing tool that goes by the name Canva. Since it can be accessed by WEB, there's no need to install any program on your PC, making it ideal for people with low-end computers.
The online tool is very beginner-friendly, and you can get most of your editing work done with a few simple clicks. In addition to photo editing, you can even do basic to mediocre graphic designing on Canva.
The free version of Canva can be used for general editing work like cropping, resizing, sharpening, adjusting brightness, contrast, and saturation, applying filters, tints, and vignette effects, and adding text to images.
While the Premium version of Canva offers some advanced tools, templates coupled with the ability to edit basic videos online.
Features
Extensive library of premade templates, elements, and designs.
In-built cloud for saving all your edit projects and never losing them again.
Edit photos in online collaboration with your team.
---
3. Adobe Photoshop Express
Price: Free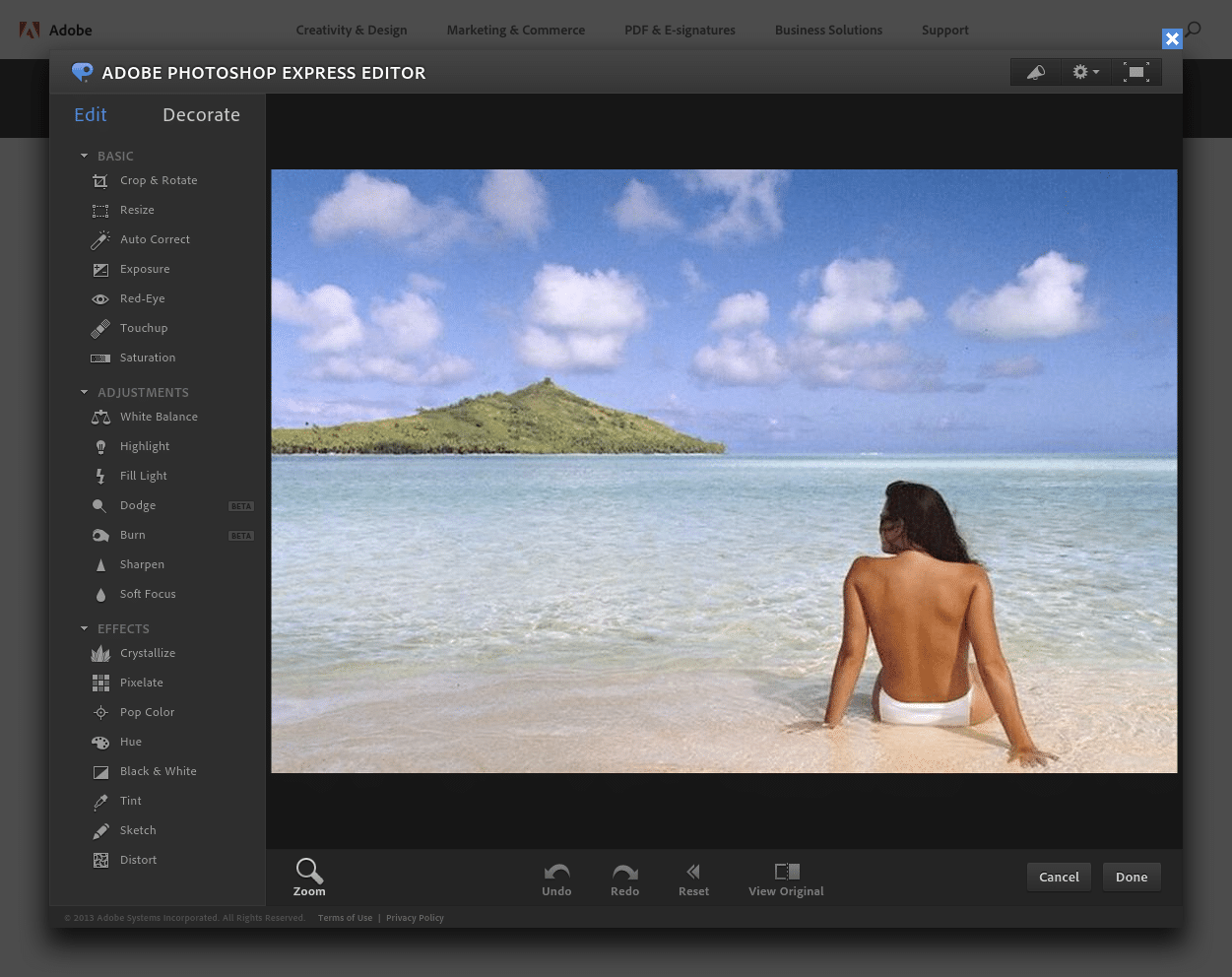 Always wanted to use Photoshop For FREE?  You can now do so by using Adobe Photoshop Express for Windows 11. To be clear, Photoshop Express is a trimmed-down  version of Photoshop made by Adobe and is completely free. The UI feels similar to what we have on the Microsoft Photos. 
The first-time launch will prompt you to log into an Adobe account or use social media login – Facebook, Google. You won't find professional tools like layers, brushes, selections, and others on Photoshop Express. However, if you want to do basic editing and grading, then Photoshop Express will be more than enough.
The software even allows users to share their edited photos directly to Adobe Creative Cloud, Dropbox, Facebook, or Google Photos. The minimalist interface makes it an ideal choice for beginners.
Features
Available on multiple platforms. Take your editing to mobile from a computer or vice-versa, using a similar interface and tools.
Accurate red-eye correction on photos without requiring masking.
Special crop presets for social media apps/platforms.
Download Adobe Photoshop Express
---
4. Photos Pos Pro
Price: Free; Paid available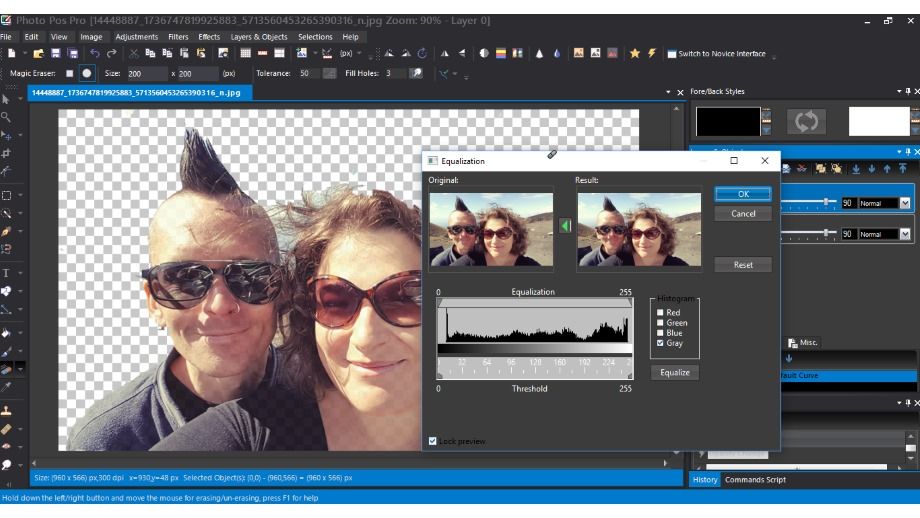 We return with something that's suited for complete beginners. Photos Pos Pro is a post-processing tool that can help you develop editing skills.
As we launch the photo editor for the first time, a prompt appears asking whether to choose between – Novice and Pro Interface.
You can start by using the beginner-friendly interface, and once you feel confident using it, hop onto the expert version of Photos Pos Pro. Professionals, on the other hand, can use this free program for complex manual edits, including layers, brushes, masks, gradients, RAW conversion, and much more.
The free photo editor Windows 11 can also be used to remove or replace backgrounds. Additionally, there are many inbuilt photo and text effects in Photos Pos Pro.
Features
Two different user-interface modes – Novice and Pro.
Tools set for creating computer-based graphics.
Easy background remover and replacer.
---
5. Paint.NET
Price: Free
Don't confuse Paint.NET with the good old MS Paint. Paint.NET was developed by a university student as a replacement for MS Paint, but it ended up becoming a feature-packed free image editing software.
The free photo editing program can be used to perform complex tasks, and it has an extensive library of plugins. Furthermore, the simple and easy-to-navigate interface makes it an ideal choice for beginners.
Some noteworthy tools offered by Paint.NET are brightness, contrast, hue, curves, levels, layers, gradients, and support for unlimited history. Surprisingly, Paint.NET is just a few MBs in size, making it ideal for aging desktops and low-powered laptops.
Features
Unlimited history for your edits.
Works on low-powered computers without a hiccup.
Add capabilities to an extensive library of plugins.
---
6. PhotoScape X
Price: Free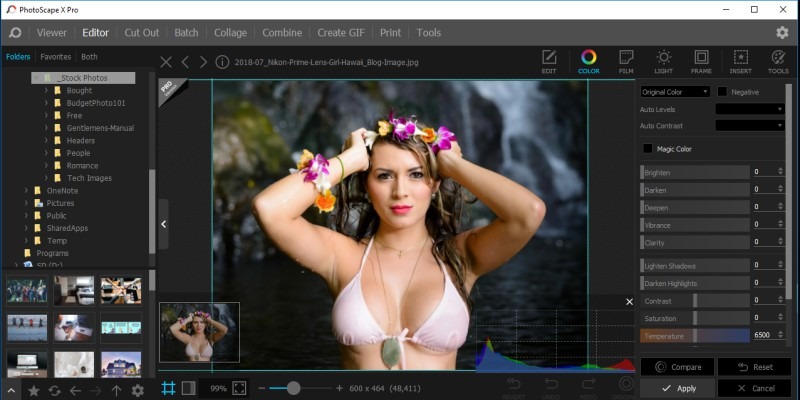 The developers of PhotoScape X claim it to be an "all-in-one photo editing software." One of the most important features of PhotoScape X that helps it to stand out from the crowd is one-click enhancement.
Similar to Photoshop, this Windows 11 photos editor offers thousands of filters, frames, brushes, shape crops, smart cut-out tools, color picker, and clone stamps. The batch editing capabilities of PhotoScape X make it ideal for editing multiple photos at once.
In addition to photo editing, PhotoScape X can also be used as an Animated GIF creator and RAW Converter. Apart from Windows 11, PhotoScape X can also be installed on a macOS computer.
Features
Two different user-interface modes – Novice and Pro.
Tools set for creating computer-based graphics.
Easy background remover and replacer.
---
7. InPixio
Price: Free; Paid available
InPixio is another great photo editor that is ideal for tuning up photos and making them ready for social media upload. With basic edits and one-click presets, you can make your photos POP!
InPixio is completely free to use, and they are no annoying advertisements. Based on your preferences, you can adjust the temperature, hue, exposure, and other aspects of your photos.
Some noteworthy features of InPixio are visually impressive filters, background blur effects, creative frames, textures, preset creation, and automatic online sharing capabilities.
Features
Edit RAW photos directly from your camera without converting them to JPEG or PNG.
Histogram for keeping track of the color exposure in the images.
A large number of presets to edit photos without investing time.
---
8. Fotor
Price: Free; Paid plan available
Similar to Canva, Fotor is an online Windows 11 photos editor. You can find everything from basic tools and features to complex tools like wrinkle remover on this program. The clean and intuitive UI marked Fotor insanely easy to use.
Fotor offers 13 different 1-tap options that instantly enhance your photos. So if you are not a professional when it comes to photo editing, then Fotor will definitely impress you. As for downsides, ads on Fotor are annoying.
Features
Hundreds of photo filters and effects to apply.
1-tap enhancer for users who are unfamiliar with editing photos. Click on the button and see the magic happen.
Create HDR photos by combining multiple images.
---
9. BeFunky 
Price: Free; Paid plans available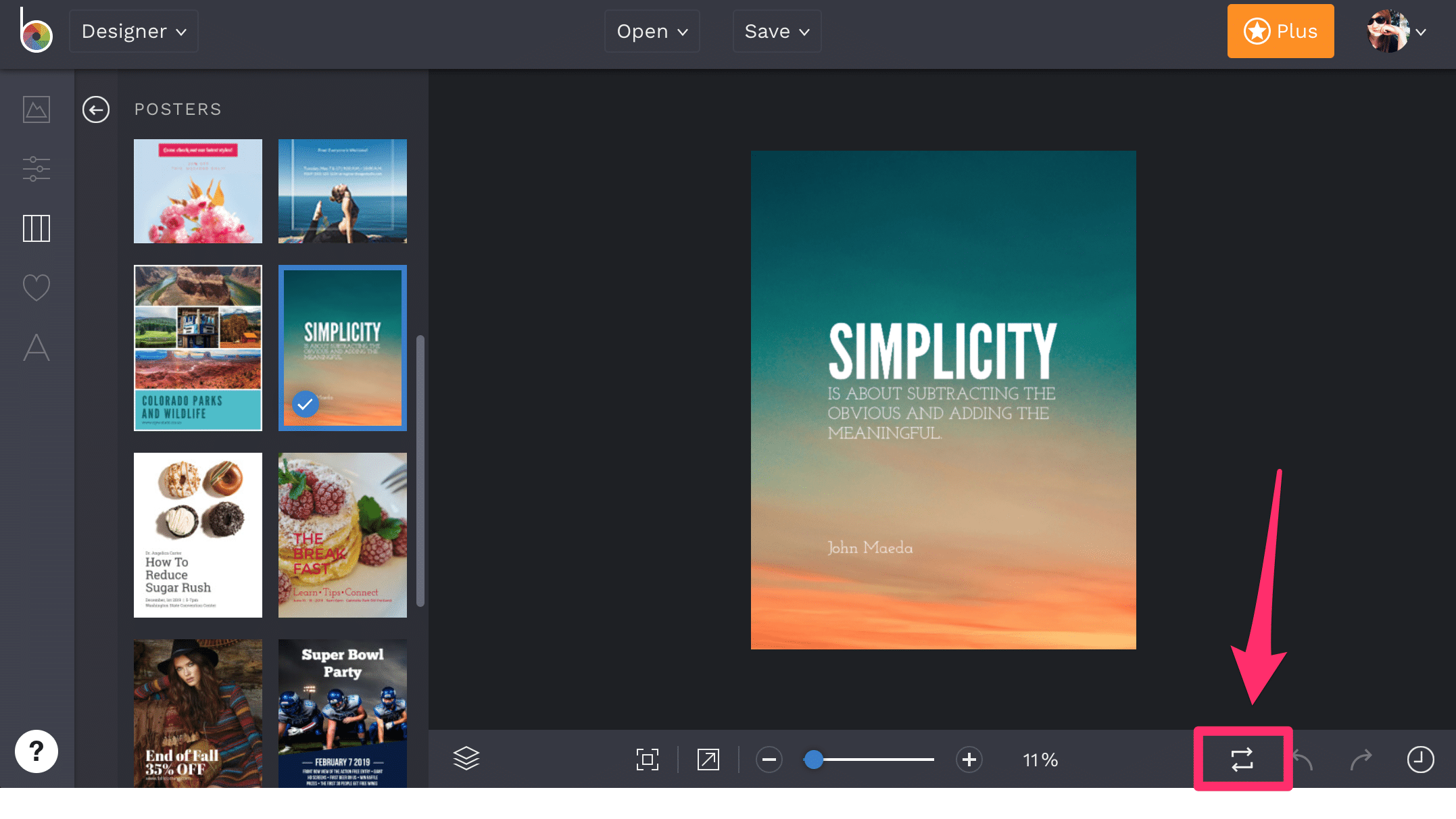 Unlike the other free photo editing programs shared in this article, BeFunky is a fully-fledged online photo editor and collage maker. After using the editor for a while you can achieve professional results.
Luckily, the interface is uncluttered and user-friendly. The adjustments made by you are reflected in real-time and you can even add several graphical elements to your photos just like photoshop.
Features
One-click background remover for photos.
Convert photos to paintings, detailed sketches, and other a wide range of popular art styles with a click.
Edit 100s of photos at once through batch editing. Add watermarks, fonts, filters, and more without going through individually.
---
10. Ashampoo Photo Optimizer
Price: Free; Paid available
Last on the list; we have Ashampoo Photo Optimizer. Available for Windows 11, the photo editing program is ideal for batch edits. The clean and uncluttered UI of this photo editor makes it easy to navigate.
If you want to enhance your photos quickly, then the auto-optimization tool might help you. This tool analyzes your photographs and edits them automatically to deliver the best results possible.
Additionally, you can even manually adjust everything based on your preference.
Features
Fix the perspective of photos that didn't turn out the way you wanted.
Export photos directly to social media, email, and the Ashampoo web.
Easy to use manual color temperature adjustments along with the automated mode.
Download Ashampoo Photo Optimizer
---

FAQ – Frequently Asked Questions
1. Which is the easiest free Photo editing software for Windows 11?
This is a subjective question in foresight, but we can pick a few for your ease. If you are an absolute beginner, go ahead with Adobe Photoshop Express, followed by Photos Pos Pro with Novice mode. The user interface of GIMP and Paint.NET can appear to be difficult on the first impression, but it grows on you within a few hours of using them.
2. Are online Photo editors for Windows 11 better?
You can go ahead with online photo editors for basic edits and smaller images. There is always the risk of upload failure, web browsing crashing, and more. For pictures of larger sizes and advanced editing, offline photo editors cannot be replaced right now. Adobe has recently announced that they are taking Photoshop to the web. We will have to wait and see how it changes the equation.
---
CONCLUSION
So these were some of the Best Photo Editing Programs For Windows 11 that are worth checking out. Do share your favorite recommendations for the Best Win 11 Photo Editors in the comments section below.