If you're a Photographer, Filmmaker, Vlogger, or Content Creator, and your work revolves around storing videos, photos, audio recordings, etc. then Wondershare Recoverit 11 is an essential tool that you should have in your arsenal.
While being super useful, modern-day storage devices like SD Cards, HDDs, SSDs, and Storage Servers are still prone to failure, and losing important data while being super annoying can also cause many serious problems.
Luckily files, documents, emails, videos, and photos lost due to disasters can be recovered using a feature-packed data recovery tool like Wondershare Recoverit 11.
As the title suggests, in this article we have shared some of the noteworthy features of Wondershare Recoverit 11 followed by a detailed review and a quick tutorial on how to get started.
So without further ado, here's everything you need to know about Wondershare Recoverit.
---
As the name suggests, Wondershare Recoverit is a feature-packed data recovery tool that has the ability to completely recover lost files, videos, and photos from thousands of internal and external storage devices, and that too within a few minutes.
If you lost any kind of important data due to disasters like accidental deletion, formatting, device corruption, virus attack and other errors Recoverit can help you instantly recover all the data back.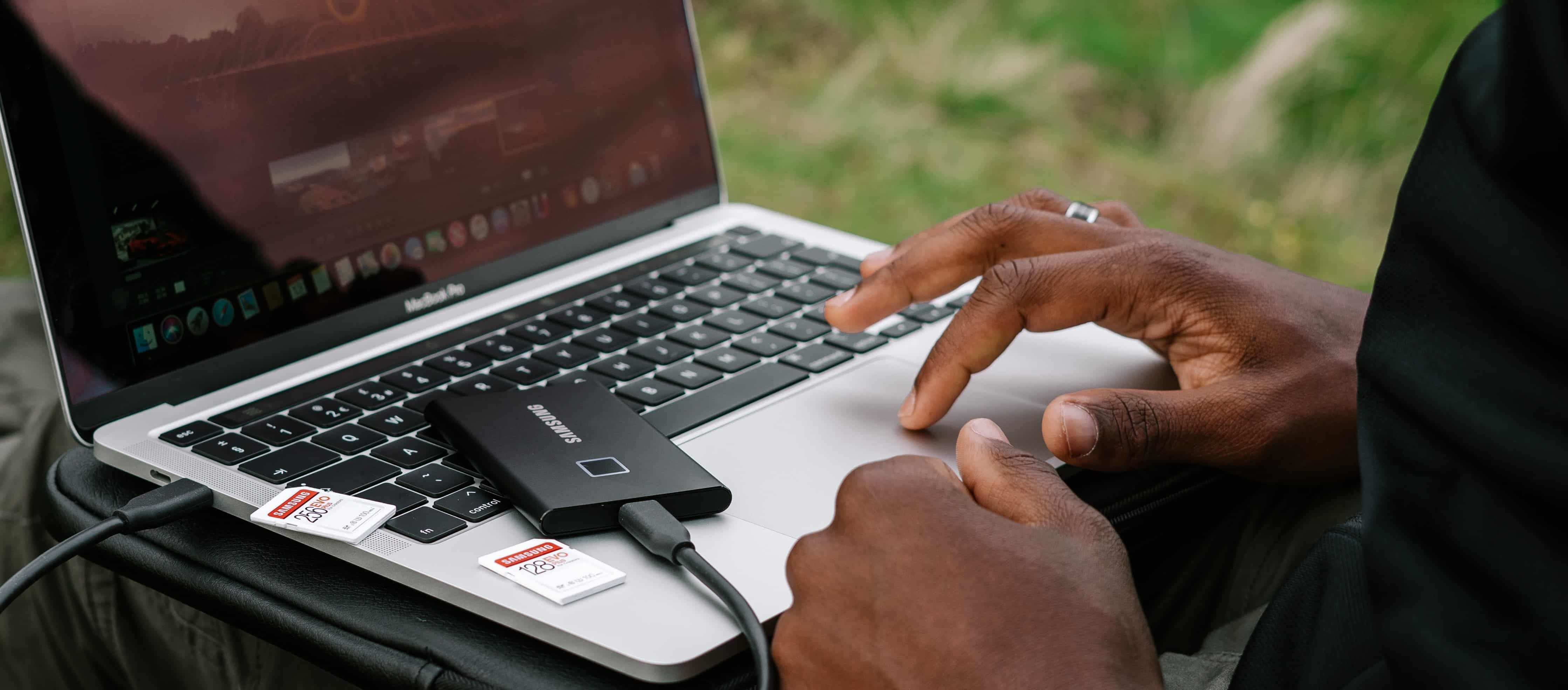 Furthermore, you can even use the professional video repair feature of Recoverit to repair corrupted videos that cannot be opened. Once again a super useful feature for all the filmmakers, vloggers, and content creators out there.
Recoverit is developed by the trustworthy software company Wondershare. Well, Wondershare has been in existence for almost two decades now and has made many great programs that serve millions of users globally.
Among all the data recovery software out there Recoverit offers fast data recovery coupled with a great user experience and that's the primary reason behind product awards like G2 Crowd Report 2022 Fall, Summer, Spring Leader "Leader of File Recovery".
---
1. Enhanced Data Recover
Wondershare Recoverit offers ultimate and professional data recovery helping users retrieve thousands of data formats from thousands of storage devices in existence.
Even media deemed unrecoverable by other companies can be recovered within a few clicks using  Wondershare Recoverit.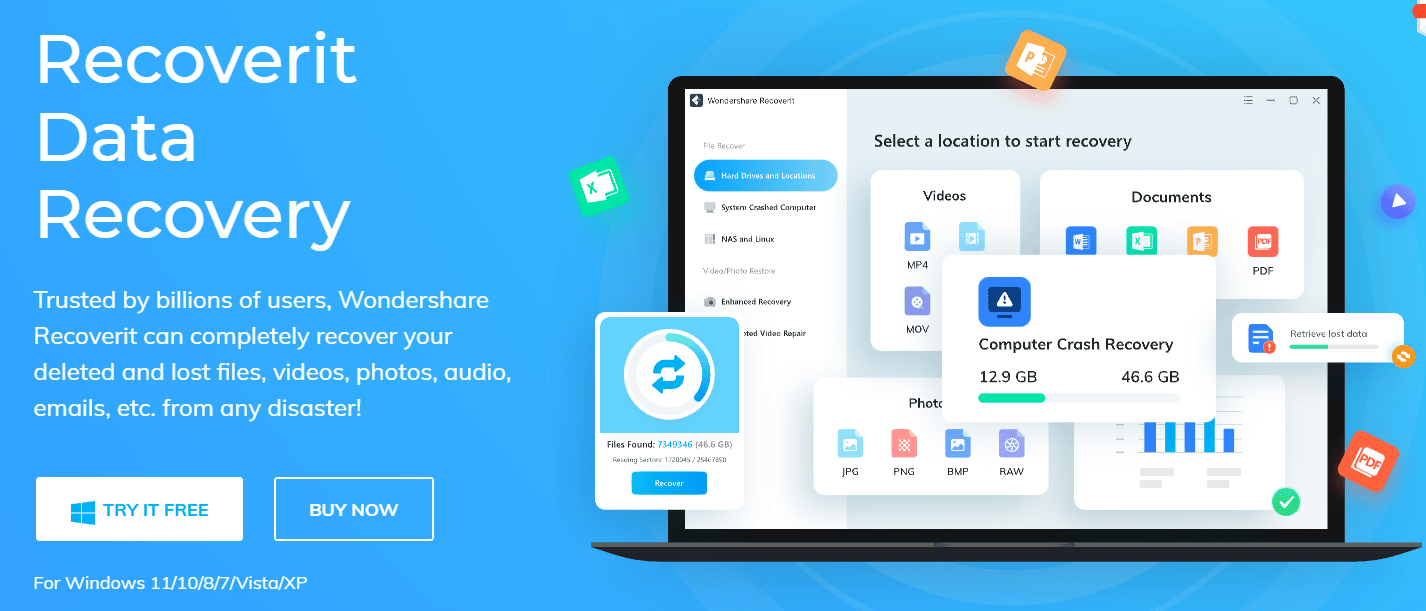 Apart from normal files, Recoverit can also be used for important recoveries like crashed computer recovery, NAS data recovery, and Linux Data Recovery.
For instance, if you encounter a failed or logically corrupted NAS you can remotely recover deleted or lost data using Recoverit. 
Furthermore, with sound support for the Ext4 file system, Recoverit smoothly scans storage devices for Linux data files (lost or deleted) and makes sure they are precisely recovered. As usual, the tool offers a preview of the deleted files before you can recover them. 
Wondershare Recoverit 11 offers enhanced data recovery coupled with super-fast drive scanning and the ability to pinpoint files during the scanning.
In the later section of the article, we have shared a quick tutorial on how to get started with Wondershare Recoverit.
---
2. Easy To Use
Unlike other mainstream, data recovery tools out there Wondershare Recoverit is insanely easy to use and features a very well-developed UI. The program can be operated with three simple steps namely Scan-Preview-Recover.
As a result, there's no learning curve and you get access to your lost files, photos, and videos within a few minutes. Wondershare Recoverit is updated on a regular basis and new features are added to this program making it faster and more useful.
For instance, the latest version i.e. Wondershare Recoverit 11 offers new features like support for depth scanning of T2 and M1 Chip (Mac), support for disk mirror/image recovery, one-click picture/video recovery, better recovery results for professional cameras, and many more.
---
3. Photo & Video Restore
Data is a valuable asset and losing it can cause several problems. Due to several disasters SD cards, SSDs, and HDDs used by Professional Photographers, Content Creators, and even Media Production Companies can get corrupted.
With the premium version of Wondershare Recoverit, you get access to the insanely useful Photo & Video Restore Feature. This feature can help you effortlessly scan & merge video fragments of corrupted footage.
Additionally, you can even repair corrupted videos using Recoverit and once recovered save them at your location of choice.
---
The ability to recover data from hard drives, crashed computers, NAS servers, and thousands of other devices within minutes is one of the most useful USPs of Wondershare Recoverit.
To get started with Wondershare Recoverit you just need to follow a few simple steps. So here's how to install and use Recoverit on Windows 11 PC,
Firstly download Recoverit from the official Wondershare Recoverit 11 website. Once downloaded follow the on-screen instructions to install the program on your PC. Now follow these simple steps to recover your lost data,
STEP 1: Launch Wondershare Recoverit once it's installed on your PC.
STEP 2: Next select a location where the lost data, files, photos, or videos were stored. This location can either be internal drives or any other external storage like SD Cards, SSDs, HDDs, etc.
STEP 3: After selecting a location click "Start" to begin the scanning on the selected location and recoverit will start an all-around scan automatically.
STEP 4: Once the scanning is completed you can now preview your lost files and recover the ones that you would like to.
STEP 5: Lastly, hit the recover button and choose a path to save the recovered files.
---
Wondershare Recoverit 11 is a software that helps you instantly recover deleted and lost files, videos, and photos from any disaster.
Since it's software it's available globally and can be used on any computer as long as you are running a modern OS like Windows 7, Windows 8/8.1, Windows 10, and Windows 11. In addition to Windows, Recoverit 11 can also be installed on macOS.
Essential, Standard, and Premium are the three different pricing plans offered by Wondershare Recoverit 11. You can choose any one of these plans based on your requirements,
Essential.
1) Win: Monthly price $59.99/ Yearly price $69.99 / Perpetual price $119.99
2) mac: Monthly price $75.99/ Yearly price $79.99 / Perpetual price $119.99
Standard.
1) Win: Monthly price $69.99 / Yearly price $79.99 / Perpetual price $139.99
2) mac: Monthly price $95.99/ Yearly price $99.99 / Perpetual price $139..99
Premium.
1) Win: Monthly price $79.99 / Yearly price $99.99 / Perpetual price $159.99
2) mac: Monthly price $109.99/ Yearly price $139.99 / Perpetual price $169.99
Luckily, Wondershare Recoverit also offers a free trial. Consequently, we highly recommend you download the program and try it out yourself.
PURCHASE WONDERSHARE RECOVERIT
---
CONCLUSION
So that was all about the feature-packed data recovery program Wondershare Recoverit. Clearly, Recoverit is affordable, easy to use, secure, and can come in handy for anyone who uses a computer.