There are several dozen Android emulators in the market but very few of them make a good fit for you.
One such emulator is Nox Player, which took off well before landing in many controversies.
Their reputation took a nosedive when the emulator installed unwanted programs. It made many wonders if Noxplayer is safe for use.
The Big Nox was then targeted by hackers, so they were pretty much in the news for all the wrong reasons.
On paper, Nox offers Android 7.0 and above, along with macro recording functionality, in addition to standard features.
The user interface is clean and free from advertisements, and the emulator loads faster compared to many other Android emulators.
Everything looks good but we have decided to take a closer look at what the controversy has to offer.
And then answer your that "Is Noxplayer safe to use?"
Nox Installing an Unwanted Program
The trouble began when many users on Reddit expressed frustration over the unwanted installation of Segurazo, an antivirus program, alongside Nox Player.
The Big Nox Scandal of 2021
In a targeted supply chain attack, a well-organized hacking group successfully breached the server infrastructure of a popular Android emulator in 2021.
This attack infected a small number of victims in Asia with malware. Exploiting their access, hackers manipulated the download URL of NoxPlayer updates within the API server, enabling them to distribute malware to unsuspecting NoxPlayer users.
The incident has raised concerns about the security of the emulator and the potential impact on people who were affected by this.
Cleaning Their Act
In response to significant backlash and criticism, Nox made the decision to discontinue bundling additional software. When you visit their official website, you can now download the installation file.
Nox developers should consider user satisfaction and avoid installing unwanted software without clear instructions or consent.
This practice could lead to user dissatisfaction in the long run, despite the need for revenue generation.
Can Nox Pass the Antivirus Test?
Granted that Nox has come clean, but we can never be sure without trying it out personally. Therefore, we have decided to test it through 89 different antiviruses and the results are squeaky clean.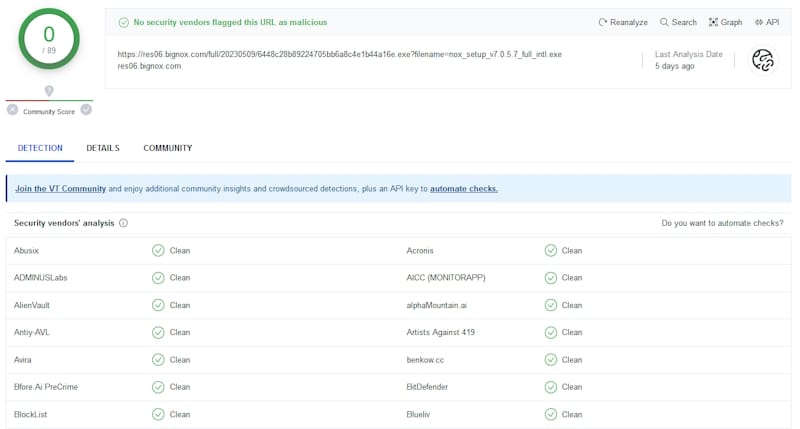 The Nox installed said that we should disable antivirus for false flags. We decided to test it against that by installing it with the Windows Defender at the maximum detection level.
The Window's default security mechanism did not detect anything. So we went one step further and scanned the installer to be extra sure.
The scan results confirmed that there were no suspicious or problematic elements detected in either the setup file or the installation process itself.
Is NoxPlayer from China?
Yes, Nox Player is developed by a company based in Hong Kong, China. The company name is Nox Digital Entertainment Co. Ltd.
This company specializes in creating Android emulator software and has gained popularity among users worldwide.
Is Nox player a Virus?
After some intensive scanning and testing, we can safely say that it is not a virus. You can use this Android emulator to run the apps on the PC.
However, it is important to note that, like any software, you should download Nox Player from the official sources only.
Always exercise caution and use trusted sources when downloading any software to ensure your system's security.
What's Next for Noxplayer?
Look, we get that revenue is very important to keep the software and its support afloat. But you can't do that by practicing grey area practices.
It will only drive away the users and can be very damaging to the company in the long run.
As Nox has decided to do away with the bundled software, it should look for other legit ways to monetize the users.
Perhaps they could go the BlueStacks way by featuring sponsored content or even non-intrusive ad blocks inside the emulator itself.
As Google does not allow emulators on their app store, perhaps Noxplayer can developer in one of their own
That can really help in boosting revenues and becoming sustainable for a longer period of time.
How to Remove Nox Player
We have laid down pretty much all the evidence that may convince many that Nox player is safe.
But if you are not satisfied with our analysis, then be our guest, and you can uninstall Nox right away.
Here is how you can do it in a few easy steps on Windows 10 and later versions.
1. Head to the Start Menu search and type Nox.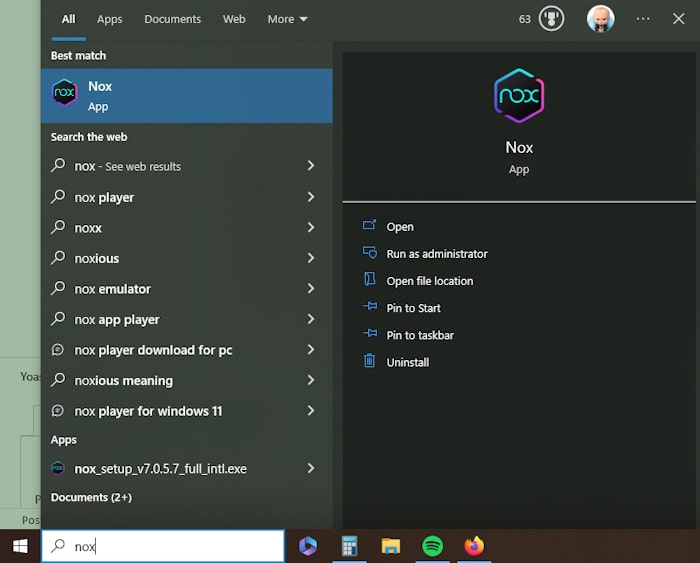 2. Right-click on Nox and click Uninstall.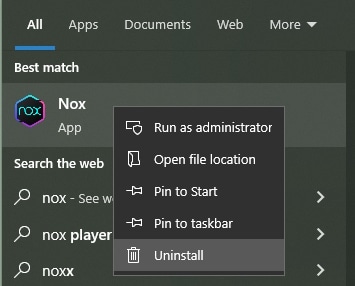 3. Then click uninstall again to get the process started.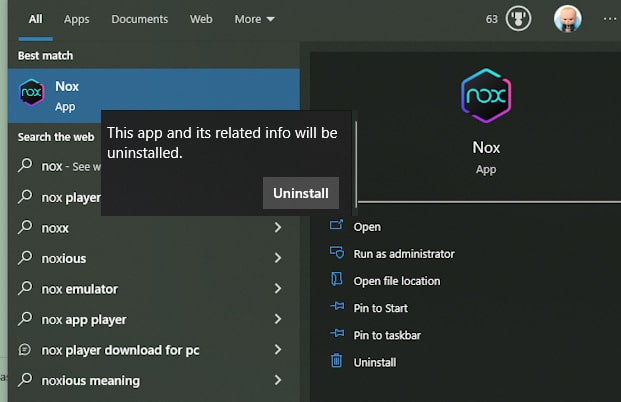 4. Now click on Uninstall in the Nox installation wizard to confirm the installation. It will be removed from your computer within a couple of seconds.
Over to You
We have laid down all the facts regarding the Nox player's safety. We leave the final decision for you to make.
Emulators are always a questionable thing, according to security companies if you want to go for an alternative for noxplayer you can use BlueStacks.
We recommend sharing limited information with emulators of any kind.