Android emulators are of great use if you want to run Android on your PC.
There are several reasons why you might want to run an Android emulator on your Windows PC.
Whether you are a developer testing apps, a gamer eager to play mobile games on a larger screen, or someone who just wants the convenience of using Android apps on a desktop, the right emulator can make all the difference.
And Android emulators let you use a keyboard, mouse, controller, and bigger screen of your PC which you can't use on your Android phone.
A new breed of users has emerged as well who utilize Android emulators for gaming. It can be attributed to games like PUBG Mobile.
---
Best Android emulators for Windows PC and MAC
Comparison of the Best Android Emulators
| | | | | |
| --- | --- | --- | --- | --- |
| Emulator | Android Version | Minimum Ram | Gaming Support | OS Support |
| BlueStacks | Android 11 | 4 GB | Yes | Windows 7 or higher; Mac |
| GameLoop | Android 7.1.2 | 4 GB | Yes | Windows 7, 8.1, 10, 11 |
| Android Studio | Android 12 | 2 GB | Yes | Windows 7 or higher; Mac |
| LDPlayer | Android 9.0 | 2 GB | Yes | Windows XP, 7, 8.1, 10, 11 |
| NoxPlayer | Android 9.0 | 2 GB | Yes | Windows XP, 7, 8.1, 10, 11; Mac Sierra |
| Mumu Player | Android 12 | 4 GB | Yes | Windows 7,  10, 11 |
| MEmu Player | Android 9.0 | 2 GB, 4 GB(x64 system) | Yes | Windows 7, 8.1, 10, 11 |
| Bliss OS | Android 11 and 12L | 1 GB | Yes | Windows and Mac – Dual boot |
| Genymotion | Android 12.1 | 8 GB | Yes | Windows XP, 7, 8.1, 10, 11; Mac |
| Remix OS | Android 9.0 | 4 GB | Yes | Windows and Mac – Dual boot |
| Android-x86 | Android 11 | 512 MB | Yes | Windows and Mac – Dual boot |
| KOPlayer | Android 4.4 | 2 GB | Yes | Windows XP, 7, 8.1, 10, 11; Mac |
1. BlueStacks
BlueStacks is one of the oldest emulators for Android out there that are still active in the market. It's not wrong to say that perhaps it was the market-defining player during its peak days.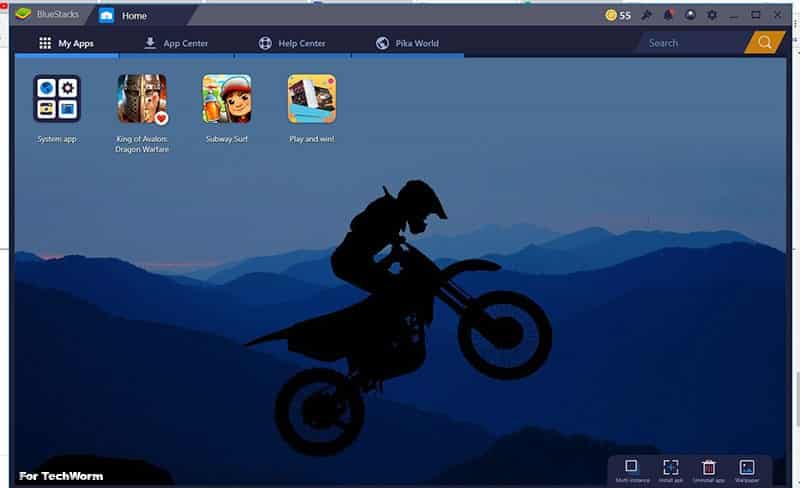 The key reason for its success was its ease of usability and access to the consumers. This Android emulator is pretty easy to use and comes in FREE and PAID variants.
Installation is simple but filled with sponsor ads. Setting up the emulator is pretty easy. You launch the emulator and a welcome screen appears.
And then you select the language and the Google account sign window appears. Sign in with a Google account and you are good to go.
The ad-filled experience might be bitter-sweet for a few as you launch the emulator, the ad of some sponsored game appears in one tab.
Talking about ads and bloatware, the pre-installed apps are fewer than what you get on normal free versions of certain emulators. However, it is compensated by ads at various creative placement blocks.
Overall it is safe to use BlueStacks. Or else you can look for BlueStacks alternatives to run Android apps on a PC.
What I liked
• The emulator is extremely easy to use with one click Emulator setup.
• Separate key mapping for different games to keep things tidy
• Customizable resolution up to 4K so you can hook it up to larger displays and enjoy the Android games
• Every application is windowed separately in a tab that can be closed and rearranged
• Being one of the segment leaders, Bluestacks has built quite a community on their forums. It is helpful for troubleshooting and creative aspects.
What I did not like
•Given the competition in the freeware segment, competitors are not flooding your screen with ads like BlueStacks
• Lacks native Android experience. Users who are looking for a Vanilla Android experience might not entertain such an emulator.
---
2. Gameloop
PUBG Mobile and BGMI are among the most popular online multiplayer battle royale games till now.
If you are one of those people who love playing PUBG or BGMI in your leisure time then Gameloop will definitely impress you.
This emulator is developed just to play PUBG Mobile on PC. Consequently, if you using an emulator to play PUBG then nothing will be better than Gameloop. And not too long ago, Gameloop was known as "Tencent Game Buddy."
Gameloop helps to utilize your computer's hardware to its full potential while playing PUBG. Furthermore, Gameloop also supports GPU, which further enhances gaming performance.
What I liked about it
Gameloop offers you reduced lag and latency in games, making it an attractive choice for competitive Android gaming.
It supports 2K resolution, giving games a clearer and sharper look compared to many mobile devices.
This Android emulator has a built-in game center from where players can discover and download a variety of popular games.
Get an integrated live streaming feature, letting gamers broadcast their gameplay directly from the emulator.
You can add friends, chat, and even voice call directly from within the emulator, simplifying in-game communication.
What could have been better
Support for other games and applications.
---
3. Android Studio
This Android emulator is by Google, the company behind the Android OS. Android Studio is an ideal emulator for developing, testing and publishing Android apps.
This emulator is solely dedicated to app developers and it not officially meant to be used for running Android apps and games.
Using this emulator you can simulate incoming phone calls and text messages, specify the location of the device, simulate different network speeds, simulate rotation and other hardware sensors, and much more.
You can operate every touch control of a smartphone using a keyboard and mouse on your computer. Lastly, this emulator allows users to record video and audio while testing applications.
What I liked about it
You get a range of Android versions here, straight from Google to run the apps
This emulator comes with predefined configurations for various Android phones, tablet, Wear OS, and Android TV devices.
You easily install Android apps by dragging and dropping the files onto the emulator window.
What could have been better
A user-friendly user interface would be better for catering to larger audience.
---
4. LDPlayer
LDPlayer is one of those Android emulators that have quickly gained a reputation as a reliable way to run Android apps on a PC.
And these apps include Android games that run like native apps on Windows. But you don't need a high-end computer to run this emulator for Android. Even a low-end PC can run LDPlayer with ease.
Along with Play Store, you get access to the LDStore, where you will find virtual apps. Even the ones that are banned on Google's app store.
What I liked about it
Play Android games directly on your PC by installing them along with the emulator
This Android emulator can run on a low-end PC without a problem
Run Android apps on your phone without installing them through LDCloud.
What could have been better
This Android emulator comes with pre-installed apps and promotions which some users might find unnecessary and annoying.
---
5. Nox Player
Amongst the list of best Android emulators for PC, this is one of the fastest, in terms of installation and operations. One-click installation without any bloatware or third party apps.
The Android version is 4.4 KitKat.
One of the things that stand out is the Macro step record option. You can record your steps in Macro recorder and re-enact them later.
Some apps only work for certain phone models and it really sucks when it is not compatible with the respective emulator.  This Android emulator has a workaround for that.
You need to hover over to settings. Set the respective smartphone model. By default, the only option you get is on Samsung smartphones.
However, you can set a custom model of your choice with some custom presets available online.
You can drag and drop files from Windows to the emulator and vice-versa. It is a small but useful feature.
For some odd reason, I could not find PUBG mobile on the Play Store. Only the competitors of the much-celebrated game were present.
What stands out
• It has a built-in macro recorder which allows users to record complex operations and execute them later with a single click, which can be beneficial in games requiring repetitive tasks.
• You can lock the mouse to the emulator window. It is useful when playing video games on the emulator so that your cursor/pointer does not fall out of the game's scope.
• The full-screen mode is seamless. When I say seamless, it really is easy without any hiccups.
What can improve
Computer resource usage for running the emulator can be optimized further.
---
6. MuMu Player

MuMu is a gaming Android emulator for Windows PC, specifically designed to run most mobile games.
It is optimized for gaming, and many users find its performance superior when playing resource-intensive games compared to some other emulators.
And it also has a low-end PC version of the emulator, MuMu Nebula. It can run properly on older computers with modest hardware.
But be warned that it is still in beta, so not all Android games will work on it.
What I liked about it
• Run games in up to 120 FPS on any display connected to the PC
• You can even change the angle of the game and record it there
• For games and apps that utilize location-based features, MuMu lets you set a virtual location.
What could have been better
• Their online installer has certain bugs which make it difficult to install
---
7. MEmu Play
First on the list is Android 5.1 Lolipop based offering Android 5.1, 7.1 and 9.0 packages for Windows PC. It is among the most customizable Android emulators for PC in the segment.
The installation is quick and simple with no bloatware third-party apps to install like we come across in some emulators. The installer is also one fancy thing, I might add.
It takes around 2-3 minutes when launching for the first time. Time varies according to the processing power of your computer, among the performance of other components.
The emulator comes pre-loaded with some third-party apps, preferably the ones sponsoring them so can't really a complaint.
There is no option to remove them. Honestly, I wouldn't worry unless I'm running on 2 GIG of RAM and a Pentium 4 processor which really can't handle multi-tasking.
One of the hot-selling points of this emulator is Key Mapping. What Key-Mapping does is that you can put markers anywhere on the screen and assign a keyboard key or mouse button.
When you press that key or push a button, the controls or app present on that part of the screen gets pressed/triggered. It comes in handy when playing FPS, RPG or any game that requires multiple button control.
The emulator is already keyboard-mouse compatible to an extent, worked with most of the games without any hiccup.
What I liked
• The emulator is flexible in terms of general resource usage. You can set the amount of RAM, Screen resolution, FPS, and graphics engine to be used by the emulator according to your machine's capabilities.
Custom DNS, Root mode, and Cache performance policy can also be changed according to user's requirements.
• Key-mapping can help gamers play games with a variety of onscreen controls on the snap of a finger.
• Cross-platform installation of apps is bliss. You can browse folders present on Windows and install APKs directly without the intervention of the Play Store.
Even the option of synchronizing folders between Windows and emulator for a variety of purposes is provided. That makes it easier to transfer files from the Windows filesystem to Emulator and vice-versa.
What I did not like
• Not really a con per se but Microphone integration could be more efficient given the stability the platform provides.
---
8. Bliss
Bliss is a capable Android emulator that runs on a PC via a virtual machine. You can install and run this emulator using a USB stick. We recommend this emulator only to tech-savvy as it requires a little bit of a learning curve.
The major highlight of Bliss is that it is the only emulator that runs on Android 8.0 Oreo. Furthermore, since this emulator is directly installed on your PC, the performance is comparatively better than other emulators.
What I liked about it
Bliss helps you to actually run Android OS natively run on your PC.
It runs on Android 8.0 Oreo so you won't be left far behind like other Android OS and emulators
You can customize almost everything here and personalize it to your liking, ranging from themes to the settings positioning
The interface works well on both touchscreen devices and traditional non-touchscreen PCs.
What could have been better
This emulator is not well-optimized for different PC configurations.
---
9. Genymotion
Genymotion is a popular Android emulator for Windows computers that work as advertised. It has been around for a long time now.
You get two different versions for the desktop. One includes Virtualbox and the other one doesn't. And it is also available for Mac and Linux distros.
But you don't have to worry as the Virtualbox is installed along with Genymotion during installation.
Once you launch the Android emulator, you have to select a smartphone device. Configure it the way you want and get started.
What I liked about it
A very good choice for developers to run an unlimited number of Android emulator instances, with limitations only on the hardware level
Run it in the browser through Genymotion SaaS Cloud and you won't have to install the Android emulator
Emulate over 3,000 different Android devices with the latest stable OS build.
What could have been better
Not easy to use like the other emulators for Android available.
---
9. Remix OS Player
Remix OS Player is the next perfect emulator for using Android OS on PC. This capable emulator offers reliable performance and runs on Android 6.0 Marshmallow. You can use almost every Android game or application on Remix OS Player
Note – It has been discontinued for a couple of years now but you can use it, keeping in mind that there won't be official support.
Remix OS Player is actually a dedicated gaming emulator. Furthermore, this emulator also supports Nvidia graphics cards. Consequently, you will get exceptionally great gaming performance on Remix OS Player.
Remix OS Player offers customizable keyboard controls, which helps in improving the gameplay. Overall, it is a perfect Android emulator for running applications and playing graphics-intensive smartphone titles on PC.
What I liked about it
It comes with key mapping tools which let gamers use keyboard shortcuts for touch input
You can run multiple Android apps in windows simultaneously, mimicking a desktop OS experience
It has a one-click root mode, letting developers and power users to access advanced features and app
What could have been better
A lot of the AMD CPUs are not officially supported so a few might face a few problems.
---
10. KOPlayer
Touted as the Android emulator for GAMING, it is an Android KitKat 4.4 operating system emulator.
In the era of Android P, this may seem like an obsolete choice for a general user. The emulator can be crucial for developers who are looking to test it on older versions of Android.
KOPlayer is a feature-rich emulator, ideal for users looking to get the most out of its emulating experience.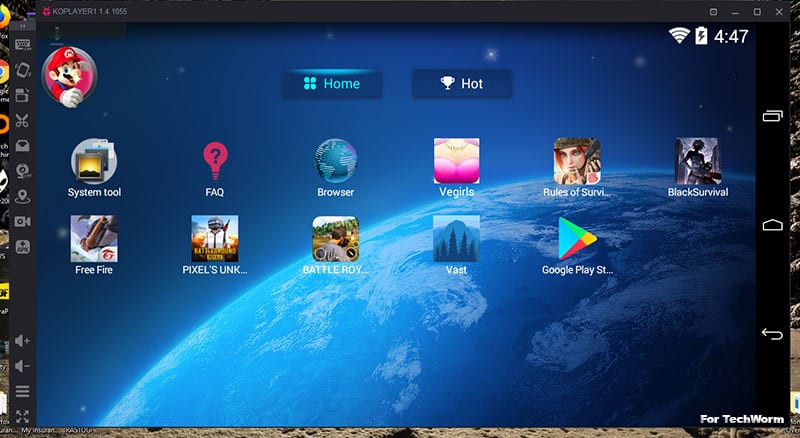 Look, we get it that it is running on an older version of Android. But you can use it on older computers with modest specifications.
You can use earlier versions of most Android apps here.
What I liked
• Drag and drop option between cross-platforms
• Dual-graphics option to switch according to the demand of the respective application
• Ease of access buttons on either side of the display
• One-click recording and basic editing. The edit video feature is pretty basic but still gets the thing done.
What I did not like
• It is not bug-free. Minor bugs pop up from time to time. One of them being the unresponsiveness of the window.
---
11. Android-x86
This is a different Android emulator now that we have here. It is an operating system that you can install on your PC alongside Windows to run Android apps.
It is an open-source project that aims to bring the Android operating system to the x86 platform, like desktops and laptops.
It can be installed by creating a bootable just like Windows. And the interface is very close to what you get on other Android emulators.
They recently released an Android 11.0-based Android-x86 ISO image. You can download it from the official resources.
What I liked
• You can use it to run Android apps on older PCs which cannot use modern Android emulators
• Run Android-x86 without installation by booting from a Live USB, which is great for testing or occasional use without committing to a full installation
• It integrates with the GRUB bootloader, making it easier to switch between operating systems
• Windows-like multi-tasking is available along with a multi-windows interface to give a more desktop-like experience.
What I did not like
• Android-x86 is not properly supported on the recent hardware releases. You may have to wait for the developers to provide support here.
---
Run Android Apps on Windows 11
With its latest update back in October 2022, Windows 11 introduced Android apps to its operating system. You can now install thousands of Android apps via the Amazon Appstore.
And that is not all, you can even install them directly by sideloading the Android apps on your PC.
This way you can run Android apps on Windows 11 without an emulator. Click on the shortcut on the desktop or from the Start menu and it will launch like a regular Windows app.
How Do Android Emulators Work?
Android emulators are basically virtual machines that run on Windows and Mac. An Android emulator is like having a virtual Android phone inside your computer.
Imagine you are playing a video of an Android phone's screen on your PC. This "video" is interactive, so you can click on apps to open them, use the keyboard to type messages, or play games.
All of this is done inside a special program(virtual machine) on your computer without affecting your main Windows system.
So, in simple terms, an Android emulator lets you use Android apps and games on your Windows computer by creating a pretend Android phone on your screen.
Also Read–
---
Best Android Emulator FAQs
What are the best games for Android emulators?
PUBG Mobile and BGMI: Popular battle royale games where 100 players fight to be the last person standing.

Mobile Legends: Bang Bang: A multiplayer online battle arena (MOBA) game that is reminiscent of PC games like "League of Legends."

Clash of Clans & Clash Royale: Strategy games developed by Supercell where players build villages or battle in arenas.

Call of Duty: Mobile: The mobile version of the renowned FPS franchise, offering both the traditional multiplayer modes and a battle royale mode.

Among Us: A multiplayer game where players work on a spaceship but some are impostors trying to sabotage the crew.

Genshin Impact: An open-world action role-playing game known for its stunning graphics and in-depth story.

Ragnarok M: Eternal Love: Based on the classic MMORPG, this is the modern reinterpretation of Ragnarok Online for mobile devices.

AFK Arena: A strategy game where players collect heroes and battle in automated matches.

Summoners War: A turn-based strategy MMORPG where players collect and train monsters for battle.

Brawl Stars: A multiplayer top-down shooter game with various modes, from 3v3 battles to solo showdowns.
Which one is the best Android emulator?
BlueStacks is the best Android emulator. While mostly concentrated on gaming purposes it still is the most used Android emulator in the world.
Which Android emulator is fastest?
LDPlayer is considered to be one of the fastest Android emulators with frequent updates and lightweight it is the second most popular Android emulator in the world.
Is Nox player a virus?
We have discussed the matter in detail a while back. Nox player has been accused of building unwanted software with the Android emulator but they did away with it.
They were also hacked back in 2021 and the hackers infected a small number of victims with malware.
Since then, Nox player has not been in the news or discussion for anything that should worry you.
Is NOX player better than BlueStacks?
BlueStacks is better than Nox Player and you should consider using it only as it provides the best features and settings to run apps and games on PC than NOX Player.
What is meant by an Android emulator?
An Android emulator is an Android Virtual Device(AVD) that emulates the Android environment for other devices to run the Android operating system. It is generally used for testing, bug-finding, and running various apps on a virtually controlled system on devices other than actual Android phones.
---
Over to You

I have listed some of the finest Android emulators for Windows PC and MAC that are available out there. The right emulator for you will be solely based on your personal preference.
It can be baffling for you to choose the best Android emulator. I suggest you take it slow. Try the ones you find falling in your criterion.
Did I miss an emulator worth mentioning? Then let me know via the comment box