Android emulators are of great use if you want to run android on your PC.
There are several reasons why you might want to run an android emulator on your Windows PC.
Varying from app development, if you are an Android developer you can easily debug your app on your PC.
Or you can also play Android games or apps on a PC using these emulators. Other than that android emulators provide access to Keyboard, mouse, and bigger screen of your PC which you can't use on your android phone.
A new breed of users has emerged as well who utilize Android emulators for gaming. It can be attributed to games like PUBG Mobile.
---
Best Android emulators for Windows PC and MAC
1. MEmu Play
First on the list is Android 5.1 Lolipop based offering Android 5.1, 7.1 and 9.0 packages for Windows PC. It is among the most customizable Android emulators for PC in the segment.
The installation is quick and simple with no bloatware third-party apps to install like we come across in some emulators. The installer is also one fancy thing, I might add.
It takes around 2-3 minutes when launching for the first time. Time varies according to the processing power of your computer, among the performance of other components.
The emulator comes pre-loaded with some third-party apps, preferably the ones sponsoring them so can't really a complaint. There is no option to remove them. Honestly, I wouldn't worry unless I'm running on 2 GIG of RAM and a Pentium 4 processor which really can't handle multi-tasking.
One of the hot-selling points of this emulator is Key Mapping. What Key-Mapping does is that you can put markers anywhere on the screen and assign a keyboard key or mouse button.
When you press that key or push a button, the controls or app present on that part of the screen gets pressed/triggered. It comes in handy when playing FPS, RPG or any game that requires multiple button control.
The emulator is already keyboard-mouse compatible to an extent, worked with most of the games without any hiccup.
What I liked
• Customizability: The emulator is flexible in terms of general resource usage. You can set the amount of RAM, Screen resolution, FPS, and graphics engine to be used by the emulator according to your machine's capabilities.
Custom DNS, Root mode, and Cache performance policy can also be changed according to user's requirements.
• Key-mapping can help gamers play games with a variety of onscreen controls on the snap of a finger.
• Cross-platform installation of apps is a bliss. You can browse folders present on Windows and install APKs directly without the intervention of the Play store.
Even the option of synchronizing folders between Windows and emulator for a variety of purposes is provided. That makes it easier to transfer files from the Windows filesystem to Emulator and vice-versa.
What I did not like
• Not really a con per se but Microphone integration could be more efficient given the stability the platform provides.
---
2. Bluestacks
BlueStacks is one of the oldest emulators for Android out there that are still active in the market. It's not a sin to say that perhaps it was the market-defining player during its peak days.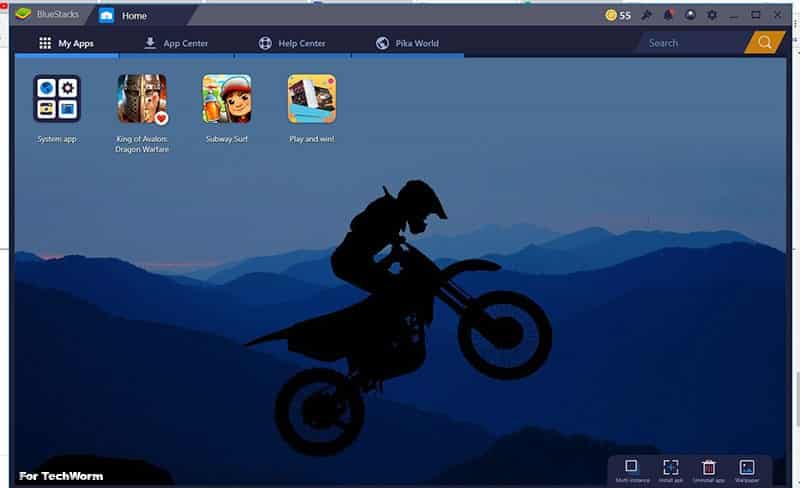 The key reason for its success was its ease of usability and access to the consumers. This android emulator is pretty easy to use and comes in FREE and PAID variants.
Installation is simple but filled with their sponsor ads. Setting up the emulator is pretty easy. You launch the emulator and a welcome screen appears. You select the language and Google account sign window appears. Sign-in with a Google account and you are golden.
The ad-filled experience might be bitter-sweet for few as you launch the emulator, ad of some sponsored game appears in one tab.
Talking about ads and bloatware, the pre-installed apps are fewer than what you get on normal free versions of certain emulators. However, it is compensated by ads at various creative placement blocks.
Overall it is safe to use bluestacks. Or else you can look for BlueStacks alternatives.
What I liked
• Ease of use. The emulator is extremely easy to use with one click Emulator setup.
• Separate key-mapping for different games
• Customizable resolution up to 4K
• Tabbed applications. Every application is windowed separately in a tab which can be closed
• Forum support. Being one of the segment leaders, Bluestacks has built quite a community on their forums. It is helpful for troubleshooting and creative aspects.
What I did not like
• Excessive ads. Given the competition in the freeware segment, competitors are not flooding your screen with ads.
• Lacks native Android experience. Users who are looking for vanilla Android experience might not entertain such an emulator.
---
3. KOPlayer
Touted as the Android emulator for GAMING, it is an Android KitKat 4.4 operating system emulator.
In the era of Android P, this may seem like an obsolete choice for a general user. The emulator can be crucial for developers who are looking to test it on older versions of Android.
KOPlayer is a feature-rich emulator, ideal for users looking to get the most out of its emulating experience.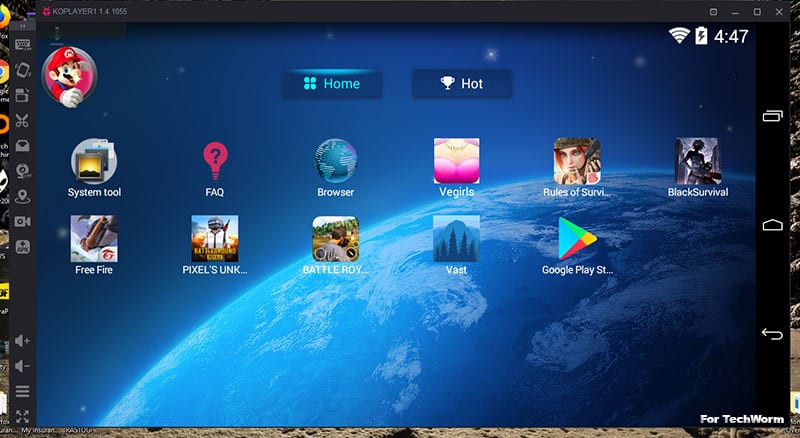 Android 4.4 is still used on over 11% of the smartphones based on Android OS, according to the official statistics by Google.
What I liked
• Drag and drop option between cross-platforms
• Dual-graphics option to switch according to the demand of the respective application
• Ease of access buttons on either side of the display
• One-click recording and basic editing. The edit video feature is pretty basic but still gets the thing done.
What I did not like
• It is not bug-free. Minor bugs pop up from time to time. One of them being unresponsiveness of the window.
---
4. Nox Player
Amongst the list of best Android emulators for PC, this is one of the fastest, in terms of installation and operations. One-click installation without any bloatware or third party apps.
The Android version is 4.4 KitKat.
One of the things that stand out is the Macro step record option. You can record your steps in Macro recorder and re-enact them later.
Some apps only work for certain phone models and it really sucks when it is not compatible with the respective emulator.  This Android emulator has a workaround for that.
You need to hover over to settings. Set the respective smartphone model. By default, the only option you get is on Samsung smartphones. However, you set is on custom with the model of your choice with some custom presets available online.
You can drag and drop files from Windows to the emulator and vice-versa. It is a small but useful feature.
For some odd reason, I could not find PUBG mobile on the Play Store. Only the competitors of the much-celebrated game were present.
What stands out
• Macro Recorder is helpful for developers, content creators
• You can lock the mouse to the emulator window. It is useful when playing video-games on the emulator so that your cursor/pointer does not fall out of the game's scope.
• The full-screen mode is seamless. When I say seamless, it really is easy without any hiccup.
What can improve
• Computer resource usage for running the emulator can be optimized further.
---
5. LeapDroid
Another Android Kitkat 4.4 based Android emulator for PC. Hands down the simplest Android emulator in the list.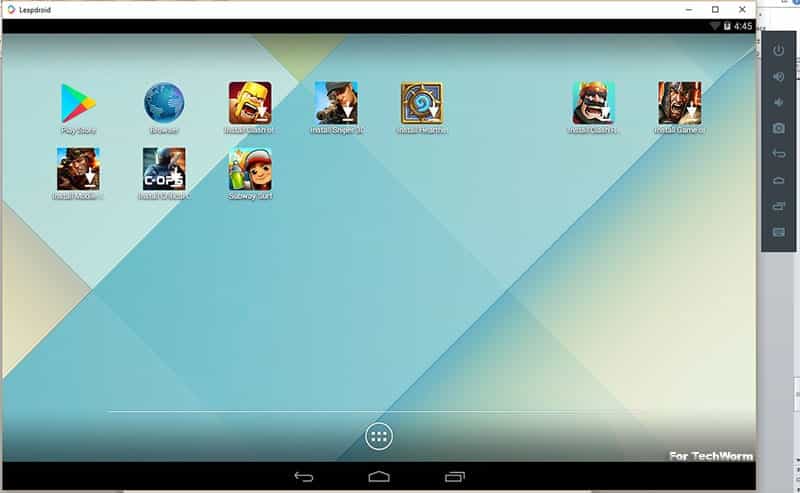 Installation is fairly quick and bloatware-free. There are no advanced features like the formerly mentioned emulators in the article.
You get Key Mapping feature to get around. The mouse 360-wheel mapping is something that is crucial while gaming. As soon as the emulator is installed, two virtual machines, named VM1 and VM2 are created. I honestly could not find a way to run more instances. However, two should suffice.
It is an easy-going emulator for quick gaming and app testing/usage.
What I liked about it
• Simplicity
• Ease of use. The emulator is easy to operate and does not require a tutorial. I asked my neighbor's kid who has a Samsung Tab. He found it easy to operate.
• Low resource usage
What could have been better
• APK integration from Windows
• Full screen(non-window) feature would have given a better emulation experience.
---
6. Gameloop
PUBG Mobile is possibly the most popular online multiplayer battle royale game. Well, if you are one of those people who love playing PUBG in leisure time then Gameloop will definitely impress you.
This emulator is developed just to play PUBG Mobile on PC. Consequently, if you using an emulator to play PUBG then nothing will be better than Gameloop. Well, not too long ago, Gameloop was known as "Tencent Game Buddy."
Gameloop helps to utilise your computer's hardware to its full potential while playing PUBG. Furthermore, Gameloop also supports GPU, which further enhances the gaming performance.
What I liked about it
Installation is pretty straightforward.
The emulator allows users to record the gameplay.
Ability to remap keys as per users preference.
What could have been better
Support for other games and applications.
---
7. Bliss
Bliss is a capable Android emulator that runs on a PC via a virtual machine. You can install and run this emulator using a USB stick. We recommend this emulator only to tech-savvy or a pro user.
The major highlight of Bliss is that its the only emulator that runs on Android 8.0 Oreo. Furthermore, since this emulator is directly installed on your PC, the performance is comparatively better than other emulators.
As for downsides, Bliss is not well optimized for every different PC configuration. Lastly, many normal users will find the installation process of Bliss fairly difficult.
What I liked about it
Bliss helps you to actually run Android OS natively run on your PC.
Bliss runs on Android 8.0 Oreo
It definitely serves the need of pro users.
What could have been better
The installation process is fairly complicated.
This emulator is not well-optimized for different PC configurations.
---
8. Droid4X
Droid4X is another impressive android emulator for playing games and running apps on Windows PC. This emulator offers a very simple and easy to navigate UI. Droid4X runs on an older version of Android, so latest games and apps won't be compatible with this emulator.
Installing and using Droid4X is fairly simple. Surprisingly, Droid4X is compatible with both Windows and MacOS.
As for downsides, Droid4X's development was completely stopped on March 28th, 2016. That said, you can still download and use it, but you won't get the best hardware and software optimization.
What I liked about it
Compatible with both Windows and MacOS.
Simple to install and use.
What could have been better
It's no more in development so bugs and compatibility issues won't be fixed.
---
9. Remix OS Player
Remix OS Player is the next perfect emulator for using Android OS on PC. This capable emulator offers reliable performance and runs on Android 6.0 Marshmallow. You can use almost every Android game or application on Remix OS Player
Remix OS Player is actually a dedicated gaming emulator. Furthermore, this emulator also supports Nvidia graphics cards. Consequently, you will get exceptionally great gaming performance on Remix OS Player.
Remix OS Player offers customizable keyboard controls, which helps in improving the gameplay. Overall, its a perfect emulator for running applications and playing graphics-intensive smartphone titles on PC.
What I liked about it
Supports Nvidia GPU
One-click installation process
What could have been better
Support to AMD GPU's should be added
---
10. Android Studio
The last best Android emulator on the list is Android Studio. Well, Android Studio is an ideal emulator for developing, testing, and publishing Android apps.
This emulator is solely dedicated to app developers and it's not meant to be used for running Android apps and games.
Using this emulator you can simulate incoming phone calls and text messages, specify the location of the device, simulate different network speeds, simulate rotation and other hardware sensors, and much more.
You can operate every touch control of a smartphone using a keyboard and mouse on your computer. Lastly, this emulator allows users to record video and audio while testing applications.
What I liked about it
One-click installation process
This emulator comes with predefined configurations for various Android phone, tablet, Wear OS, and Android TV devices.
What could have been better
A user-friendly UI would have been better.
---
It's your turn now
I have listed some of the finest Android emulators for Windows PC and MAC that are available out there. The right emulator for you will be solely based on your personal preference.
It can be baffling for you to choose the best android emulator. I suggest you take it slow. Try the ones you find falling in your criterion.
---
Also Read–
---
Best Android Emulator FAQs
Which one is the best Android emulator?
BlueStacks is the best Android emulator. While mostly concentrated on gaming purposes it still is the most used Android emulator in the world.
Which Android emulator is fastest?
LDPlayer is considered to be one of the fastest Android emulator with frequent updates and lightweight it is the second most popular Android emulator in the world.
Is NOX player better than BlueStacks?
BlueStacks is better than Nox Player and you should consider using it only as it provides the best features and settings to run apps and games on PC than NOX Player.
What is meant by Android emulator?
An Android emulator is an Android Virtual Device(AVD) that emulates the Android environment for other devices to run the Android operating system. It is generally used for testing, bug-finding, and running various apps on a virtually controlled system on devices other than actual Android phones.
Did I miss an emulator worth mentioning? Then let me know via the comment box