The last few years has seen hackers taken a liking for Hollywood with them appearing in almost every robbery or mystery movie.
It is not easier to depict a hack going on in a movie. Most of the time an actor or actress is just shown typing something in the command prompt tab or UI of any software to show hacking which has nothing to do with real-world hacking.
Very few movies have shown the actual depiction of hacking correctly. We have tried our level best to bring out the list of these best movies showing hackers.
Let's take a look at the 15 best hacking movies list of all time.
Top 15 Hacking Movies Of All Time
Algorithm
War Games
Hackers
The Matrix
Takedown aka Track down
The Italian Job
Live free or die hard
Blackhat
Untraceable
Eagle Eye
Fifth Estate
Snowden
The Net
23
Who am I
1. Algorithm

(2014)
'Algorithm' tracks the travails of Will, who is a freelance computer hacker who "breaks into a top-secret government contractor and downloads all their recently developed programs."
This is one of the best hacker movies of all time.
---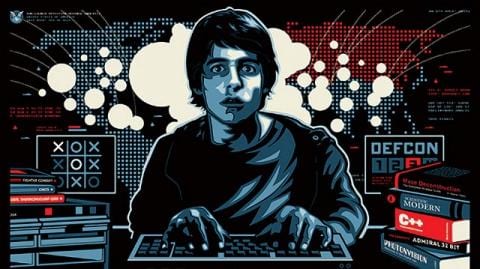 This Hollywood hacker movie features David Lightman (Broderick), a young high school student hacker who accidentally hacks into a military supercomputer and starts the countdown to World War III.
---
Third on the list of the best hacking movies is this cult classic. The hacker movie got a lot of things right, especially the way they showed kids using technology to create their own community.
In Hackers, Angelina Jolie and Jonny Lee Miller portray two youthful and hip hackers.
Miller portrays a hacker who got caught as a very young child (11) after crashing thousands of computers and has been sentenced to zero computer access until his 18th birthday.
If you want to know how hackers use their social engineering skills to get sensitive details related to your hardware, this movie will not disappoint you.
---
This is one of the greatest science fiction movies of all time.
The movie depicts a dystopian future in which reality, as perceived by most humans, is actually a simulated reality called "the Matrix", created by sentient machines to subdue the human population, while their bodies' heat and electrical activity are used as an energy source.
A character named "Neo", who is a computer Hacker, learns this truth and is drawn into a rebellion against the machines, which involves other people who have been freed from the "dream world".
The Matrix franchise is a trilogy movie series.
---
This hacker movie is based on famous computer U.S. hacker Kevin David Mitnick. Based on the book and written by his nemesis, Tsutomu Shimomura, the story tends to glorify Shimomura.
Mitnick operated in the 1980s and '90s and eventually went to prison for a couple of years. Now, he is a highly paid IT security consultant, speaker, and writer and is considered to be among the world's top 10 hackers of all time.
---
Although the MINI Coopers are really the stars of The Italian Job (a remake of the 1969 film of the same name), Seth Green plays Lyle, a hacker among a group of elite thieves, who is able to manipulate traffic signals, among other devices, that make this grand theft possible.
---
Live Free or Die Hard (also known as Die Hard 4 and released as Die Hard 4.0 outside North America) is a 2007 American action hacking film, and the fourth installment in the Die Hard .
The film series depicts a scenario where a hacker played by Timothy Olyphant (of Justified fame) takes down nearly the entire U.S. infrastructure in an attempt to transfer trillions of dollars from the Federal Reserve to his account.
This movie shows how a blackhat hackers operate.
---
Blackhat features Chris Hemsworth. In this Hollywood movie, hackers hack the Chinese nuclear power plant to start a nuclear reaction.
Simultaneously, they also hack the stock exchange and steal millions of dollars from the bank.
This movie shows how a black hat hackers threaten governments.
---
This hacker movie involves a serial killer who rigs contraptions that kill his victims based on the number of hits received by a website KillWithMe.com that features a live streaming video of the victim.
Millions of people log on, hastening the victims' deaths.
---
In this hacking movie, two people get a call from an unknown number by a woman. They get a task on a phone that if they don't follow the phone call they would die.
This movie displays supercomputer hack on all networks and military networks.
This is just an amazing movie on how artificial intelligence computer hack our real life for bad motives.
---
The Fifth Estate is a hacking movie, which is an unauthorized account of Julian Assange and WikiLeaks. Cumberbatch plays a believable Assange as an egotistical, idealist that is out to change the world.
Few Americans know that Assange is a famous (or infamous) hacker in his native country of Australia. He broke into the Pentagon, Citibank, NASA, and Stanford University, among other facilities, before being caught.
---
The movie is based on the book, The Snowden Files: The Inside Story of the World's Most Wanted Man.
The storyline depicts NSA's illegal surveillance techniques on US and world citizens. Snowden leaked these techniques to the public in the form of thousands of classified documents causing a huge public outcry.
---
Angela Benett, played by Sandra Bullock, is a system analyst who works for Cathedral software as a telecommuter. She leaves for a regular work assignment to de-bug in a program.
Dale Hessman, who assigned her the task last, is killed in a plane crash. Benetts life turns upside down as she discovers a piece of secret information. Life has a nightmare in store for her as life is erased from existence and handed a new identity with a police record.
---
This hacking movie revolves around a hacker, Karl Koch, who is a teenager in Germany during the peak of the Cold war of the 80s. The film title is based on the protagonist's obsession with the number.
Koch meets David at the Chaos Computer Club, where they conspire to hack into the global data network. The KGB directs them to hack into different worldwide networks to have the upper hand in the war.
Things take a turn for the worst when David reveals espionage activity, but only Karl is left to face the consequences.
---
The film starts with Benjamin Engel sitting in an interrogation room. He is the one who has come in voluntarily to share some information regarding a notorious Russian hacker group that goes by the name of FR13NDS.
In exchange for the information, Benjamin demands witness protection. After that, he starts narrating the story of an orphan who worked as pizza delivery to make ends meet.
A nobody who none would notice until he contacted Max, a fellow hacker, who in turn introduced him to several other hackers.
They decide to form a hackers collective CLAY, Clowns Laughing At You, using Benjamin's house as the base of operations.
---
BONUS, Honorable Mention:
Mr, Robot is a Tv series showing Elliot Alderson, a brilliant cyber-security engineer, and hacker with clinical depression and social anxiety.
Elliot is recruited by "Mr. Robot", played by Christian Slater, to join a hacking group "fsociety" to destroy and take down the corrupt corporation he is working for.
---
Conclusion
So these were a few of the best hacking movies depicting hackers. You can binge-watch them right now and let us know how your experience was.