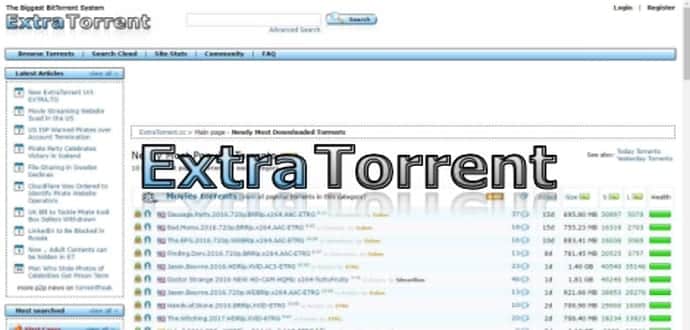 Recently, the torrent world received a bad jolt when ExtraTorrent.cc was shut down out of the blue. With no explanations or an apparent reason for the move, users were left befuddled with the sudden news. However, the torrent community like always has found ways to weather the storm. They have started searching for ExtraTorrent alternatives.
Dispelling early fears that the popular uploaders on ET would also shut shop when the site went out – most of them resurfaced almost instantly on other torrent websites with fresh uploads. That being said, ExtraTorrent is no more and therefore, we have rounded up the best alternatives available for your torrent needs.
It should come as no surprise that the world's most resilient torrent site is the first name on this list. Pirate Bay was the first site that was targeted by copyright activists with multiple countries asking their ISPs to block access to the site and we know, The Pirate Bay kept on coming back almost immediately with a different IP address. In the off chance that a user does find the IP address blocked, there are plenty of proxy severs available that will redirect you to it. In short, this is probably the best torrent site at the moment.
The site initially started off as a tracker based in Bulgaria and has slowly grown by gaining the hearts and minds of its users. The site was founded back in 2008 but has pulled in many users in the last few years making it one of the most visited torrent websites around.
From the onset, lets be clear that this site has no affiliation with the YTS or YIFY groups, they just happen to share similar names. Although there are quite a few who aren't as pleased with the similarity and the site ends up having its torrents blocked on a few indexes. Yet, it makes its way into one of the top torrent site list with an Alexa rank of 335.
This website was in the news recently but not for the best reasons. Many of its admins and moderators protested against security concerns that made headlines. Although the site seems to have left the negativity behind it and its doing pretty good right now.
And finally, we make it to the old horse of the community. This site has been around for a long long time. As a consequence, it is also known by a lot of people and that has resulted in quite a few countries asking their ISPs to block access to it. Nonetheless, this is still one of the best torrent sites around.
This list has been compiled keeping the Alexa rank in mind to determine the best alternative torrent sites. We so realize that Alexa might not be the perfect source, but it does a pretty good job.
Update
There has been a development in the ExtraTorrent saga. Though the operator Sam shut down the site, a few of the former admins and uploaders of the site have managed to resurrect it. A mail has been sent out regarding this with the new torrent site running under the URL Extratorrent.cd. You can read more about this story here. Meanwhile you can enjoy the above mentioned ExtraTorrent alternatives