It happens with almost every one of us that at some time we face different error online while browsing the internet.
Recently many users are facing an error named "err_cache_miss" in google chrome and in this article, we are providing you with the ways to fix it.
---
How Err_cache_miss error occur?
Well, It has been observed that error often occurs when developers are testing their applications using some wrong code, or sometimes users face it while surfing through particular websites.
It has also been observed that this "err_cache_miss" error only occurs in a google chrome web browser. Which is indeed an issue.
Nevertheless, the error may look like this to you (see the image below).
It immediately appears on the screen with the message: Confirm Form Resubmission and sub error message: ERR_CACHE_MISS.
Now, talking about the reason for its occurrence.
It mainly occurs when the web browser is having issues with its cache system. The caching system issue basically belongs to a particular website or web-based application due to wrong codes within the website or an app.
But not only this sometimes it may also occur when something goes wrong with your web browsers such as bugs, bad browser settings, and corrupted extensions.
---
How to fix the Err_cache_miss error in Google chrome-
There are basically 3 methods to fix this error.
But before learning those methods you all must be familiar with the exact situation of its occurrence. Why? well, this will tell you exactly which method to apply. It's as simple as that.
3 Different Situations for err_cache_miss Error occurrence.
You got this error while accessing some particular websites.
The error occurs when accessing your own personal, commercial or business website.
Or you got this error while using Chrome Development tool.
Now after analyzing and matching one of the above situations, you can put the best method suitable for the situation which is mentioned below.
---
1. Got Err_Cache_Miss Error While Accessing Websites
It is one of the most common situations of error occurrence. If you are trying hard to access a bunch of websites and they didn't load instead, they show this Err_Cache_Miss Error message then you can try the following 2 methods to fix this.
Clearing Google Chrome Browsing Data – Yes, clearing all your chrome browsing data can fix this error. As cache represents some recently used and stored files in the memory. It means if some badly corrupted files such as (cookies, cached files) are stored in your browser. So maybe this is the reason that causes the error to occur. In order to clear the browsing data back to default just copy the link – chrome://settings/reset profile settings into the address bar of your browser and then click on the "Reset" button.
Uninstalling the Toolbar And Spam/Adware Programs – Sometimes the error occurs when you installed unnecessary bad malware oriented toolbars in your web browser. So you need to remove them in order to fix this issue.
---
2. Got Err_Cache_Miss Error While Accessing Your Own Website
Well, it doesn't mean that if this error occurs your website code is wrong. So don't be sacred for this.
It can be a problem with your Chrome web browser.
So, you should try above-mentioned methods first, unless you are modifying your own website. In this situation, just undo what you recently did, and everything will be fine and good to go.
For the WordPress users, we recommend you to disable any kind of caching plugin in order to test whether those plugins cause the Err_Cache_Miss error or not.
---
3. Got Err_Cache_Miss Error While Using Development Tool
If you are using Google Chrome Development Tool then having this error message is a common issue.
Why? simply because of bugs. You only need to update your Chrome web browser to fix this issue. After doing this you will see this issue is completely gone.
Nevertheless, if you are already using the latest version, then you will need to wait until the next update available. Otherwise, you can try a few methods below-
Remove Unnecessary Plugins – As mentioned in the above methods, removing the unnecessary plugins will help you in getting rid of this error for sure.
Just go to the more tools option then extensions tab.
Disable Cache System – You can manually disable the cache system when using Development Tool. Yes, it's true. In order to disable the caching system just press Ctrl + Shift + I then F1 and then choose "Disable cache (while DevTools is open)". After that, just reload the web page by pressing Ctrl + F5 and you are good to go.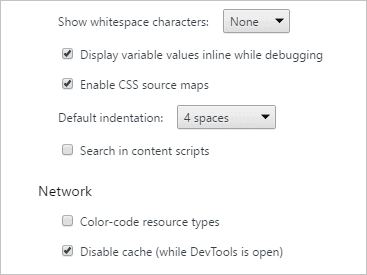 So this was all regarding Err_cache_miss error fix in Google Chrome. If you have any better solution let us know in the comment section below. Would love to hear that.
Stay Tuned for more.