Technological advancements in the past three decades have completely transformed the lives of human civilization. What once seemed like a futuristic sci-fi movie is now becoming a reality. Well, if you want to welcome a robot to your family, then you are reading the right article.
So in no particular order, these are best household robots that will simplify your lives and obey your commands.
RELATED: Robots to replace up to 20 million manufacturing jobs by 2030
---
Best Robots Of 2020
1. AIBO
Artificial Intelligence Robot often abbreviated as AIBO is Sony's robotic pet that looks and behaves like a dog. This dog was launched in 1999, but it has received many revisions since it's launch. The latest version with an always-on internet connection was launched in January 2018.
Similar to a real dog, AIBO reacts to your actions, and every day it learns some new traits. AIBO relies on 22 motorized joints, two cameras, four microphones, and two circular OLED eyes two to be more lifelike. Sony claims that AIBO can recognize up to 100 different faces. Unlike a real dog, you don't have to take much care of AIBO.
AIBO also has its bone and ball, which you can use to play with this robotic dog. Lastly, AIBO is smart enough to charge himself whenever he runs out of battery. Overall, it's a great robotic dog, and it will keep you entertained.
---
2. Anki Cozmo
Anki Cozmo is another impressive robot that's worth checking out. You can consider Cozmo as your small robot friend that can express hundreds of emotions. It is worth noting that Anki Cozmo is dedicated to kids aged eight and up, but elder kids can also use this robot to improve their programming skills.
You can play many games with Cozmo, and it loves picking up the power cubes. Once you connect the Anki Cozmo with the free iOS or Android application, you can develop basic block codes to tell Cozmo to perform a variety of actions. Similar to AIBO, you can even play with Anki Cozmo.
Overall, Anki Cozmo is an excellent entertainment and education based robot that will be a good companion to the young kids.
---
3. Samsung Bot Air 
The next robot on the list is focused on improving your health. Samsung's Bot Air is an air-purifying robot. The cities are generally polluted, but the same goes for our houses. The air in our homes contains a considerable amount of lead, radon, and chemicals. This air is harmful to asthma patients and the elderly.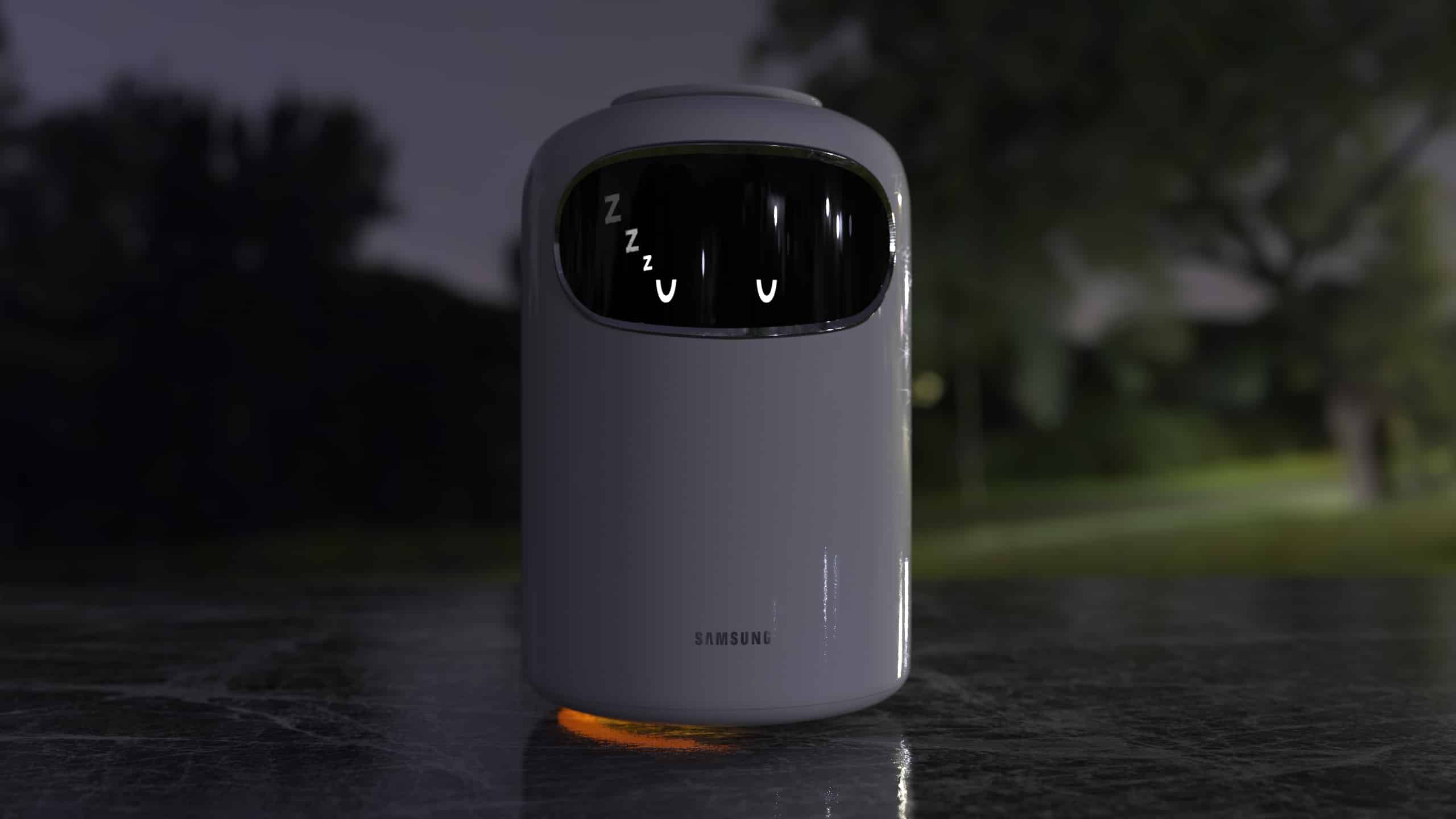 This health-related robot looks like a trash can, and it automatically goes to different rooms of your house and cleans the air. Once this robot detects unhealthy air, it's bottom part emits red light. Later this light changes to green color once the air is cleaned.
The LiDar sensors in this robot help it navigate to different locations in your house and avoid objects and pets in its path. Overall, Samsung Bot Air is a good home robot.
---
4. UBTech Walker Humanoid Robot
First revealed to the world at CES 2018, UBTech Walker is the next best robot on the list. This Humanoid Robot can replicate almost every human activity like climbing a staircase, kicking a football, and many more.
This robot weighs around 170 pounds, and it relies on simultaneous localisation and mapping technology coupled with 36 actuators to perform different tasks. You can command this robot to bring a glass of water or pick up your deliveries from the doorstep.
The creators of this robot claim that the robot can quickly learn the layout of your home and avoid obstacles and furniture while walking. UBTech Walker is an excellent humanoid robot and can be your family member after it reaches the production stage.
---
5. Anki Vector
Anki Vector can be considered as a much smarter sibling of Anki Cozmo. Unlike the Cozmo, Anki Vector is more of a pet and voice assistant. Furthermore, Anki Vector doesn't rely on a smartphone application for its proper functioning.
Anki Vector recognizes human faces, and the four near-field microphones help this robot to interact and reply to voice commands. You can play many games with Anki Vector, and soon it will seem like a robotic pet.
Anki claims that the upcoming updates will make this robot compatible with Amazon Alexa. Overall, Anki Vector is an excellent home-based robot.
---
6. Peeqo Intelligent Gif Robot
The name says it all, Peeqo Intelligent Gif Robot is a voice-activated desktop companion robot that responds entirely through GIFs. Peeqo started as a DIY project that gained immense popularity through Reddit.
After many months of development, Peeqo Intelligent Gif Robot is presently seeking crowdfunding on Kickstarter. This robot is powered by a Raspberry Pi 3 and it comes as an affordable DIY kit, using which build your own robotic companion.
This robot replies to your commands through different GIF's and sometimes this activity can become very entertaining. Peeqo claims that the initial units of this robot will ship by September.
---
7. LittleBits Star Wars Droid Inventor Kit
The next best robot on the list is dedicated to young kids and fans of the Star Wars franchise. LittleBits is offering a kit using which a user can build his own R2-D2 robot. This kit includes a detailed step-by-step guide, electric blocks, different parts, and a nine-volt battery that can be used to R2-D2 to life.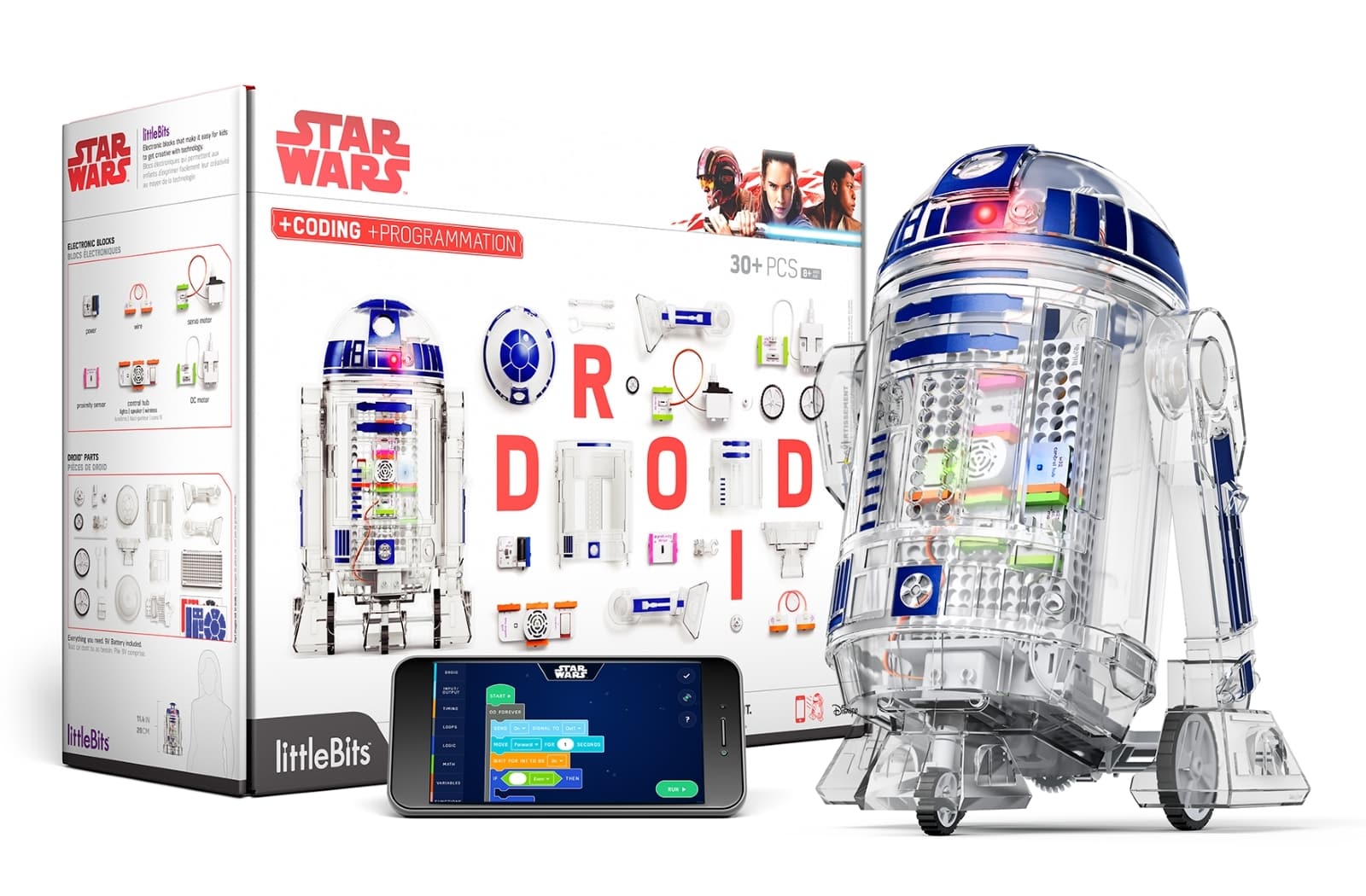 Young kids can learn basic coding and electronics through this inventor kit. Furthermore, this DIY droid offers endless customization options. Similar to other learning robots in this list this droid is designed for kids ages eight and up.
After the completion of the construction process, you can teach this robot to learn new skills and perform designated tasks. The companion application for this inventor Kit is also very helpful and it offers many good tutorials.
---
8. Stanley Black & Decker Pria
Stanley Black & Decker Pria is another perfect health-related robot. The Stanley Black & Decker Pria can be considered as a voice-controlled home health assistant. This robot automates medication management and helps elderly people with their medications. You can schedule a maximum of 28 medication doses using this robot.
The robot automatically reminds the elderly people to take medicines. In addition to medication, this robot can also be used to make and take video-calls with friends and family. If you have elderly people in your house then Stanley Black & Decker Pria can be a perfect robot for you.
Lastly, similar to voice assistants like Google Assistant and Amazon Alexa, you can ask questions to Pria about the weather, nutrition facts, and much more.
---
9. Sharp RoBoHon 2nd-Generation Toy Robot
Similar to Sony's AIBO, RoBoHon is a great companion robot. This robot can be used to provide instructions, information, and assistance to people at different locations like restaurants. Presently, RoBoHon can store around 30 apps and these apps help this robot to offer assistance to people in need.
RoBoHon has WiFi and LTE connectivity and similar to other mainstream robots it can walk around, interact with you through voice commands, and even control smart home appliances.
The creators of this robot claim that RoBoHon will offer better reactions and responses with future updates. Moreover, many more apps will be developed to increase the usability of this robot.
---
10. Samsung Bot Retail
The last best robot on the list is Samsung Bot Retail. The name says it all, this robot resembles a person and functions as a waiter or store clerk. This robot displays details about the available items and users can make payments to get what they want.
The bright head of this robot moves independent to its body and it makes the overall interaction experience much more natural. As you might have guessed, the Samsung Bot Retail is dedicated to restaurants and retail stores.
In addition to buying stuff, the tall display on this device can be used to gather information about different products, get recommendations, and even compare different items.
---
Do You Really Need A Robot? 
Undoubtedly, Robots and every other modern technology are helpful to us. That said, living in a virtual world consisting of machines and other virtual assistants can be an unhealthy practice. We advise our readers to leave their smartphones and other computing devices during some times of the day.
---
CONCLUSION
So these were some of the best robots of 2020 that are worth checking out. Do share any of your personal recommendations for the best robots in the comments section below.