Android is one of the most popular smartphone OS of all time. 
That said, many Android users have the urge to use iOS.
Fortunately, you can effortlessly do so by using either an iOS emulator for Android.
Earlier you had to root your Android device to get to experience some of the features of iOS. But now you run iOS apps on Android using an iPhone emulator.
---
What Is An iOS Emulator?
Generally, an emulator refers to hardware or software that enables one computer system to behave like another computer system.
Consequently, an iOS emulator refers to an app or software that runs on Android and allows users to create a virtual iOS mobile operating system.
Unfortunately, there's no iOS emulator in existence that will allow you to run every iOS app or game on your Android device.
However, you can still use an iOS launcher to experience iOS on your Android smartphone.
---
Best iOS Launchers For Android
1. Launcher iOS 13
The first best iOS emulator or launcher on the list is Launcher iOS 13. As the name of this launcher suggests, it allows users to replicate the user-interface of iOS 13 on their Android smartphones. This launcher also offers smooth opening and closing animations that seem to be inspired by iOS.
The next major highlight of Launcher iOS 13 is the availability of high-quality wallpapers. Additionally, this iOS emulator also makes your app icons look similar to that of iOS.
You can download this iOS emulator apk directly from the Google Playstore.
---
2. iLauncher For OS 11
If you use a low-powered or an old Android smartphone, then iLauncher for OS 11 should be your iOS emulator of choice. This 4MB iOS launcher consumes relatively fewer system resources. That said, it doesn't lack behind in terms of features.
iLauncher for OS 11 regularly updates its theme collection, and you can choose a theme from different categories like abstract, cool tech, luxury, and much more. Furthermore, iLauncher for OS 11 also comes with a dedicated control centre.
This control centre can be used to connect or disconnect WiFi, control brightness & volume, or even to take a quick photo.
---
3. Control Center iOS 13
The name says it all, Control Center iOS 13 allows Android smartphone users to get the control centre functionality on their Android phones. This app makes it easier to access quick toggles that are generally hidden deep down in the settings of a smartphone.
Unlike iOS, this app allows users to swipe up, swipe down, swipe right or swipe left to open the control centre. The apps and settings that can be accessed from Control Center iOS 13 include Wi-Fi, Bluetooth, Airplane Mode, Camera, Calculator, Volume Control, and much more.
Overall, Control Center iOS 13 is a perfect app for anyone who wanted to use an iOS emulator just to enjoy the feature-rich control centre.
Download Control Center iOS 13
---
4. Launcher OS 13 & Control Center
If you want to enjoy all the benefits of apps mentioned above, then Launcher OS 13 & Control Center might be the perfect iOS emulator for you. This launcher offers a simple and clean UI that's easy to use.
The power and memory efficiency of this application makes it ideal for low-powered or old Android smartphones. Furthermore, as the name of this app suggests it also has an inbuilt control center. Lastly, the notification tray of this launcher is also similar to that of iOS.
Download Launcher OS 13 & Control Center
---
5. iOS Launcher
The last best iOS emulator for Android tablets and smartphones is iOS Launcher. This clean iOS emulator has a very well-developed UI that's easy to use and navigate. Moreover, it allows users to backup their existing setups and use it on other Android devices.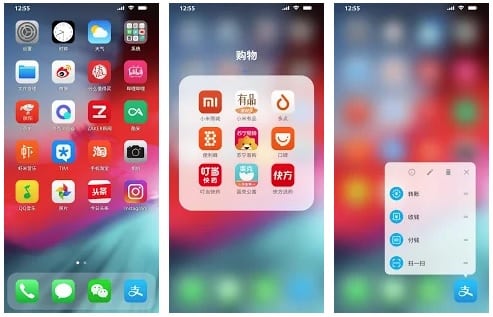 As for downsides, iOS Launcher hasn't been updated from the past one year and it still retains the design of old iOS 11.
---
---
CONCLUSION
So these were some of the best iOS emulators that are available for Android smartphones. Do share any of your personal recommendations in the comments section below.