The Internet has grown tremendously in the last couple of decades. It has mushroomed into every imaginable venue. Online identity has become a part of our social media footprint.
In this era marred by privacy concerns and cyber threats, it has become increasingly essential to shield your online photos by using a photo avatar instead of actual photos of yourself.
Apart from using them on social media, they can be used as gaming avatars as well as for online forums and chat apps like discord.
---
Best Websites to Create Avatar Cartoons Online
There are hundreds of online avatar creators available on the Internet. Here is a list of some of the best sites to create avatar cartoons online.
All the avatar generators are free of charge and do not cost a dime. Some may ask for an email, which can be surpassed as well, as explained in this post later on.
1. Avatarmaker
Avatarmaker is a no-nonsense online avatar creator who gets the job done, as fast as possible. You have all the required options, right on the screen, requiring almost no effort in finding any of the features.
The online avatars can be downloaded in 200x200px and 400x400px options which are considered as the standard dimensions online for profile pictures.
The Good
– Easy to use, creates avatar quickly.
– Can be downloaded in Vector format, apart from the standard PNG format.
– Option to upload the avatar online directly to Gravatar, allowing it to synchronize across all the Gravatar accessing third-party websites.
---
2. Cartoonify
Cartoonify is second on the list of the best cartoon avatar makers. It has an interface similar to that of Avatarmaker, which is above before this one.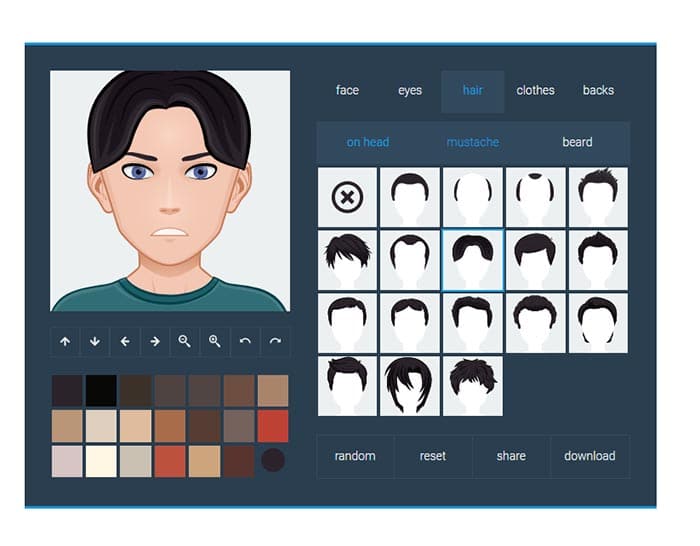 As soon as you get to the maker, it asks for the gender of the avatar that you wish to create.
This online avatar bulider is faster in operations as compared to the previously mentioned one. The processing time is considerably faster for changes made by you while playing different features of the face.
The Good
– Faster changes to the avatar
– More significant dimensions such as 600x600px are available for download, apart from the standard PNG and Vector formats
– Lesser number of intrusive ads as compared to its doppelganger twin(Avatarmaker).
---
3. Avachara
Let us dive into some serious business of creating online avatars. Avachara takes it to the next level with the level of customization features for your avatar.

Dress them up, hold a guitar to amp up your "swag quotient" apart from hundreds of dresses to stand out.
The Good
– Variety of options like dresses, tops, shirts and hats, to name a few, for fancying below the neck area.
– Interactive avatar editor which allows modification/removal of every element put on the avatar by clicking on the cross button below the avatar.
– Avatar can be saved in multiple formats, such as PNG and JPEG. While PNG one has the dimensions of 200x400px for PNG, JPEG formats allow larger size of 480x480px.
---
4. Canva
Canva is a powerful graphic design platform that enables users to create eye-catching visuals with ease.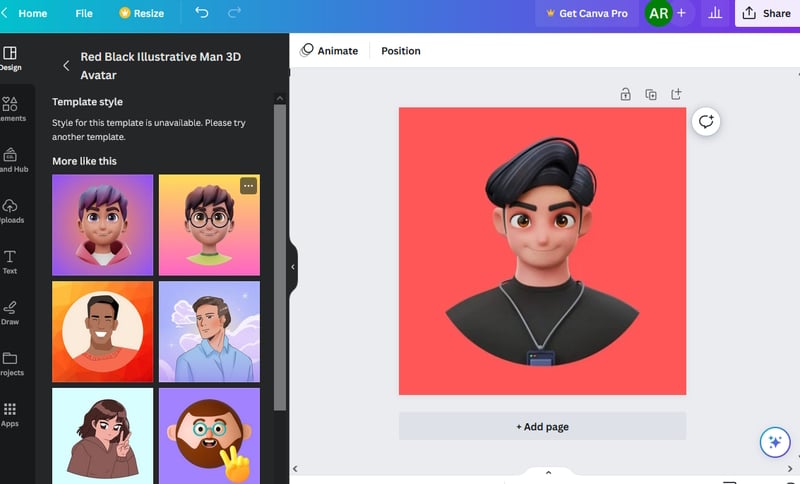 It also provides pre-designed avatar templates that you can customize to suit your needs. This feature is perfect for those who may not have the time or design skills to create an avatar from scratch.
The Good
– You get a wide range of customizable features, such as hairstyles, clothing options, and facial features. 
– Your unique avatars can be easily integrated into your website or social media profiles, creating a more professional and consistent online presence.
– Get a wide library of pre-designed avatar templates that can be customized to your liking, saving you time and effort.
---
5. Mega Anime Avatar Creator
Turn your avatar into an Anime avatar with this tool by Doll divine. It is one of the best anime avatar creator available on the Internet right now.
Avatar creator by Manga.com has been down for a while, and they promise to relaunch in the near future.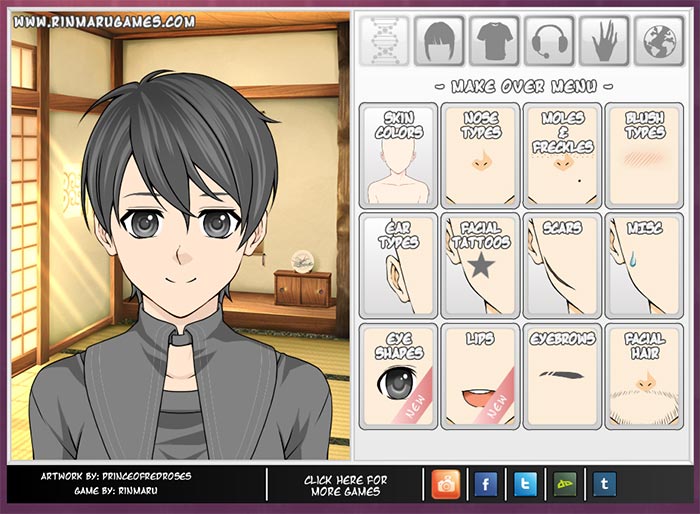 The only downside is that there is no download button for saving the avatar on your device. On smartphones, you can take a screenshot and crop the avatar.
Meanwhile, PC/Laptop users can take a screenshot by pressing Print Screen/PrntScrn on their keyboard to take a screenshot. Open Microsoft Paint and paste(or Ctrl+V) to paste the entire screen. Crop to the necessary avatar and save it in PNG/JPEG format.
The Good
– Anime and manga based hairstyles, clothes, and accessories to provide an authentic signature to your anime avatar.
– An excellent collection of backgrounds for your avatar to blend in with the manga world. There at-least 34 backgrounds to choose from.
– Facial tattoos, scars, mole and other delicate details to the appearance of anime character are also available.
Visit Mega Anime Avatar Creator
---
6. Marvel's Make Your Superhero Avatar
Marvel fans take a sigh of relief. Make an avatar out of your favourite Marvel characters such as Spiderman, Iron Man and Guardian of Galaxy characters.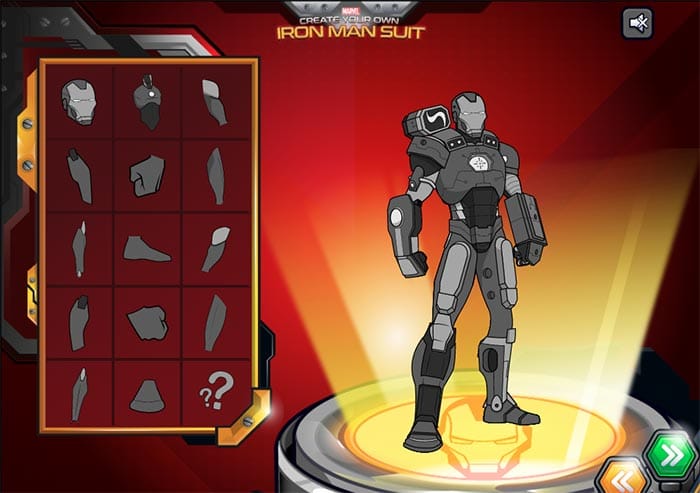 Create the best fantasy avatar of your Marvel superhero and stand from the crowd with a surge in the superheroes arena.
Let the Marvel geek in you boast the shiny superheroes amongst your family and friends.
The Good
– It includes special moves and poses for the characters.
– Interactive avatar creator with background music, apart from the ability to customize almost all elements of your superhero. It includes different colors as well.
– You can create a poster of your superhero avatar as well. It can print the poster with a background of your choice on an A4 size page.
Visit Marvel Superhero Avatar Creator
---
7. Character Creator
Full body avatars are the USP of this avatar maker. You can customize your avatar from head to toe, including each layer of clothes, apart from the accessories that go with the looks.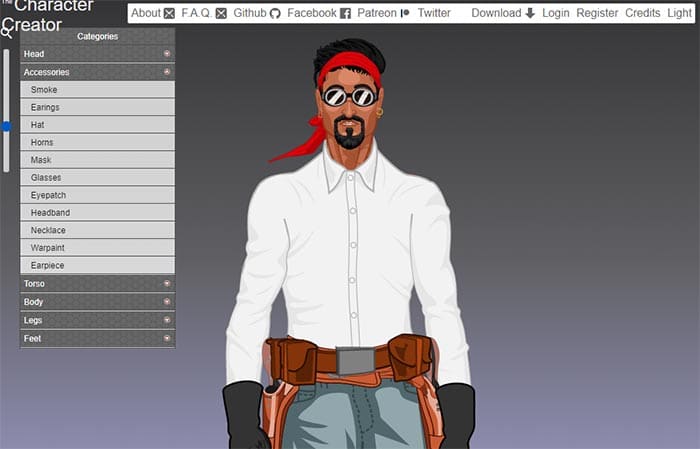 Click on any part of your avatar's body to go directly to customize settings for it. Usually, you can browse the customization from the leftwards categories as well.
The Good
– Every part of the body can be customized according to your liking. It includes clothes, the inner layer of clothes as well.
– You can add pets alongside the avatar, such as eagles, cats and more.
– The avatars can be zoomed in and zoomed out to get an overall outlook of the looks.
---
8. Picassohead
Users who are looking for artistic, creative expression to reflect in their avatar can certainly use Picassohead. Create digital color Picasso like paintings as your online avatar.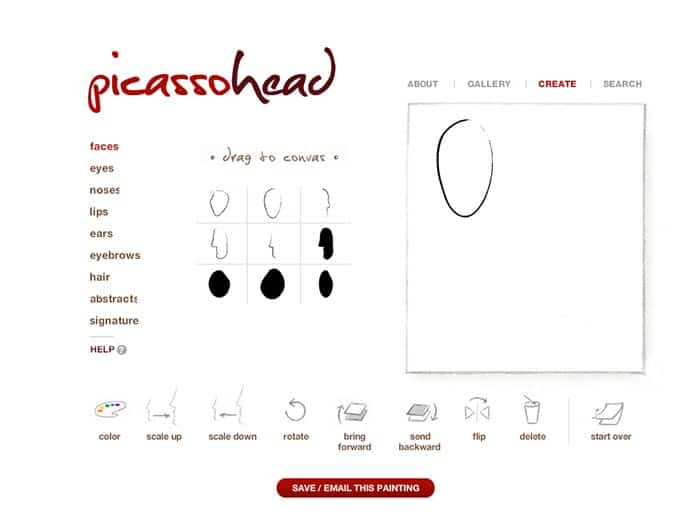 Drag and drop elements such as nose, hairs and other things to create an avatar on the blank canvass.
Saving/downloading your avatar is not straightforward. You can take a screenshot or email it yourself(or friends) from the give option.
The Good
– Painting like avatar, which is one of its kind on the Internet. It helps your avatar stand out from others on social media, online forums.
– Add your signature as painters do on the bottom of their work.
– Auto adjustment of some aspects of the avatar for ease of use.
---
9. South Park Avatar Creator
South Park fans can rejoice now. Create South Park avatar online with the official tool from South Park studios itself.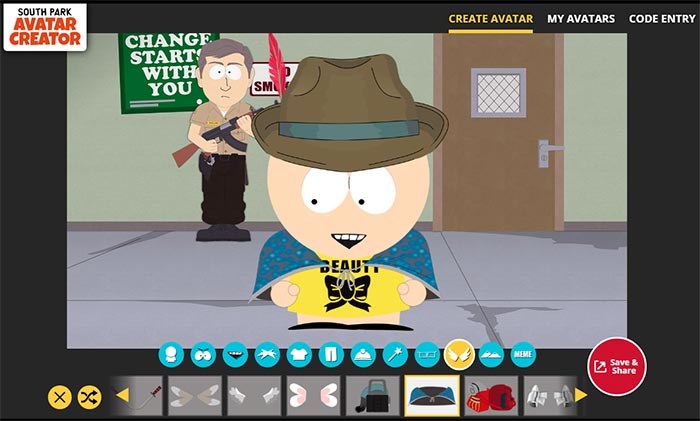 It has all the characters of South Park, that can be turned into avatars of your choice with customization.
The Good
– Five different skin tones according to continents and regions.
– Set it as your avatar for the South Park forum directly from the same page.
– You can store your avatars under the My Avatars section, for which you need to login into the website.
Visit South Park Avatar Creator
---
10. Charat
Charat is amongst the best online avatar maker for cute(Kawaii) Chibi characters originating from Japan. It has an intuitive and easy interface for creating Anime avatars.

Avatar character has a default, pre-made build on which different customization can be applied to improve the beauty/aesthetics of your anime avatar.
The Good
– Extremely easy to create as characters are pre-made
– Avatar can be directly shared to social media sites like some of the other website
– Variety of customers, hairdos are available on top of the base look.
---
11.Face Your Manga
Create a Manga avatar online with Face Your Manga. It offers attention to detail for customizing the Anime character as per your liking.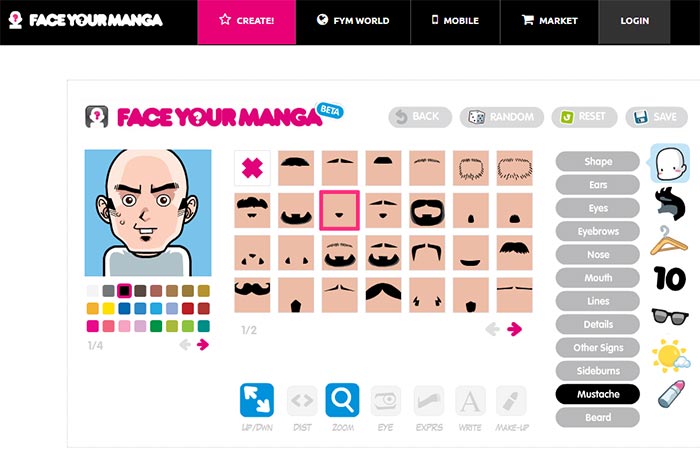 For downloading your created anime avatar, email and relevant personal information need to be entered. It can be dodged by using temporary emails, with my favourite being 10minutesmail.
In the email, you will receive two links, one for downloading and another one for viewing purposes.
The Good
– Supports standard avatars as well apart from anime/manga characters. You can create cartoon avatars of any kind as well.
– The most comprehensive range of face shapes across any other avatar maker.
– Feature to write words of your choice in various fonts on the avatar as well.
---
Why use Avatars online?
Protection against online identity theft and breach. Often hackers steal your photos from online social media handles.
They use it to impersonate you for various nefarious reasons.
Avatars help in establishing a single identity across different platforms. With the help of Gravatar, use it across forums, social media and tie a unique identity to your avatar.
Online avatars last longer and can be kept for a considerable amount of time. Cartoon avatars do not need to be updated frequently as opposed to real photos.
You can use them for a more extended period, without worrying about getting outdated.
---
FAQ
What is the best free avatar creator?
Avatarmaker is one of the best free avatar creator website which generates a cool avatar of yours. You can find more Avatar making websites from the list provided above.
How do I create an avatar of myself?
You can easily create an avatar of yourself using these avatar builder websites available online. some of the best websites can be found mentioned above.
What app lets you create your own avatar?
Apps like Bitmoji, MSQRD, and FaceQ are the best ones that let you create your own avatar.
---
Over to You
These were some of the best websites to create avatars online on the go. Some of these websites do not allow downloading the created avatars.
You can take a screenshot of the avatar to surpass the restriction, essentially not compromising on the quality of the