Thanks to the availability of free beat making software it's now much easier and cheaper to draft, compose, mix, make and master beats for songs.
Earlier, huge upfront investments like physical Digital Audio Workstations, rent for Music Studios, synthesizers, and hardware compressors were required to be a Music Producer to make beats and songs.
Now, anyone with a computer can now use a DWA or beat maker to start producing high-quality beats or music.
As a matter of fact, upcoming artists, DJs are producing industry-standard content with basic equipment like DAW, Audio Interfaces, and Preamps.
As the title of this article suggests, we have compiled a list of the best free, freemium, and open-source beat making software for Windows 11/10 PCs, Macbooks, and MAC PCs.
RELATED: Best Free Video Editing Software
---
Best Free Beat Making Software For PC
1. FL Studio – Professional Beat Maker Software

| | |
| --- | --- |
| Best Features | Clean Interface, Huge Library Of Online Resources. |
| Availability | Windows, macOS |
| Pricing | Free, $99.00, $199.00, $299.00, $899.00 |
| Download Link | Download FL Studio |
Initially launched in 1997, FL Studio is a professional digital audio workstation. The free beat making software is perfect for recording sounds, editing samples, playing instruments, and adding effect.
Over the years, thousands of plug-ins and add-ons have been developed for FL Studio which caters to the never-ending creativity of producers.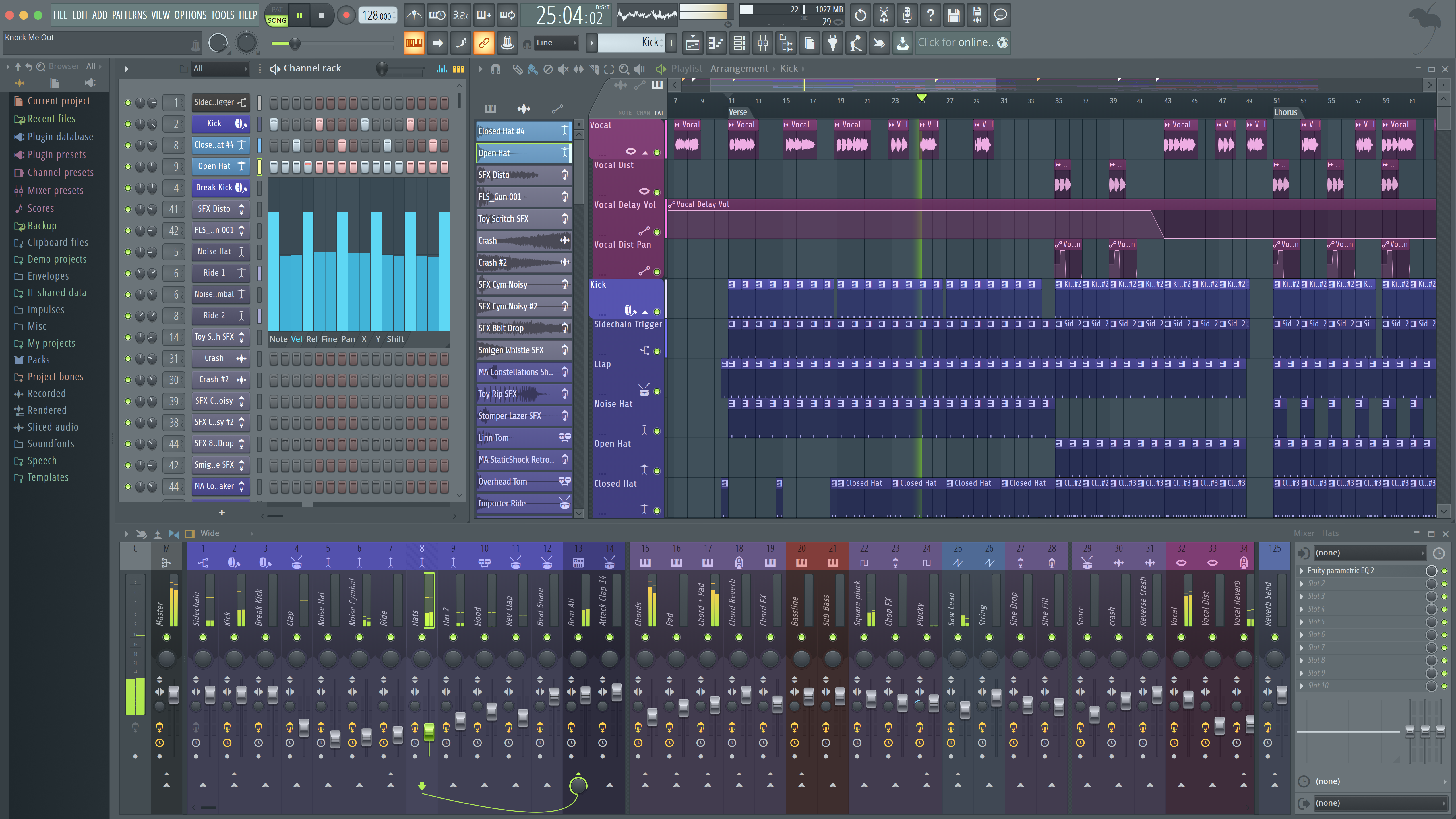 Functional and minimalist interface is one of the selling points of this free beat maker for PC. Furthermore, users can easily customize the layout based on the workflow and instruments of choice.
Thanks to the availability of countless tutorials, how-to videos, and online educational resources it's fairly easy to learn FL Studio and start producing beats. 
You can use the free beat software for free but there are certain limitations. For instance, the unlimited free trial of FL Studio only supports WAV or MP3 format and you can't reopen any projects.
---
2. Garage Band – Macintosh Music Software
| | |
| --- | --- |
| Best Features | Available For Mobile OS, Easy To Learn |
| Availability | macOS |
| Pricing | Free |
| Download Link | Download Garage Band |
Exclusively available for the Apple ecosystem, Garage Band is one of the best free beat making software for Mac. You can consider Garage Band as a stripped-down version of the industry-standard Logic Pro X.
The free beat making program for beginners consists of many sample instruments and it can compose melodies.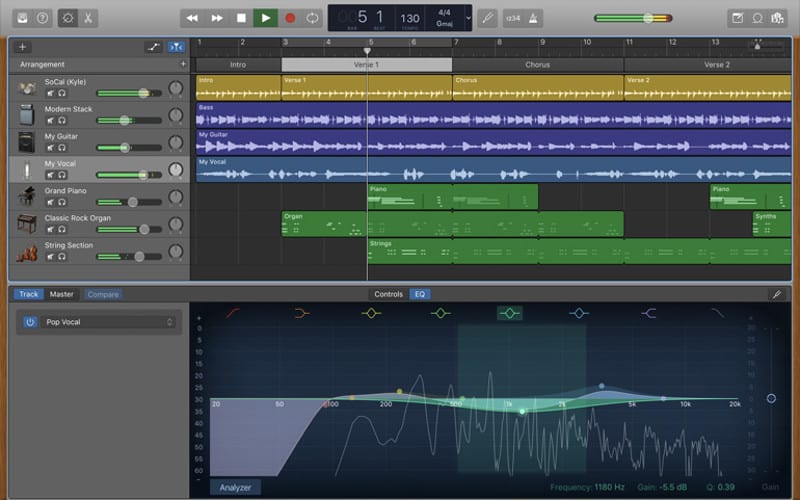 Dedicated to beginners, the beat making software has a very supportive community. The ability to create drum beats, record live sessions and clean graphic user-interface are some of the noteworthy features of this music-making app. 
Garage Band supports full MIDI compatibility. Depending on the genre of music you are working on you can choose one of many music production layouts like hip-hop, electronic, and multitrack. Sadly, the features of DAW can't be expanded using VST plug-ins.
Despite its simplicity, in the right hands' Garage Band can produce professional results.
---
3. MAGIX Music Maker – Best Beat Making Software For Beginners

| | |
| --- | --- |
| Best Features | Compatible With MIDI, Real Instrument Recording |
| Availability | Windows, macOS |
| Pricing | Free, $99.99 |
| Download Link | Download MAGIX Music Maker |
MAGIX Music Maker is a feature-packed yet easy to use beat making software for beginners. You can start creating and editing your beats using simple drag and drop commands.
The DAW is also compatible with MIDI and you can even record external instruments with ease.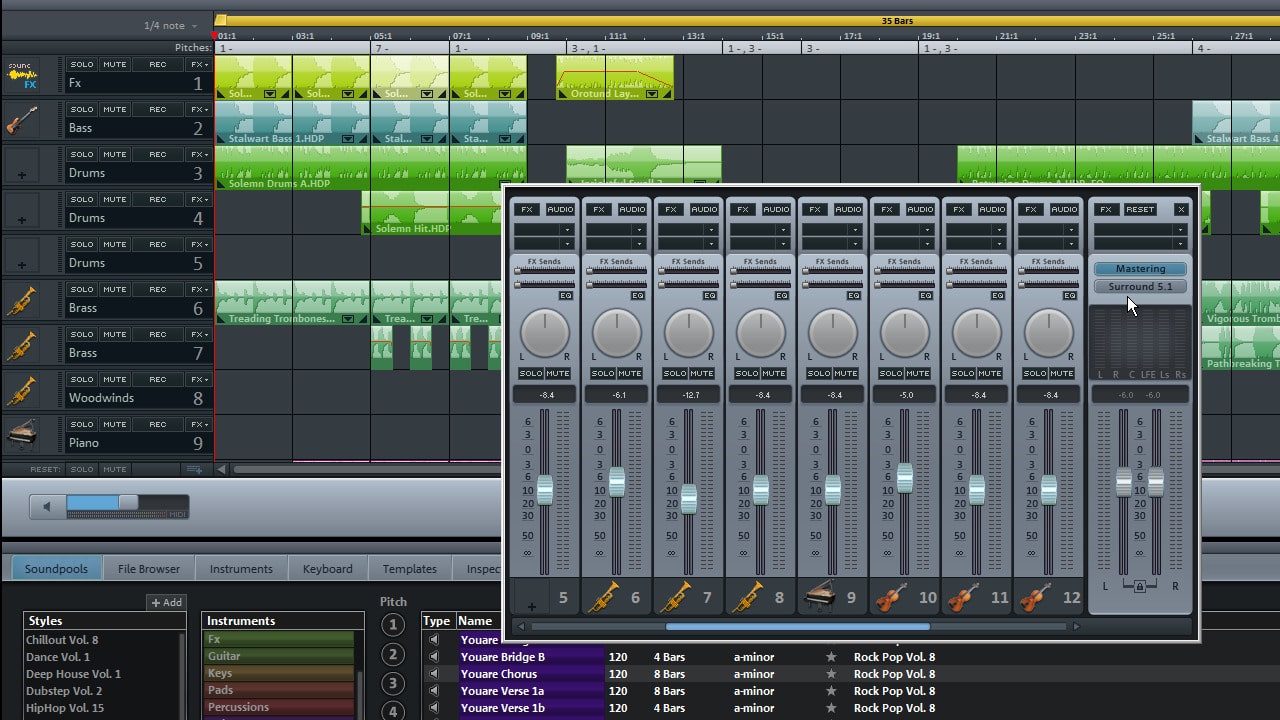 Sadly, the free beat maker has certain limitations. For instance, it only offers 425 loops, 8 effects, and only 8 tracks. However, you can overcome these limitations by making a one-time investment.
Things like bass, output volume, and noise extortion can be controlled using MAGIX Music Maker.
In a nutshell, if you consider yourself as a complete beginner then MAGIX Music Maker should be the best choice for you in this list of top 10 beatmakers. However, avoid this beat program if you are a seasoned producer, and editing and mixing options are a necessity to your workflow. Presently, MAGIX Music Maker is only available for Windows 10.
---
4. Tracktion 7 – Feature-Packed Music Maker
| | |
| --- | --- |
| Best Features | Unlimited VST Support, Old Yet Easy To Navigate Interface |
| Availability | Windows, macOS, Linux, Raspbian 10 |
| Pricing | Free |
| Download Link | Download Tracktion 7 |
Tracktion 7 is another fully-featured digital audio workstation. You can effortlessly acquire the forever-free version without any limitations but there's a catch. The company only offers the older versions of the music maker for free.
Important plug-ins like EQs, limiters, compressors, and basic FX like reverb come built-in with Tracktion T7 Daw.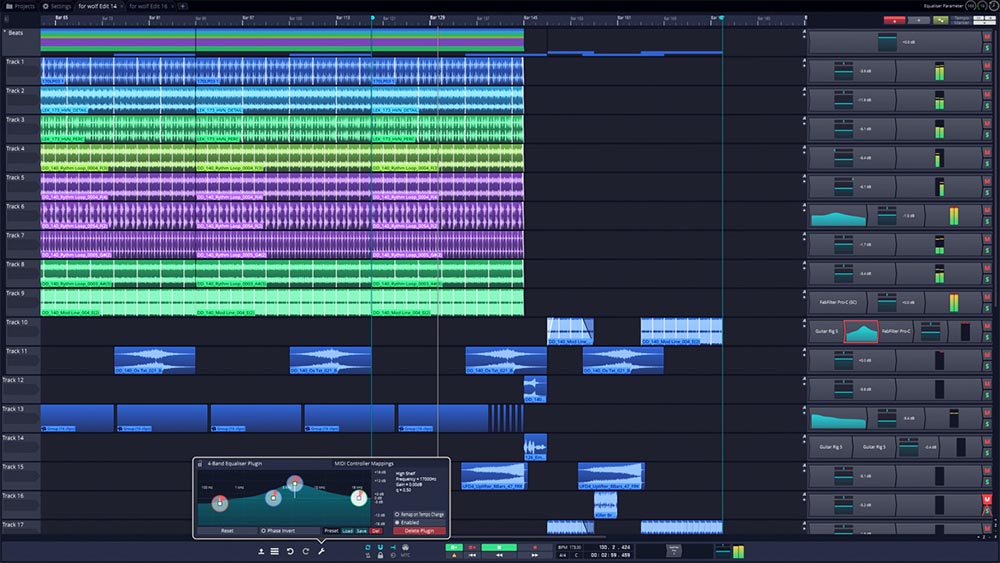 Unlike, MAGIX Music Maker Tracktion T7 is not that easy to use and you have to spend a considerable amount of time to master the software to produce high-quality beats. Based on your requirements you can even add thousands of free VST instruments in Tracktion 7. 
The next major highlight of the free beat maker is it's clean and easy to navigate interface. In addition, to beat creation, Tracktion 7 can also be used for band recordings, podcasting, and EDM production.
---
5. Serato Studio – Easy Beat Maker App
| | |
| --- | --- |
| Best Features | DJ Mixing, Consumes Fewer System Resources |
| Availability | Windows, macOS |
| Pricing | Free, $9.99 monthly subscription |
| Download Link | Download Serato Studio |
The next intuitive beat making software for beginners is Serato Studio. Luckily, the program can be used without installing any third-party plug-ins as it comes with built-in drum-kits, instruments, loops, and samples. Serato Studio is dedicated to upcoming DJs.
Well, DJs can use the beat making tool for creating DJ edits or mashups. While creating DJ edits you have complete access over the Serato DJ library, Waveforms, a mixing channel, and FX.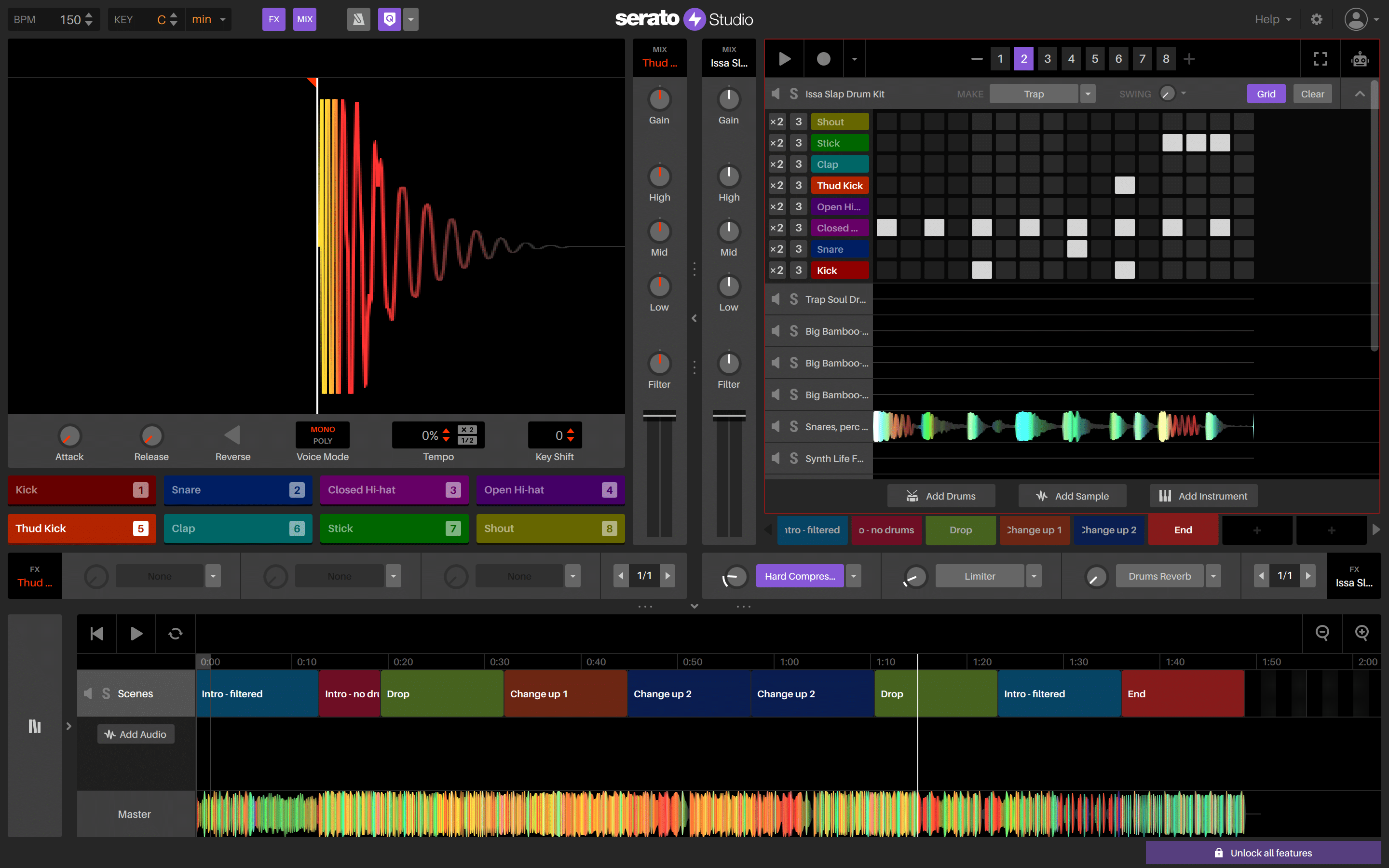 Since the program consumes fewer system resources it can be used even on low-powered laptops or aging desktops. 
The developers of the beatmaker also host the Seato Forums. One noteworthy downside of Serato Studio is that you can't preview audio loops before adding them into your track sessions.
Later down the road, If you find the software to be worthy you can upgrade to Serato DJ Pro and even purchase expansion packs.
---
6. Pro Tools First – Hip Hop Beat Making Software

| | |
| --- | --- |
| Best Features | Supports 16 Audio Or MIDI Tracks, 500MB Samples |
| Availability | Windows, macOS |
| Pricing | Free, $29.99 USD/month, $79.99 USD/month |
| Download Link | Download Pro Tools First |
If you primarily use DAWs for creating hip-hop beats then the industry-leading Pro Tools First might impress you. At any given instance, you can create 16 audio or MIDI tracks and record up to four tracks simultaneously.
The free beat making software also offers a 500MB library of samples, loops, and sounds.
Some noteworthy features of Pro Tools First are session templates in various genres, loop recording, MIDI editing tools, track freeze for saving CPU resources, and 20 built-in effects and utility plug-ins.
The program also offers access to the avid artist community. In this community, you can connect and collaborate with other artists, producers, and media professionals.
As for downsides, the free version prevents users from saving more than 3 projects. Consequently, you have to plan and execute your production beforehand. Lastly, the interface of Pro Tools First is a bit outdated and clunky.
---
7. LMMS – Open-Source Beat Software 
| | |
| --- | --- |
| Best Features | Supports VST Plugins, 16 Synthesizers |
| Availability | Windows, macOS, Linux |
| Pricing | Free |
| Download Link | Download LMMS |
Let's Make Music or often abbreviated as LMMS is an open-source beat making software that's designed by musicians for professional quality beats production.
If you have ever worked with FL Studio then you would feel right at home as LMMS is inspired for FL Studio. LMMS focuses only on beatmaking and you can't record audio using this program.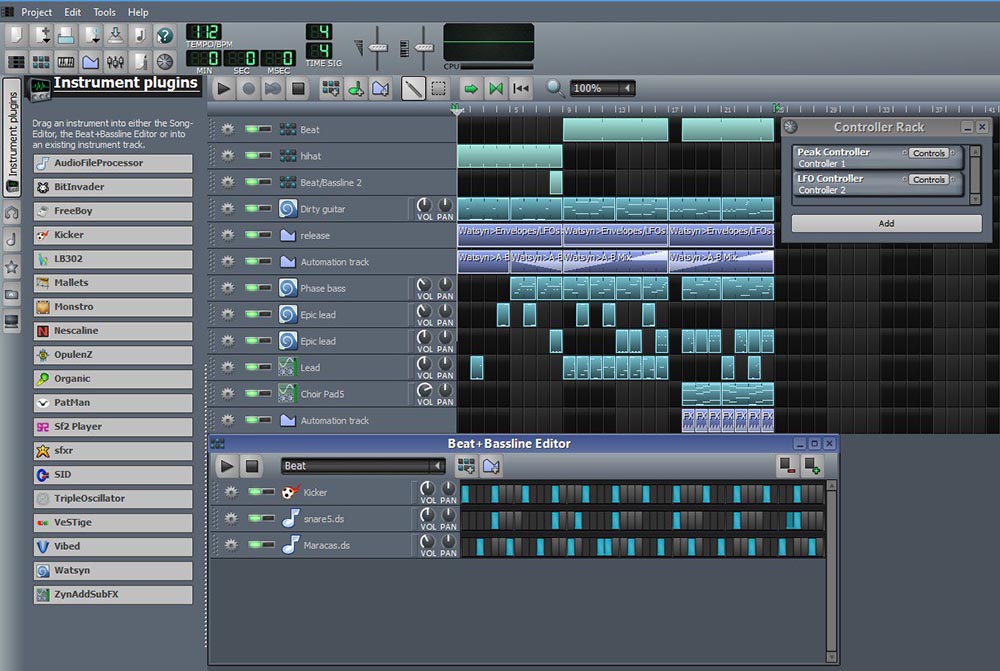 Undoubtedly, the feature-set of LMMS compensates for the dated and clunky interface. The free beat maker offers free 16 synthesizers, musical typing, and MIDI playback VST instrument bridge.
Similar to most programs on this list it will take a considerable amount of time to learn LMMS. Before applying any preset to your track you can listen to them with a single click.
Once your production is completed the track or beats can be exported in WAV, OGG, and many other mainstream media formats.
---
8. TDR Nova – Mastering Software
| | |
| --- | --- |
| Best Features | VST/AU/AAX Plugin Formats, Classical Layout/Interface |
| Availability | Windows, macOS |
| Pricing | Free, €40 |
| Download Link | Download TDR Nova |
Despite being the last step, mastering is crucial for the production of beats. Mastering helps control the overall loudness and it even enhances the tone of your beats. Well, TDR Nova is a is a parallel dynamic equalizer plugin.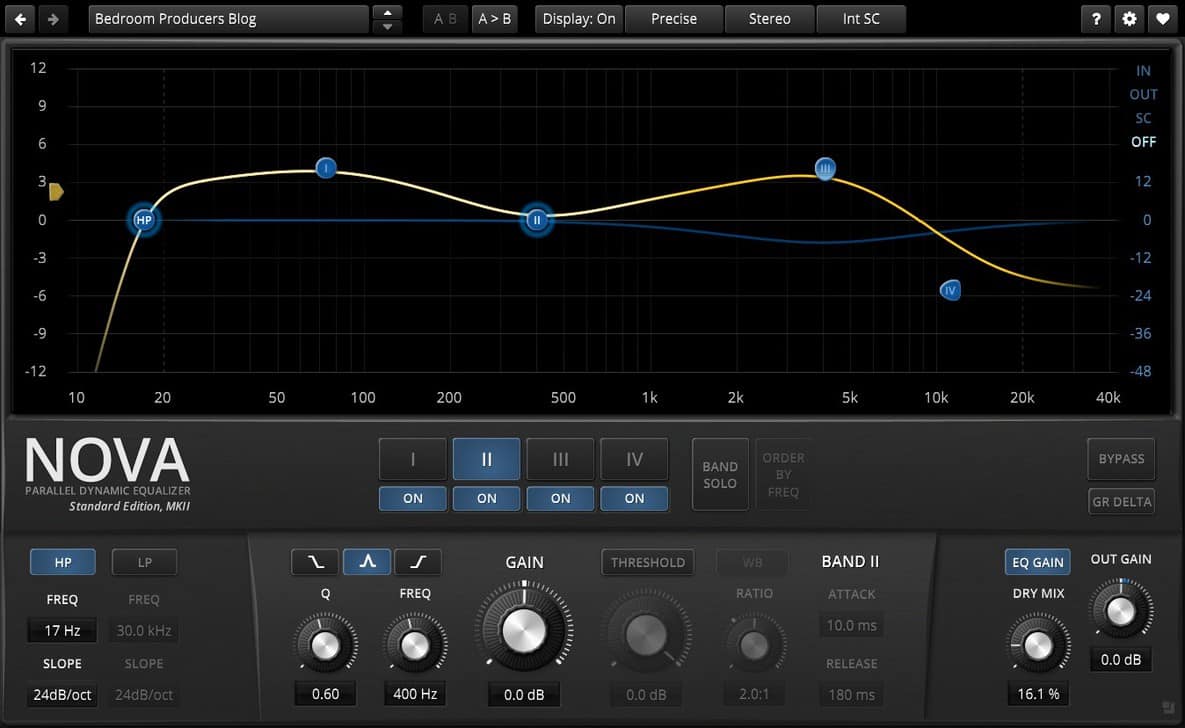 For the user interface, the developer of the plug-in has adopted what you see is what you get approach. You can easily drag and drop the effects you need while advanced features won't get in your way if you don't need them.
The five major tasks that TDR Nova can perform are parametric equalization, dynamic equalization, frequency-selective compression, multi-band compression, and wideband compression.
---
9. Studio One 5 Prime – Good Beat Maker For Beginners 
| | |
| --- | --- |
| Best Features | Drag-And-Drop Workflow, 2GB Of Free Samples |
| Availability | Windows, macOS |
| Pricing | Free, Several Paid Versions |
| Download Link | Download Studio One 5 Prime |
Designed and operated by PreSonus, Studio One 5 Prime is another beat maker free that can be used to produce either sampled or recorded beats. The hip hop beat maker for beginners has everything you need to get started.
Single-window interface coupled with drag-and-drop workflow makes the beat creation process a breeze.
The free to use trap beat maker software offers unlimited tracks, buses, and a powerful complement of virtual instruments and native effects. Unfortunately, the DAW doesn't support third-party VSTs or Audio Units.
Lastly, in order to enhance your creativity, the program comes with 2 GB of bundled loop and musical content. You can play around with the free resources and creat astonishing beats.
---
10. orDrumbox – Free BeatMaker 
| | |
| --- | --- |
| Best Features | Auto-Composition, Supports WAV File Import, Intuitive |
| Availability | Windows, macOS, Linux |
| Pricing | Free |
| Download Link | Download orDrumbox |
The last best beat production software on the list is orDrumbox. Unique features like auto-composition, polyrhythms, custom arpeggiator, automatic sounds/track matching, custom softsynths, and low-fi rendering help orDrumbox to standout from the crowd.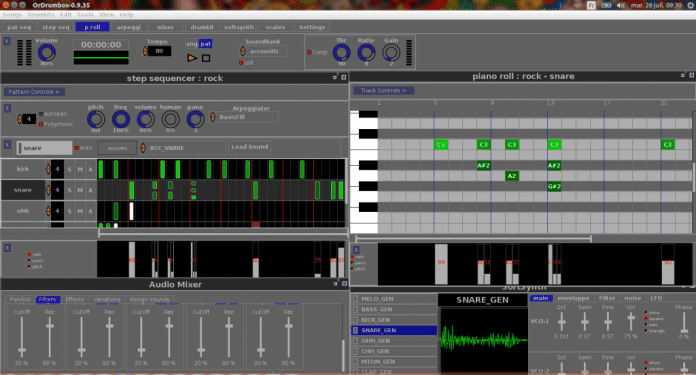 You can expand the content and effects library by downloading additional loops and samples from the official website of OrDrumBox. 
This free music making software is ideal for anyone who wants quick and fast results. orDrumbox even has the capability to automatically compose bass line, melodic patterns, and even complete songs.
Using the automatic track matching you can seamlessly sync multiple tracks together.
---
CONCLUSION
So these were the 10 free programs to make beats on PC. If you are a music producer then do help the community by sharing your favorite and free beat maker software in the comments section below.