Are you looking for the best European OwnCloud alternatives? Do you need a cloud storage solution that offers you better value than ownCloud?
This article covers the top 7 leading European alternatives to ownCloud, that you can give a try in case you are planning to switch from ownCloud to another cloud storage provider.
Let's get started.
7 Best ownCloud Alternatives in 2020
1. pCloud
pCloud is one of the best alternatives to ownCloud in Europe that is focused on data security. It is a feature-rich, secure, and easy-to-use European cloud storage company with flexible pricing and packages that are perfect for both individuals, families, and businesses.
Security
If there is one thing that makes pCloud stand out from the crowd, it is its security and privacy. It uses Cloud Crypto that uses client-side encryption where the decryption key (called Crypto Pass) is saved in your device. The files are transferred and stored in the server in the encrypted format without its key. Only the user (who has the crypto pass) can decrypt data.
Here is an overview of the major pCloud data security and privacy standards:
TLS/SSL protocol

Zero-knowledge protocol

AES 256-bit encryption

GDPR compliance

Data is stored in encrypted format in 5 different servers

ISO 9001: 2015 and ISO 27001: 2013 certificates

Two-factor authentication

Data centers in the USA and EU.
Features
Here is an overview of the core pCloud features:
Easy-to-use interface

Works on computer, mobile, and web

Automatic syncing and upload across all devices

Automatic file upload from mobile

Unlimited file size

File sharing and management system

30 days of trash history and extended file history

Personalized link sharing feature

Data recovery, file versioning, and remote upload

Backup data from Google Drive, Dropbox, and others.
Pricing
pCloud offers plans for individuals, family, and businesses. It comes with a free plan with 10GB storage to help you get started right away. The premium plans for individuals start at $4.99 per month and you can choose to pay monthly, yearly, or one-time. The best pricing feature is that you can pay a one-time payment for the plan and save yourself from recurring charges.
The business plan starts at $29.97 per month with 3TB storage and 3 users while the family plan costs $500 once for 2TB storage space and up to 5 users.
2. Tresorit
Tresorit is a decent ownCloud European alternative that focuses on data security. With its end-to-end encryption, your files and data remain secure in transit and at rest. It offers personal, business, and enterprise plans that are on the high side.
Security
Tresorit offers a high level of encryption for data protection. It uses end-to-end encryption, cryptographic key sharing, and client-side key generation. Here is an overview of the other security and privacy features:
Data is stored in multiple storage nodes

Ability to define your own security policies

Monitor usage stats

Physical security of data center

ISO 27001:2013 certified

Zero knowledge protocol

GDPR compliant

Two-step verification
Features
The main features include:
Straightforward user interface

Works on computer, web, and mobile

Supports up to 10 devices per user

File sharing and file management

Access old file versions and restore deleted files

Integration with Outlook
Pricing
Tresorit comes with a free plan with limited access to features. The premium plan for individuals costs $12.50 per month while the business plan starts at $18 per month. The price is on the high-end but still less than ownCloud.
3. Jottacloud
Jottacloud is a leading European cloud storage company that helps you access your files across multiple devices. It is focused on data backup, sharing, and accessing your files on the go easily. It is affordable and offers plans for individuals, family, and businesses.
Security
Jottacloud protects your files in transit with TLS/SSL protocol and uses AES 256-bit encryption when storing files in its server. However, the decryption key is stored in the server with your data and this is risky. The reason why Jottacloud keeps the key with it is that it focuses on sharing and syncing files, and this can't be done without previewing files.
However, it supports two-factor authentication and is GDPR compliant.
Features
Jottacloud offers you a lot of features including:
Simple and quick dashboard and user interface

Access your files from the web, computer, or mobile app

Automatic video and photo backup from phone

Store photos and videos in original size and format

Document preview and collaboration in real-time

Document scanner

Share files and photos with a single click

Recover deleted files.
Pricing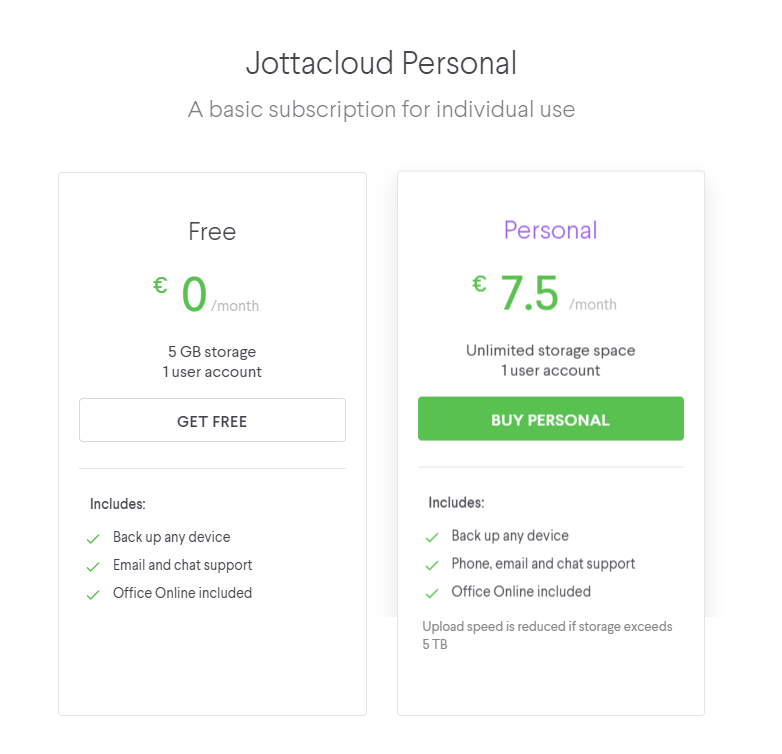 Jottacloud offers individual, home, and business plans. You can use it free with 5GB storage. The premium personal plan costs €7.5 per month with unlimited storage. The starting price for the home plan is €6.5 per month for up to 5 family members and 1TB storage. Business plans start at €8.99 per month with support for 2 users and 1TB storage.
4. Secure Safe
Secure Safe isn't a traditional storage company that will offer you lots of features and storage space rather it is focused on the security of your files. It has a password manager that helps you manage and secure your passwords easily.
Security
Security is the core feature that Secure Safe offers its users. It encrypts your files and saves them to its two data centers in Switzerland. The decryption key is in your device and you can set your account to access encrypted files when the user is logged in. It uses AES 256-bit client-side encryption and SSL protocol to secure data in transit.
Other security features include:
Private safe with triple data backup feature

Multi-layered cryptographic design for enhanced security

Your password isn't stored

Zero knowledge and GDPR compliant

Individual encryption of each document/file you upload

Physical security of the data centers.
Features
The main Secure Safe features include:
Simple user interface

Works on web, computer, and mobile devices

File sync and sharing

Password storage

File preview, versioning, and restoration of deleted files

Secure data synchronization across devices.
Pricing
Secure Safe doesn't offer you with lots of data storage since its primary function is data security. It has a free plan with 100MB private storage. The premium plans start at $1.5 per month giving you 1GB storage and unlimited passwords. The team plan costs $4 per month and the business plan costs $9.50 per month and both come with 10GB storage.
5. CloudMe
CloudMe is a decent cloud storage company in Europe that offers all the basic-level services that you need. It lets you backup your photos and videos from the mobile phone automatically, sync, and stream on the go.
Security
This is one area where CloudMe doesn't do a great job. It doesn't support encryption, however, it is GDPR compliant. The only information available on data security is that the data is stored securely in their data center in Sweden.
Features
This is where CloudMe performs much better:
Easy-to-use interface

Works on web, mobile, computer, TV, Linus, and NAS

Automatically upload and backup media from your phone

Sync files and folders across devices

You can play audio files from its mobile app

Collaborate with peers and family

File sharing system
Pricing
The individual plans are very affordable while business plans are expensive. You can use the free plan with a 3GB storage limit. The smallest individual plan costs €1 per month and supports 10GB. The smallest business plan costs you €149 per month for 100GB and 5 users.
6. Livedrive
Livedrive is a powerful and user-friendly ownCloud European alternative. It offers you backup and online storage facilities that make it easier to access your files from different devices whenever you need them.
Security
Livedrive lets you view and share your stored files which make it less secure. The data is encrypted with AES 256-bit protocol, but the key is retained by Livedrive. It supports two-factor authentication, is GDPR compliant, and ISO 27001 certified.
Features
Livedrive offers you the following features:
An easy-to-use interface that's pretty straightforward

Works seamlessly on the web, computer, and mobile

Automatically upload photos and videos from mobile

Access and edit files from any device

Share large files easily

Restore deleted files

Collaboration feature for teams

Up to 30 old versions of your files.
Pricing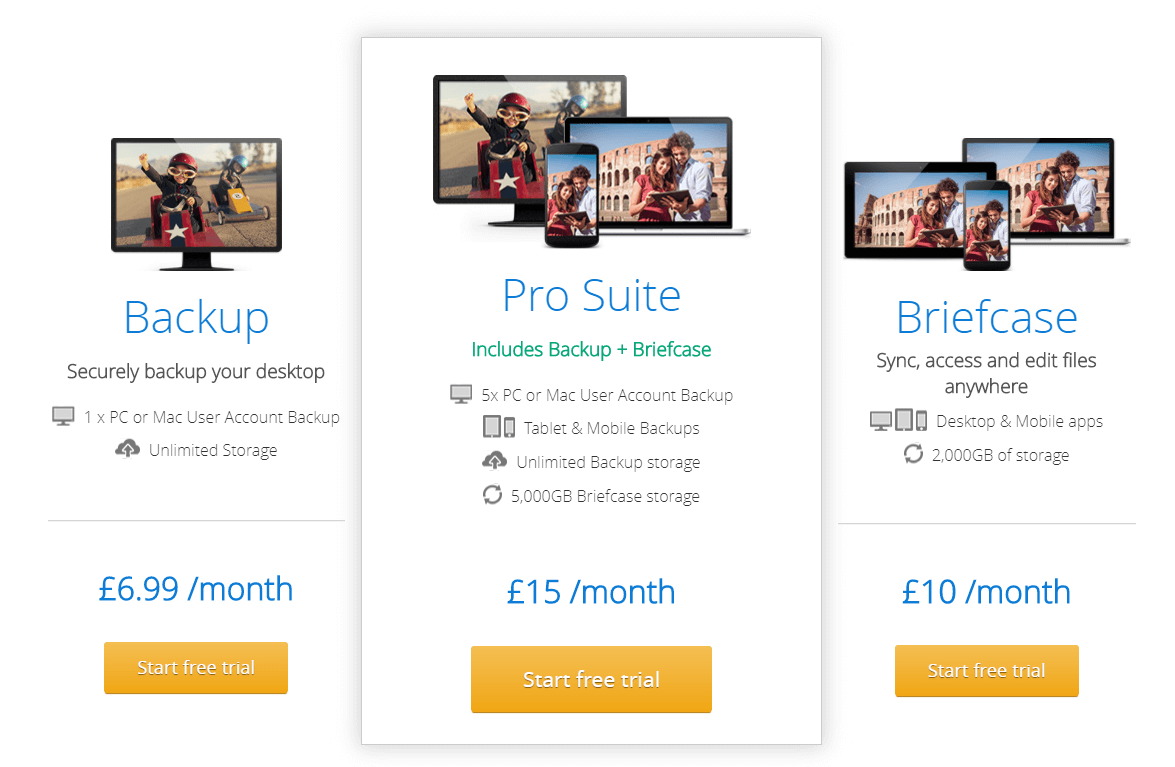 The starting price of personal plans is £6.99 per month with unlimited storage. You can get the premium plan at £15 per month with unlimited backup, 5TB briefcase storage, and 5 users. The business plan starts at £30 per month supporting 3 users with 2TB storage.
7. Icedrive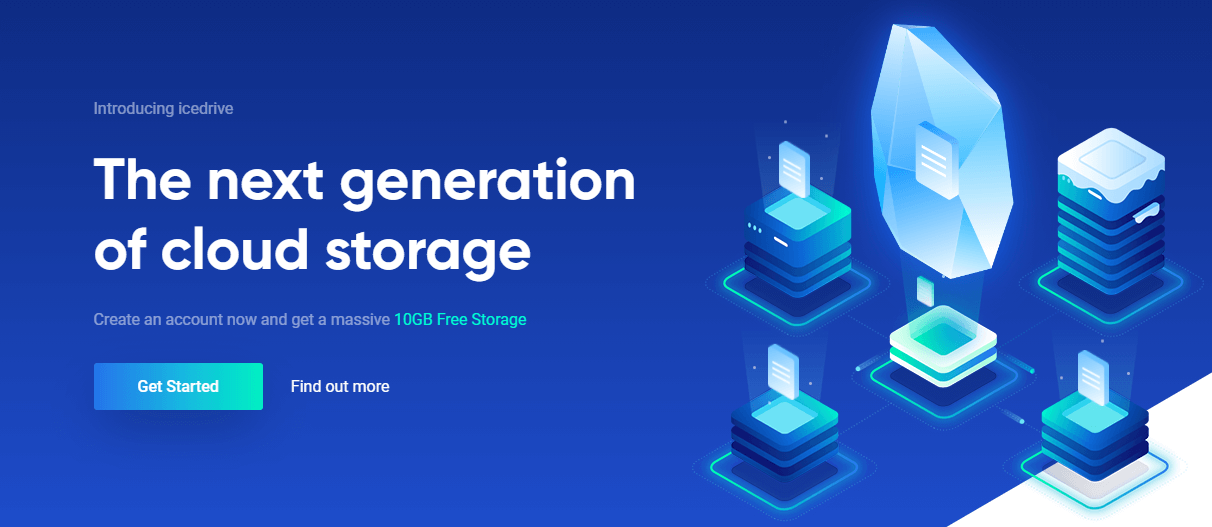 Icedrive is a new but effective storage company that was started in 2019. It has a powerful security feature that ensures your data is safe with them.
Security
Icedrive uses client-side Twofish encryption that is considered more secure and safe than AES. The decryption key stays on the user device making it a zero knowledge cloud storage solution. Other key security features include:
Double encryption in transit

At rest encryption

GDPR compliance
Features
The major Icedrive features include:
Simple user interface

Works on computer, mobile, and web

Preview files on your computer

Past versions of your files

File and folder sharing

Play media files

Versioning.
Pricing
It comes with a free plan with 10GB storage. The premium plans start at $1.67 per month, however, you'll have to pay either yearly or lifetime. It doesn't support monthly payments. With a $59 one-time payment, you can get 150GB storage and 250GB monthly bandwidth for life.
Conclusion
When comparing these 7 European cloud storage alternatives of ownCloud, pCloud turns out to be the best choice that is cost-effective, extremely secure, and feature-rich. Tresorit also offers similar features but it is way too expensive and doesn't offer any lifetime plans like pCloud. Jottacloud lacks in security and privacy of your data. Secure Safe is indeed secure, but it lacks most of the basic features and doesn't offer large storage. CloudMe and Livedrive don't have zero knowledge protocol as they're more focused on file viewing, editing, and sharing making your data less secure. Icedrive has average security and lacks basic features since it is new to the game.
Overall, pCloud offers you everything you need in a cloud storage provider. Give it a try and see for yourself.