It is the early 2000s, and you just got a brand new computer with Windows XP installed. And then, to test out the promised gaming capabilities, you head to play the bundled games.
Eyes meet the 3D Pinball Space Cadet, a 3D game that is intuitive and flashy, and the rest is countless hours of nostalgia.
The cult-following laden game was originally bundled with Windows 95's superpack, with the intention to show off the operating system's gaming capabilities.
It was then subsequently included in the succeeding Windows versions such as NT 4.0, ME, and ultimately on Windows XP.
Microsoft went ballistics with 3D Pinball Space Cadet on Windows XP.
They widely promoted it, along with newly added utility tools. No special Microsoft Plus! pack was needed this time around as it was shipped with the default OS.
Things Went South
After a great reception and a cult-like following of the game, Microsoft decided to include Pinball on Vista.
However, that hit the roadblock due to collision bugs on the Vista, as reported by Raymond Chen. The same person who has shouldered the responsibility to port it from Windows 95 onto later installments of the OS.
The game might officially be out of commission but you can still play 3D Pinball Space on Windows 10 PC and its immediate predecessors.
How To Play 3D Pinball Space Cadet on Windows 10
You can download and play 3D Pinball Space Cade on Windows 10. First, download 3D Pinball game from the link and then install it in 2 easy steps.
1. Download 3D Pinball Space Cadet installer and launch the setup.
2. Click on next button for going into the next section.
3. On this page, you will be asked permission to install. Click on the Install button to begin to process.
Do bear in mind that administrative access will be needed. You must have administrator privileges as it will install in the system partition.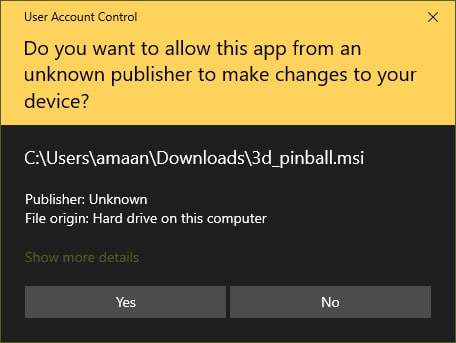 4. Launch the game from the desktop or start menu shortcut. The 3D Pinball game will open in windowed mode.
Recap of 3D Pinball Space Cadet
You must have spent thousands of hours playing the game. However, it doesn't hurt to refresh the basics and start scoring big scores on the board right away.
The resolution is fixed, even on the full screen.

Controls are the same. Z and / to control left-right flaps. Space to release the ball. You can head to controls for more information.

A total of 4 players can play together to compete for the highest score.

The high scores board can contain up to 5 scores.

---
Is it safe to download the 3D Pinball Space cadet file?
Your doubts are valid. A random file from the Internet does not warrant a lot of confidence.
What if it carries something malicious, perhaps a virus or malware. Don't sweat, we tested it using VirusTotal and results are promising with zero detections.
---
Over to You
Installing 3D Pinball Space Cadet turned out to be easy as a walk in the park. Install it like any other application and start playing.
There are other ways too for downloading Pinball as well. However, they are complex and unreliable.