If you are looking for the Best Windows 11 Antivirus Software then you have landed on the right webpage.
Since Windows is the world's most popular PC operating system it's generally infected by Viruses, Trojans, malware, ransomware, and phishing scams.
Malware and viruses can infect your PC from anywhere from browsing the Internet, checking mail attachments, USB drives, Software, or other freeware.
To protect your computer you need a reliable Antivirus Program For Windows 11 PC.
Sometimes, the built-in Windows Defender is insufficient, and you need the extra layer of security to secure your computer.
We have tested these antiviruses and also cross-verified them with several AV test Labs results, rankings, and scores including AV-Comparatives, AV-Test, and SE Labs.
RELATED: Best Windows 11 Themes & Skins To Download For Free
---
Why Use Antivirus For Your Windows 11 PC?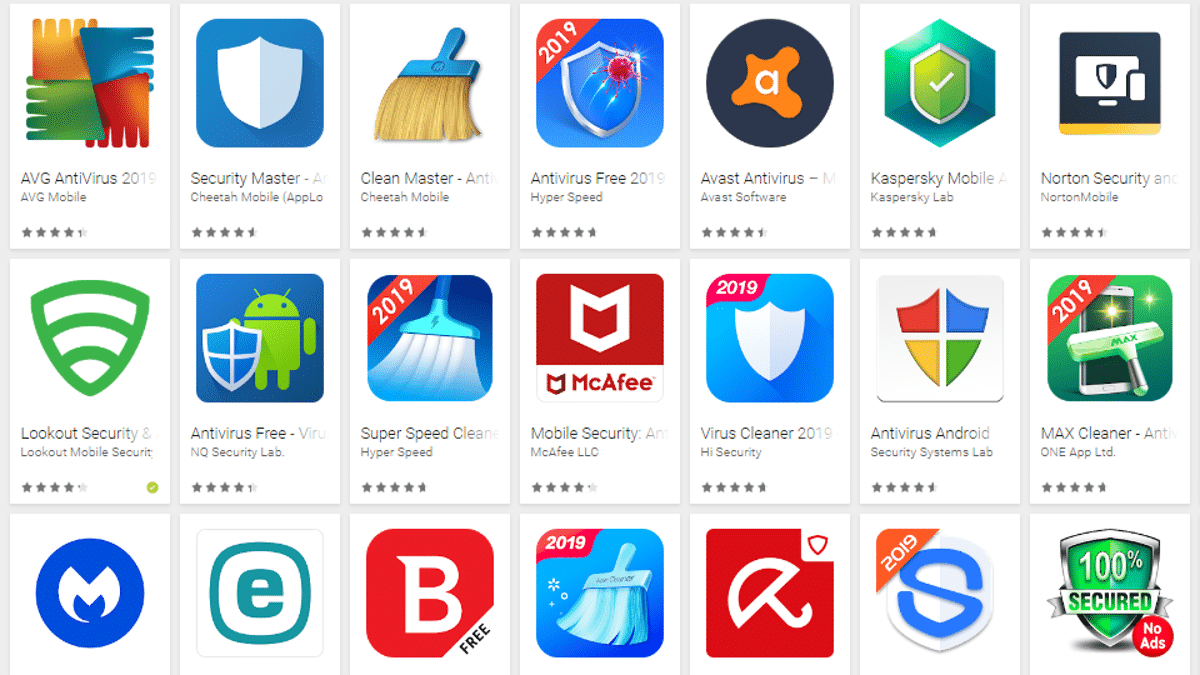 Windows OS is used on more than one billion computers in existence. This makes it an ideal target for hackers and scammers. In order to protect both your valuable data and devices, you need an Antivirus program.
Every day new malware, ransomware, and viruses are developed as a result it's important to run an antivirus program in the background all the time.
Moreover, it's a good practice to keep both your Windows and Antivirus software up to date.
Most Antivirus software for Windows 11 offers protection against Viruses, Rootkit protection, Bot protection, Worm protection, Trojan horses, Spyware, and Messaging protection.
In addition to an Antivirus you can also use a VPN and Password manager to increase the safety of Your Windows 11 desktop PC or laptop.
So in no particular order, these are some of the best Windows Antivirus that are worth checking out.
Best Free Windows 11 Antivirus Software
1. Windows Defender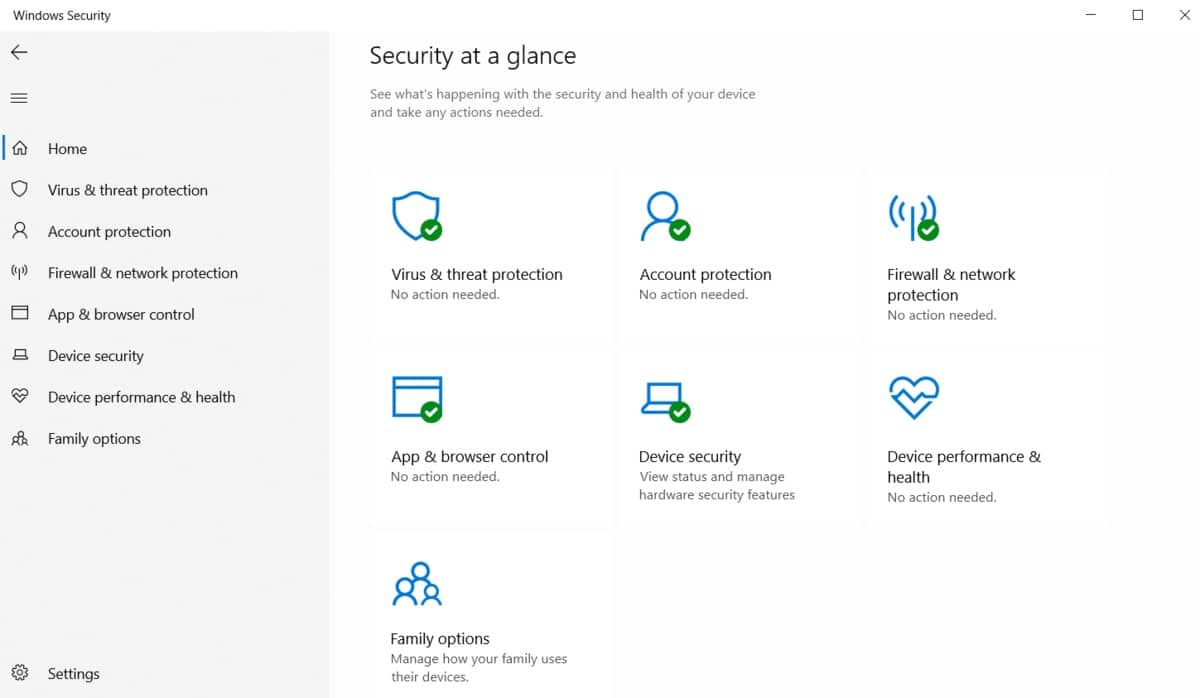 First, on the list, we have the tried and trusted Windows Defender. As the name suggests, Windows Defender is a built-in Windows 11 antivirus that simply gets the job done. If you are a casual Windows user who practices safe computing then Windows Defender is more than enough for you.
The free Microsoft Defender Antivirus Software scans your computer on a regular basis. Furthermore, if it notices any unusual activity you are instantly notified.
Since Windows Defender is a part of the Windows OS its doesn't consume additional system resources.
PROS
No additional installation is required as it comes preloaded on the OS.
Very lightweight and does not eat your computer's resources.
Free forever with no hidden fees or future payment plans.
Easy to use dashboard for users with different levels of computer knowledge.
Real-time scanning against a centralized online database for threats.
CONS
Lacks integration of Microsoft Cloud app on the Defender.
False positives are higher than standalone antiviruses for Windows 11.
---
2. Bitdefender Antivirus Free Edition
Next on the list, we have Bitdefender Antivirus Free Edition. The free edition of Bitdefender offers real-time monitoring for viruses, malware, spyware, and ransomware attacks. You can even use this free antivirus software for Windows 11 to scan EXE files on your computer before installing them.
Do note that you can only protect one Windows PC with the free version of Bitdefender.
Update – The company retired the original free Bitdefender Antivirus for Windows a while ago. A new free version has been launched by the company.
PROS
Free plans are available across all the devices, offering decent protection cover.
It offers a very reliable VPN on the app itself.
Phenomenal cloud management of the connected devices.
Provides protection against suspicious links and blocks them while asking you for permission.
It does not bog down computer resources like most antiviruses available for Windows 11.
CONS
The online installer can be a painstaking task for slower Internet connections.
Their customer support is not that great. We can only communicate via emails, with replies taking as long as 18 hours.
Download Bitdefender Antivirus Free
---
3. Sophos Home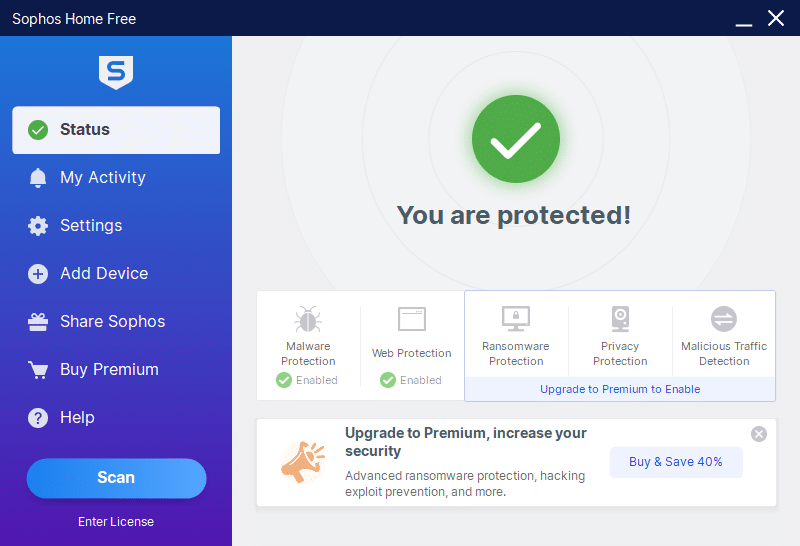 Sophos Home is another trustworthy and free antivirus software that offers protection for three Windows PCs. Well, Sophos Home also offers a dedicated malware removal tool that can troubleshoot and clean your infected PC.
The free Windows 11 antivirus offers protection against phishing and hacking while you are shopping or banking online.
In addition to Windows, Sophos Home is also available for macOS. Furthermore, if you get the paid version of Sophos Home you can protect a maximum of ten computers.
PROS
Remote control app for scanning, control, and even threat analysis without touching the device
No strings attached free version of the antivirus offers great virus protection.
Robust AI threat detection mechanism that blocks every threat
Sophos also encrypts your keylogging activities, providing protection from keyloggers
Control up to three devices in the free version, which can be controlled centrally from a dashboard.
CONS
Average phishing test scores as analyzed by industry experts
Ineffective parental control that only logs the activity while displaying the warning. The sites are not blocked from being accessed.
Download Sophos Home
---
4. AVG AntiVirus Free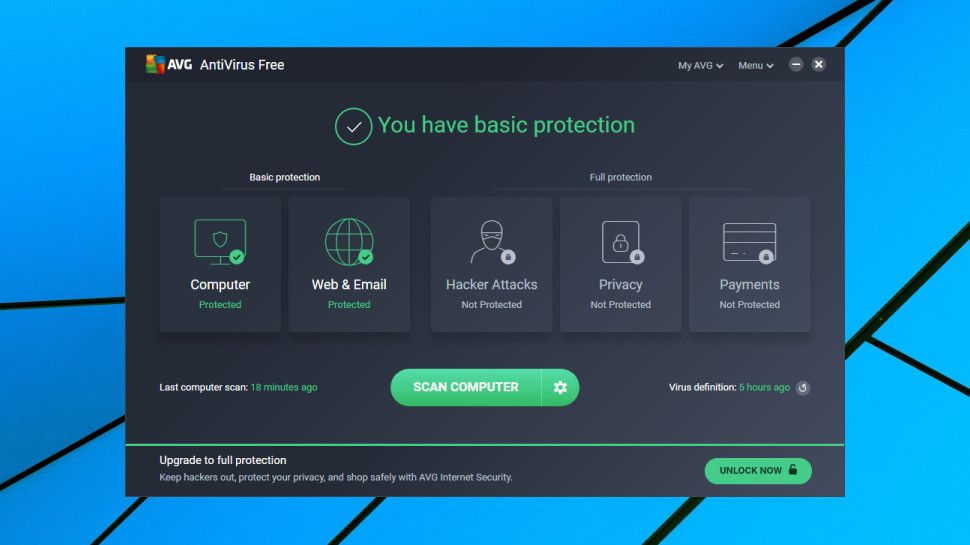 AVG AntiVirus doesn't need any introduction but you will be surprised to know that AVG has a free variant. AVG uses the same malware-detection engine found in Avast but it consumes fewer system resources in comparison.
Important features like Email Scans, Game Mode, and Scan Scheduler are available in the free variant of AVG. Additionally, you even get access to some of the customization tools like a file shredder and a system optimizer.
One noteworthy downside of AVG AntiVirus Free is that you will be constantly notified to upgrade to the paid version.
PROS
Offers a full-fledged version in the free variant without holding essentials behind a paywall.
Valuable additional utilities are offered, such as a file shredder, VPN solution, and a web security plugin.
Email shield which protects against phishing attacks and dangerous attachments that can infect your Windows PC
AVG offers six different layers of protection against viruses, malware, and spyware.
It performed consistently well on tests performed by various antivirus security lab teams across the world.
CONS
The malware detection is not perfect, often resulting in false positives.
Outdated interface compared to its competitors. On top of that, there are a few complex settings that novice users cannot handle.
Download AVG Antivirus
---
5. Malwarebytes Free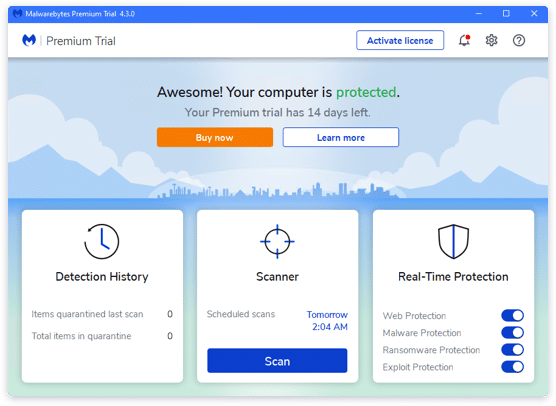 If you scouting for a free malware-removal tool then do checkout Malwarebytes Free. Earlier known as Malwarebytes Anti-Malware, the software does an excellent job in removing malware, adware, and all sorts of unwanted files and applications from your PC.
Do note that unlike the other antivirus software shared in this article, Malwarebytes Free won't prevent your PC from being infected. Consequently, you can use this program as a complement to your dedicated Antivirus.
PROS
One of the fastest scans available for malware detection without putting an overheard on the computer resources
Intuitive user interface that provides all the details without cluttering the central dashboard. Take quick action with the facts without getting overwhelmed.
Automatic scans happen in the background without the user ever getting disturbed. The process is swift and discrete, not hampering any activities happening on the computer.
Never slows down your computer as many antiviruses do in the garb of providing intensive protection.
Prepares detailed reports of the performance on a weekly basis. Have a closer look at the heavy-lifting Malwarebytes does all week.
CONS
High CPU usage while Malwarebytes is installing an update, which is done once in a while
The premium's trial mode is turned on automatically every time this Windows 11 antivirus installs an update.
Download Malware Bytes
---
Best Paid Antivirus Software For Windows 11
1. Norton AntiVirus Plus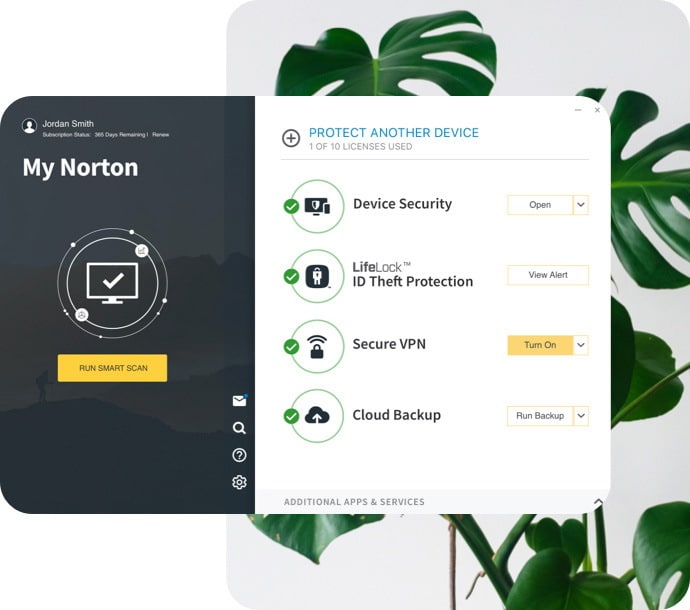 Norton AntiVirus Plus is hands down amongst the best antivirus for Windows 11. It is a feature-packed antivirus that secures your computer from all sorts of virus attacks in existence. With one PC coverage, Norton protects you from malicious sites when you browse the internet.
The intelligent firewall alerts you whenever something is wrong with your PC and it doesn't allow untrusted applications and programs to gain administrator access. At first glance, you will find the interface of Norton to be a bit confusing.
For a yearly price of $60, Norton AntiVirus Plus offers an unlimited password manager, backup software, and 2GB of online storage as well. As for downsides, Norton consumes a considerable amount of system resources for its proper functioning.
PROS
Smart firewall for monitoring interaction between your computer with others on any network. Instantly block any unauthorized incoming traffic.
Easily generated and securely stores all your passwords, credit cards, etc., in one place using the in-built password manager. Don't let hackers or viruses get a hold of them.
Get 2 GB of secured cloud space for storing all your essential files and mitigate the risk of theft, hard drive failures, or even ransomware.
Norton offers a unique 100% virus protection promise. It involves their customer support staff helping you get rid of the viruses, and failure to do so will get you a full refund.
Advanced parental control will help you keep a tab on your kid's online activities. Control what videos are allowed, which sites to be blocked, and monitor their online searches
CONS
The offered VPN has a device limit and is not available with the basic plan.
You cannot avail of the virus protection promise unless auto-renewal is in place.
Download Norton AntiVirus Plus
---
2. McAfee AntiVirus Plus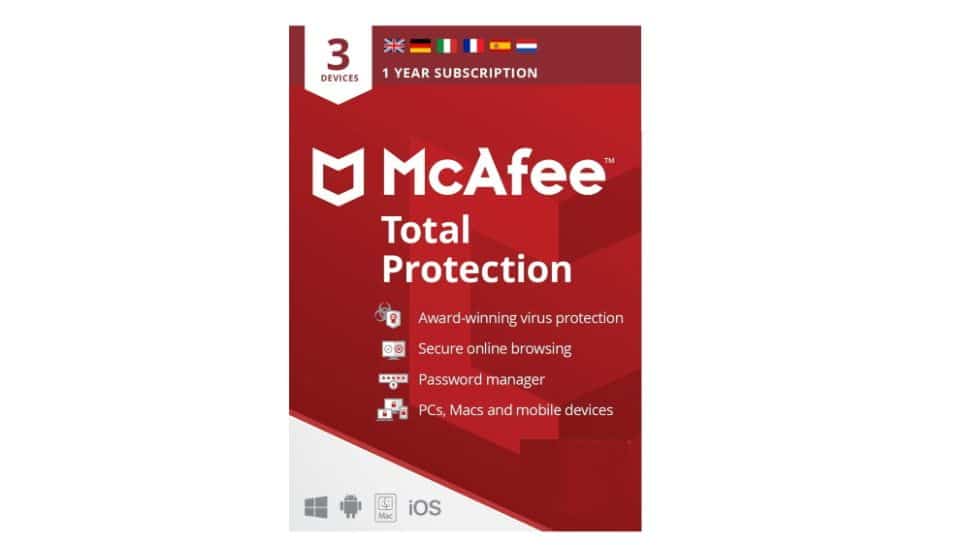 Next on the list of the best antivirus for Windows 11, we have McAfee AntiVirus Plus. This AntiVirus is ideal for users who have multiple computers and smartphones as it offers 10 device protection.
Some noteworthy features of McAfee AntiVirus Plus are Firewall, Game Mode, Ransomware Rollback, Protective Browser Extensions, File Shredder, and many more. Furthermore, you even get a Windows 11 VPN without any limitations.
The price for the protection of ten devices is $60 per year, while it's $40 per year for a single PC. In addition to Windows, McAfee is available for Windows, Mac, Android, or iOS. Sadly, McAfee AntiVirus Plus consumes a considerable amount of system resources while it's running in the background.
PROS
Monitor up to 10 different email accounts under one account, offering robust protection against phishing and malicious attachments
Unlimited VPN is available across all the McAfee plans. The number of devices, however, will vary based on your subscription.
A password manager is also available for keeping all your passwords inside an impenetrable vault.
McAfee web advisor helps you steer clear of the threats online. The free browser extension enables you to avoid misclicks scan downloads and reduces typo protection.
Dedicated parental control that works without missing any activity or site. Stay on top of the activities on the computer, and block inappropriate or time-wasting websites.
CONS
No option to temporarily disable the antivirus for a specific period of time
The computer starts lagging on older systems when the scanning or updates are in the process.
Download McAfee AntiVirus Plus
---
3. Kaspersky Total Security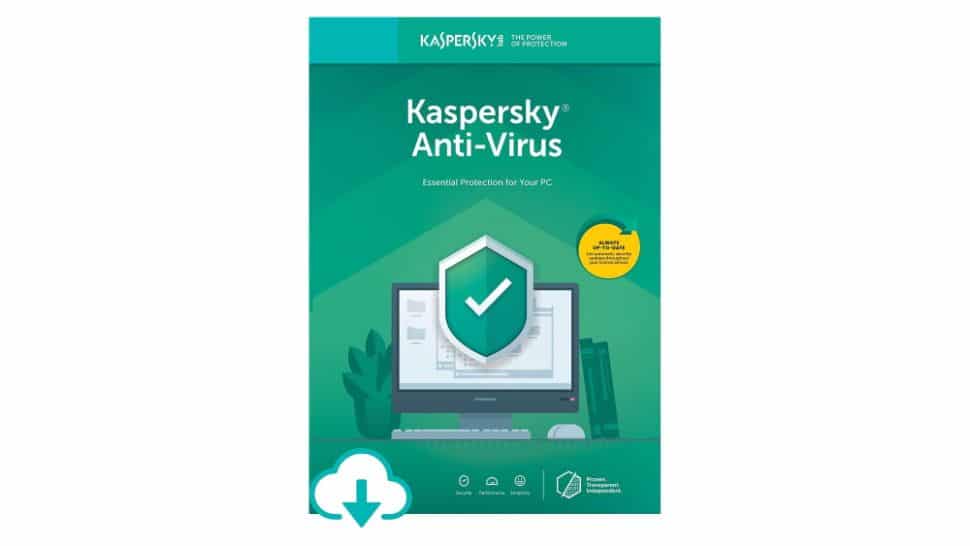 Kaspersky Total Security is another feature-packed antivirus app for Windows 11 that's worth checking out. In addition to the standard Antivirus features you get Backup software, a Hardened browser, Parental controls, Password manager, Webcam protection, Wi-Fi scanner, and the list goes on.
In comparison to other paid antivirus software shared in this article, Kaspersky Total Security consumes fewer system resources, and it's available for macOS, Android and iOS as well.
The three subscription plans offered by Kaspersky are Kaspersky Anti-Virus (starting at £12.49 UK/$29.99 US), Kaspersky Internet Security (£17.49 UK/$39.99 US), and Kaspersky Total Security (£19.99 UK/$44.99 US).
PROS
Take advantage of the two-way firewall provided only on Windows PCs. Prevent hacker attacks on your computer by delivering incoming and outgoing network request detection.
A bank-grade secure web browser is available for performing payments and other private transactions online. Your credit card details and financial data will stay safe with you.
The active anti-ransomware monitor is available on Kaspersky, which works in real-time to identify ransomware-like activities. They are blocked instantly on detection.
They also offer automatic exploit prevention, offered exclusively on Windows computers. It essentially detects complex network exploits such as EternalBlue and SMBloris, that can very well crash your computer.
Instantly detect trojan worms and remove them before they slow down your Windows 11 PC. The entire process is done automatically, so you don't have to worry about anything.
CONS
It takes a lot of time to scan in standard mode on older computers
The device encryption is very difficult to manage for learned users as well.
Download Kaspersky Total Security
---
4. Avast Premium Security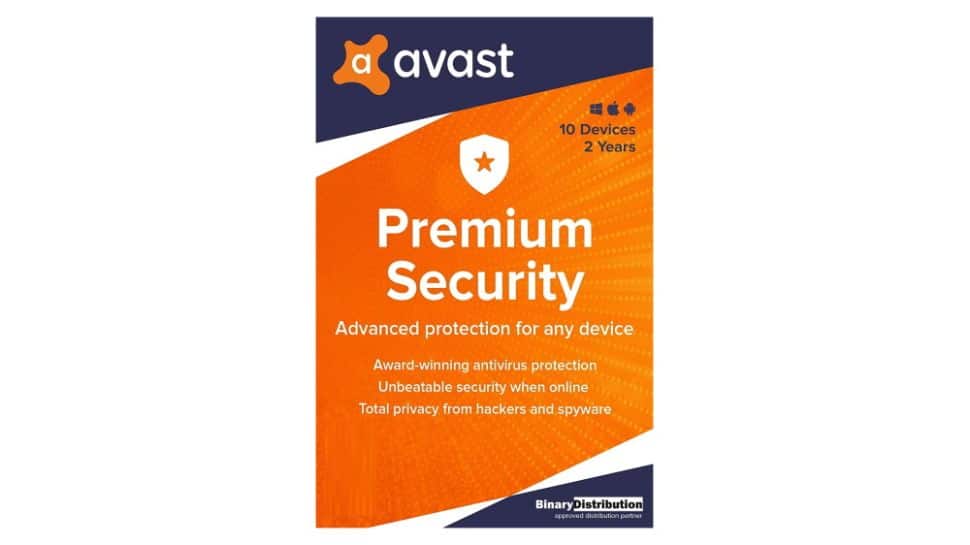 Another veteran antivirus for Windows that offers complete protection to your PC is Avast Premium Security. A clean and easy-to-use interface helps Avast to stand out from the crowd. That said, you might face some issues with the blot present on Avast.
Core virus protection present in Avast Premium Security makes it a robust antivirus. Premium Avast plan covers up to ten devices(smartphones and computers) and you even get access to an unlimited VPN.
Web protection is another great feature of Avast that helps keep your daily online activities safe and secure.
PROS
SmartScan button that takes into account several facets of data from the browser, software, and security patches. It actively scans for malware viruses and looks for performance problems while warning about advanced issues.
Add extra security to your online activities by installing the browser extension, available for Firefox, Opera, Chrome, and Edge. It actively blocks ad trackers and prevents you from visiting malicious links.
The active anti-ransomware monitor is available on Kaspersky, which works in real-time to identify ransomware-like activities. They are blocked instantly on detection.
A full-fledged data shredder ensures that all your redundant data is never retrievable by others in the future. Based on the US's Depart of Defense strategy, the data shredder performs 99 rewrites overpasses with three different patterns.
Avast also offers a webcam shield that only allows trusted and known programs to access the webcam with prior permission from you.
CONS
Few good features are offered as a part of add-ons that will make your wallet lighter.
It takes a considerable amount of data to manage its database and scanning files.
Download Avast Premium Security
---
5. BullGuard Antivirus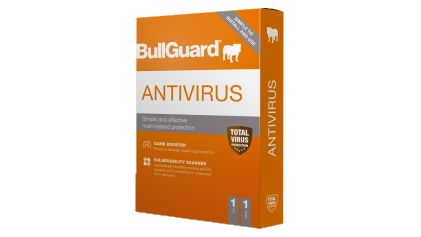 Last on the list we have BullGuard Antivirus. The Antivirus program is designed to cater to the needs of gamers as it has a dedicated Game Booster.
Clearly, a majority of antivirus programs running in the background consume a considerable amount of system resources. Gamers can clearly notice the performance decline which BullGuard has addressed by introducing the Game Booster feature.
Some other noteworthy features of BullGuard are anti-ransomware defenses, URL filtering, and a vulnerability scanner. Do note that, BullGuard Antivirus only covers one device.
PROS
BullGuard has enhanced protection on its front, all thanks to dynamic machine learning, ensuring multi-layer protection. It learns and adapts according to the user's activities for maximizing protection without bogging down resources.
They have improved game booster for helping your game in peace without worrying about antivirus throttling the performance. They now support an anti-cheat engine while enhancing compatibility with all the major online games.
Scan for vulnerabilities in installed applications that can download more files without your consent. Stop them in the track by verifying the digital signature.
A custom-built browser that is built from the ground up. This helps ensure that no funny business goes behind the curtains. Perform important online transactions without worrying about snooping or leaks.
The firewall is optimized for Windows 11, which acts as a double shield against unauthorized access attempts and network requests.
CONS
The overall scanning speed is amongst the slowest in the segment, with room for improvement.
You cannot rely on parental controls offered here. The scope features and controls are narrow, without addressing key requirements at hand.
---
FAQ – Frequently Asked Questions
Does Windows 11 Has It's Own AntiVirus?
Just like the earlier versions, including Windows 10, we get an in-built antivirus on Windows 11 as well. The Windows Defender is an anti-malware tool that keeps a close eye in real-time.
It keeps on scanning the background of the files and folders you access. Security updates for the anti-virus are downloaded automatically to keep you safe from the newest threats.
The defender is included in the Windows Security suite, which provides full security cover to your computer.
Similar to a regular anti-virus, it includes protection for browser and news apps through the Microsoft Defender SmartScreen. Along with that, we also get network firewall and device protection.
Family options are available for keeping track of the kid's online activity and other devices around the household.
---
What Happens To Microsoft Defender When I Install An Antivirus?
When you install anti-virus on Windows 11, the default security of Windows Defender is automatically disabled. It will stay put as long as there is a security cover for the computer is present.
The moment your Windows 11 anti-virus is disabled for some reason, you will get a notification about it. It will have options to either turn back Microsoft defender or manually turn back on your third-party anti-virus.
---
Can I Use Free Antivirus On Windows 11?
Absolutely, there is no problem in using a free antivirus for Windows 11. We listed a couple of the above, which would be an excellent place to begin.
You have to keep in mind that it covers all your needs while not hogging all the computer's resources.
Also, look out for free antiviruses that bundle unwanted programs in the installation. If you don't pay enough attention during installation, get ready to be some suspicious apps on the computer.
---
What To Look For In An Antivirus For Windows 11?
We can read tons of listicles and reviews about different antiviruses. You need to prepare a checklist while looking at each one of them. Here are a few things to keep in mind:
Free Trials
This comes in handy when looking for premium Windows 11 antivirus. You have to take a test drive and see how it fits your needs. Several leader antivirus apps offer a 7 to 30 days free trial, depending on their pricing.
Some of them will ask you to put down the payment information to use the premium plan. Few of the others provide no-strings-attached trials with a trimmed-down premium plan.

False Positive Record
We get that it is virtually impossible to catch every virus, malware, or trojan out there. That should stray us away from the fact about it does not raise the false alarm for every second file and folder on the device. The antivirus needs to have a reasonable false positive record with respect to its competitors.

Impact on your Computer's Performance
Antivirus constantly runs in the background for real-time protection. It should not give them the free pass for hogging up the computer resources, leaving no juice for other work. An ideal antivirus for Windows 11 should be light on RAM and CPU usage while ensuring optimal protection.

Price
The pricing needs to be reasonable. It should offer a sizeable discount for subscribing to a long-term plan at a bare minimum. There should be no hidden charges/fees attached to the subscription.
Most of the leading antivirus programs offer a bunch of free security tools bundled with the subscription. It certainly helps sweeten the pot by providing more value for their money.

Customer Support
Running into a problem with your antivirus is very common. It shouldn't put your day in gridlock since all your work is on the computer. Good customer support is of umpteen importance for an antivirus program.


The customer support staff should be swift and efficient in troubleshooting all the problems of its customers. At a bare minimum, for free antiviruses, there should be extensive support articles for users to brave the storm.

Features
A perfect Windows 11 antivirus for you should have the features that fit the bill for an individual. Every security app offers primary virus and malware protection. What sets them apart is the "extra" they have on the table for the consumers.


Some antiviruses offer password managers, and a few others offer child locks for restricting online content. You can see what a good fit for your needs is. 
---
CONCLUSION
So these were some of the best antivirus software for Windows 11 PC that are worth checking out.
Do share your recommendations for Windows 11 antivirus and internet security programs in the comments section below.