Downloading free software on the Internet was a hectic task before websites such as Filmepuma, Filehippo, Softpedia, Softonic, and others came into the picture.
You could go to these websites and download software of any kind without worrying about files containing viruses and other accompanying risks.
Several websites masquerading as the above mentioned contain fake links to trending downloads on the Internet.
They keep long surveys, app installations as a condition for allowing you to download the file. In the end, you can do nothing more than empty zipped folders or bogus random files.
Few people have the same query regarding Filepuma. They ask us in comments, "Is Filepuma safe to download files from" and other related questions.
We take a closer look to determine whether Filepuma is safe or not for downloading files.
Is Filepuma safe for downloading files?
This is the first question that pops up in our head when we want to download something from an unfamiliar site. We decided to take the weight off your head by doing a trial to see if Filepuma safe as it claims to be.
First, we went straight to the homepage and downloaded a random app. After downloading TeamSpeak Client (64bit) 3.5.6, it is time to put it in testing waters and see if viruses or worms(pardon the pun) come out.
The file has passed the test of 54 different anti-viruses with flying colors, as you can find in the detailed report.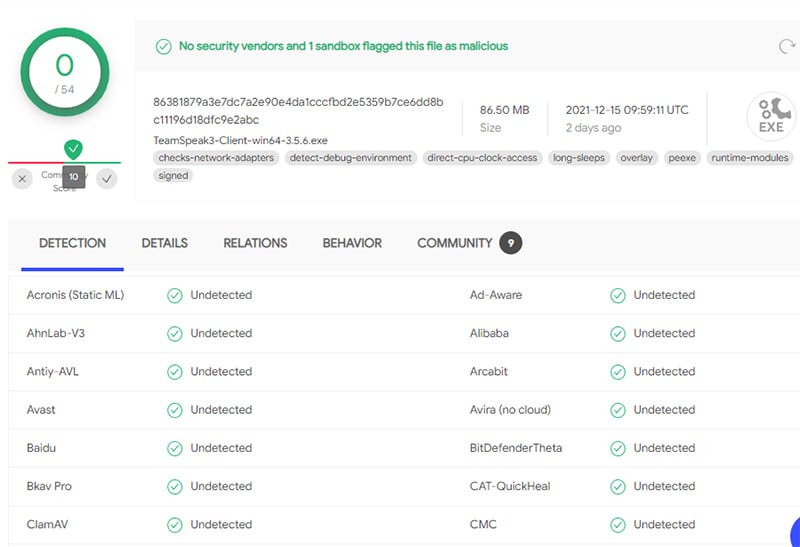 Filmpuma reviews by WOT 
WOT is a platform that combines machine learning, reviews, and browser extension to ascertain safety and trust. Filmpuma scores an impressive 90/100 on the WOT Impressive score.
We covered Filepuma over six years ago, and the WOT score dropped by 1 point in all these years. That should say a lot about where the free download website really stands.
Is Filmpuma a scam site?
The Internet is full of scam websites, trying to get ahold of your sensitive and financial information for nefarious motives. You can rely on Scamadviser Trustscore, which scores the websites based on domain and website information, server location, along with reviews from different sites.
Filmpuma has a perfect Trustscore of 100/100, which is the same as its competitors like Filehippo, Softpedia, amongst others.
Is Filepuma blacklisted?
URLVoid, an online website reputation checker, keeps a log of website URLs' reputation online. They do it by keeping a tab of the URL being present in any of the 43 different blacklist databases consisting of bad websites and URLs.
Just like other tests, Filepuma.com does not disappoint here either. No presence on any of the blacklists. All the information regarding the domain, IP address, website location, and more is squeaky clean. Which means the site is completely legit and trustworthy.
Put in the website name and see the information. You can perform a rescan if the last one looks questionably old.
Over to You
Is Filepuma safe? It seems like it, from the looks of it. We lay the facts here and leave the final call for you to decide. 
There is no harm in being cautious; keep your anti-virus active and a standard vigilance while installing to ensure that any bundled adware doesn't go through along with your regular apps.