If you have been looking for YouTube Proxy Sites then you have landed on the correct webpage.
Youtube is The world's second-largest search engine and has billions of users with millions of hours of entertaining content, helpful tutorials, and exclusive news in the form of videos created by Content creators across different categories, and niches.
Unfortunately, Youtube is blocked in several countries, organizations, workplaces or schools.
In this article, we have shared Free YouTube Proxy like CroxyProxy that can help you get Unblocked Youtube Site.
Why Get Youtube Unblocked
YouTube is inaccessible to millions of users due to censorship imposed by governments, ISP blockages, age restrictions, network filters or firewalls, and geographical restrictions.
Youtube is even blocked in schools and workplaces.
Even if YouTube is not completely blocked in your region, there are several Youtube videos that you cannot watch in your country because of regional restrictions.
You may get errors or restriction messages like "this video is not available in your country" or "video unavailable"
Traditional methods like Custom DNS Servers and VPNs can help you Unblock YouTube.
OR you can also use Browsers with inbuilt VPNs to get Youtube Unblocked.
However, the easiest method to access websites that are unavailable in your country or region is by using Proxy Sites.
So without further ado, let's check out some Free YouTube Proxy Websites from our list.
ALSO READ: YouTube App Download For PC
---
Free YouTube Proxy Sites
1. CroxyProxy 
If you're looking for a YouTube Proxy that acts as a YouTube Mirror Site then CroxyProxy will definitely impress you.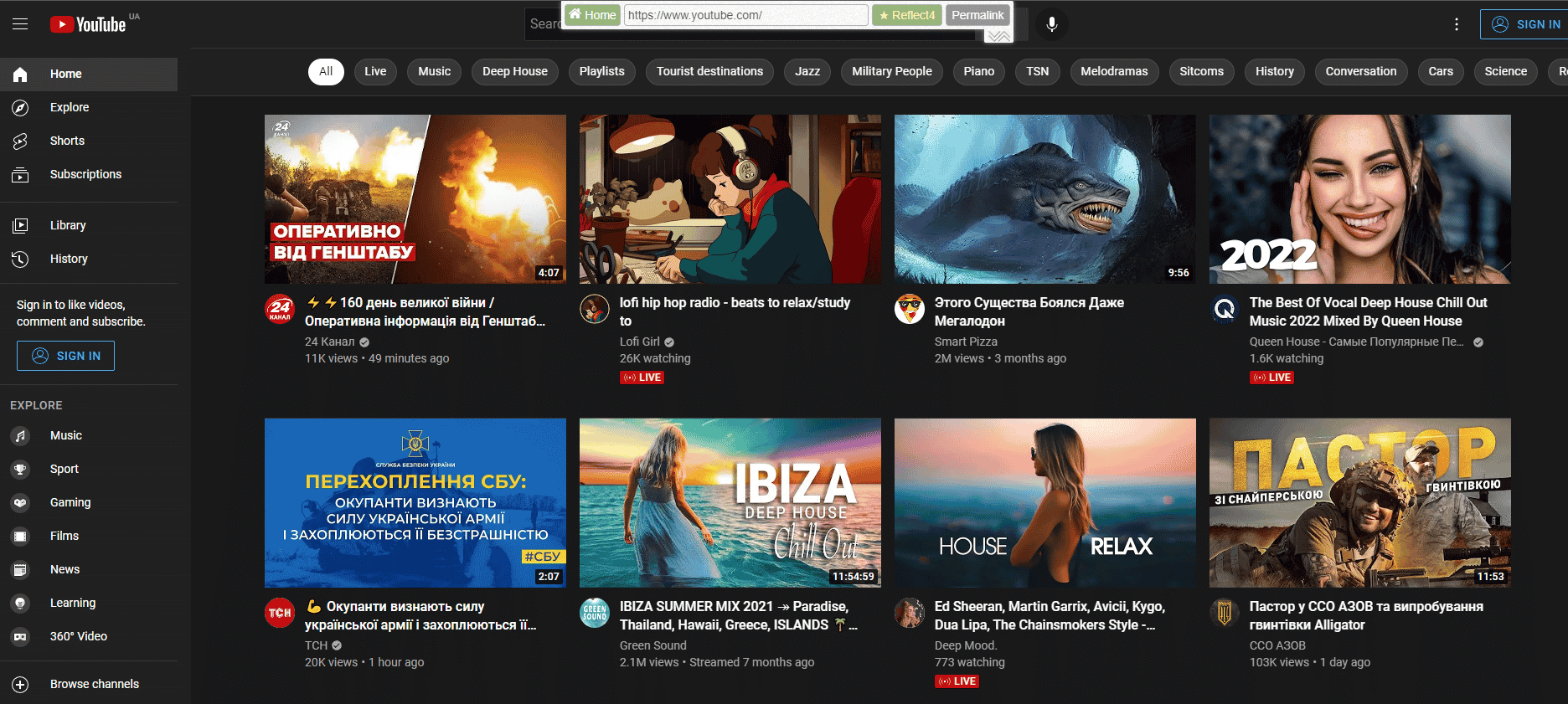 Once you're on the homepage of CroxyProxy simply enter the YouTube URL and you will be good to go. CroxyProxy makes your YouTube activity untraceable.
Since CroxyProxy uses HTML5 video and audio playback you can enjoy your YouTube content in higher quality. Furthermore, CroxyProxy is also available as a Chrome extension. Consequently, the extension eliminates the step of opening the proxy website before
you get YouTube unblocked.
As for downsides, CroxyProxy is slightly slower to navigate in comparison to the original YouTube website.
VISIT CROXYPROXY YOUTUBE PROXY SITE
How To Use CroxyProxy?
Open CroxyProxy Website and enter the website URL you want to Visit in the search bar.
Next enter go to visit Youtube Unblocked by CroxyProxy.
---
2. Genmirror
First, on the list, we have the tried and trusted Genmirror Proxy For YouTube. Using Genmirror you can Watch YouTube Videos and Get YouTube Unblocked.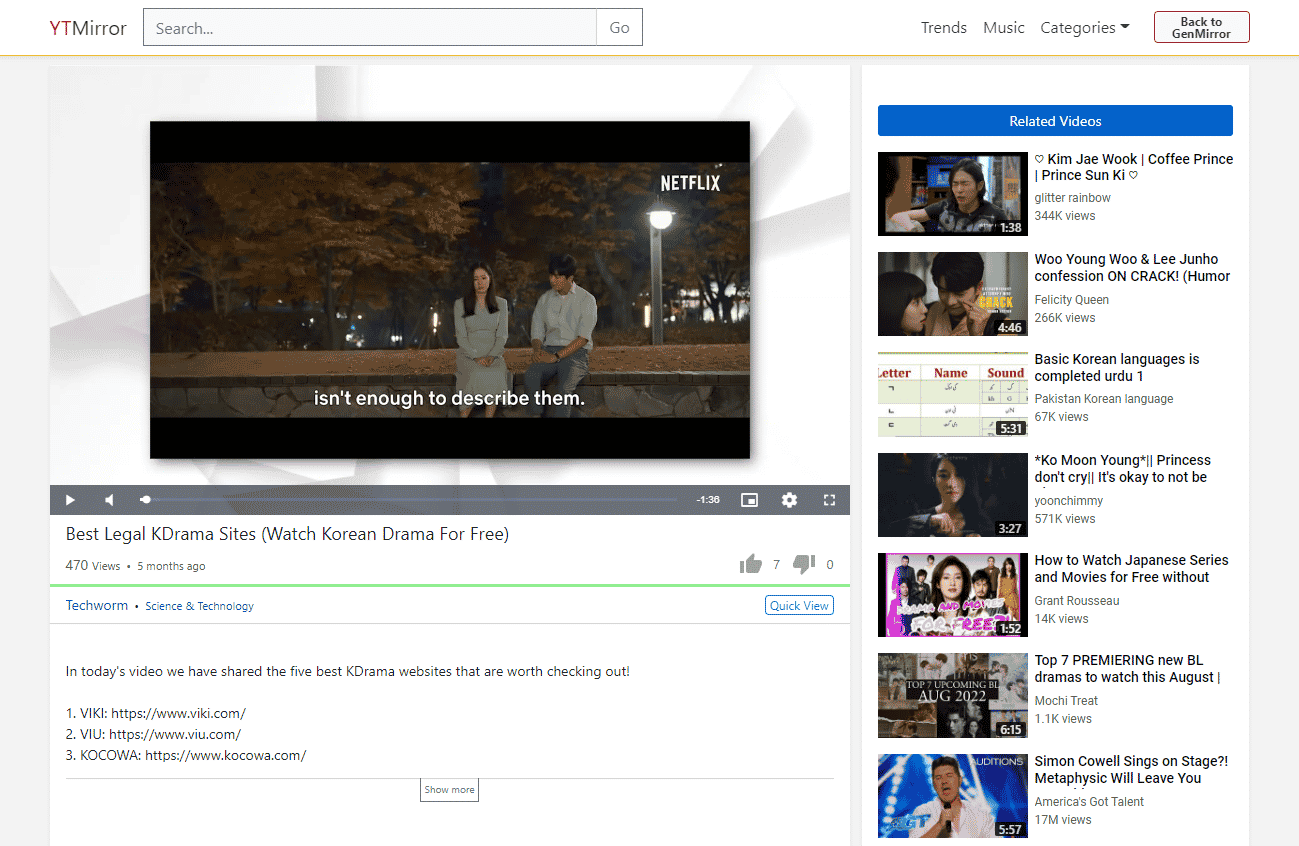 The homepage and user interface of Genmirror YouTube Proxy are completely different from the official YouTube website. That said, the search bar works flawlessly. So simply search whatever content you're looking for.
In order to access YouTube using Genmirror, simply enter the official YouTube URL i.e. http://youtube.com, and click on the browse button. Instantly you will land on the YouTube Proxy Website.
Using this Free Proxy For YouTube your YouTube activity remains anonymous on the internet.
---
3. AtozProxy
Next on the list, we have AtozProxy YouTube. You can consider AtozProxy as an exact replica of Genmirror that simply gets the job done.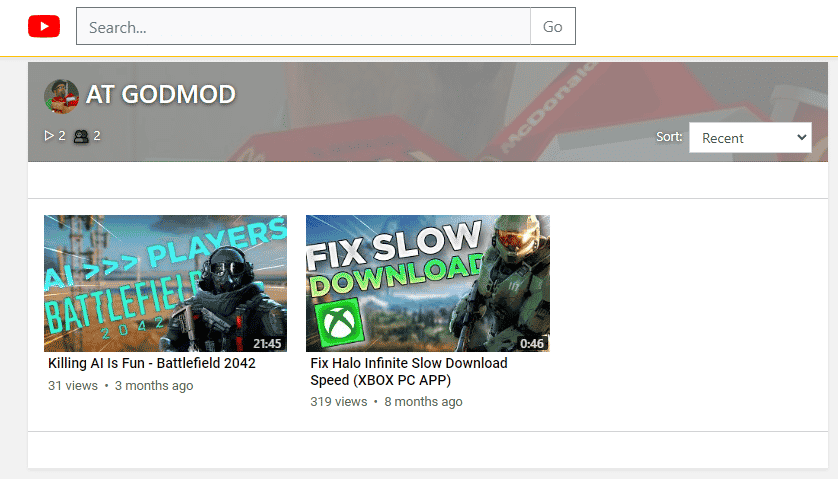 This Easy-To-Use YouTube Proxy Website has a clean and easy-to-navigate interface that has comparatively fewer advertisements in comparison to the other websites on the list. In addition to YouTube, you can also access Facebook, Twitter, and Reddit using AtozProxy.
Similar to Genmirror, to open YouTube using AtozProxy, simply enter the official YouTube URL i.e. http://youtube.com, and click on the browse button.
AtozProxy also offers dedicated sections for trends, music, and categories. Overall, it's a great proxy to Watch Blocked YouTube Videos.
---
4. Youtube Unblocked 
The next YouTube proxy website on the list does exactly as its name suggests. YoutubeUnblocked will help you access the original YouTube website even if it is blocked in your region.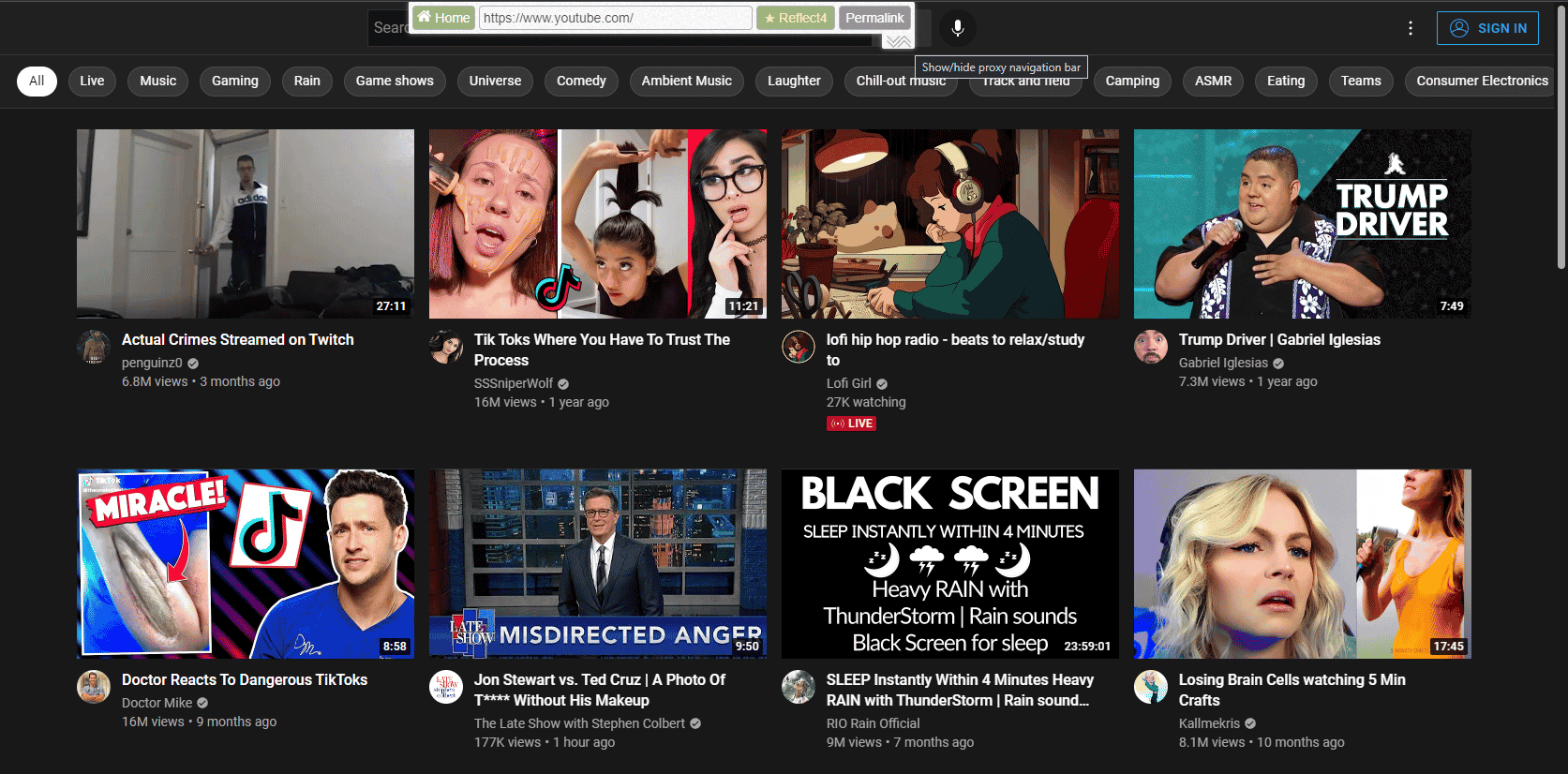 Since YoutubeUnblocked is a Mirror YouTube Site, its interface is similar to the original YouTube site making it easier to navigate. Since YouTube Unblocked is a free web proxy, there's no registration and payments required to use it.
Similar to other YouTube Proxies on the list, Youtube Unblocked ensures that your web traffic can not be tracked.
To access YouTube using Youtube Unblocked you can either enter the YouTube URL or simply use the YouTube quick link on the homepage.
VISIT YOUTUBE UNBLOCKED YOUTUBE PROXY SITE
---
5. HMA  
Next on the list we have HideMyAss or often abbreviated as HMA. Well, HMA can be used to unblock blocked websites and YouTube is no exception.

The HMA Free YouTube Proxy has some restrictions. For instance, you can't use the tool in more than one tab. That said, the restrictions can be lifted by purchasing the premium version of HMA.
We recommend you keep HMA as your last option if the four websites mentioned above are not working for you. The reason is simple it's super slow until you upgrade to the premium version. (while testing we weren't even able to load up the youtube homepage)
However, HMA features a super well-developed UI that's easy to navigate and unlock websites. Before unlocking YouTube you can even select the server from where you want to access YouTube.
---
6. FilterBypass  
Next on the list we have FilterBypass which is similar to A2ZProxy for unblocking YouTube. You get a different feed to watch YouTube videos.
Enter www.youtube.com in the dialog box and click on Surf Web to visit YouTube. You will get a customized feed of the site's individual videos recommendation.
Search for your favorite video or creator from the search bar at the top. The video player has the same features as the one you get on YouTube. Along with that, it lets you zoom beyond 150% using a slider button.
YouTube's default player lets you speed up the video by 2x while you can increase the speed to 4x for the same video.
The video player also has a screengrab button which lets you take screenshots from the video with a single click. It will download the screenshot directly into your browser.
FilterBypass has a parallel account system that lets you subscribe to channels, maintain a list of liked videos, curate YouTube video playlists, and manage subscriptions.
---
7. Ultrasurf
You can use Ultrasurf to unblock YouTube which is designed to bypass internet censorship and access blocked content on the video-sharing platform.
Ultrasurf encrypts internet traffic and routes it through its own servers, which helps to hide the user's location and IP address. This makes it difficult for anyone, including governments and ISPs, to monitor or track the user's online activities.
The first thing you will need to do is download the software and launch it on the computer platform as it does not need installation. The mobile device will need installation through the app store.
After launching the app, connect to Ultrasurf servers. This will essentially appear on the YouTube server as you are accessing it from a different location where the site is not blocked. The speeds are slower during busy parts of the day so you may not get to stream in HD at all times.
---
8. 4everproxy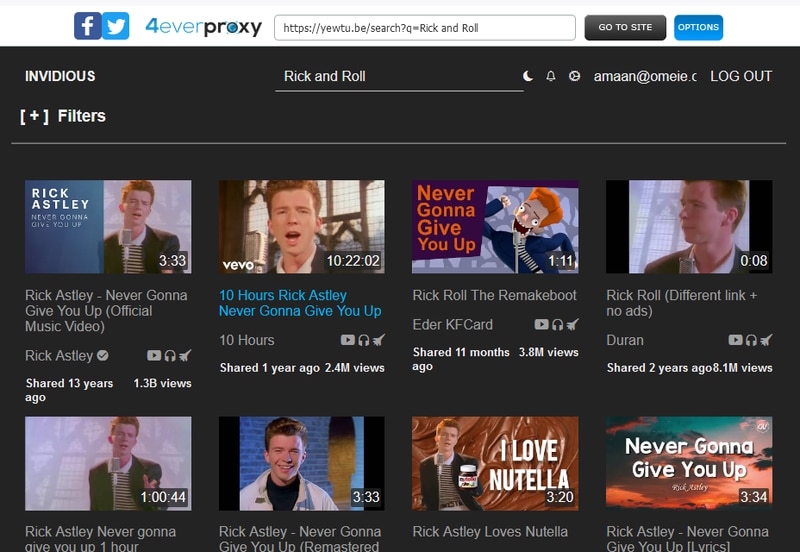 4everproxy can be used as a YouTube proxy to unblock the video-sharing platform and access blocked content.
By using 4everproxy as a YouTube proxy, users can bypass these restrictions and access YouTube from anywhere in the world. To do this, users simply need to enter the URL of YouTube into the proxy's search bar and the proxy will retrieve the content and display it on the user's screen.
It will open a forked version of YouTube, similar to what FilterBypass does for unblocking YouTube. You can use the search function to find your favorite YouTuber or their content.
It even lets you create an account for subscribing to different YouTubers. This is a separate account from your YouTube content so there is almost no risk here.
There were no advertisements in the time I spent on their website so you can apparently watch YouTube without ads.
---
Other Ways To Unblock YouTube Website
In addition to the above-mentioned proxy,  you can also use browsers with inbuilt VPNs such as Opera, or Tor Browser to unblock Youtube.
You can even use VPNs to Unblock Youtube.
More tricky ways to get unblocked youtube sites involve using Google Translate or modifying the URL.
---
How do Youtube Proxy Sites Works?
Youtube proxy site works as a gateway between the user and Youtube's original website.
When you are using a YouTube proxy site then the request between your browser is routed through the proxy server before reaching the official Youtube site and thus helping in unblocking Youtube and its content.
Countries Where Youtube Is Blocked:
China
North Korea
Iran
Sudan
Turkmenistan
Eritrea
---
FAQs
1. Is there a proxy for YouTube?
Yes, there are many great proxies for YouTube out there. Some of the best among the bunch are CroxyProxy, Youtube Unblocked, and Genmirror.
2. How do I watch blocked YouTube videos?
The easiest method to watch blocked YouTube videos is by using a YouTube proxy site. CroxyProxy, Youtube Unblocked, AtozProxy, and Genmirror are some of the best YouTube proxy sites that can unblock YouTube videos. Furthermore, you can even use VPNs.
3. How can I watch YouTube when it's blocked?
Some of the methods that can help you watch YouTube when it's blocked are custom DNS servers, VPNs, and YouTube proxy sites.
---
CONCLUSION
So these were some of the Best YouTube Proxy Sites that are worth checking out.
If you have any recommendations for Free YouTube Mirror Sites then do share them on our socials.