Android emulators for PCs are making great strides, and they continue to grow along with the rise in mobile gaming. We have tried playing PUBG Mobile on PC and running several Android apps on Windows and macOS through an emulator.
Many have used BlueStacks, but it is heavy to run and has started causing problems on many computers. People are started looking at other options, and some have wondered if LDPlayer is safe and can be used on computers.
Here we take a closer look at LDPlayer and see if it's safe to run mobile apps or play mobile games on Windows PC.
Although Windows 11 has added the feature to directly run Android apps on PC, it is far from what the emulators can offer. A limited set of apps on the Amazon Android app store are available to run currently on the latest Microsoft offering.
What is LDPlayer
LDPlayer is a good Android emulator for Windows PC and Laptops, which is built on the 64-bit architecture, supporting all the apps and games on the Play store.
Over the years, LDPlayer has become my favorite Android emulator for its reliability, low resource usage, and relatively low level of advertisements.
Running Android apps on an emulator for PC requires a tremendous amount of power, but LDPlayer is one of the least demanding emulators and is lightweight which can even run on low-end PCs.
The way an Android emulator works is by creating a virtual environment on Windows, emulating an Android device for running the apps without a compatibility issue.
Most Android emulators run on 5.1 or 7.1, but LDPlayer runs on Android 9 Pie OS, offering compatibility with most apps available.
You can download LDPlayer for free from their official website, which provides an online installer. It will download the essential files from the server for installation after the initial configuration.
After installing LDPlayer, log into your Google account to access Play Store and other services from the company.
You can also install games and apps by side-loading them directly into the emulator without signing in.
Is LDPlayer safe for Windows 10/11?
The answer is YES; let me explain how. First of all, LDPlayer is by a verified Microsoft publisher, which adds to the credibility. The free Android emulator is safe to download from their official website.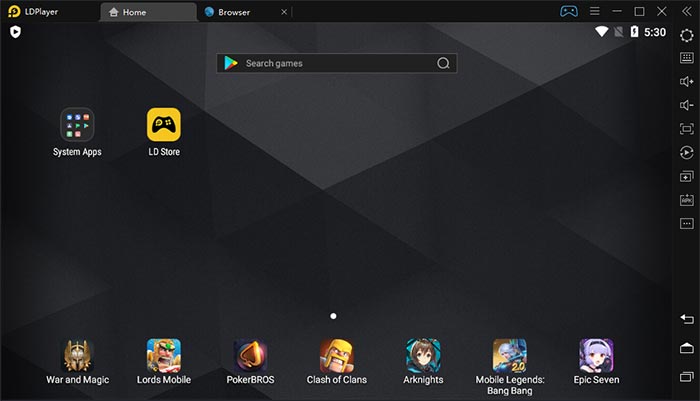 The Microsoft defender did not detect any abnormality with LDPlayer. Along with that, we checked their installation file through VirusTotal, which runs the file through over 70 anti-viruses. It came out squeaky clean with no detection of any threat.
They started their official sub on Reddit to support the users and provide clarity on what goes behind the scenes.
Besides that, LDPlayer has partnered with leading game developers such as NetEase, Garena, ByteDance, and dozens of others for better game optimization on the emulator.
Is LDPlayer safe for your Google Account?
LDPlayer doesn't force you to sign into a Google account. You can sideload apps and games and enjoy them without requiring signing up.
However, when you need to access the Play Store, it will ask you to sign into the account for using the Google services. Once logged in, you can use all the Google-related services without entering the password again.
Even if LDPlayer is officially recommended by game developers, we would advise you to exercise caution. Consider using a secondary Google account for any emulator or third-party logins, as we cannot be absolutely certain of how their policies can change and their handling of your account.
What data does LDPlayer see?
Just like any other app, LDPlayer has access to basic information about your computer after installation.
It includes your timezone and network properties, which include IP address, location, and hardware details. After logging into the Google account on LDPlayer, it gets to know your name, email address, and the apps installed.
The other way is LDPlayer can gather data is about which apps are used and for how long on the platform.
This data can potentially be sold to advertisers for showing targeted ads on different apps and websites across the internet.
All leading Android emulators, including BlueStacks share anonymous data with advertisers to generate revenue to sustain themselves.
LDPlayer's questionable Past

LDPlayer has been accused of adding cryptocurrency minor, which runs in the background. There was no transparency on the issue from the developers on the issue. Eventually, with newer versions, the problem appeared to be gone.
Until recently, they were bundling anti-viruses with the installation, which had to be declined while installing LDPlayer.
We recommend you stay alert while installing the Android emulator to avoid consenting to add unwanted apps.
LDPlayer vs Bluestacks
Ldplayer has gained lots of users in the last few years because of it being a lightweight emulator. Moreover, Ldplayer has less adware compared to Bluestacks.
But when it comes to performance, Obviously Bluestacks takes the crown.
---
LDPlayer Frequently Asked Questions
Will LDPlayer slow down my PC?
Absolutely not, as LDPlayer only requires 2 GB of RAM to run on your Windows PC or Laptop. It is much less than what other Android emulators require to function properly.
Can I get a virus from LDPlayer?
That's unlikely as we have tested LDPlayer installation files through VirusTotal as we discussed above. Keep an eye out for changes with updates that can bring unwanted guests to the PC.
Can You PUBG Mobile safely on LDPlayer?
Login into your PUBG account, whether it's Facebook, Google, or a separate account. You can safely play PUBG mobile on PC through LDPlayer.
Is LDPlayer better than BlueStacks?
LDPlayer is designed for low-end PCs and uses lesser computer resources than its competitors. You can install it on any computer and not worry about running out of RAM.
Is LDPlayer Chinese?
LDPlayer is based out of Shanghai and is a chines app.