In this article, we have shared some of the Best Photo Viewer For Windows 11 that can take your photo and video viewing experience to a new horizon.
Windows 11 PCs have a built-in photo viewer called the Photo app, which has relatively few features.
That is why most users never use it and are always on the lookout for third-party Windows 11 Photo Viewer Apps.
Luckily there are some great Photo Viewers For Windows 11 that offer useful features like slideshow, batch processing, image editing, image resizing, image enhancing using AI, and support for various image formats.
So these are the Best Photo Viewers For Windows 11 PCs and Laptops that are worth checking out.
Best Photo Viewer for Windows 11
If you are looking for a Photo Viewer for Windows 11 computers and laptops, here are the top options you can try out.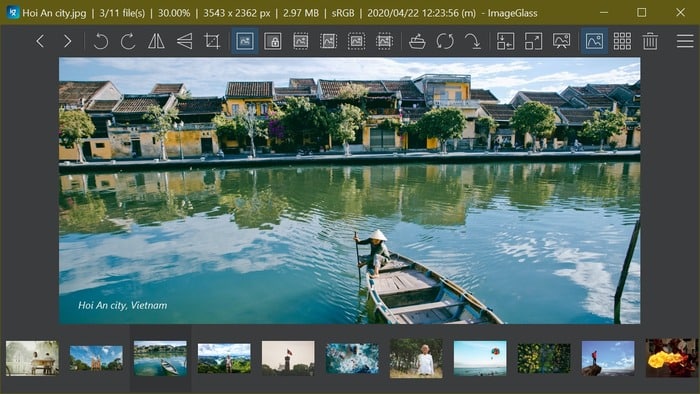 ImageGlass is a simple yet feature-rich Photo Viewer for Windows 11 computers. You can use the application to manage and organize images on your Windows 11 PC, just like the default Windows Photo Viewer app, but with several additional features.
One of the great things about ImageGlass is that it supports all image formats, including GIF, SVG, HEIC, RAW, PNG, and many more. Besides being open-source, this Windows Photo Viewer is very easy to install and lightweight, so you won't have to worry about high memory usage.
ImageGlass is very easy to use, and it is compatible with other Windows versions apart from Windows 11.
Noteworthy features
Lightweight and easy to install.
Supports more than 70 image formats.
Has a user-friendly interface.
Allows you to open images directly from the clipboard.
---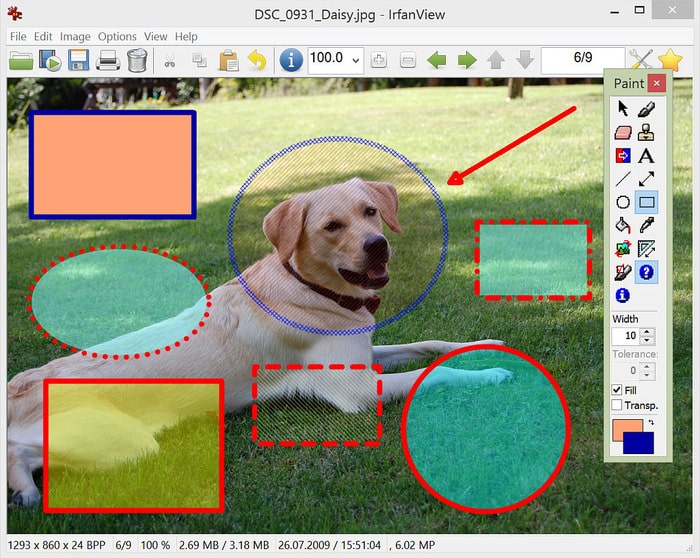 IrfanView, a photo viewer that has been around for a while, is among the top free photo viewers for Windows 11. You should use it if you are dissatisfied with the built-in photo viewer in Windows 11 because it has many more features than the Windows Photos app.
Its support for a variety of image formats is one of its distinguishing qualities over the Windows Photos app. Additionally, it enables you to add effects to your images as well as edit them using paint tools.
Along with being able to play video and audio, this Windows 11 Photo Viewer program may also be used as an image organizer and converter. Also, because of its small download size, it uses less RAM and won't overload your computer's memory.
IrfanView offers a free plan that is fairly feature-rich for all and a subscription plan that you may use to access additional capabilities.
Noteworthy features
Has image editing tool
Small download size
Supports multiple image formats
---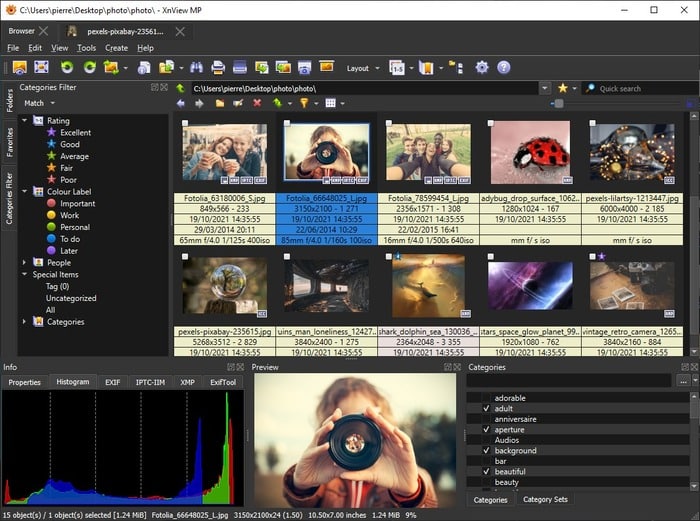 When it comes to Photo Viewers for Windows 11, XnView MP is a fantastic choice that everyone should consider. Despite having extensive photo editors, it is incredibly stable and straightforward to use.
Using the XnView MP you can better manage your images as it has many other functions you could need for your photographs, including image resizing and conversion.
This Photo Viewer program has a unique feature called batch-renaming image files, which can be quite helpful when you need to rename images for a single reason. Moreover, it is free to use and supports a variety of image formats, including JPEG, TIFF, GIF, and PNG.
Noteworthy Features
Has a comprehensive photo editor
Batch image renaming
Great UI
---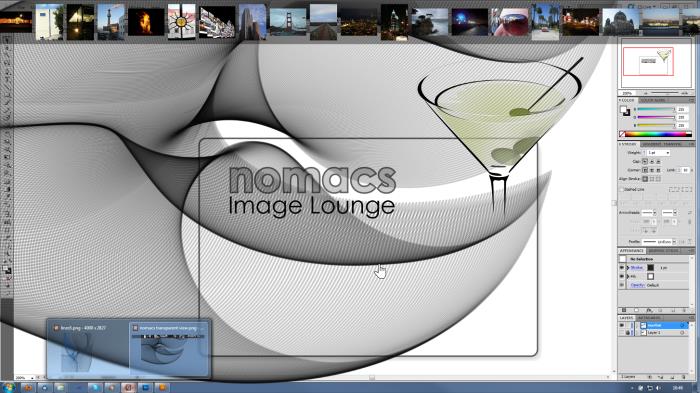 One of the top image viewers for Windows 11 of all time is Nomacs, which enables you to view many image formats on your computer, including RAW and PSD.
It is an open-source picture viewer that may be used for various tasks, including image cropping, resizing and color adjustment. Also, it has features like file search, frameless view, slideshow creation, and thumbnail preview.
In addition to Windows 11, Nomac supports various versions of Windows and other platforms like Linux, Mac, and Mac. Its entire user interface is simple to understand, and semi-transparent widgets are used to provide information about photographs.
Noteworthy Features
Support multiple image formats
Has a thumbnail preview feature
Frameless view
Compatible with multiple platforms
---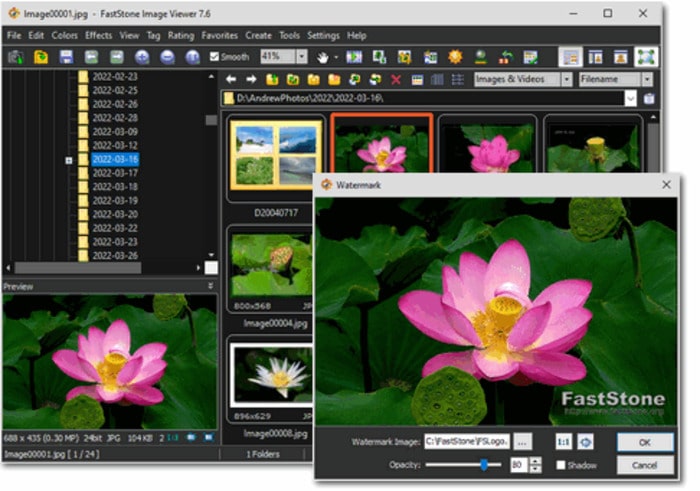 For viewing images on Windows 11 computer, you can consider the well-designed FastStone Image Viewer app. The navigation pane is on one side of the interface, and the preview pane is on the other, making the interface very clear.
This Photo Viewer app is free and has an excellent array of features. The features you will get on this program include slideshow mode and batch image conversion.
Furthermore, this program is fast, and it also supports a lot of major image formats. The majority of other Windows 11 image viewers do not offer side-by-side image comparison, however, FastStone Image Viewer does.
Noteworthy Features
Drag and drop images
Clear interface
Allow batch image conversion
Offers side-by-side image comparison
---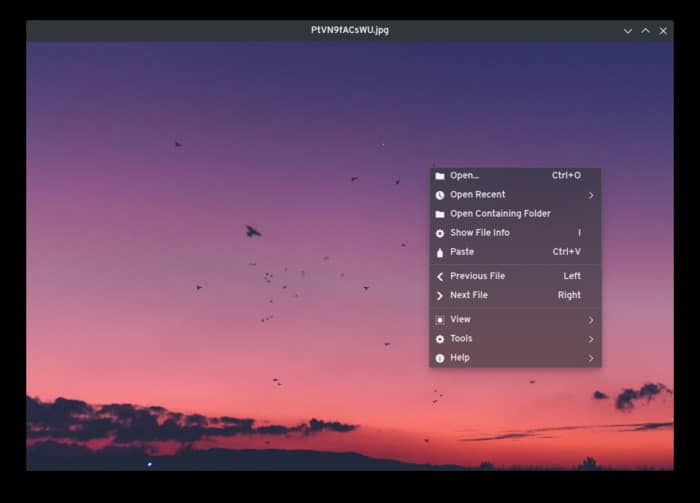 qView is a lightweight image viewer designed with minimalism. It is also an open-source program that can be used to view images for free on your Windows computer and enjoy many other features for free.
This Windows 11 Photo Viewer allows you to open images with a URL, and it offers all basic image editing functions. It is easy to use and can be considered by anyone looking for a simple image viewer for Windows 11.
Noteworthy Features
It is lightweight
Simple and easy to use
---
Google Photos is a great Web Photo Viewer For Windows 11. If you use an Android smartphone then Google Photos will be the perfect app to sync photos on your smartphone with your PC.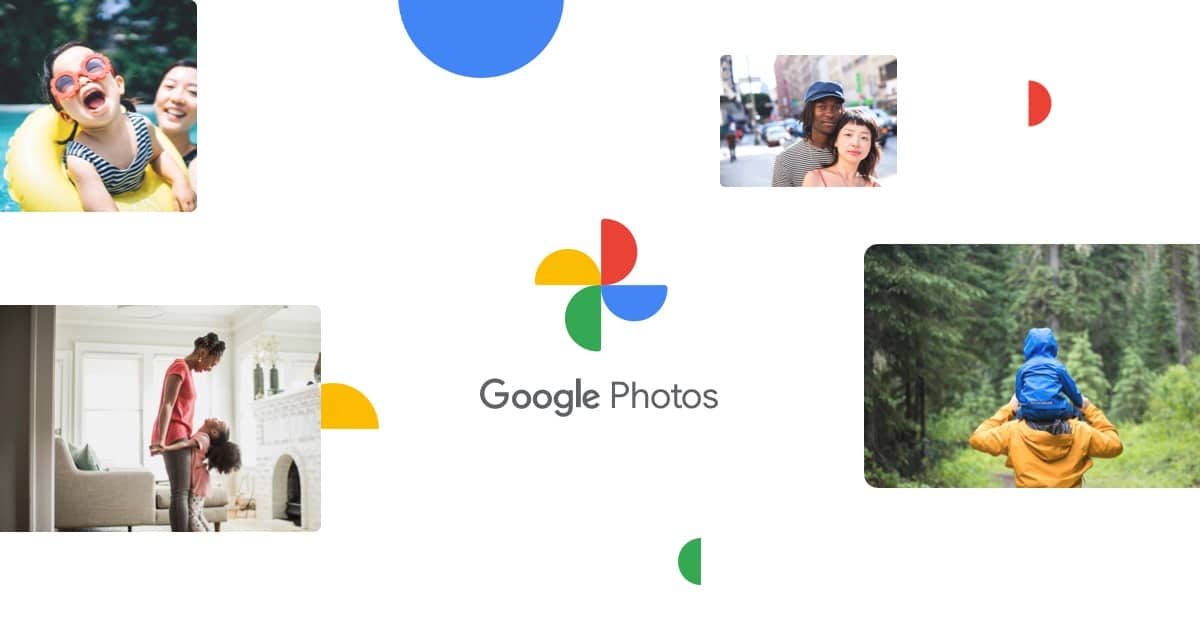 To easily access Google Photos on your PC you can save the Google Photos website as a Progressive Web App or as a shortcut. Google Photos is completely free to use upto 15GB and you can even upload Photos from your PC directly to the cloud.
Similar to every other Google service, Google Photos features a clean and easy-to-navigate UI. Lastly, Google Photos is completely free to use.
Noteworthy Features
Ability to backup images on your PC.
Instant image sync between your smartphone and PC.
Images are nicely organized by AI based on people, places, and other factors.
---
Next on the list of best Photo Viewer For Windows 11, we have WidsMob Viewer Pro. You can rely on WidsMob for both video and image management.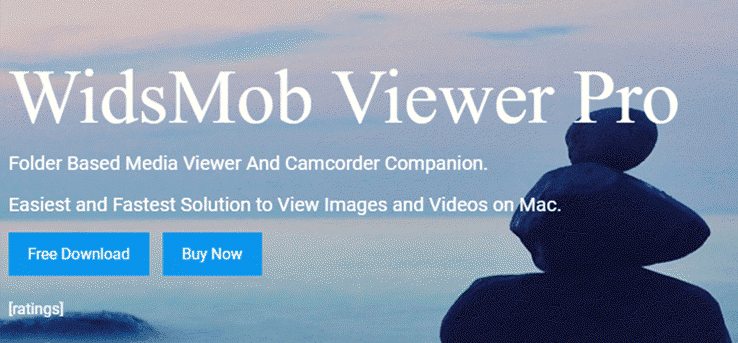 In comparison to the default Windows 11 photo viewer, WidsMob offers five times faster performance and you won't face any buffering issues. Using WidsMob you can change image formats either individually or in batches.
The slideshow feature can be used to quickly go throw all of your images on your local storage.
The free version of WidsMob Viewer is absolutely perfect but by upgrading to the paid version you can have an infinitely better experience and use the app on five devices.
Noteworthy Features
Flawless and fast media management.
WidsMob Viewer Pro offers a great media consumption experience.
Supports editing and color grading for images.
---
If you're looking for a Windows 11 Photo Viewer that also functions as an image processing program then HoneyView will definitely impress you. Honeyview supports all major image formats like PNG, JPEG, GIF, and many more.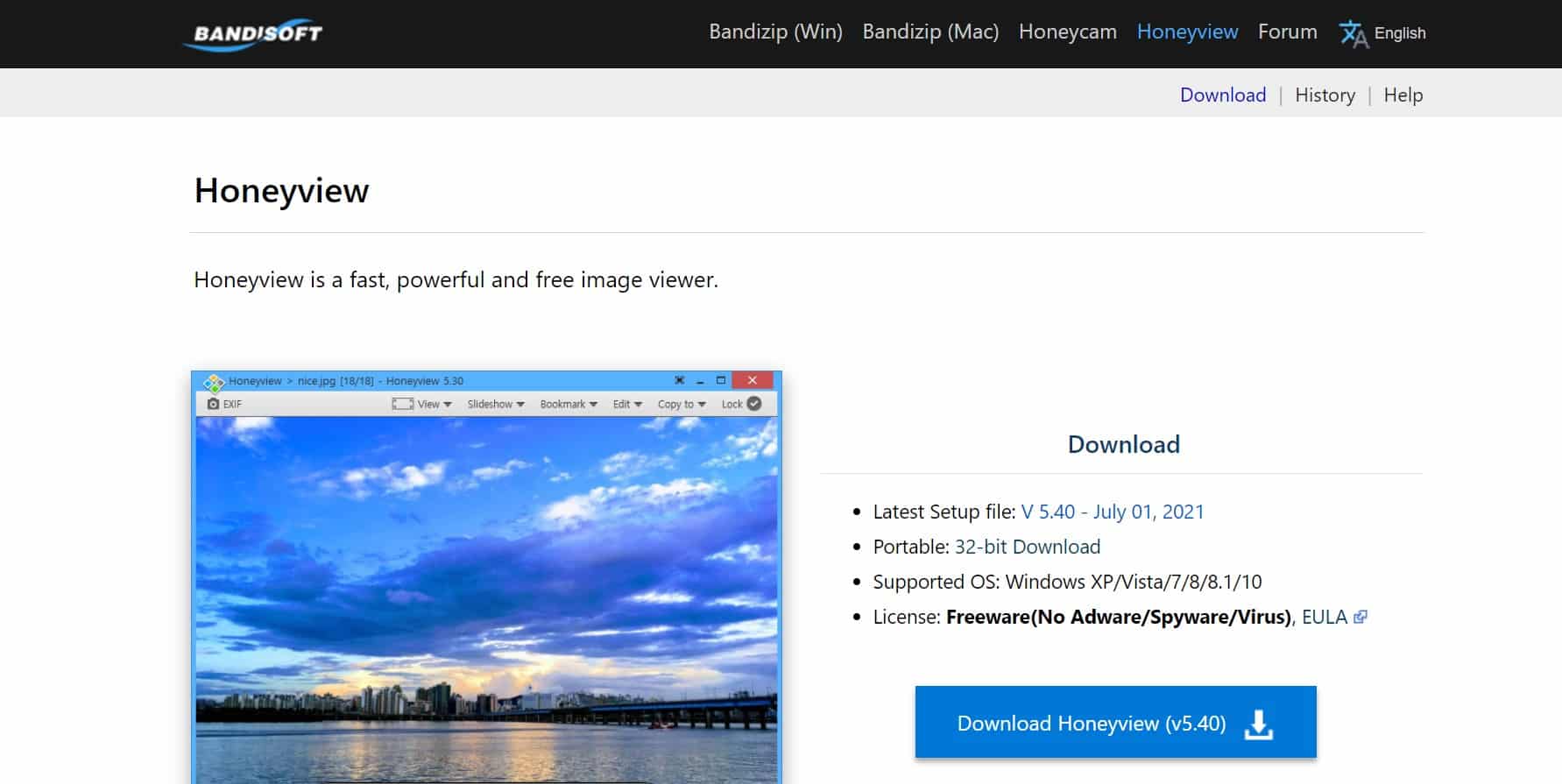 This third-party photo viewer for Windows 11 can help you view the image location on Google Maps if the photo has GPS information. You can browse high-resolution images on HoneyView without any buffering issues.
Lastly, HoneyView offers the ability to view the ZIP or RAR folders without unzipping them.
Noteworthy Features
HoneyView allows you to rotate images and perform basic resizing.
HoneyView is a freeware software.
Supports batch processing.
---
Last on the list we have 123 Photo Viewer For Windows 11 PC. With a user base of around 1 million users, 123 Photo Viewer has gone through around 100 updates and it's in an almost perfect state now.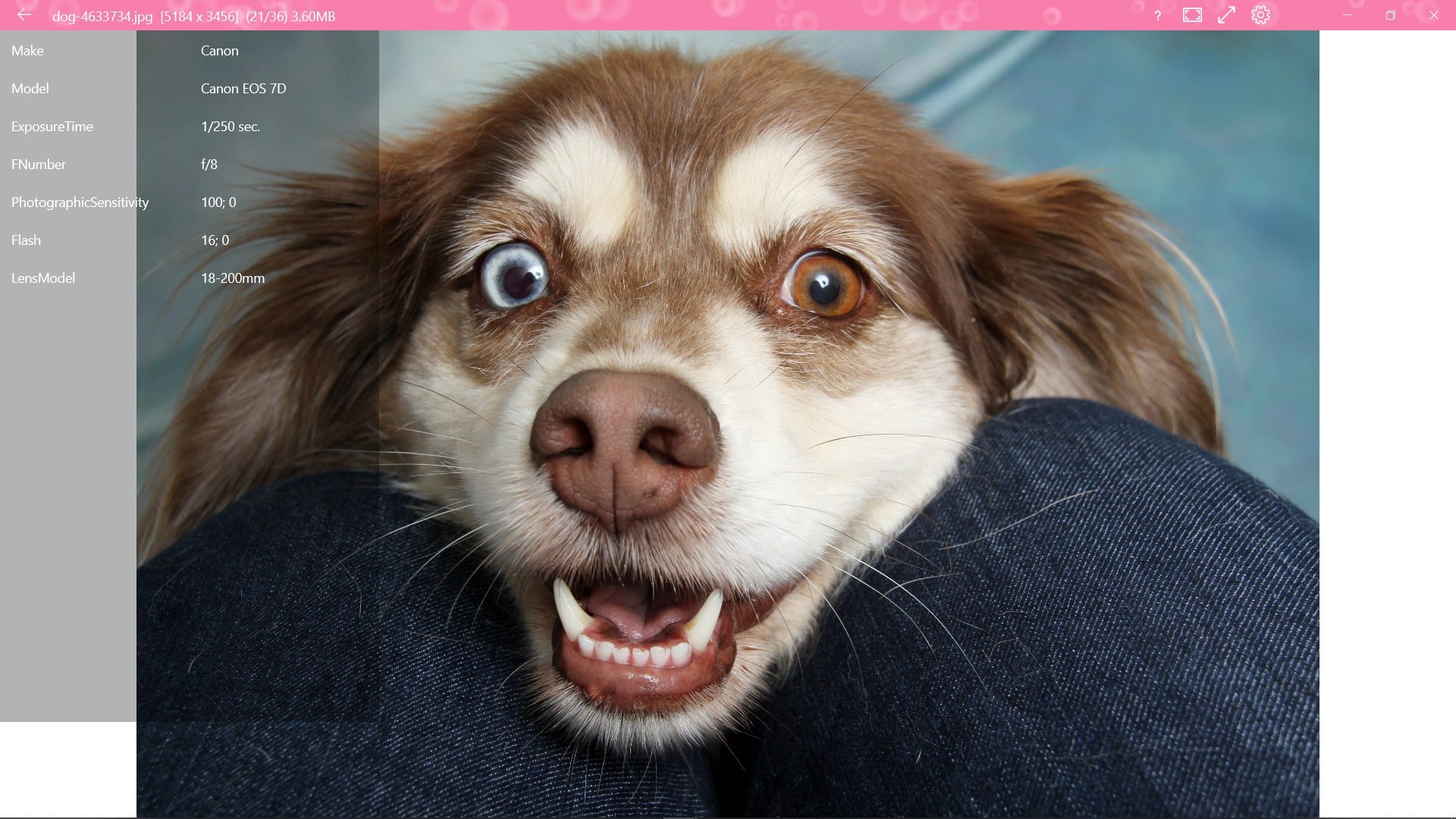 123 Photo Viewer has a clean and very easy-to-navigate UI and it's one of the fastest photo viewer applications out there. As expected, it supports all mainstream image file formats and you even get access to a few basic photo editing features.
123 Photo Viewer allows users to add images from both local folders or OneDrive cloud storage. Lastly, 123 Photo Viewer is available for free and can be directly downloaded from the Microsoft App Store.
Noteworthy Features
Ability to change image formats and rename images in batch
Clean and easy-to-navigate User Interface
Effects and filters to enhance photos
---
Why Do I Need A Photo Viewer App For Windows 11?
Although Windows 11 features a built-in photo viewer program, when considering why you might need a new photo viewer app for your Windows 11 PC, the first thing that should come to mind is that you will be able to edit your photos more effectively.
If you want to make causal editing on your images, which the majority of the tools in this list can easily do, you won't need to acquire another application.
Additionally, this article's Windows 11 Photo Viewer apps support more than 80 different image formats, including png, jpg, and webp. You can manage and organize your images more effectively with the help of these tools.
Simply read through the list in the next section of this article to choose which Photo Viewer is ideal for your Windows 11 PC.
---
Photo Viewer For Windows 11 FAQs
Does Windows 11 Have A Photo Viewer App?
Microsoft Photos is the default photo viewer in Windows 11. This app, which replaces the old Windows Photo Viewer app of Windows 8, has average functionality.
However, if you're searching for a different Photo Viewer app for your Windows 11 computer, we've reviewed the top choices in this article.
Which Is The Best Photo Viewer For Windows 11 PC?
If you want to use something other than the Microsoft Photos app on your Windows 11 computer, there are several other Photo Viewers with better features.
These best Windows 11 Photo Viewers include IrfanView, image Glass, Nomac, and other options we have covered in this article.
Is there A Better App Than Microsoft Photos?
Yes, there are several other Photo Viewer apps that are better than the Microsoft Photos app, and we have discussed them in detail in this post.
---
CONCLUSION
Having discussed the details about the top best Photo Viewers for Windows 11, you should be able to make a selection of the one you most prefer.
If you want a powerful Photo Viewer for your Windows 11 computer, choose ImageGlass or IrfanView from the suggested options in this article.