Undoubtedly, iPhone Browsers are one of the most frequently used apps.
While Safari comes inbuilt with iOS devices and is considered one of the best browsers for iPhones due to its privacy features. But many users look for a better alternative to Safari.
A feature-packed Web Browser For iPhone that's Fast, Smooth, And Secure can drastically enhance your browsing experience.
Now the question arises, What is the best web browser for iPhone? The answer to this will obviously differ as different users have different requirements.
Users may be looking for a web browser with good scores on the following benchmarks:
Privacy
Security
Inbuilt VPNs and adblockers
Speed (Fast)
Lightweight
Resume supported downloading
Data Syncing Across Different Platforms & Devices
Consequently, in this article, we have enlisted some of the Best Browser For iPhone out there that are worth checking out.
Best Web Browsers For iPhone
First, on the list, we have the tried and trusted Google Chrome Web Browser For iOS. If you are an active part of the google ecosystem, then chrome should be your ideal iPhone Web Browser.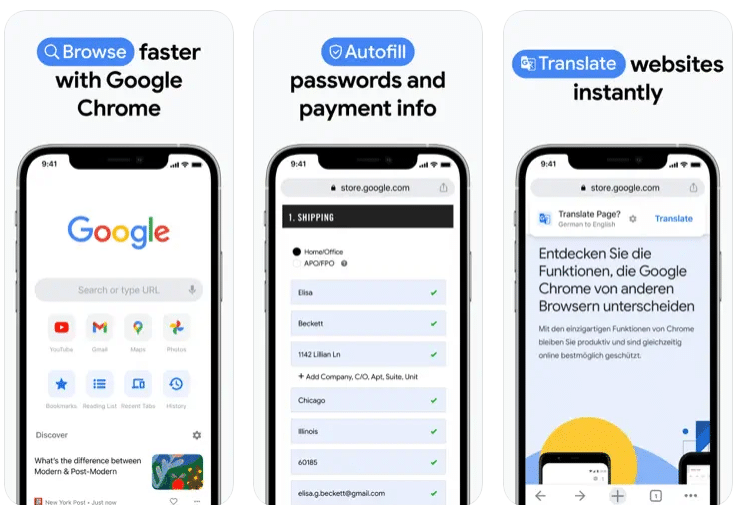 Cross-Platform Syncing offered by Chrome is unmatched and it offers a vast collection of extensions, decent privacy controls, and a clean and easy-to-navigate user interface. Google Chrome offers snappy performance, stability, and reliability even on older iPhones.
Some other noteworthy features of Google Chrome are flawless multi-tabbing, web page translation, voice search, and an incognito mode.
---
Mozilla Firefox is another reliable and Free Browser For iPhone that has been in existence for well over two decades now. Firefox offers snappy performance, effortlessly syncs with your desktop browser, and has a fully customizable home screen.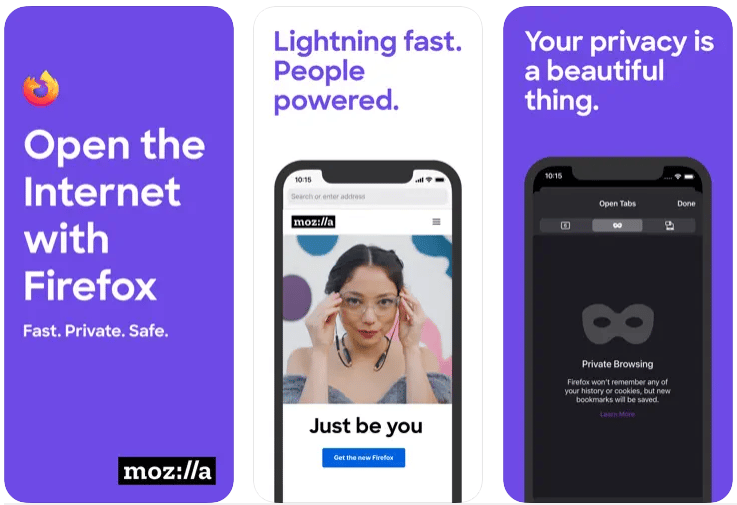 The tabs management offered by Firefox is quite impressive as well and with hardly a few clicks you can access your bookmarks and history. The Reading List feature comes in handy when you come across an article that you want to read later.
Similar to Safari, Mozilla Firefox offers Apple's Intelligent Tracking Prevention (ITP) coupled with Ads and Trackers blocking. However, if online security is at top of your priority list then we would recommend you check out Firefox Focus.
---
Next on the list, we have another feature-packed browser and a great safari alternative namely Opera Touch. Well, Opera Touch Offers top-notch end-to-end encryption coupled with a fast browsing experience.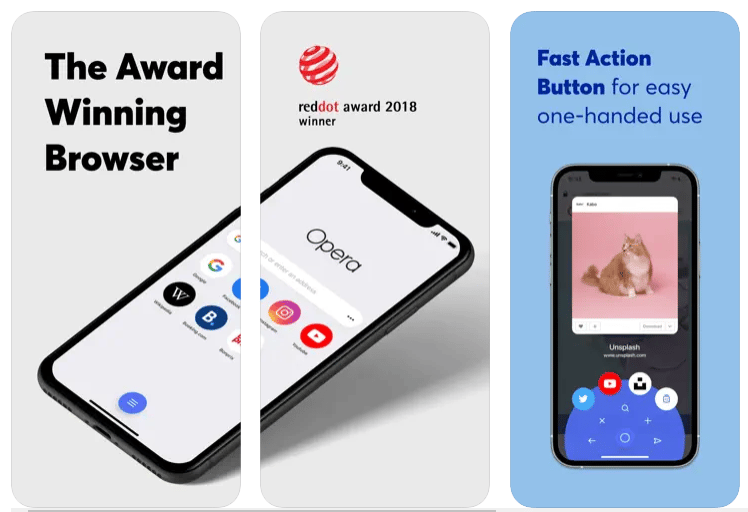 The UI of Opera Touch is minimalistic and you can customize the homepage as per your preference. Using My Flow, you can seamlessly connect your mobile Opera browser to your desktop to sync your browsing activity and bookmarks.
Furthermore, you can even switch between different search engines like Google, DuckDuckGo, and Bing on the fly. Opera Touch also packs an in-built cryptocurrency wallet.
---
Next on the list, we have a super customizable browser that goes by the name Brave Browser. One of the major highlights of Brave Browser is the built-in VPN and once again the browser solely focuses on privacy.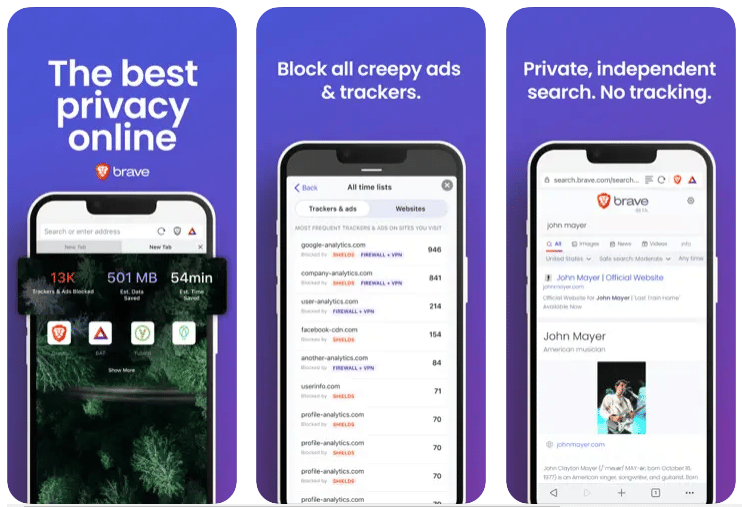 Recently Brave also released its very own search engine to prevent tracking from the Google Search Engine. One of the most unique features offered by Brave Browser is an integrated video call service that's similar to Google Meet and Skype.
By default Brave Browser blocks all ads making the UI/UX of websites less intrusive and easy to read. While doing so the browser also drastically improves the page loading speeds.
---
Initially started as a search engine, Duck Duck Go is now of The Best iPhone Web Browser that keeps you safe online and automatically clears all history and data once you're done browsing.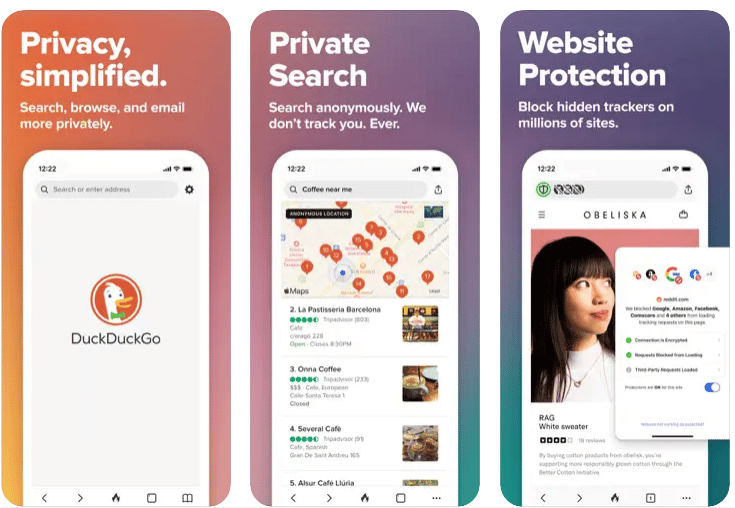 Duck Duck Go has a clean and easy-to-navigate user interface and it's fully customizable as well. All the third-party trackers are blocked by default and you can even set up Touch ID or Face ID lock protection to avoid access by unauthorized people.
The Fire icon on the main page can be used to instantly close all tabs and delete the data like cookies, browsing history, and much more.
---
Powered by Tor, Onion Browser is an iPhone's web browser that unlike the other offerings on the list solely focuses on internet security and offers professional-level privacy.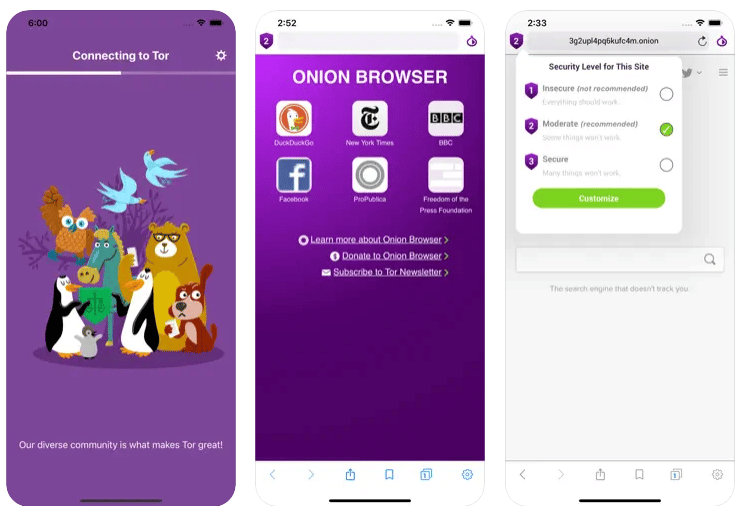 Onion Browser blocks scripts and automatically clears cookies and tabs once you're done browsing. Since the browser is free and open-source you won't be bombarded with any advertisements on the homepage.
In comparison to a normal iOS browser browsing on Onion might feel a bit slow as your traffic is encrypted and relayed through the Tor network. However, in exchange, you get unmatched privacy. Lastly using Onion Browser you can even access the Dark Web.
---
As the name suggests, Ghostery Privacy Browser is a privacy-focused Web Browser For iPhone. Ghostery offers reliable privacy and anonymity features and you will be surprised to know that Ghostery started as a tracking blocker addon.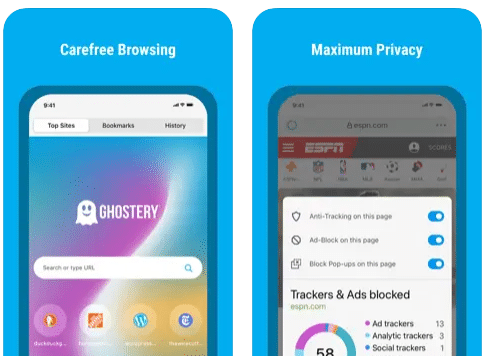 The tracking blocker features in Ghostery will help you browse the internet without getting monitored, tracked, or profiled. It's worth noting that Ghostery Privacy Browser comes with Ghostery Glow as the default search engine but you can change that in the settings.
The URL bar in Ghostery Privacy Browser helps you spot suspicious websites and phishing scams. In a nutshell, if your main priority is privacy on the internet then do checkout Ghostery Browser For iPhone.
---
Next on the list we have the built-in iOS web browser i.e. Safari. Despite being last on the list Safari is feature-packed and it's very tightly integrated with iPadOS, macOS, and watchOS.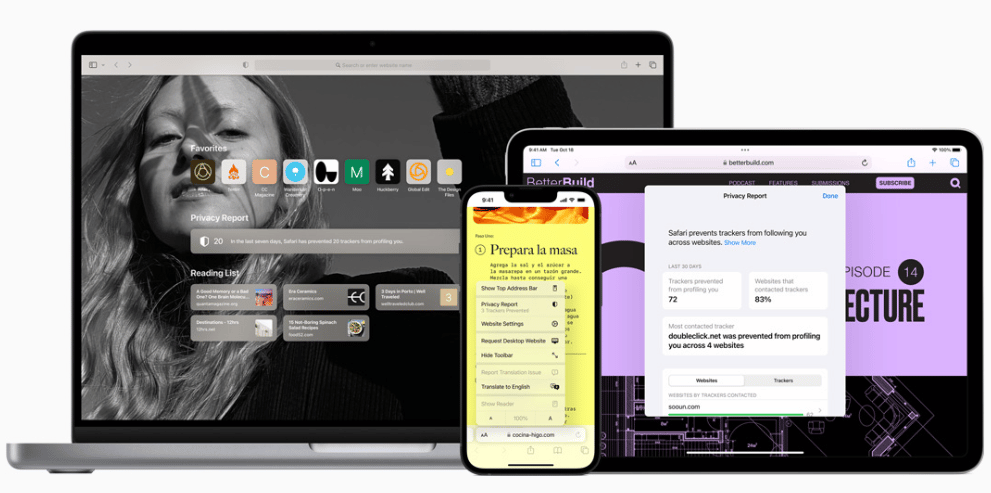 So if you are very well invested in the Apple ecosystem you will enjoy Safari. Features like Intelligent Tracking Prevention (ITP) and fingerprinting defense make Safari one of the most Secure iPhone Web Browsers.
Important browser stuff like incognito browsing, dedicated reader mode, and password manager (iCloud Keychain) are all present in Safari. Overall, Safari is a great iPhone Browser that comes pre-installed and is quite easy to use.
---
Finally, last on the list we have Microsoft Edge. Well, Edge is ideal for anyone who uses iPhone as their smartphone and a Windows desktop or laptop as their PC.
Microsoft Edge supports most mainstream extensions and some noteworthy features of Edge are in-depth privacy settings, online tracker blocking, color themes, and a dedicated browsing mode for kids.
Despite being feature-packed Microsoft Edge consumes very less system resources for its proper functioning. This makes Microsoft Edge an ideal iPhone browser for older iPhones.
---
How To Change Default Web Browser On iPhone
If you want to make any one of the browsers shared above your default web browser then you can do so by following these simple steps,
STEP 1: First launch the Settings App and locate the browser that you want to set as default, for instance, let's go with Google Chrome.
STEP 2: Once located tap on the browser of your choice and click "Default Browser App" in your browser settings.
STEP 3: A blue checkmark will appear confirming that you have successfully changed your Default Web Browser For iPhone.
---
Best Browsers For iPhone FAQs
What is the best browser to use on iPhone?
Some of the best browsers to use on iPhone are Google Chrome, Mozilla Firefox, Opera Touch, Brave Browser, and Duck Duck Go.
What is the safest browser for iPhone?
Some of the safest browsers for iPhone are Ghostery Privacy Browser, Onion Browser, Duck Duck Go, and Brave Browser.
What is the fastest mobile browser for iPhone?
Mozilla Firefox is one of the fastest mobile browsers for iPhone that offers snappy performance, effortlessly syncs with your desktop browser, and has a fully customizable home screen.
---
CONCLUSION
So these were some of the Best iPhone Browsers worth checking out.
It's worth noting that all of the aforementioned browsers can also be used on iPads making them the Best iPad Browsers.
Lastly, if you have any Best Mobile Browsers for iPhone recommendations feel free to let us know on our socials.