Downloading images in Google Chrome can sometimes be very limiting.
Selecting the 'Save Image As' option from the right-click context menu saves the image at the browser's display resolution, which makes it difficult to download high-resolution images from there.
Moreover, the context menu also does not allow users to download multiple images simultaneously and without attribution.
Chrome extensions allow end users to add extra functionality to the web browser and improve the browsing experience. These extensions can help you download images in bulk, grab a YouTube video thumbnail, etc.
Check out the best image downloader Google Chrome extensions available for download right now.
Best Image Downloader Extensions For Chrome
1. Image Downloader by Imageye
Our pick for the best image downloader extension for chrome is Image Downloader by Imageye.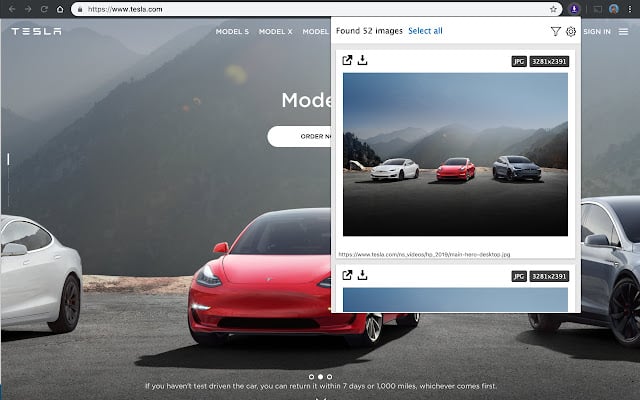 Boasting of an extremely user-friendly UI, this plugin is easily one of the most popular online image downloaders. 2000+ reviews on the Google Chrome Web Store are testimony to the same!
You can simply download and add this extension to your Google Chrome browser for free and enjoy its numerous features.
Some of these include:
Download images from almost all social media sites, like Facebook, Instagram, Twitter, etc.
Converting images from .webp to .jpg and .png
Downloading images in bulk at once
Check each image's size
Download thumbnails of YouTube videos
Conduct a reverse image search
Filter images by type, size, URL, layout, and other parameters
All you need to do is log into your account on the extension and continue with any of the actions mentioned above.
2. Unsplash
Another contender for the best image downloader extension for chrome is the Unsplash chrome extension.
If you are someone who creates social media and blog posts often, then you surely would have already come across this plugin before.
It is one of the best ways to get royalty-free images for your posts.
The extension allows you to:
Get all web sources related to your image search in one place
Download images instantly and for free
Unlike Imageye, however, the Unsplash extension does not allow you to sort images by size, dimension, or type.
3. Image Downloader by Pact Interactive
Want a Chrome image downloader extension that lets you keep all your images organized?
Then, try the Image Downloader by Pact Interactive.
Besides downloading images from all popular websites, you can use this Chrome plugin to:
Manually select folders and subfolders to segregate and save your downloaded images in
Rename images
Download all images on a website at once
However, this free image downloader does not allow filtering images by format, size, URL, etc., which may need you to sort the ones you need from the spam-worthy logos manually.
Plus, there is no option to convert images from .webp to other formats. So, you need to convert them separately once downloaded.
4. Smart Image Downloader by Loadify
If you are a web or graphic designer and the other photo downloaders on this list do not appeal to you, this one just might.
Loadify's Smart Image Downloader is a powerhouse that packs the features of all the Best Image Downloader Chrome Extensions and more!
Wondering what adds to the intuitive and unique user experience that this extension offers?
Here's what you can expect from this plugin:
Check the color palette used on a webpage
View all the images available on a webpage sans the videos, text, and other elements.
Download all images in your preferred size and .jpg format
Give it a try. It's sure to get you hooked!
5. Awesome Screenshot and Screen Recorder
Life couldn't have been easier if your PCs could save screenshots just like your smartphone, isn't it?
The good news is there is an extension to do that for you.
You can now use the Awesome Screenshot and Screen Recorder to:
Download and save screenshots of entire or selected parts of a webpage
Take screen recordings of up to 5 minutes on the free version and without any limit on the paid version
Save images of screenshots in the preferred size and format, like .bmp, .png, and .jpg
Edit images, and add elements like text, doodles, and shapes
You can also add highlights and customize how and where your images are saved.
6. Lightshot
Another online Google image downloader that lets you save screenshots is Lightshot.
Besides downloading screenshots as images, you can use this extension to:
Edit and add annotations to your images
Highlight areas within images
Add shapes and text to images
Like the Awesome screenshot extension, Lightshot allows you to save images of screenshots in different formats, including .png, .jpg, and .bmp.
7. Image Download for Youtube
If you are on the hunt for the best image downloader chrome extensions for YoouTube thumbnails, try Image Download for Youtube.
As is evident from the name, this extremely easy-to-use plugin lets you:
Download thumbnails of YouTube videos with just a few clicks
Get thumbnails in the highest image resolution
Save images at your chosen download pathway
However, unlike Image Downloader by Imageye, which allows downloading YouTube thumbnails as well, this extension does not let you alter an image's type and size.
8. ImageAssistant Batch Image Downloader
If you are looking for a bulk image downloader chrome extension with a built-in advanced image editor, ImageAssistant Batch Image Downloader is for you.
Besides letting you download images in bulk, this plugin also lets you:
Add your own branding (watermark) to images
Go to the settings and edit extensions
Create a unique website QR
Additionally, you can utilize several special effects and filters to enhance your images and save them in your desired folder.
9. Download All Images
The name says it all – you can easily save multiple images from a source website with a myriad of customization features.
Download All Images is another extension you can use to download images from URLs in bulk.
You can add this plugin to your Google Chrome Browser to:
Scan a webpage for images
Sort images by their properties
Save and download all images on a webpage at once with a single click
10. Double-click Image Downloader
You saw the name. It is pretty much just that. You can download any image with a double click or set your custom interactions like drag-and-drop, staying on the button, hotkeys, etc.
Add the Double-click Image Downloader extension to your Google Chrome browser and download images with any of the following gestures:
Drag-and-drop
Double-click
Hotkey
Double-click Image Downloader is yet another online image downloader that allows you to rename images you downloaded.
11. Tap Image Downloader
Finding it difficult to land another image downloader from website that lets you download images in the recently popular .webp format?
Enters the last but not least cool extension – Tap Image Downloader.
You can use this plug-in to:
Download images in .jpg, .svg, .webp, and .png formats
Save all images individually or in bulk
A few things to tick off before downloading an image downloader for Chrome
See that the extension does not slow down your browser
Check if it allows downloading images in tour required format
Make sure your chosen plugin is compatible with Chrome's latest version
Ensure the extension's user-friendliness
Check if the image downloader for Google does not have hidden policies for unconsented data collection and security breaches.
Once the above concerns are out of the way, there won't be much of a problem getting your top pick from our list of best image downloader Chrome extensions.
FAQs on Image Downloader Chrome Extensions
How to download high-quality images in Chrome?
The Save Image As feature in Google Chrome saves images in the display resolution and not the native resolution, which can result in bad-quality pictures. To overcome this, either open the image in its native resolution in a new tab or use one of the image downloader Chrome extensions listed above.
How to download an image without WEBP?
You can change the format of the image you want to download from the "Save image as…" context menu. Simply change the file format to JPG, PNG, or any other desired format. Alternatively, you can use an online WEBP to JPG or PNG converter to change the image formats.
How do I download an entire website as an image?
You can use screenshot tools and image downloaders mentioned above to capture the entire website as an image. Alternatively, you can use Chrome's built-in screenshot tool. Press Cmd + Opt + I (on Mac) or Ctrl + Shift + I (on Windows) to bring up the Inspect Element tool, then press Cmd + shift + P (on Mac) or Ctrl + Shift + P (on Windows) to bring up the Run search bar. Here, type Screenshot and select Capture full-size screenshot.
Can I use image downloader extensions to download copyrighted images?
No, downloading copyrighted images without attribution to the original author is illegal, even if you use image downloader Chrome extensions.