Are you tired of missing deadlines, forgetting important events, or struggling to stay organized? In today's fast-paced world, it can be difficult to keep track of all the tasks, appointments, and commitments that make up our daily lives.
But with the help of a good calendar app, managing your schedule can be a breeze.
Whether you are a busy professional, a student with a packed schedule, or just someone who wants to stay on top of their to-do list and remember important dates like anniversaries, Birthdays, or holidays, a calendar app can be an invaluable tool.
With features like reminders, event scheduling, and task management, a good calendar app can help you stay on track and make the most of your time.
But with so many options available, it can be tough to know where to start.
Which is the best calendar app for Windows 10 which is right for you? Which features are the most important? To help you make an informed decision, we have put together a comprehensive guide to the best calendar apps on the market.
From popular options like Microsoft and Google Calendar to lesser-known gems like VueMinder and Rainlendar, we've tested and evaluated the top calendar apps on Windows 10 PC and Laptops to bring you the most useful and effective tools for managing your schedule.
Whether you are looking for a simple, streamlined calendar app or a powerful tool with all the bells and whistles, we have got you covered.
Best Calendar Apps for Windows 10
1. Microsoft Calendar (System App)
The in-built calendar app on Windows 10 should be your first choice as it is shipped with the operating system. Click on the date/time in the taskbar and a panel will open up where you can see tasks, and reminders. You can also add new tasks to the calendar through the Add an event or reminder menu.
You can access the full calendar by searching Calendar in the Start Menu search. It can integrate with your Microsoft Outlook account, which means that any events or appointments that you add to Outlook will automatically appear in the Calendar app.
This can be especially useful if you use Outlook for work, as you can keep your work schedule separate from your personal schedule.
Features
It can integrate with your Microsoft Outlook account, which means that any events or appointments that you add to Outlook will automatically appear in the Calendar app.
This can be especially useful if you use Outlook for work, as you can keep your work schedule separate from your personal schedule.
If you have a Windows 10 phone or tablet, the Calendar app will sync across all your devices, so you can access your schedule from anywhere. This can be especially useful if you're on the go and need to check your schedule quickly.
You can easily print your calendar or export it to a PDF, which can be useful if you need to share your schedule with others.
For example, if you are a teacher, you might print out your class schedule and give it to your students so they know when their assignments are due.
This free calendar will take care of your scheduling needs on Windows 10. You have to install it from the Microsoft store and then choose the theme on the welcome screen from over a dozen options.
After that, you will be asked to set up to sign into a calendar account from popular services like Microsoft, Google, iCloud, Webcal, GMX, etc. It also lets you continue with an account but your data will not be synced across devices.
Features
View and manage multiple calendars from different services such as Google Calendar, Outlook Calendar, and Facebook Events. You can add, edit, and delete events from any of your connected calendars from within the One Calendar app.
Share your calendar with others via email or through a web link. You can control the level of access that others have to your calendar, such as read-only or full access.
Customize many aspects of the app, such as the appearance of the user interface, notifications, and reminders. You can also choose which calendars to display or hide, depending on your preferences.
Lightning Calendar is a free and open-source calendar add-on developed by Mozilla for its Thunderbird email client. You can manage schedules and events directly within Thunderbird, eliminating the need for a separate calendar application.
It supports features such as recurring events, email invitations, and reminders.
Features
In-built calendar seamlessly into Thunderbird, allowing users to manage their schedules and events without switching to a separate application.
Invite others to events via email, allowing users to connect via the calendar and stay on the same page.
Integrates with various online calendar services such as Google Calendar, Microsoft Exchange, and Apple iCloud.
Google Calendar is a really useful web-based calendar app that helps you keep track of your schedule. You can use it to create and manage events, appointments, and meetings, and even share them with other people if you want.
It has some amazing features like multiple calendar support, different views, reminders, and sharing options. Plus, it is integrated with other Google services like Gmail and Google Meet, so you can use it alongside other tools you might already be using.
Features
Google Calendar's "Find a time" feature is powered by machine learning and takes into account everyone's availability and time zones to suggest meeting times that work for everyone. This can save a lot of time and eliminate the back-and-forth of scheduling meetings.
You can set "out of office" notifications in Google Calendar, which will automatically decline meeting invitations during a specified time period. This is useful for letting others know when you are not available and can't attend meetings or events.
When you frequently travel or work with people in different time zones, Google Calendar can automatically adjust event times to the correct time zone. This can eliminate confusion and ensure that everyone is on the same page when it comes to meeting times.
Chronos Calendar is a flexible and user-friendly calendar app that works on Windows 10, that can help you manage your time more efficiently. With its customizable interface, you can personalize the look and feel of the app to suit your preferences.
The integrated task management feature allows you to stay on top of your to-do list, while the real-time updates ensure that you never miss an appointment or deadline. The calendar app is compatible with a range of popular calendar services, making it easy to sync your schedule across multiple platforms.
Features
You can attach files, photos, or links to your events, so you can provide more context and information. Provide more context and information for your events, tasks, and appointments.
It provides real-time updates, so you can stay on top of your schedule and receive notifications when events or tasks are added, changed, or deleted.
Access a range of customization options, such as different color schemes and layouts, so you can create a personalized look and feel that suits your preferences.
6. Microsoft Outlook Calendar

Now we have a calendar app that is similar to the Lightning calendar. Microsoft Outlook Calendar is accessible from the Outlook email client. It is designed to help you keep track of your schedule and manage your time efficiently from the Office suite.
Features
You can easily schedule a meeting by selecting a time on the calendar, creating a meeting request, and inviting the people you want to attend. Outlook will assist you in finding the earliest time when all the invitees are free. Once you send the meeting request via email, the invitees will receive the request in their inboxes.
View multiple calendars side-by-side, including ones you have created and those shared by other Outlook users. For instance, you can create a separate calendar for your personal appointments and easily compare it to your work calendar.

Plus, you can copy or move appointments between calendars with ease.

Outlook's Delegate Access feature helps in seamless calendar management between individuals. For instance, an administrative assistant can easily manage the calendar of their manager by using their own copy of Outlook.

Once the manager grants the assistant delegate access, they can take charge and create, move, or delete appointments on the manager's calendar, as well as organize meetings on their behalf.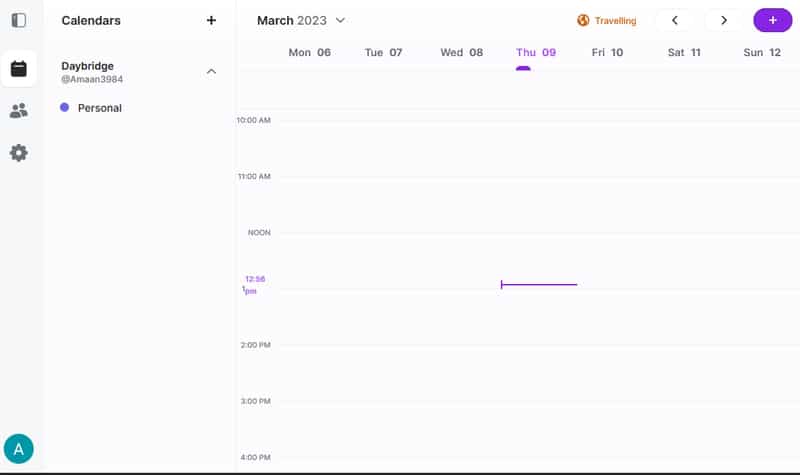 Just like Google Calendar, you will need to sign in and use it in the browser as its a web-based calendar app. Daybridge is a unique calendar app designed with individuals in mind, rather than businesses. Unlike other calendars that rely on a rigid grid layout, it offers a customizable way to organize your day.
You can easily combine tasks, events, and notes in one place to streamline your schedule. Upon signing up, Daybridge asks a few questions to better understand your personal situation and help you save time adding items to your calendar.
Features
It features Smart cards that provide relevant information and actions for each event, allowing you to manage every aspect of your life in one place.
You can create multiple Spaces in Daybridge, such as work, personal, or travel. Each Space can have its own color scheme, Smart cards, and timeline, allowing you to keep your schedules separate and organized. You can also easily switch between different Spaces and view your entire schedule at once.
It is available on multiple platforms, including the web, iOS, and Android. This allows you to access your schedule and manage your tasks from any device, no matter where you are.
If you are looking for a calendar app that strikes the perfect balance between simplicity and complexity, Morgen is an excellent choice for both personal and professional use. One of its best features is its ability to seamlessly integrate with all your other calendars, including Outlook, Google, Exchange, and CalDAV.
This way, you can keep all your calendars in one place, which makes it easier to manage your tasks and schedules without the risk of double booking.
Morgen is not just limited to a web app, as it can be installed on various operating systems such as Windows, MacOS, and even Linux, and it synchronizes everything across all your devices.
Features
Once you link your Zoom, Google Meet, Teams, and Webex accounts, you have the option to include virtual meeting rooms in your invitations with just a single click. Furthermore, meetings scheduled through your booking page or scheduling links will have their virtual conferencing details.
No need for an external scheduler to share your availability with the personalized link scheduling. These links are continuously checked against your calendar in real time, ensuring that they are always up-to-date with your changing schedule.
Bring together all your calendars, such as Apple Calendar, on your Windows device without the need for suspicious plugins or external synchronization services. The result is a fast, user-friendly, and aesthetically pleasing calendar that you won't want to do without.
Power Planner is basically a calendar app designed specifically for students. It's available on both mobile and web platforms and has a lot of cool features that can help students organize their busy schedules. You can keep track of your homework assignments, tests, projects, and grades.
You can also set reminders for upcoming deadlines and exams so that you never miss anything important. The app also has a calendar view, a timetable view, and a GPA calculator, which can come in handy. And if you use multiple devices, you can easily sync all your data across them.
Features
Keep track of your grades for individual assignments, classes, and even entire semesters. This can be really helpful in monitoring your progress and identifying areas where you may need to focus more attention.
Add tests and projects to your schedule. You can include details like due dates, priority levels, and associated classes. This can help you stay on top of all your upcoming deadlines.
Conveniently view your forthcoming homework through the live tiles of the Start menu. Additionally, you have the option to pin a schedule tile which will inform you of the time and location of your next class. It is also possible to pin individual classes as secondary tiles and even set them as your detailed lock screen status.
If you are looking for a simple calendar app to use on Windows 10, then My Calendar is a strong contender. It is free to use but you will come across few ads and fewer features. They can be removed and you can access premium features by purchasing the pro pack for $10.
You get the option to import calendar events and data from the default Calendar app on the first launch. Then you will land on the home screen with the calendar.
Features
Personalize your experience by customizing the live tiles for the Start Menu. With the ability to choose from different colors, sizes, and even custom background images, you can create a unique and personalized view of your schedule.
Add more details to your events beyond the default notes box. In addition to setting the date and time of an event, you can include other important information such as email, location, phone, and URL.
Add different colors to various calendar elements, which will help in differentiating items when going through the events. You can also color-code specific elements within an event, such as a specific time range or a location.
This allows you to easily differentiate between various aspects of an event, making it even easier to navigate and manage your schedule.
My Study Life is similar to Power Planner, designed and developed features while keeping students in mind. You can easily manage all your classes, tasks, assignments, and exams from anywhere and on any device.
This calendar app will streamline your academic life by ensuring that you never miss an assignment or forget an important lesson. By improving your organization, you will be able to increase your productivity and free up more time to focus on the things that are most important to you as a student.
Features
Easily input your school subjects, organize your classes, and add information about your lessons, making it simple for you to stay on top of your schedule without any effort.
Track the progress of your tasks and specify exactly how much of a task has been completed, rather than just marking it as "complete" or "incomplete" with a binary option.
Store your data in the cloud, which ensures that even if you lose your device, your data will still be accessible when you sign in again from another PC/device. Additionally, the app works offline, so you never have to worry about losing access to your schedule due to a lack of internet connectivity.
Rainlendar is a customizable desktop calendar app for Windows 10 that allows users to track events, tasks, and appointments.
It offers two versions, lite and pro. The former is free and offers a number of features. On the other hand, the pro version is available for a one-time purchase, offering more features and priority support.
They have a forum where you can interact with other users and discuss ways to use the features to their full potential. All in all, it provides a customizable and convenient way for users to track their events, tasks, and appointments.
Features
Display multiple windows from the Railendar app concurrently on your desktop. For instance, you can showcase both the present and forthcoming monthly calendars, or have two distinct lists with their respective tasks. There is a wide range of window types to select from.
Rapidly add events and tasks using a single line of text, through the quick add widget. Additionally, you have the ability to specify the recurrence pattern and assign categories to the events and tasks.
Every day, your events and settings are automatically backed up to safeguard against loss, allowing you to restore them from the backup files if necessary. Furthermore, you can create manual backups as an additional measure to keep your events secure.
Todoist is different from a regular calendar app, as it offers task management and to-do list functionality.
While it offers some features that are related to scheduling, such as setting due dates for tasks and recurring tasks, it does not have a traditional calendar view that allows you to see your events and appointments in a visual calendar format.
However, it can be integrated with some calendar apps such as Google Calendar, so that your Todoist tasks with due dates can be displayed as events in your calendar.
Features
View your Todoist tasks as events in your calendar, making it easier to manage your schedule and avoid conflicts. You can also set up reminders for your tasks to ensure that you don't miss any deadlines.
Assign a task to another user, set a due date, and add any relevant comments or files. The person to whom you delegate the task will receive a notification and can then complete the task on your behalf.
You can track the progress of the delegated task in Todoist and receive updates when it is completed.
Visualize your productivity trends using graphs and charts. See how productive you have been over a certain period of time, and to identify areas where you can improve.
VueMinder is an amazing reminder and calendar app that helps you keep track of your busy life. It's perfect for anyone who struggles with managing their schedule or keeping track of important deadlines and appointments.
The software is easy to use and integrates seamlessly with popular calendar services such as Google Calendar and Outlook. You can schedule events, tasks, and appointments, set reminders for important deadlines, and receive notifications via email, SMS, or pop-up alerts.
Features
Schedule events, tasks, and appointments with ease. You can add important details such as start and end times, location, notes, and more. You can also categorize your events and tasks, making it easy to find and organize them.
Integrate with your contacts, so you can quickly schedule events with people in your address book. This feature saves you time and ensures that you don't forget to invite important people to your events.
Print your calendar and task lists or export them to HTML and you can view them in any browser. This feature also makes it easy to share your schedule with others or keep a hard copy for yourself.
Any.do is another reliable calendar app that allows you to keep track of your to-do lists, set reminders, and organize your tasks in a simple and intuitive way. You can create tasks, set due dates and reminders, and prioritize your tasks based on their importance.
The app also offers various features, such as shared lists, calendar integration, and voice commands. Additionally, Any.do syncs across all your devices, allowing you to access your tasks and lists from anywhere. It's available as a mobile app for iOS and Android, as well as a web app and browser extension for Chrome.
Features
Integrate with your calendar, letting you to view and manage your tasks and events in one place. You will never miss an important deadline or appointment.
Create shared lists and collaborate with others on tasks and projects. This will come in handy for teams working on projects together.
AI-powered feature in the Any.do app that offers personalized suggestions and tips to help you manage your tasks and schedule more efficiently. The Assistant learns your usage patterns and preferences over time, and uses that information to provide tailored recommendations.
---
Frequently Asked Questions
What is the best free calendar for Windows 10?
When it comes to choosing the best free calendar app for Windows 10, there are several options to consider. Microsoft Calendar, which is pre-installed on Windows 10, is a simple and straightforward option that integrates well with other Microsoft apps. Another popular free option is Google Calendar, which is widely used and offers a range of features.
Other free options to consider include Rainlendar and VueMinder Lite, both of which offer customizable features and integrations with other apps.
Is Google Calendar free on PC?
Yes, Google Calendar is free to use on PC. The Google Calendar web app can be accessed through any internet browser on a Windows 10 PC. Users can create and manage events, set reminders, and view multiple calendars at once, all for free.
Is there a better calendar app than Google?
It is difficult to say whether there is a better calendar app than Google, as it ultimately depends on individual preferences and needs. However, there are certainly alternatives to Google Calendar that some people may find more suitable for their purposes. For example, Microsoft's Outlook calendar is a popular choice for those who primarily use Microsoft Office and want seamless integration between their email and calendar.
---
Choosing the Best Calendar App
These were some of the best calendar apps for Windows 10. Most of them work on Windows 11 so you won't have to look for another list of apps. Most of them are available through the Microsoft store and the remaining can be downloaded from their official website.