You can connect your PS4 controller to your Windows PC to experience PS4-like gaming without having to buy the console. 
Not to forget Cloud gaming is everywhere and you need a good controller like a PS4 controller for it.
It's the preference of users of how they choose to play the games, i.e., with keyboard and mouse (like the regular users), handheld controllers (like PS4 controller), steering wheel (for the racing game), etc. 
It is frustrating when the PS4 controller keeps disconnecting from PC, especially when you are in the middle of intensive gameplay.
If you are here looking for troubleshooting steps to fix this issue, then we are going to help you solve this issue. 
Why Does PS4 Controller Keeps Disconnecting from PC?
This issue has been encountered by many users. Some users have complained about PS4 controller disconnecting from PC while playing some games, while some have complained that their controller disconnects as soon as they connect it to their PC.
But what causes this issue?
There are multiple reasons as to why you may encounter this issue, such as-
If your PS4 controller is low on battery then that may cause connectivity issues with your PC. 

Another common reason behind facing the issue can be a damaged USB port or USB cable. 

If the PS4 controller keeps disconnecting from your PC, then it can be due to issues with Bluetooth.

You can face this issue if something is interfering with the Bluetooth signal, Bluetooth drivers are corrupted or outdated, incompatible Bluetooth dongle, etc.

There can be some glitch in the controller that can cause this issue. 

This issue can also be encountered due to outdated firmware of the PS4. 
How To Fix PS4 Controller Keeps Disconnecting from PC
If you are annoyed by this issue and looking for ways to fix it then you can have a look at the methods given below to fix it-
Charge Your PS4 Controller
This issue can be encountered when your PS4 controller's battery is drained completely. Your PS4 controller should be charged if you want to use it wirelessly with your PC.
But how to charge the controller?
In order to charge the PS4 controller you will have to connect it to your PC through the USB cable. Plug in the USB cable to the PS4 and then plug it into your PC. This will charge your PS4 controller. 
This will take around 2 hours to charge your PS4 controller completely; until then you won't be able to use it wirelessly. However, you can keep it connected to the PC with the USB cable and use it while it charges.
Disconnect And Reconnect The PS4 Controller
If your PS4 controller is charged then we recommend you to disconnect the controller from your PC and reconnect it again. Here's how this can be done-
Open the

Start Menu

and search for

Bluetooth and Other Devices Settings

. Press

Enter

to open it. 
Search for the PS4 controller from the list of devices. Click on the three dots next to the controller and then click on

Remove Devices

. 
This will disconnect the PS4 controller from your PC. 

Now, turn off your PS4 controller and wait for a few seconds. 

Turn on the PS4 controller and then press the

PlayStation

and

Share

button at the same time. This will put your controller in the pairing mode. 

In the

Bluetooth and Other Devices Settings

window, click on the

Add Device

button.
Next, click on

Bluetooth

.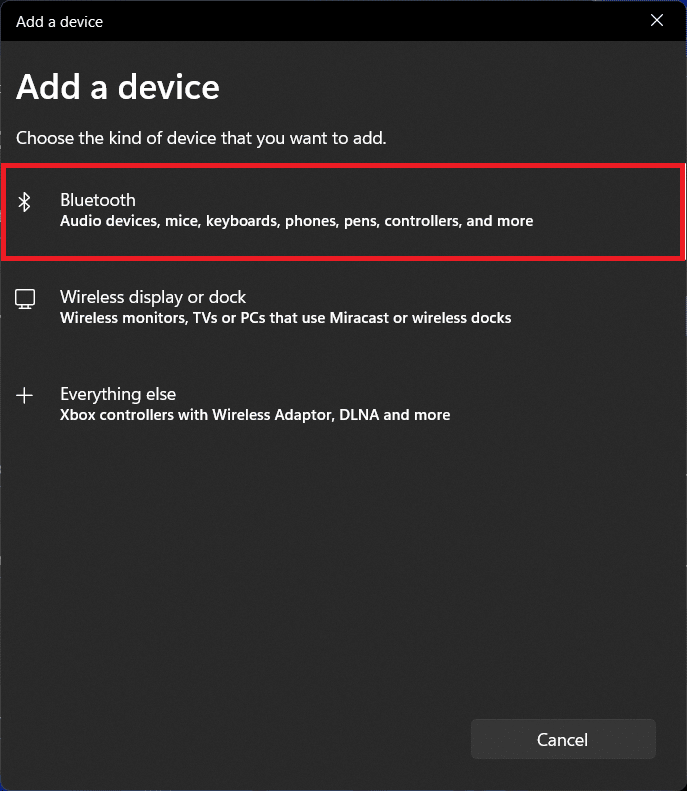 This will scan for all the available devices. Click on the

PS4 Controller

and follow the on-screen instructions to connect the controller to your PC. 
Reset Controller
Issues like the PS4 controller disconnecting frequently are common due to glitches and bugs within the controller.
If that happens, then you should try resetting the PS4 controller.
You can do it with the instructions listed below-
Press and hold the PS4 button to turn off your controller. 

Turn to the back of the controller and look for the hole with the reset button. 

The reset button will be in the hole and you will have to use a pin (like SIM ejector tool) to press it. Insert the pin and press and hold the button using it for five seconds to reset the controller. 
Now, you will have to connect your controller to your PC again and that should solve the issue. 
Reinstall Bluetooth Driver
A corrupted or misconfigured Bluetooth driver can also cause this issue.
Try reinstalling the Bluetooth driver to see if the issue is solved or not.
You can use Device Manager to reinstall the Bluetooth driver. Not only will this reinstall the Bluetooth Driver, but also update it to the latest version available. Here's how this can be done-
Press

Windows + X

key combo and then from the menu that opens up, click on

Device Manager

. 
Expand the

Bluetooth

list. 
Right-click on the Bluetooth Driver, and on

Uninstall Device

. 
Next, click on

Uninstall

to successfully remove the driver from your Windows PC.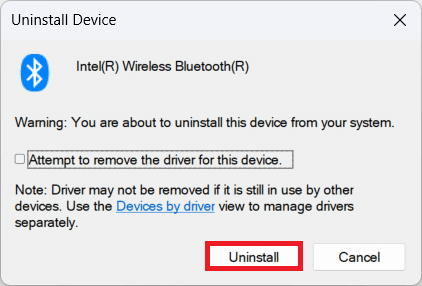 Reboot will be required after you have uninstalled the driver. Restart your PC and the driver will be reinstalled. 
Check For Damaged Port And Damaged USB Cable
This is to be considered only when you are using your PS4 controller with a USB controller and it still shows problem while connecting it to your PC. 
If the cable you are using to connect the PS4 controller to your PC is damaged, or the port on your PC or controller is damaged, then you can face this issue. 
To determine it, check for signs of wear and tear on the cable. Look for scratches or any openings on the cable. If the cable is damaged (which generally happens if your cable is old), then replace it with the new one. 
If there are no damages on the cable, then the issue can be due to the port.
Before you check for the fault, we suggest you clean your port. Use a toothpick and a brush to remove any debris and dirt from the port. 
Once you have cleaned the ports, connect the PS4 controller again. If that doesn't solve the issue, then try to connect the PS4 cable to a different port on your PC.
If you face the issue with all the ports, then that may be a sign of damaged port on PS4. 
Take Your PS4 Controller To The Service Center
If you have tried all the above steps but still your PS4 controller keeps disconnecting then it can be due to hardware issues on the controller. To confirm it, you can try the following things-
If you have another PS4 controller try using it with your PC and see if you face the issue. 

Try using your PS4 controller on some other PC or with PlayStation 4. 
If your PS4 controller does not work on any other PC, and you have checked any other controller with your PC and that is working fine, then your PS4 controller is faulty.
In that case, it's time to visit the Sony Service Center or contact PlayStation Support regarding the same.
Customer Support or the technician at the service center will tell you what's the issue with your PS4 controller.
If your controller is under warranty it will be repaired/replaced free of cost (unless there is any physical damage to the controller.) If not in warranty you will have to pay the repair/ replacement cost. 
Bottom Line
It is a completely different experience to play games on a PC with the PS4 controller. But issues like frequent disconnection can completely hinder that experience.
This article has listed all the ways to fix PS4 controller keeps disconnecting issue. If you are facing this issue with your controller then you will find this article helpful.