This Cheat Sheet Will Help You Learn Python Programming With Ease
If you are interested in becoming an ethical hacker or a security researcher, it is preferred that you master Python programming language. Due to its ease, Python is the core language used for creating exploits and tools. Security experts and pro hackers suggest that master Python is the best way to learn to hack and become a professional security researcher. Python offers wider flexibility and you can create great exploits with it.
However, now thanks to a developer, you can learn Python from just one image. Prepared by Dave Child the cheat sheet offers a one-stop reference of variables, methods, and formatting options that could come in quite handy if you are learning Python or programming for that matter. The cheat sheet includes both built-in system and operating system variables, as well as standard methods for working with lists, files, and strings—and more.
You can download it for free in PDF (2 Pages) or PNG version or view it online at the link below. Or right-click on the image here to save it: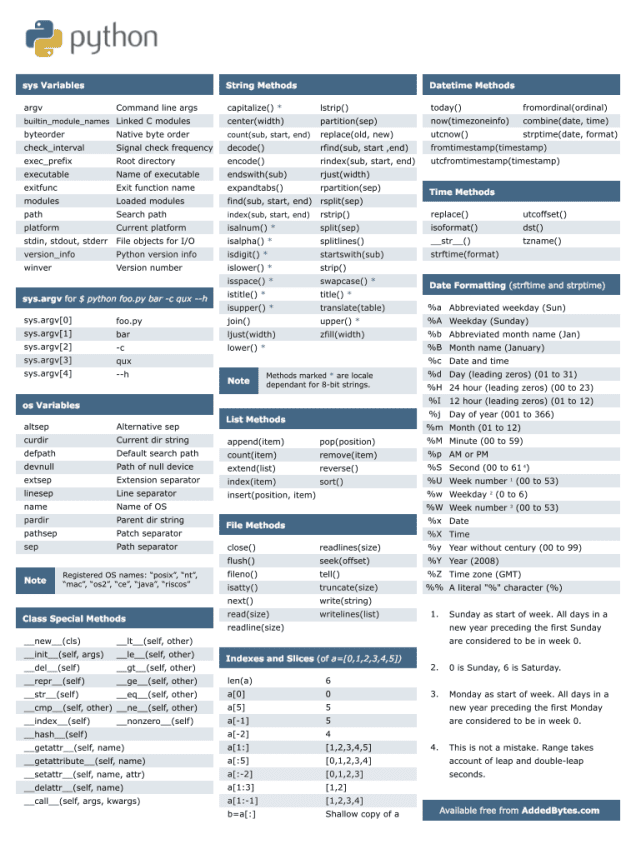 You can also learn the entire Python language using this article and Java Scrip using this article.