What started as a project for vector drawing application on the screen turned into a full-fledged interactive media tool that could be used to stream audio, videos, and animations. It brought Internet users into the age of online games, entertainment applications, and animations on web pages that previously felt incomplete.
The world has moved onto HTML5, a new-age markup language that has effectively replaced Adobe Flash. It provides an all round of options from Flash while being fast and mobile-friendly.
While the world moves to HTML5, there are a handful of sites that are still using Adobe flash player for its interactive content.
Quick Way to Test your Adobe Flash Player
The fastest way to test Adobe Flash Player on your browser is to head over to Adobe's flash status checker.
The version installed on your computer for your browser is given there as the arrow in the image shows. Please scroll down to compare it with the table that contains the latest updates on the versions available for different web browsers.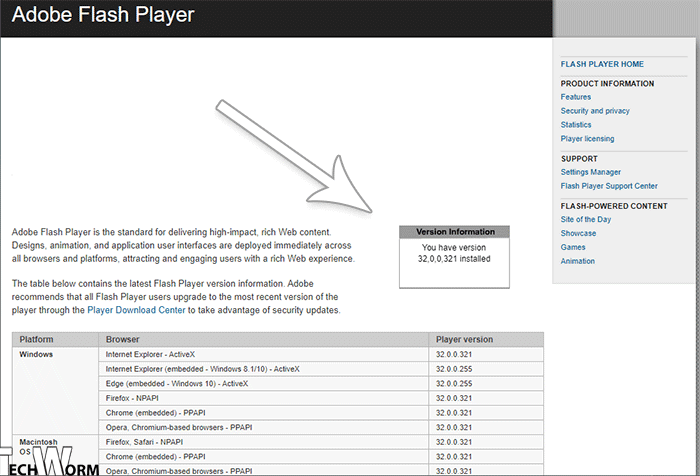 By default, Flash is blocked by major web browsers. The flash icon will appear instead of the version information box. Click on it to go to the settings for the website to manually allow Flash to run on the website.
Adobe Flash Player Download
If a flash player is not installed, head over to their Flash download center by Adobe. The installation suit will accompany third-party programs under the "Optional offer," un-tick them to avoid installing them on your PC.
How To Unblock Adobe Flash Player
Major web-browsers have started blocking Flash and plan on pulling the plug by the end of 2020. Therefore, web browsers have Flash blocked by default, and it needs to be allowed.
Chrome generally has Adobe Flash Player is Blocked error while some other web browsers has Sites Need Flash error. It generally happens when Adobe Flash Player is not installed or blocked by the web browser.
Here is how you unblock Adobe Flash player for different web browsers
Unblock Adobe Flash Player In Chrome
There are two ways to unblock Adobe Flash Player in Chrome. The first is for individual sites for which you would want Flash to run. The second is for universal permission that covers all the websites on Chrome.
Method 1
All you need to do is click on the site settings icon, situated in the address bar. Click on the drop-down menu to the right of Flash and set it to Allow. In any case, you want the setting to be permanently like that for the particular website. Otherwise, if you are unsure about the future in the future, then select the Ask option.

Method 2
This setting allows you to set it universally for all the websites browser on Google Chrome. You enter the following in the address bar to directly reach settings for FLASH
chrome://settings/content/flash
Alternatively, reach Flash settings with the traditional method. Head-over to 3-vertical-dot menu Settings > Site Settings > Flash.

Turn the knob to the right side, and it will turn blue, as shown in the image. It will ask for Adobe Flash to be enabled, instead of blocking it altogether. You can always add websites to the exception list, on which the Adobe Flash will work without asking for permission.
---
Unblock Adobe Flash Player In Mozilla Firefox
It is fairly straightforward to unblock Adobe flash on Firefox, with the Plug-In Use icon. A single click on the Plug-in Use icon will prompt for permission to whether allow Flash or not on the webpage/website.
Alternatively, you can click Run Adobe Flash text, and the prompt will appear, asking for permission to run Flash.
---
Unblock Adobe Flash Player In Microsoft Edge
Just like Firefox, you can unblock Adobe Flash on a website in Edge by clicking on Flash icon in the address bar.


Another way to enable the Flash player is to change it from the Settings menu. It will enable Flash players on all websites, regardless of permissions granted for individual websites. Head-over to Setting s from the 3-horizontal-dot menu and go to Advanced. There you will find Adobe Flash player settings to either enable or disable them.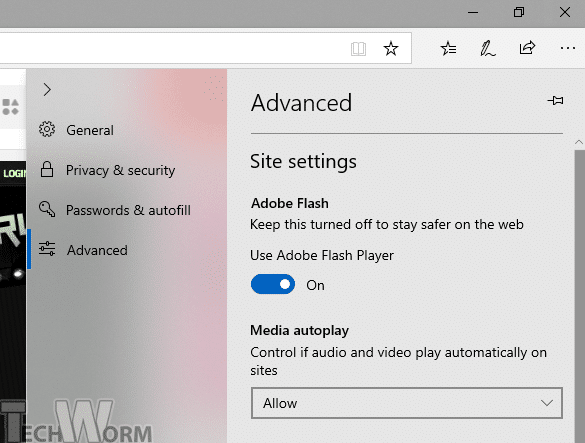 ---
Unblock Adobe Flash Player In Apple Safari
Apple's users on macOS 10.11 or later versions can also unblock Adobe flash player on Safari. Head to Preferences > Websites > Plugins > Adobe Flash Player. Tick the Adobe Flash player entry to enable Flash player on Safari.
Users with macOS X 10.10 can head to Preferences > Security. Enable JavaScript and tick Allow Plug-ins. After that, click on Plug-in settings and select Adobe Flash Player. Click on ON where it says When visiting other websites.
How To Update Adobe Flash Player
The newest version of adobe flash player on windows PC and mac automatically check for updates and install them. But if it's disabled by your browser you can alternatively install adobe flash player update manually by changing update settings for Flash Player.
In your windows PC, open the control panel. On the top right side click on view by "large icons"
Now, click on the flash player, a popup with Flash player settings manager will open like the below screenshot.
Now click on the Updates tab and select " Allow Adobe to install updates.
You are done this will enable adobe to automatically check for updates, else manually you can click on "check now" in the last step.
Also Read- Best Adobe Flash Player Alternatives
---
Over to You
Test Adobe player if it's already installed on your PC. After that, unblock Adobe Flash player on web browsers like Chrome, Edge, Safari, and Firefox. mentioned above.
Adobe Flash player is being phased out and the support will stop for it by the end of 2020. Save your Flash player files and play them on an SWF player.
Also check out – How to Play Flash Games Offline