Lately, if you have been hanging out with tech-savvy people, then you are bound to hear terms like BitTorrent, Torrenting Websites, and Torrent Clients.
The primary reason behind the drastic increment in the popularity of Torrent files is that these files can be used to download Movies, Music, Books, Games, and Software for free.
As you might have guessed by the title, this article is dedicated to new torrent users, and it will guide them to download their first torrent file.
On the other hand, If you are a veteran reader of Techworm, then this guide won't reveal any new information for you. However, you can contribute to the community by leaving a comment.
RELATED: What Are Seeds, Peers And Leechers?
---
What Is A Torrents?
In simple terminology, Torrent is a file that stores metadata, and programs like uTorrent can use this meta info to download all sorts of content. A torrent file generally comes with the extension .torrent, and it's hardly a few KB in size. 
In many instances, Torrent and BitTorrent are used synonymously. However, they are not the same. In reality, BitTorrent is a peer to peer (P2P) file-sharing protocol that relies on a swarm-like approach for sharing files.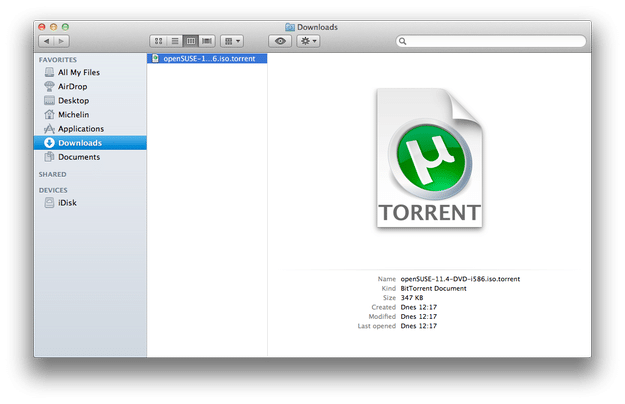 A seeder in torrent terminology is a person who is sharing the file; the more seeds, the more potential locations to download the file. While a person who is downloading the seeded file is a leech, if the number of leeches exceeds the number of seeds, it will make the file download slower, as more people are accessing the data at the same time.
Furthermore, if no one is seeding, then no one can download the file. The entire group of seeders and leeches are referred to as peers. As a result, BitTorrent is referred to as "peer-to-peer" file sharing.
---
How To Download Torrent Files
1. Install A Reliable BitTorrent Client
Before initiating the actual searching and downloading process of Torrent files, its important to install a reliable torrent client.
A torrent client is a program or application that can initiate or terminate the downloading and uploading process of data using the BitTorrent file-sharing protocol. You can use this program to open and manage .torrent files.
While torrenting, you download a file directly through someone else (seeders), rather than downloading it from a server. A torrent client application connects to the host and manages the download. Additionally, a torrent client also uploads data and helps you become a seeder.
Torrent clients are available for most mainstream operating systems like Windows, macOS, Freebsd, and various Linux Distros. Presently, the three best free online torrent clients are BitTorrent, uTorrent, and qBittorrent.
However, If you want more options, you can check out the,
Best Torrent Clients For Windows
---
2. Open A Trustworthy Torrent Tracker Website And Search For Your Desired File
After the installation of a torrent downloader client, the next thing we need is torrent files.
The internet is full of torrent tracker websites that list torrent files and magnet links.
However, only a few torrent websites like The Pirate Bay, Kickass Torrents, 1337X, and YTS have stood the test of time.
Open any reliable torrent search engine and search for the torrent file you are looking for from its search box.
In addition to the public trackers mentioned above, there are many private trackers such as Demonoid that can only be accessed by creating an account.
You can even check out our list of the best free BitTorrent websites that can be used to download video games, movies, music, TV shows, anime, and e-books at a high-speed.
Once you have landed on a torrent tracker website of your choice, simply search for the desired torrent file. From the generated search result, download the .torrent file that has the most significant number of seeders.
A high number of seeders will not only increase the download speed, but it will also ensure that the data is not fake or infected with a virus.
The last advice that we would like to give to our readers is to go through the comments section of the torrent file that you want to download.
Generally, seeders report about fake or broken files in the comments section. Moreover, seeders also share information about the quality of video torrent files in the comments.
---
3. Open The Torrent File And Monitor The Download
Lastly, you have to open the downloaded .torrent file or magnet link. Since hackers generally embed viruses in torrents its essential to scan every file that you download for viruses.
If you have downloaded the small-sized .torrent file, then it will help your torrent client to locate various parts of a file, and once these multiple parts are downloaded, the torrent client will compile them into one file.
On the other hand, a magnet link will offer a direct line and connect the downloader to each file. It is worth noting that there's not much difference between these two methods of downloading torrent files, and both will help you download the desired content with ease.
Once the file is downloaded, you will start to seed. We advise our readers to continue seeding for quite some time to help the torrenting community.
---
Is It Safe To Download Torrents?
As you might have known by now, torrenting is one of the most preferred methods for piracy. Torrent websites and files are full of viruses, malware, and annoying pop-up ads. Consequently, using virus and adware protection while torrenting is important.
Users are also advised to use a VPN service to maintain their privacy online and avoid being tracked while downloading torrents using MAC torrent clients.
You can check out our list of the best VPN services for torrenting.
---
How To Unblock Torrent?
Several torrent sites are blocked in various countries including US, UK, Australia, Canada, etc. because of legal issues.
You can use VPN to unblock torrent sites or alternatively use torrent proxy to get torrent unblocked.
Some of the most searched popular torrent proxy includes pirate proxy and kickass proxy.
If torrent clients such utorrent is blocked for you. It can be because of the firewall settings of your network.
---
Is It Legal To Download Torrents?
It is completely legal to download torrent files using a torrent client. Unless you are downloading a copyrighted content that you don't own or doesn't have rights to download.
Downloading any copyrighted content without the permission of the copyright holders is illegal.
---
CONCLUSION
So this was a simple guide on how to download torrent files with ease. If you still face any problem while torrent downloading then do let us know in the comments section below.