Twitch is a popular streaming platform, hosting mostly gamers while other niches have gained momentum in recent times.

However, for any reason, if you want to delete your Twitch Account, then keep reading to find the simplest way.
How to Delete Twitch Account
1. Head to your Twitch account. Login, if you have not already.
2. Go to the Delete Account page of Twitch, which is located inside the settings page.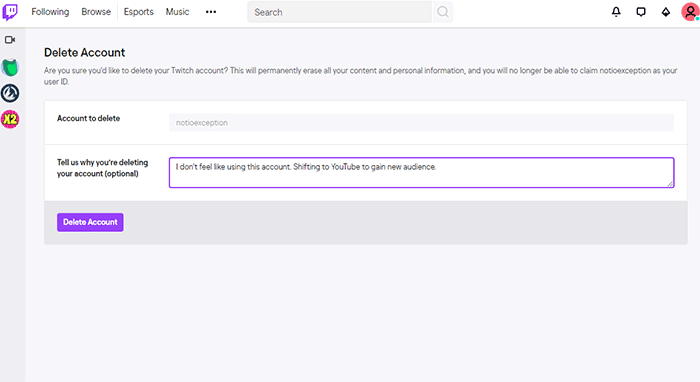 State a reason if you feel the need to address the issue at hand. It is optional so you can choose to skip it.
3. Click on the Delete Account button to permanently delete your account.
Remember that there is no confirmation prompt for users who are having second thoughts. Clicking on the button will immediately delete your account, subscriptions, and the videos, settings associated with it.

It takes upto 90 days for the full deletion of Twitch account. You can reactivate your account before it gets deleted.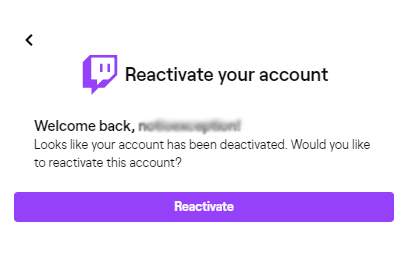 The subscriptions will not be active for the account set for deletion.
---

Disable Twitch Account
If you want to take a break from Twitch and come back later, then disabling your Twitch account would be a better option. Here is how you do it.
Go to your Twitch 

disable account

 settings from 

here 

directly. Log in, if you have not already done it.

The page will look similar to the account deletion one. Select the account to disable, if you have multiple accounts connected to one email ID. 

Mention a reason if you want, which is an option to fill. Leave it blank otherwise.



Click on the

Disable Account

 button to disable your Twitch account.
You can enable your account by logging into your account anytime. Your subscription renewals will be on hold and would not be auto-renewed for the time being. 
---
Related- How to Download Twitch Videos? Best Twitch VOD Downloader
Over to You
This is how you delete Twitch account in under a minute, without any hiccup.