The regret of deleting files accidentally is REAL. You permanent delete files(Shift+Delete) from places on your computer due to the habit of hand.
And the worst part is that they cannot be restored from the Recycle Bin either. They have vanished into thin air. After that, we get into the panic mode and start trying every data recovery software under the sun.
Microsoft has launched the free Windows File Recovery App to reduce the hassle of using a third-party data recovery app.
Windows 10 (version 2004 and higher) users can download the Windows File Recovery App from the Microsoft store.
The First look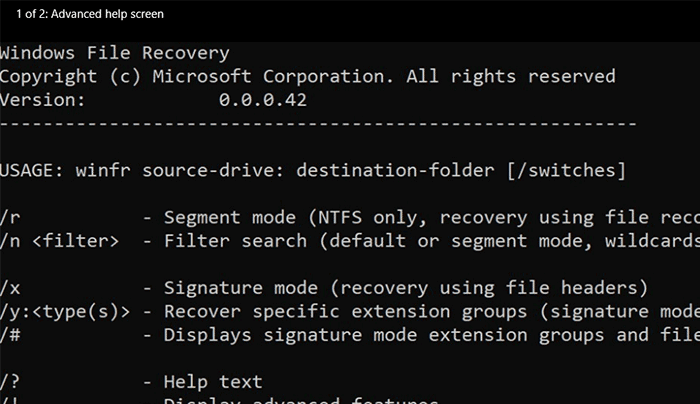 The Windows File Recovery app is a command-line based application that allows you to recover data. We followed the official Windows File recovery guide by Microsoft to learn the commands and test on a dummy file, deleted for the little experiment. 
The file recovery worked impressively in an experiment involving a 100 MB MP4 file. It may be difficult for users who are accustomed to the front-end graphical interface. The support document we mentioned above helped us walk through the app with ease. 
The supported storage are HDD, SSD, USB, and memory card.
It supports the following formats and file systems for recovery:
 – File systems : NTFS, FAT, exFAT, and ReFS
– Files in JPEG, PDF, PNG, MPEG, Office, MP3, MP4, ZIP formats
Cannot Download Windows File Recovery App on Windows 10?
The Windows File Recovery app requires Windows 10 – version 2004, which came out last week. To enable/check updates for Windows 10, follow the instructions as it follows
Go to the

 Start 

button, and then go to 

Settings

  > 

Update & Security 

  > 

Windows Update

.

Or,

Go to the

 Start 

button and search 

Windows Update Settings

. Press enter when the system settings appear in the start search results.

The version of the currently installed Windows 10 is displayed there in the 

Windows Update 

tab. 
Over to You
Will the official Microsoft Windows File Recovery App provide a stiff competition to the strong players in the market, only time will tell.