Video downloaders are tools built to help with downloading videos online.
Since browsers' native downloaders may not be functional enough sometimes and can have download issues with; or unsupported video formats.
Dedicated video downloaders can help you in avoiding these issues.
These apps come in handy when you need to download videos from sites like YouTube, Twitter, Instagram, Vimeo, movie sites, and other free video streaming platforms.
In addition, video downloaders typically assist in downloading videos more quickly than browsers do with resume support and automatically detecting videos on any site.
Given the number of video downloaders available online, some of them probably won't function as well as others.
Thus, we've helped you handpick the best video downloader for Windows 11 and will discuss them in this article.
Best Video Downloader for Windows 11
Here are the best video downloader for Windows 11 that we have thoroughly tested.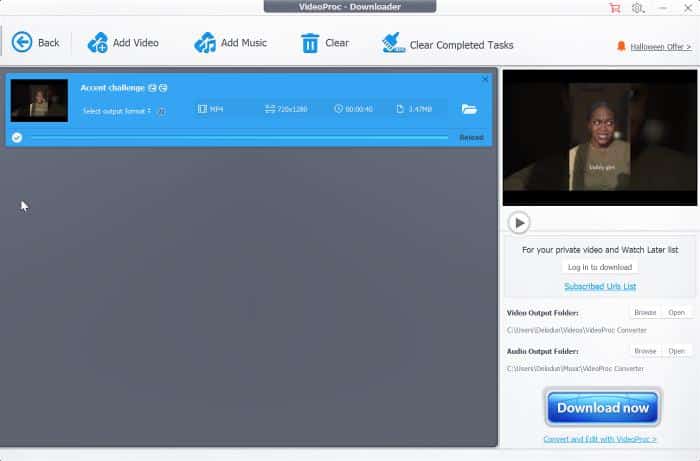 The all-in-one video application known as VideoProc Converter has a feature that can be used as a video download manager.
This video downloader supports over 1000 different video and music streaming networks, including websites like Facebook, Twitch, YouTube, Dailymotion, and many more.
Additionally, it allows you to choose the resolution of the video you want to download, and because its downloads are GPU-accelerated, they progress more quickly than they would ordinarily.
Thanks to VideoProc, you may download these videos in any format you like as well. The program is available in both a free and paid version, however, the free version has some limitations, so you should pick the paid version if you want to use it to the best of its potential
Key Features
Allows download in different formats and resolutions
Has support for more than 1000 sites for downloading
Allows you to edit videos the way you want
---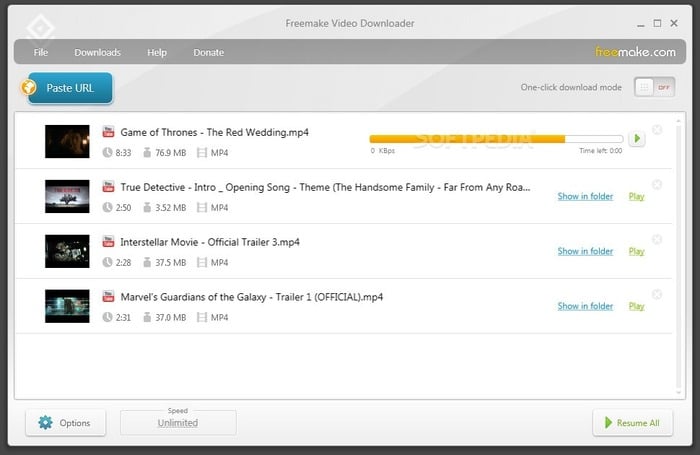 Another top video downloader for Windows 11 that may help you in downloading videos from well-known websites like YouTube, Facebook, Vimeo, and more is Freemake Video Downloader.
The program claims to support more sites in the future, and it downloads videos from those that it supports at a very fast speed.
With Freemake, you may download videos in a number of different formats, including MP4, WebM, 3GP, Flash FLV, and others.
Also, if you don't want to utilize a browser, you can use this Freemake video downloader to grab video clips from TV episodes and movies.
Key Features
Has support for multiple file formats
Works with more than 10,000 sites.
Offers a fast download speed
---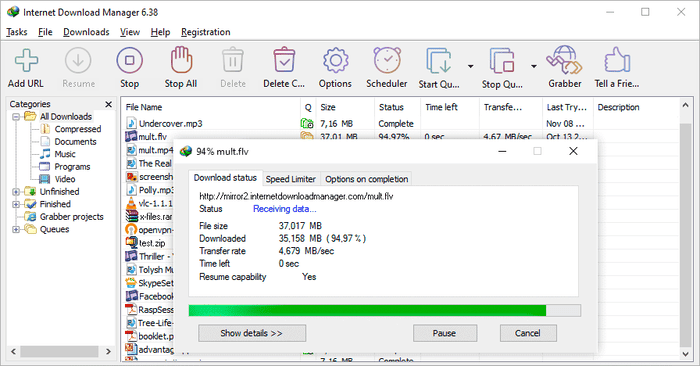 IDM, also referred to as Internet Download Manager, is one of the first download managers for Windows. It is a file-downloading program that allows users to manage their downloads better.
This tool has shown to be the best at preventing download interruptions and being a very fast option for video downloads.
Your Windows 11 web browser's IDM web browser module allows IDM to automatically detect any videos you play and provide you the option to download them.
IDM, however, only permits free use for the first 30 days before requiring you to purchase a premium subscription, which is quite justified given the capabilities the video downloader offers.
Key Features
Very fast download speed
Functions with browsers for straightforward download
Stabilizes download interruptions
---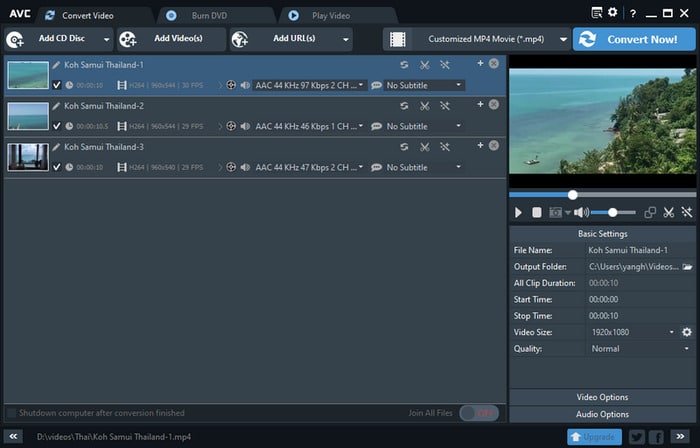 If you are looking for a Windows 11 video downloader that can also function as a video editing tool, AnyVideo Converter is the software you should consider.
It is a comprehensive video application that also functions as a tool for downloading videos from websites like Vimeo, Nico, YouTube, MetaCafe, Howcast, Facebook, and a few other free video streaming websites.
Using HEVC/H.265 encoding, this program enables the conversion of video between a number of formats without sacrificing the video's quality.
AnyVideo Converter is totally free, much like the majority of the other video downloading programs on this list, but it also has a premium plan with more intriguing features.
Key Features
Full-fledged video tool
Allows conversion of video
---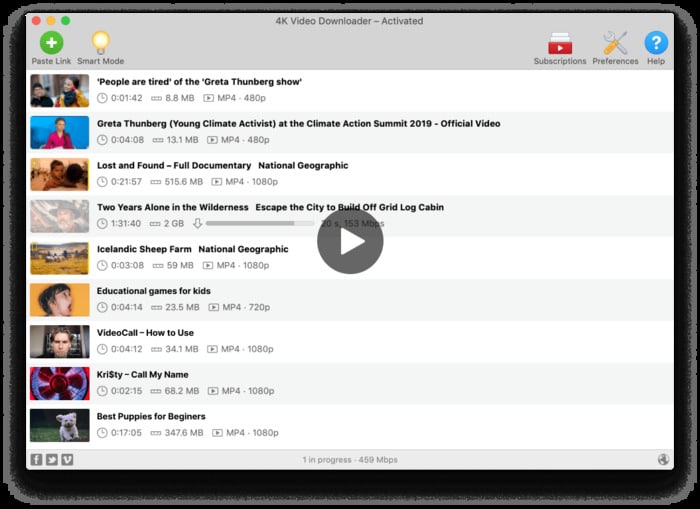 With the help of the 4K Video Downloader, you can download videos, playlists, or audio files in high definition from sites like Instagram, TikTok, YouTube, Facebook, SoundCloud, and others. The program is small and feature-rich while still being lightweight.
The video downloader is user-friendly and has a fairly simple user interface. You can save a full playlist or a collection of videos in bulk with the 4K Video Downloader, and also use it to extract audio from videos.
Key Features
Save video in up to 4K quality
Support video download in several formats
---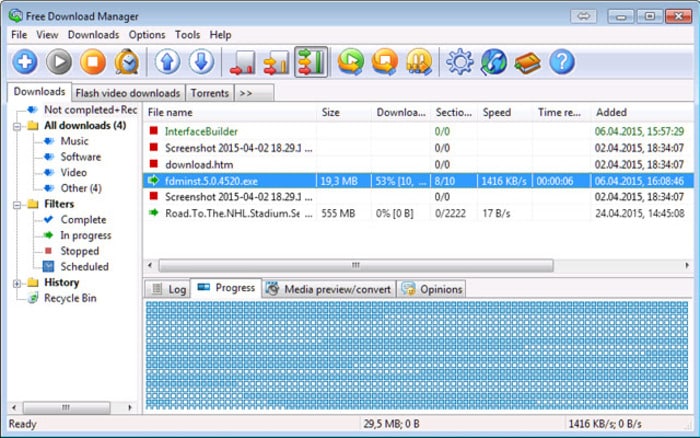 Free Download Manager is an open-source video downloader that can come in handy anytime you want to download videos on your Windows 11 computer.
This program supports the download of videos from video sites and also allows you to download torrents. With Free Download Manager, you can organize your files as well as video downloads
It runs on accelerated download by splitting your download into chunks and resumes broken video downloads just like IDM. With this video downloader, you schedule downloads and enjoy many other premium features for free.
Key Features
Free to use
Support torrent download
Has a fast download speed
Available for Android
---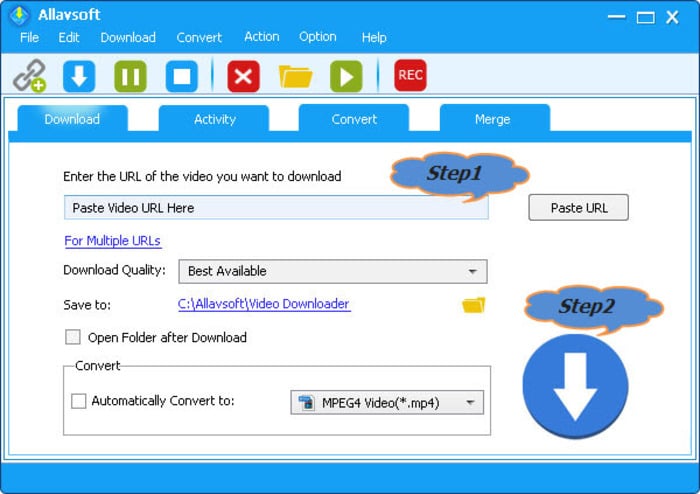 Allavsoft is another video downloader you can use to download web videos and music files.
Numerous media-sharing websites, including YouTube, Tidal, Spotify, Twitter, Udemy, and others, are compatible with the program.
In addition to being a downloader, Allavsoft Downloader is an application that lets you convert downloaded videos to common video formats.
Key Features
Support more than 1000 media sharing sites
Allows batch download and conversion
---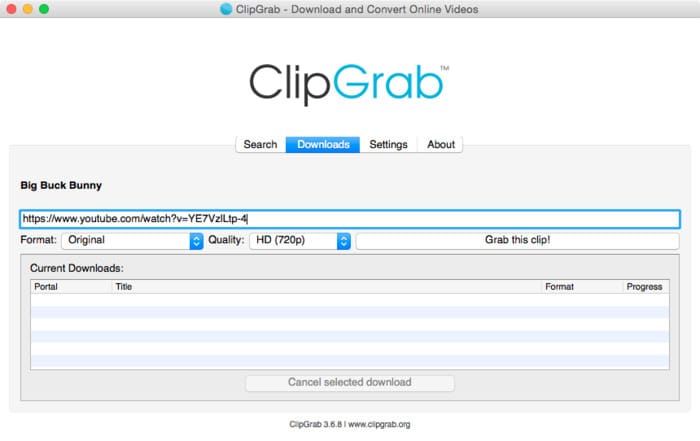 ClipGrab is a free, simple, and fast application for downloading videos that do not necessarily require a browser.
This tool enables you to download videos from many video streaming websites and convert the videos you download into different formats.
Due to its search capability, which other video downloaders lack, it can function as standalone software, as was already indicated.
By instantly grabbing the video link you've copied to your clipboard, the video downloader relieves you of the burden of having to do it manually.
Key Features
Free to use
Has a built-in search feature
Uses a URL grabber
---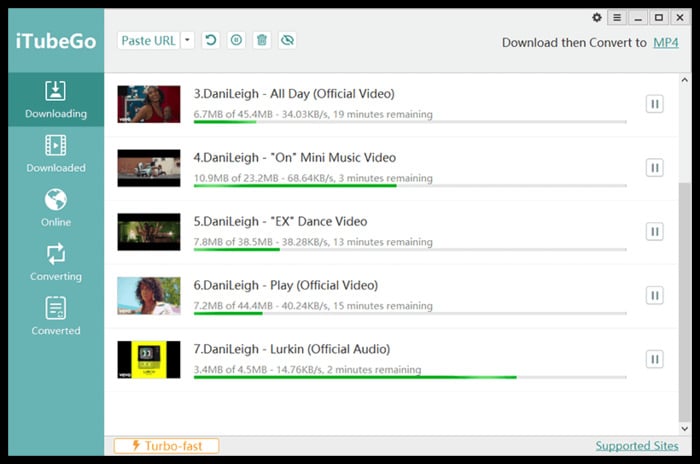 Using the iTubeGo app, you may download videos from more than 1000 media websites, including YouTube, TikTok, Vimeo, Instagram, and others.
This is one of the most popular software for downloading and converting video files on Windows 11 computers. You can download your videos in high resolutions with iTubeGo, which features a user-friendly interface.
The program offers a password-protection feature that enables you to save your downloads in a secure location.
Moreover, you may download videos in bulk using the video downloader, which is just as quick as downloading them one at a time.
Key Features
Allows bulk download
Has a built-in browser
Password-protection
---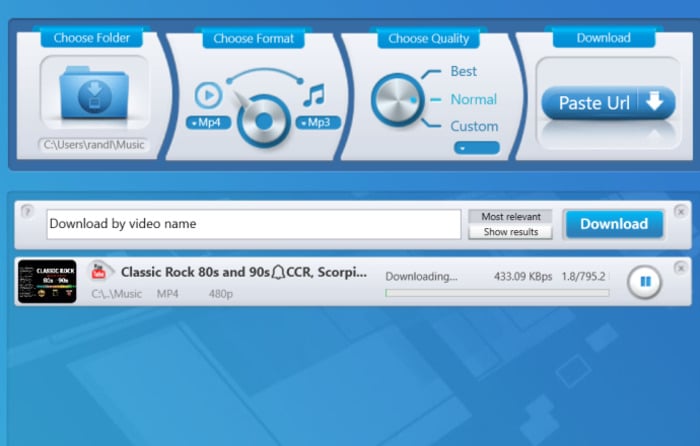 ByClick Downloader is a free and powerful video downloader for Windows 11 which allows you to save videos from the web in several resolutions like 720p, 1080p, 4K, and 8K.
It allows you to download an entire playlist from YouTube and has a quick download option for Instagram.
With ByClick Downloader, you can convert video files to several formats and enjoy videos from your favorite media sites all got free.
Key Features
Free to use
Download video in several resolutions
Quick download option for Instagram
---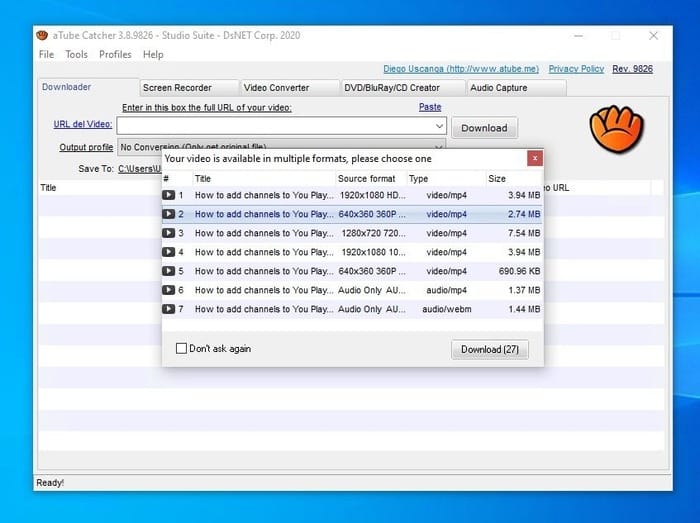 With the help of aTube Catcher, you may download videos from a huge variety of video-sharing websites, including Vimeo, Dailymotion, Facebook, and many more.
It has the ability to burn videos on DVDs and act as a screen recorder. This free program strives to conserve your processing power and bandwidth.
Asides from the features we've mentioned, this program can be used for several other purposes like video conversion, video trimmer, and audio extractor.
Key Features
Can be used for screen recording
Save bandwidth
Support several sites
---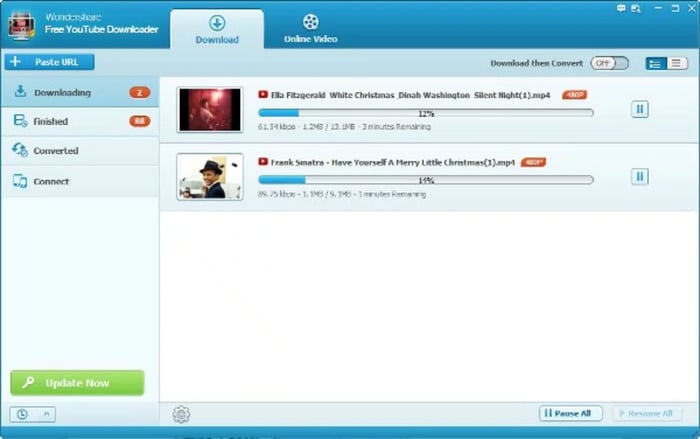 AllMyTube is a professional video downloader owned by Wondershare, which allows you to save videos from different video-sharing sites. You can download SD, HD as well as 4K videos from YouTube and over 10,000 more popular video sites.
Using the app, you can also convert your downloaded videos to make them compatible with other devices. It's quite excellent that AllMyTube allows you to download a single video or a complete playlist from YouTube.
Nearly all the features you could need are present. Although the paid version is recommended if you want to get the most out of the software, you can also use the free plan.
Key Features
Download videos from more than 10,000 sites
Allows you to convert your video
---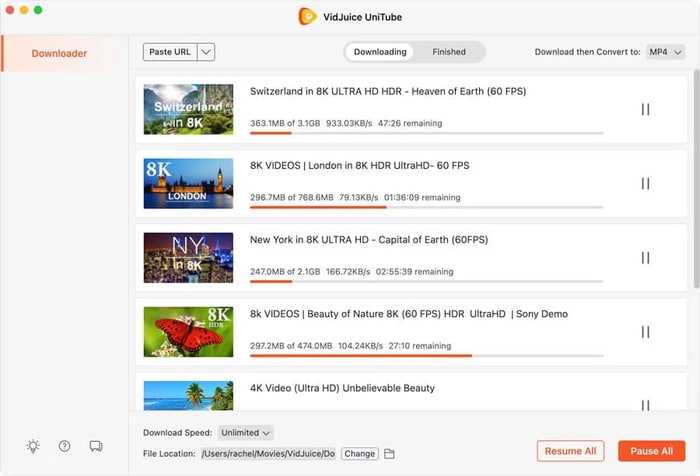 VidJuice is a cross-platform video downloader with support for 10,000+ websites. The program allows you to download videos to your computer, smartphone, and cloud storage easily.
With VidJuice, you can download videos online in resolutions like 8K, 4K, 1080p, 720p, and others. This video downloader also features a video converter and a built-in browser.
It supports multiple URL downloads, and most of its features can be used for free. However, if you want to enjoy more of its features, you can get the paid plan.
Key Features
Allows you to download private videos
Multiple URL downloads
Has a private mode to keep your videos
---
Many of us have probably heard of the web application Savefrom.net when considering YouTube video downloaders. The video downloader, however, is compatible with a number of other video-sharing platforms, including TikTok, Instagram, YouTube, Vimeo, and more.
This program is one of the most convenient ways you can use to download videos online, especially on YouTube.
If you want to download a YouTube video, all you need to do is add the letter "ss" before the URL; this will direct you to the download page when you load the link.
You may download your videos in a variety of resolutions, and it is completely free to use. In addition to being a web application, Savefrom.net can also be installed as an extension to ease video downloads.
Key Features
Can be used for free
It makes video download easy
Support several video resolutions
---
YTD Video Downloader is one of the oldest video downloaders that still performs its functions very well. The software allows its users to download videos from 50+ media sites and convert them to video formats like mp3, mp4, wmv, 3gp, and all.
Downloads on YTD Video Downloader are high-speed and integrated with a video player that allows you to see your videos immediately. It also allows you to download playlists in batches from streaming sites.
There are limitations with the free version; hence, if you want to enjoy the video downloader to the fullest, you have to get the paid version.
Key Features
High-speed video download
Integrated with video player
Allow batch download
Wrap Up
Video downloaders have made it simpler to download videos from the internet. Some of these apps not only let you download videos from various video-sharing websites, but they also speed up the download process and offer other functions like audio extraction, video format conversion, and much more. In this article, we've covered the top video downloaders for Windows 11, so you can choose from any of them and use either their free or premium plan right away.
Best Video Downloader for Windows 11: FAQs
How do I download videos on Windows 11?
If you want to download a video on Windows 11, all you have to do is copy the URL and paste it into one of the video downloaders we've covered in this article. Then, to begin the download, follow the onscreen instructions.
Can I download Instagram videos on Windows 11 PC?
Using video downloaders like Savefrom.net, 4K Video downloader, and others we covered in this article, you can download any video from Instagram.
Are Windows 11 video downloaders free?
The majority of video downloaders provide both free and paid plans, albeit the free plan has some restrictions. Some, like Savefrom.net and Free Download Manager, allow users to download videos and use their features for free.